Chicago Bears:

Mike Shanahan
October, 17, 2013
10/17/13
1:30
PM ET
Washington coach Mike Shanahan won't count on
Jay Cutler
reliving his four-interception game against the Redskins from 2010 when the teams meet Sunday at FedEx Field.
Cutler

Hall
During a 17-14 loss to the Redskins at Soldier field that season, the Bears turned the ball over on their first five possessions of the second half and on six of seven drives in the third and fourth quarters. Cutler helped cornerback
DeAngelo Hall
become the first player in NFL history to intercept four passes in a game, and he accomplished the feat in a span of 21 minutes, 16 seconds in the second half.
Shanahan isn't expecting a repeat performance.
"No, Jay is one that can wipe things out just like that," Shanahan said. "He doesn't have a long memory. He's very competitive. He's going to give it everything he's got. But after something's over, he can concentrate quickly on the next game. I know there were a couple of words here and there said. That's football, competitors after a game."
In the aftermath of the loss, the Bears went on to win five in a row. But that streak came after Cutler and Hall exchanged words during various interviews. Immediately after the contest, Cutler said "there's no reason to shy away from him. That's hard for me to say after throwing four picks to a guy. Still, if we had to play them tomorrow, I'd still go after him every time if we could."
A day later, Hall expressed amusement on NFL Network after learning of Cutler's comments.
"After those comments, that makes me think he still hasn't learned his lesson," Hall said. "So, you know, if I had to play Jay Cutler every single week, man, I'd be in the Hall of Fame."
Cutler refrained from discussing Sunday's rematch with Hall on Sunday when asked Monday during "The Jay Cutler Show" on ESPN 1000.
"Next question," Cutler said.
The quarterback refused to budge when asked again about Hall on Thursday, calling the cornerback "another player."
Any thoughts about Hall or the last the the teams met?
"Nope," Cutler said.
When the Bears last faced the Redskins, Cutler's top two receivers included Johnny Knox and
Devin Hester
, with
Earl Bennett
serving as the No. 3 and
Greg Olsen
at tight end. Cutler suffered four sacks in that game behind protection that included left tackle
Frank Omiyale
, left guard Chris Williams, center Olin Kreutz, right guard
Roberto Garza
and right tackle
J'Marcus Webb
.
So Cutler's supporting cast this time around is significantly improved, especially on the outside with receivers
Brandon Marshall
and
Alshon Jeffery
and up front with a revamped offensive line.
Given his close relationship with Cutler, Marshall surely knows the history between his quarterback and Hall, but he complimented the cornerback, saying, "I'm looking forward to it."
"You know what, DeAngelo Hall, man, he turns it up a notch against bigger receivers," Marshall said. "So I'm excited for the challenge. He's a guy that you've just got to stay focused and stay in your zone, because if you come out of your game, that's when he starts to win. It's one of those games, man, where you've got to strap up, put on extra padding because he's tough."
October, 16, 2013
10/16/13
1:16
PM ET
Washington Redskins
coach Mike Shanahan sees
Jay Cutler
's improved supporting cast as one of the chief catalysts behind the quarterback's resurgent play through the first six games.
The former head coach at Denver, Shanahan played a role in the Broncos drafting Cutler 11th overall in 2006, as well as
Brandon Marshall
in the fourth round. Shanahan named Cutler the starter with five games remaining in his rookie season, and said the quarterback and Marshall established uncanny chemistry almost immediately.
[+] Enlarge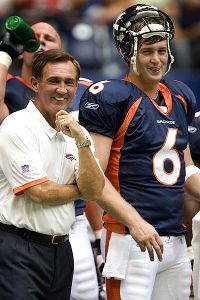 Dave Einsel/Getty ImagesMike Shanahan and Jay Cutler once shared a sideline in Denver. On Sunday afternoon, they will face off at FedEx Field.
"Well, it was a decision that you make," Shanahan recalled of making Cutler the starter in Denver. "We made that decision because we went to the AFC Championship Game the year before, and I really felt at that time that was as far as [former starter] Jake [Plummer] was going to take us. I thought Jay Cutler had the intangibles and the skills to possibly take us to the next level. I thought he was experienced enough to go in that direction. That's why I made the change."
Seven years later, Shanahan doesn't see much of a difference between the Cutler he worked with in Denver and the one currently on pace to hit a career high and franchise mark in completion percentage. Cutler has completed 65.9 percent of his passes thus far, which ties him for sixth in the league.
Prior to the Monday night game between Indianapolis and San Diego, Cutler ranked in the top 10 in five major passing categories (passer rating, completions, completion percentage, yards and touchdowns).
"Well, that's the way he played for me. He played at a Pro Bowl level his [second] year as a starter, his [third] year in the NFL," Shanahan said. "I think he had well over 600 throws, and I don't remember exactly what his sack amount was, but I think he had like 11, 12 sacks in all those throws. So he got rid of the ball very quickly and distributed the ball well, and I really like what I saw."
Cutler didn't experience that same success initially in Chicago, which acquired the quarterback in 2009 for a pair of first-round picks. Cutler lacked weapons on the outside, sufficient protection and a system he believed in. General manager Phil Emery gradually changed that by hiring head coach Marc Trestman, in addition to bolstering the offensive line through free agency and the draft, adding a tight end, and trading with Miami for Marshall, who was drafted in Denver the same year as Cutler, and played with him from 2006-08.
When asked what he sees as the biggest difference between Cutler now, and from when he first joined the Bears, Shanahan didn't hesitate to give his take.
"Supporting cast," he said. "I think you have to have a system that you believe in, and Jay picks up any system very quickly. A better supporting cast is you're trying to get the best supporting cast to give you quarterback a chance to be successful, and that's what I see that they've done to give him a chance to utilize his talents. That's part of building a team around a quarterback. It doesn't happen overnight, and one of the reasons why you go after a quarterback is you have to have one to give yourself a chance to win, and you try to put a supporting cast around him so he has a chance to be successful."
Shanahan spoke with Trestman at the NFL combine about Cutler back in February, and the newly hired head coach asked about the quarterback he had inherited.
"He asked me about Jay and my experience with him, and I shared exactly what I thought of him," Shanahan said. "There was nothing but positive. I'm a big fan of Jay Cutler's."
Shanahan holds similar feelings toward Marshall, who was drafted in the fourth round in 2006, but didn't become a starter until his second year in the NFL. After Marshall's first practice with the Broncos, future Hall of Fame cornerback
Champ Bailey
approached Shanahan befuddled.
He asked the coach, "How did we ever get this guy in the fourth round?"
"So you get a Pro Bowl player that realizes the talent of a guy like Brandon Marshall right away, the upside Brandon brings to a team," Shanahan said. "He's a difference-maker."
That's why Cutler gravitated toward Marshall almost instantly, Shanahan said.
"He's very physical. He's gonna beat bump coverage," the coach said. "He's going to go up for the ball and make big plays and right from the beginning. He had 18 catches or something against San Diego [in Marshall's third year]. Right from that time you knew they were going to have some great chemistry together."
Marshall praised Shanahan for the opportunity in Denver, and said his career likely wouldn't have been as successful had another team drafted him. Some players lament not going higher in the draft, but Marshall said he was perfectly fine with being a fourth-round pick because of all he learned from Shanahan.
"He gave me chance after chance," Marshall said. "When I'm in Denver, sometimes I may even run into him at his restaurants and we get a chance to talk. So he's definitely someone I think would be a friend, a mentor, a coach for the rest of my life. He definitely laid the foundation. The way he taught us the game and broke things down, but also it set the bar really high. There were high expectations around there, especially on the offensive side. We dealt with Coach Shanahan every single day."
October, 20, 2010
10/20/10
1:49
PM ET
March, 24, 2010
3/24/10
12:58
PM ET
[+] Enlarge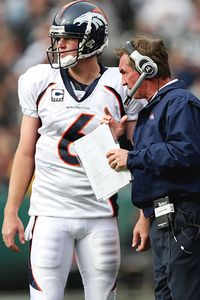 Jed Jacobsohn/Getty ImagesJay Cutler and Mike Shanahan worked well together in Denver.
Washington Redskins
coach Mike Shanahan believes
Jay Cutler
ultimately will make the
Chicago Bears
proud to have him as their quarterback, even if it means overcoming some hurdles along the way.
"Obviously there's going to be some roadblocks for every quarterback in the league, and obviously he's going through a tough situation right now," Shanahan said on "The Waddle & Silvy Show" on ESPN 1000. "But my opinion is he'll work through it, and Chicago will be very proud that they have him as their quarterback."
Cutler played under Shanahan with the
Denver Broncos
from 2006 to 2008 before being traded to the Bears last year. Cutler struggled in Chicago, throwing 26 interceptions to go along with 27 touchdowns as the Bears stumbled to a 7-9 record.
"I don't care what quarterback you have, you have to have a good supporting cast," Shanahan said. "And not only a good supporting cast, you have to have a system that really relates to the players.
"That's what you're working for as a head coach in the National Football League, to put all of that together."
Read the full story
.
Listen to Waddle & Silvy's interview with Mike Shanahan

December, 27, 2009
12/27/09
2:20
PM ET
CHICAGO, Ill. -- ESPN's Adam Schefter just threw a bucket of cold water on any Mike Shanahan-to-Chicago speculation. Schefter reported Sunday morning --
via his Twitter account
-- that Shanahan won't be the next
Chicago Bears
coach because he has too much respect for Lovie Smith.
"Despite speculation to contrary, Mike Shanahan will not wind up coaching Chicago nor Houston. Too much respect for Lovie and Kubiak," Shefter wrote.
Shanahan's reluctance to replace Gary Kubiak in Houston is understandable because Kubiak is Shanahan's former top assistant in Denver. It's unclear why Shanahan would feel the same way about Smith. One thing is clear; he's expected to command between $8-10 million per season. Bears general manager Jerry Angelo said last week money would not be an issue when it comes to potentially firing Smith, but he never mentioned anything about being able to open up the McCaskey's checkbook to hire an expensive new head coach.
Most analysts feel Shanahan is heading to the
Washington Redskins
.