Chicago Bears:

Mike Shanahan
January, 7, 2015
Jan 7
4:31
PM ET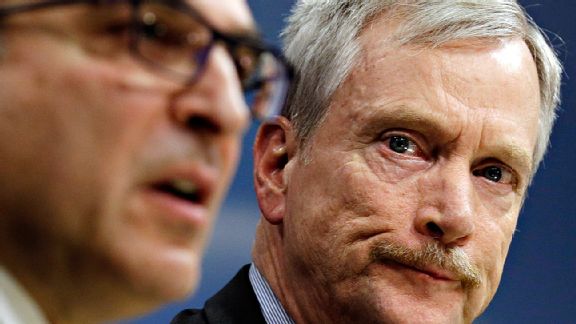 AP Photo/Nam Y. HuhGeorge McCaskey and the Bears have a tendency to play it safe rather than institute real change.
CHICAGO -- To borrow a phrase popular around these parts back in the day, change is something I believe in.
After all, change is something for which we assemble, something we argue about, and at times, demand.
But when it comes to the
Chicago Bears
, if you demand change, you might as well spit in the wind during Peak Bear Weather. Because change is still a four-letter word in Lake Forest.
[+] Enlarge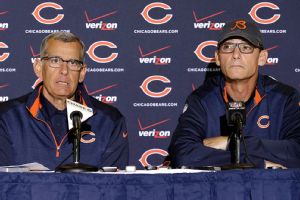 AP Photo/Nam Y. HuhPhil Emery and Marc Trestman are out, but will it be more of the same with whoever replaces them?
Real change, I mean. Not cosmetic alterations, not shuffling in Halas Hall expats and friends of friends. Not giving power to the same guys over and over again.
Remember the "massive change" press conference of 2010?
After the expected, necessary firings of general manager Phil Emery and coach Marc Trestman last week, there was a lot of buzz about a sea change inside Halas Hall, where previous McCaskeys let the Bears flounder for years under Dave Wannstedt and Dick Jauron.
Not even the laziest McCaskey would've let Emery and Trestman return after this past season.
But the reality of what we saw the Monday after the regular season ended were two well-meaning neophytes in George McCaskey and president/consigliere Ted Phillips explaining the obvious (The Bears were a joke this season) and going over the process to find the family's latest savior (It'll work!).
They dabbled in organizational philosophy and vague assurances. They kept saying "foreclose" like it was the game played by the cops in "Super Troopers."
No need to ridicule these guys. But they didn't, and don't, inspire any confidence that the Chicago Bears will change under new management.
Hiring "Football Guy" Ernie Accorsi as an advisor, the big news out of the meeting, was a smart move -- and surely no guarantee of success. After all, the final decision comes down to a "collaboration" between Phillips and McCaskey. Accorsi, the former
New York Giants
GM and "old school" steward is just a guide.
The Bears are a mom and pop shop that rarely make the playoffs. They aren't cheap, as has been their reputation in the past, when it comes to players. But this ain't JerryWorld either.
There's a reason people aren't falling over themselves for these open jobs. Some of it is
Jay Cutler
and the lack of talent on the roster. Some is the Bears are a cornerstone NFL organization in name only. They are the embodiment of the league's past.
Former Bears scout Chris Ballard, now a player personnel chief in Kansas City, interviewed with the trio Wednesday and has been a local favorite since before Emery was officially axed.
Given that he's turned down other general manager interviews leads you to believe he's confident in this landing spot. Ballard worked for 12 years in Halas Hall under Jerry Angelo and briefly, Emery. He's well-respected, but once you get into the insular world of anonymous league execs, who isn't?
"[Ballard] should be a lock unless they want to totally move on from the [former general manager Jerry] Angelo ties," a scouting director who has worked directly with Ballard told ESPN NFL Nation reporter Michael C. Wright. "If [the Bears] don't hire Ballard, they would be making a big mistake. ... He's more qualified than anybody I have ever been around in this business."
Given that this person worked with Ballard, you have to listen to these plaudits and still reserve judgment.
"He's got a great head of hair," Bears guard
Kyle Long
noted on the "Carmen and Jurko" show Wednesday afternoon. "He'd give Jay [Cutler] a run for his money."
Duly noted.
I was in favor of forgoing all attachments to Bears Past, regardless of their qualifications, and snagging a young personnel executive from, say, the
Green Bay Packers
.
I also wanted Rex Ryan, the erstwhile Jets coach who would completely and positively change the franchise for the better. He's a culture builder, a change agent. An establishment coach who acts like an outsider.
Again, I was way off. That's why they don't hire me as a consultant.
Ryan won't be interviewed. No Packers will be smuggled south.
Accorsi, obviously, knows what he's doing as he steers Lake Forest's Bunk and McNulty to their next lead.
The idea of paying a consultant to tell you to hire a guy who already worked at Halas, who will then, in turn, hire Dave Toub, who coached here for nine years, well, is pretty funny.
It reminds one of when Tom Ricketts hired an advanced statistical analyst to figure out who would be Jim Hendry's ideal replacement and he came up with no-name Theo Epstein.
Good ROI on those hires.
January, 3, 2015
Jan 3
9:00
AM ET
It's wild-card weekend, and
Chicago Bears
fans get to sit around for the fifth consecutive year watching teams other than their own participate, as the organization continues to sift through candidates for its general manager and head coach openings. As you sit down and prepare to watch Saturday's offerings, here's a mailbag for you to peruse covering a variety of subjects regarding the Bears. Thanks everyone for participating.
@mikecwright I think Ballard will be new GM and Shanahan new HC. If anyone can do something with Cutler its him. Thoughts? #bearsmailbag

— Mike Barnes (@Mike44thVA) January 2, 2015
@mikecwright:
Glad you asked that question because we need to debunk myths regarding Mike Shanahan. While he deserves plenty of credit for winning a pair of Super Bowl titles in Denver, let's not anoint him as Vince Lombardi. You mentioned that "if anyone can do something with Cutler, it's him." My question to you would be: What did he do? In three seasons with
Jay Cutler
(2006-08), the Broncos never made the playoffs and posted a 17-20 record. In fact, I'd venture to say that Shanahan really hasn't done much in terms of winning without John Elway. Shanahan's record with Elway as the quarterback is 47-17 in four seasons (1995-98). Take those four years with Elway out of Shanahan's regular-season record, and he's sitting at 123-121 over 16 seasons at the helm with only one playoff victory (2012). So while I understand people's fascination with Shanahan, you have to admit that Elway has a lot to do with the coach's 170-138 regular-season record. Great quarterbacks tend to do that.
@mikecwright #bearsmailbag what is the likelihood that Ted Phillips is still overseeing football operations after the new GM is hired?

— Matt Ahrens (@mattahrens) January 2, 2015
@mikecwright:
I'll let team chairman George McCaskey answer that question for you because we definitely asked after the team announced the firings of Phil Emery and Marc Trestman. Here's what he had to say: "We feel that the structure we have is a good one, with the head coach reporting to the general manager, the general manager reporting to the president, and the president reporting to the chairman. But if that needed adjustment in order to get the right person, we wouldn't foreclose that possibility." Now, the second part of that certainly makes sense. But remember, McCaskey spoke quite a bit that same day about the need to maintain the club's "tradition," which leads me to believe he'd like for things to stay the same in terms of the organizational hierarchy. What's interesting to me is McCaskey wants to keep this "tradition". Last I checked, this franchise has only one Super Bowl title. It's tradition that times have and always will change, and I think until the organization gets on board with that, you won't see much different from what we've continued to see over the years.
@mikecwright Sorry bout the Noles man, but Oregon was straight ballin. Do you believe trading Jay is a viable option? #bearsmailbag

— Malcom C. Riley III (@MalcomRiley22) January 2, 2015
@mikecwright:
Appreciate the kind thoughts. I was about a heartbeat away from roundhouse-kicking the television. Getting to your question, I believe trading Cutler is a viable option. I also believe that there will be a market for him. But you can't ignore Cutler's contract. He's fully guaranteed $15.5 million for 2015, and another $10 million of his salary is guaranteed for 2016 if he remains on the roster on the third day of the new league year. So if the plan is to move Cutler, the organization needs to get cracking. But given the fact teams around the league know the Bears might be looking to move Cutler, the team probably won't get proper value in a trade for the quarterback. So then it becomes a question of how motivated Chicago is to move on. It's impossible to know the answer without a power structure in place. Things will become clearer once the Bears hire the new general manager and new head coach. But I do know for a fact that at least two of the candidates who interviewed for the head coaching job prior to the Trestman hiring didn't want Cutler as the team's quarterback. One of them mentioned it to Emery during the interview process, which basically squashed his bid for the job.
@mikecwright thoughts on Bears signing @NdamukongSuh in offseason to bring back fear and improve team significantly on def #bearsmailbag

— Justin Blixt (@butkus928) January 2, 2015
@mikecwright:
The problem is defensive tackles -- especially players the caliber of
Ndamukong Suh
-- command big money in free agency, and the Bears will be a little cash strapped due in part to the cap hit associated with Cutler's deal. Last April, I remember asking Emery and one of the current GM candidates whether they'd trade for Suh if it were financially feasible, and both unequivocally said yes, citing the difficulty of finding dominant interior defenders. Just for comparison's sake,
Linval Joseph
signed a five-year deal worth $31.5 million last year in free agency with Minnesota. Former Bear
Henry Melton
signed a four-year, $29 million deal with the
Dallas Cowboys
.
Paul Soliai
received $33 million over five years in Atlanta. None of those players is the special talent Suh is. My guess is Suh will receive a deal similar to the six-year, $100 million extension J.J. Watt signed with the
Houston Texans
.
@mikecwright #bearsmailbag How will the Bears handle it if they like a HC candidate before they hire a GM?

— Matthew Payne (@mpayne68) January 2, 2015
@mikecwright:
I think it depends on how much McCaskey plans to defer to recently hired consultant Ernie Accorsi. McCaskey recently mentioned: "The conventional timeline is to hire the general manager first. But Ernie has already advised us that if we see the right guy out there as a head coach, we need to be prepared to move quickly to get him." So if McCaskey adheres to that, the Bears won't hesitate to go unconventional if it means acquiring the coach they want because you obviously know there will be plenty of competition between the teams in trying to lure these candidates.
December, 22, 2014
12/22/14
11:00
AM ET
Finally, we're just six days away from a dismal Chicago Bears season coming to an end. Hallelujah.
But given all that has happened, perhaps the end goes on as just the beginning with so many decisions to be made and changes on the horizon.
Let's take a quick spin around the Bears beat:
-- Here's Jeff Dickerson's look at
five things we learned
from Sunday's game, and he doesn't mince words regarding Bears head coach Marc Trestman.
Dickerson writes: Trestman needs to be stripped of his control over the 46-man active game-day roster for the decision to keep Jay Cutler active on Sunday. Under no circumstances can the Bears expose Cutler to unnecessary injury in the final two weeks, even if the eventual offseason plan calls for the organization to keep Cutler in 2015. Cutler's season is finished. It's over. He has completely checked out. He's done with Trestman and offensive coordinator Aaron Kromer. Accept it, and move on.

Here's more: Now, let's say the Bears plan to shop Cutler around to other teams. The very idea of Cutler serving as the No. 2 in two meaningless games, in that scenario, is pure madness. Let me repeat: pure madness. I understand Trestman wants to win another game. His credibility and reputation are under attack. But the future of the franchise is far more important. Whether Bears fans want to admit it or not, Cutler is an extremely important piece of the puzzle moving forward, trade or no trade. Subjecting him to further risk is foolish. Let Joe DeCamillis coach the season finale in Minnesota. Trestman is worried about his own interests, not the organization's. When that happens, it's time for change, even if one is already scheduled to occur Dec. 29.
-- Here's Dickerson's
report card
.
-- Jon Greenberg writes the Bears
played a solid Lions team close
, but they certainly didn't take solace in that performance, which resulted in their 10th loss.
Greenberg writes: In what could be a franchise-changing season, the Bears have lost 10 games, and only three were by single digits: a 23-20 loss to the Buffalo Bills in the season opener, a 31-24 loss to the Carolina Panthers and now, this game.

All three of those games were at home, so don't say the Bears don't appreciate their fans. Chicago went 2-6 at Soldier Field, the same as in 2004, which was Lovie Smith's first season as coach.

They can tie the 2004 team for the worst record in the past decade with a loss at the Minnesota Vikings next week, or they could win for the first time since Nov. 23.

Either way, this one will go down as one of the team's most disappointing seasons in the modern era. It might be No. 1.
-- This link to Todd McShay's
first 2015 mock draft

is a few days old but definitely worth revisiting considering Chicago might not win another game, which should improve the team's draft position. It's tough to know which direction the Bears should go with their pick because of all the uncertainty. We don't yet know what the future is for Jay Cutler, Trestman or general manager Phil Emery. With that said, I'm not sure I like McShay's projection here. The position McShay projects the Bears addressing with their first-round pick might be a little too rich (unless he's an absolute slam dunk) with the team expected to pick so high.
-- Mike Shanahan believes Cutler is
still a franchise quarterback
. Emery probably agrees. But the quarterback's body of work over nine seasons suggests otherwise from this vantage point.
-- Over at the Chicago Tribune, David Haugh says
don't be fooled
by Jimmy Clausen's mediocre performance against the Lions. It proved absolutely nothing and certainly doesn't help Trestman's job security. Sadly, he's correct.
Haugh writes: Overall, Clausen did a nice job representing himself as a bona fide NFL backup, nothing more. Clausen was the smelling salts to a sleepy offense, making quick decisions and smart throws. He prevented bad plays from outnumbering big ones and brought as much enthusiasm as efficiency. He improved his job prospects for 2015 — but not Trestman's. Don't fall for that.

Remember, the career Trestman was hired to save was Cutler's, not Clausen's.

Trestman's potential last game at Soldier Field will go down as one of the most irrelevant of his brief tenure. A win would have changed nothing about the Bears future, which Chairman George McCaskey should begin altering as early as Monday. A six-point loss simply reminded us what everybody already knew about the present; that no matter who plays quarterback, Trestman's game-day coaching cannot compensate for a growing talent deficit management cannot ignore.
-- The Chicago Sun-Times has a nice
rundown
of the team's reaction to Dominic Raiola stomping on Ego Ferguson's ankle. Raiola can say whatever he wants, but the tape doesn't lie.
October, 17, 2013
10/17/13
1:30
PM ET
Washington coach Mike Shanahan won't count on
Jay Cutler
reliving his four-interception game against the Redskins from 2010 when the teams meet Sunday at FedEx Field.
Cutler

Hall
During a 17-14 loss to the Redskins at Soldier field that season, the Bears turned the ball over on their first five possessions of the second half and on six of seven drives in the third and fourth quarters. Cutler helped cornerback
DeAngelo Hall
become the first player in NFL history to intercept four passes in a game, and he accomplished the feat in a span of 21 minutes, 16 seconds in the second half.
Shanahan isn't expecting a repeat performance.
"No, Jay is one that can wipe things out just like that," Shanahan said. "He doesn't have a long memory. He's very competitive. He's going to give it everything he's got. But after something's over, he can concentrate quickly on the next game. I know there were a couple of words here and there said. That's football, competitors after a game."
In the aftermath of the loss, the Bears went on to win five in a row. But that streak came after Cutler and Hall exchanged words during various interviews. Immediately after the contest, Cutler said "there's no reason to shy away from him. That's hard for me to say after throwing four picks to a guy. Still, if we had to play them tomorrow, I'd still go after him every time if we could."
A day later, Hall expressed amusement on NFL Network after learning of Cutler's comments.
"After those comments, that makes me think he still hasn't learned his lesson," Hall said. "So, you know, if I had to play Jay Cutler every single week, man, I'd be in the Hall of Fame."
Cutler refrained from discussing Sunday's rematch with Hall on Sunday when asked Monday during "The Jay Cutler Show" on ESPN 1000.
"Next question," Cutler said.
The quarterback refused to budge when asked again about Hall on Thursday, calling the cornerback "another player."
Any thoughts about Hall or the last the the teams met?
"Nope," Cutler said.
When the Bears last faced the Redskins, Cutler's top two receivers included Johnny Knox and
Devin Hester
, with
Earl Bennett
serving as the No. 3 and
Greg Olsen
at tight end. Cutler suffered four sacks in that game behind protection that included left tackle
Frank Omiyale
, left guard Chris Williams, center Olin Kreutz, right guard
Roberto Garza
and right tackle
J'Marcus Webb
.
So Cutler's supporting cast this time around is significantly improved, especially on the outside with receivers
Brandon Marshall
and
Alshon Jeffery
and up front with a revamped offensive line.
Given his close relationship with Cutler, Marshall surely knows the history between his quarterback and Hall, but he complimented the cornerback, saying, "I'm looking forward to it."
"You know what, DeAngelo Hall, man, he turns it up a notch against bigger receivers," Marshall said. "So I'm excited for the challenge. He's a guy that you've just got to stay focused and stay in your zone, because if you come out of your game, that's when he starts to win. It's one of those games, man, where you've got to strap up, put on extra padding because he's tough."
October, 16, 2013
10/16/13
1:16
PM ET
Washington Redskins
coach Mike Shanahan sees
Jay Cutler
's improved supporting cast as one of the chief catalysts behind the quarterback's resurgent play through the first six games.
The former head coach at Denver, Shanahan played a role in the Broncos drafting Cutler 11th overall in 2006, as well as
Brandon Marshall
in the fourth round. Shanahan named Cutler the starter with five games remaining in his rookie season, and said the quarterback and Marshall established uncanny chemistry almost immediately.
[+] Enlarge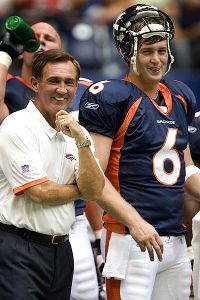 Dave Einsel/Getty ImagesMike Shanahan and Jay Cutler once shared a sideline in Denver. On Sunday afternoon, they will face off at FedEx Field.
"Well, it was a decision that you make," Shanahan recalled of making Cutler the starter in Denver. "We made that decision because we went to the AFC Championship Game the year before, and I really felt at that time that was as far as [former starter] Jake [Plummer] was going to take us. I thought Jay Cutler had the intangibles and the skills to possibly take us to the next level. I thought he was experienced enough to go in that direction. That's why I made the change."
Seven years later, Shanahan doesn't see much of a difference between the Cutler he worked with in Denver and the one currently on pace to hit a career high and franchise mark in completion percentage. Cutler has completed 65.9 percent of his passes thus far, which ties him for sixth in the league.
Prior to the Monday night game between Indianapolis and San Diego, Cutler ranked in the top 10 in five major passing categories (passer rating, completions, completion percentage, yards and touchdowns).
"Well, that's the way he played for me. He played at a Pro Bowl level his [second] year as a starter, his [third] year in the NFL," Shanahan said. "I think he had well over 600 throws, and I don't remember exactly what his sack amount was, but I think he had like 11, 12 sacks in all those throws. So he got rid of the ball very quickly and distributed the ball well, and I really like what I saw."
Cutler didn't experience that same success initially in Chicago, which acquired the quarterback in 2009 for a pair of first-round picks. Cutler lacked weapons on the outside, sufficient protection and a system he believed in. General manager Phil Emery gradually changed that by hiring head coach Marc Trestman, in addition to bolstering the offensive line through free agency and the draft, adding a tight end, and trading with Miami for Marshall, who was drafted in Denver the same year as Cutler, and played with him from 2006-08.
When asked what he sees as the biggest difference between Cutler now, and from when he first joined the Bears, Shanahan didn't hesitate to give his take.
"Supporting cast," he said. "I think you have to have a system that you believe in, and Jay picks up any system very quickly. A better supporting cast is you're trying to get the best supporting cast to give you quarterback a chance to be successful, and that's what I see that they've done to give him a chance to utilize his talents. That's part of building a team around a quarterback. It doesn't happen overnight, and one of the reasons why you go after a quarterback is you have to have one to give yourself a chance to win, and you try to put a supporting cast around him so he has a chance to be successful."
Shanahan spoke with Trestman at the NFL combine about Cutler back in February, and the newly hired head coach asked about the quarterback he had inherited.
"He asked me about Jay and my experience with him, and I shared exactly what I thought of him," Shanahan said. "There was nothing but positive. I'm a big fan of Jay Cutler's."
Shanahan holds similar feelings toward Marshall, who was drafted in the fourth round in 2006, but didn't become a starter until his second year in the NFL. After Marshall's first practice with the Broncos, future Hall of Fame cornerback
Champ Bailey
approached Shanahan befuddled.
He asked the coach, "How did we ever get this guy in the fourth round?"
"So you get a Pro Bowl player that realizes the talent of a guy like Brandon Marshall right away, the upside Brandon brings to a team," Shanahan said. "He's a difference-maker."
That's why Cutler gravitated toward Marshall almost instantly, Shanahan said.
"He's very physical. He's gonna beat bump coverage," the coach said. "He's going to go up for the ball and make big plays and right from the beginning. He had 18 catches or something against San Diego [in Marshall's third year]. Right from that time you knew they were going to have some great chemistry together."
Marshall praised Shanahan for the opportunity in Denver, and said his career likely wouldn't have been as successful had another team drafted him. Some players lament not going higher in the draft, but Marshall said he was perfectly fine with being a fourth-round pick because of all he learned from Shanahan.
"He gave me chance after chance," Marshall said. "When I'm in Denver, sometimes I may even run into him at his restaurants and we get a chance to talk. So he's definitely someone I think would be a friend, a mentor, a coach for the rest of my life. He definitely laid the foundation. The way he taught us the game and broke things down, but also it set the bar really high. There were high expectations around there, especially on the offensive side. We dealt with Coach Shanahan every single day."
October, 20, 2010
10/20/10
1:49
PM ET
March, 24, 2010
3/24/10
12:58
PM ET
[+] Enlarge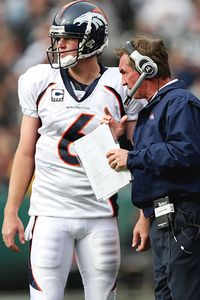 Jed Jacobsohn/Getty ImagesJay Cutler and Mike Shanahan worked well together in Denver.
Washington Redskins
coach Mike Shanahan believes
Jay Cutler
ultimately will make the
Chicago Bears
proud to have him as their quarterback, even if it means overcoming some hurdles along the way.
"Obviously there's going to be some roadblocks for every quarterback in the league, and obviously he's going through a tough situation right now," Shanahan said on "The Waddle & Silvy Show" on ESPN 1000. "But my opinion is he'll work through it, and Chicago will be very proud that they have him as their quarterback."
Cutler played under Shanahan with the
Denver Broncos
from 2006 to 2008 before being traded to the Bears last year. Cutler struggled in Chicago, throwing 26 interceptions to go along with 27 touchdowns as the Bears stumbled to a 7-9 record.
"I don't care what quarterback you have, you have to have a good supporting cast," Shanahan said. "And not only a good supporting cast, you have to have a system that really relates to the players.
"That's what you're working for as a head coach in the National Football League, to put all of that together."
Read the full story
.
Listen to Waddle & Silvy's interview with Mike Shanahan

December, 27, 2009
12/27/09
2:20
PM ET
CHICAGO, Ill. -- ESPN's Adam Schefter just threw a bucket of cold water on any Mike Shanahan-to-Chicago speculation. Schefter reported Sunday morning --
via his Twitter account
-- that Shanahan won't be the next
Chicago Bears
coach because he has too much respect for Lovie Smith.
"Despite speculation to contrary, Mike Shanahan will not wind up coaching Chicago nor Houston. Too much respect for Lovie and Kubiak," Shefter wrote.
Shanahan's reluctance to replace Gary Kubiak in Houston is understandable because Kubiak is Shanahan's former top assistant in Denver. It's unclear why Shanahan would feel the same way about Smith. One thing is clear; he's expected to command between $8-10 million per season. Bears general manager Jerry Angelo said last week money would not be an issue when it comes to potentially firing Smith, but he never mentioned anything about being able to open up the McCaskey's checkbook to hire an expensive new head coach.
Most analysts feel Shanahan is heading to the
Washington Redskins
.