Chicago Bears:

Mike Willie
September, 30, 2013
9/30/13
4:05
PM ET
LAKE FOREST, Ill. –
Chicago Bears
coach Marc Trestman said on Monday that he is unsure if rookie linebacker
Jon Bostic
will be disciplined by the NFL for the hit he delivered to
Detroit Lions
wide receiver
Kris Durham
as he lay on the ground following an onside kick with 43 seconds left to play in the Bears' 40-32 defeat at Ford Field on Sunday.
Bostic
"I did not see it, I really didn't see it," Trestman said. "I haven't heard about it and I haven't heard from the league about it. We'll see what happens the next couple of days."
Bostic was not penalized by the officials, but the hit upset Lions coach Jim Schwartz who referenced the incident during his postgame news conference on Sunday.
"Kris Durham made a couple big plays at the end, probably no bigger than recovering the last onside kick," Schwartz said. "He took a big shot for it, too. We talk a lot about player safety and he's lying prone on the ground and is getting himself up and takes a helmet right to the back and we don't get any call there. It's a little hypocritical to talk about player safety when we allow that to not get called. Kris toughed it out, and he had to hold onto that ball and he did. He did a nice job today"
The NFL fined Bostic $21,000 in August for lowering his head and making forcible contact with a defenseless
San Diego Chargers
wide receiver, Mike Willie, during a preseason game at Soldier Field. Bostic appealed the fine.
September, 4, 2013
9/04/13
5:10
PM ET
LAKE FOREST, Ill. –
Chicago Bears
head coach Marc Trestman left the door open for both veteran
D.J. Williams
and rookie
Jon Bostic
receiving snaps at middle linebacker in the regular season opener Sunday against the
Cincinnati Bengals
.
"It certainly could (be the way we go)," Trestman said. "We're going to leave it wide open in terms of where we are at the end of the week. They're both going to be ready to play middle linebacker and there certainly wouldn't be any reason why we wouldn't want to move them around and in-and-out of the game."
The question facing Williams is his conditioning. The 10-year veteran missed the bulk of the preseason after suffering a serous calf injury at the beginning of training camp. That setback allowed Bostic to start all four preseason games at middle linebacker where the rookie made a series of memorable plays, including an interception return for a touchdown in Carolina and a vicious hit on
San Diego Chargers
wide receiver Mike Willie that later drew a $21,000 fine from the NFL. Bostic is appealing the fine.
But Williams had full participation in practice on Wednesday according to the team's official injury report and spent the workout splitting first-team reps with Bostic, per a source.
"We're going to let Williams work the week," Trestman said. "He's looked good. He looked good today at practice. He moved well. He looks like he's in decent condition. I don't know if he's in game condition to play in 60 or 70 plays or 50 or 60 plays, but we're just going to let the week take its course. Both him and Jonathan are getting plenty of work."
Trestman said that Bosic's workload on special teams could increase versus the Bengals in the event the team decides to start Williams on Sunday. Williams is not believed to be a special teams contributor.
"There's no reason why they both can't be up and if Jonathan isn't taking as many snaps at middle linebacker position it will give him more opportunities on special teams," Trestman said. "If it continues this way, we'll see how it goes, we'll make a final decision on how we are going to play them. It looks like both will be able to play. How much and who will start … we've got a couple of more days … we'll see how D.J. feels at the end of the week."
The Bears originally tabbed Williams to replace
Brian Urlacher
after talks broke down with the future Hall of Famer in free agency. Williams signed a one-year deal with the Bears on March 22 following a nine-year stint in Denver where he started 115 games and recorded 100-plus tackles five times. Although the Bears used a second round pick on Bostic in April's NFL draft, Williams entered training camp as the unquestioned starter before the injury.
"It was weird," Williams said. "My last two seasons I missed the preseason so I don't want to say I'm used to it but I've been through this before. And, you know, being a veteran guy you kind of know what you need to do to get yourself prepared for the game.
You know, it's never easy. But since I've been through it before. I'm prepared. I know coming into the first game there's going to be a little gas, a little winded. But the first game of the season everybody is going to be kind of like that."
August, 21, 2013
8/21/13
10:15
AM ET
I cringed and started worrying after the third or fourth time I saw
Jon Bostic
's highlight-reel hit last week. Would the collision between Bostic, the
Chicago Bears
' rookie middle linebacker, and
San Diego Chargers
receiver
Mike Willie
surface as the first example in 2013 of the NFL's continued emphasis against head-to-head contact?
The answer appears to be yes, based on a tweet from teammate
Lance Briggs
that reported
the NFL fined Bostic $21,000
for the play. (The fine has since been confirmed by ESPN and other outlets.)
When you watch the replay in the video above, you see Willie reaching for a short slant pass and begin the process of catching it when Bostic launched a perfectly-timed hit to dislodge the ball. If you slow it down frame by frame, you see that the top of Bostic's helmet made contact with the bottom left side of Willie's helmet. No penalty was called.
[+] Enlarge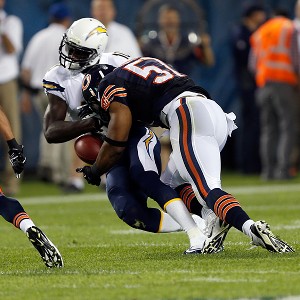 AP Photo/Scott BoehmJon Bostic was fined $21,000 Wednesday for his hit on San Diego Chargers wide receiver Mike Willie.
In sum, it's a play we've all seen countless times in NFL games. Many of them have been celebrated by NFL Films. But in 2013, and forever more, it is the type of contact the NFL wants to at least appear to be discouraged.
The NFL instituted new rules this year barring contact with the crown of the helmet, but in this case, it used one of its previously established rules to hand out the fine.
Rule 12, Section 2, Article 7 (b2)
renders this action to be illegal: "Lowering the head and making forcible contact with the top/crown or forehead/'hairline' parts of the helmet against any part of the defenseless player's body."
We can argue until we're blue in the face about whether Bostic lowered his head or if his head was simply tilted downward in a form tackle position when contact occurred. You can also question whether "defenseless position" was originally contemplated for a receiver reaching for a pass when both feet are on the ground. In this case, Willie took two steps before Bostic hit him. It wouldn't have been outrageous to call the play a catch and fumble.
But as we've discussed before, that ship has sailed. The conversation is over. At last count, more than 4,000 former NFL players are suing the league for concussion-related issues. Head safety is the league's top priority, legally and otherwise, and you can expect more aggressive interpretations of its rules moving forward.
Briggs later tweeted his disgust that the NFL fined Bostic but that the low hit on
Miami Dolphins
tight end
Dustin Keller
, which ruptured multiple knee ligaments, has gone unpunished. So goes the world we live in, like it or not. It's cheaper, for both the league and its players, to take out a player's knees than to hit him in the head. There is no going back now.
August, 21, 2013
8/21/13
7:54
AM ET
CHICAGO – Bears rookie linebacker Jon Bostic was fined $21,000 Wednesday for his hit on San Diego Chargers wide receiver Mike Willie.
Read the entire story
.
August, 16, 2013
8/16/13
12:19
AM ET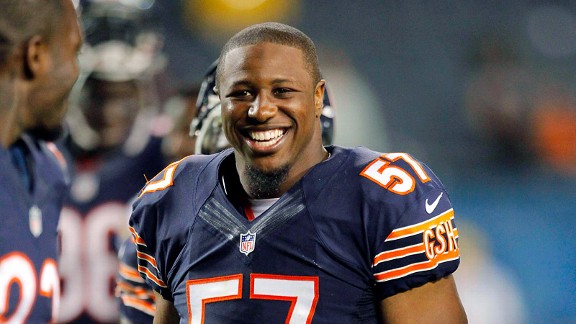 Dennis Wierzbicki/USA TODAY SportsJon Bostic has not played like an intimidated rookie. Rather, he could end up starting at middle linebacker.
CHICAGO -- There has been no shortage of memorable plays in
Chicago Bears
middle linebacker
Jon Bostic
's young NFL career.
One week after returning an interception for a touchdown in the preseason opener against the
Carolina Panthers
, Bostic was at it again Thursday night in his Solider Field debut, delivering a vicious hit to
San Diego Chargers
wide receiver
Mike Willie
on a short pass on the third play of the second half. The force of the impact caused Willie to drop the ball, resulting in an incompletion.
"Obviously, it was a big hit," Bostic said. "We were trying to take the ball away, that's the main thing. I kind of read it kind of quick because of something we had on up front. It was a big hit. But we were trying to take the ball out, but we didn't get it."
Bostic said he wasn't sure if it was the biggest hit of his career.