Chicago Bears:

NFL culture reaction 131106
November, 7, 2013
11/07/13
7:30
AM ET
LAKE FOREST, Ill. -- Marc Trestman made the eradication of rookie hazing one of his first directives upon taking the job as head coach of the
Chicago Bears
, and many of the team's players believe the move has fostered a better work environment.
At the very least, it might help the Bears avoid a controversial situation such as what Miami is currently experiencing. The Dolphins suspended guard
Richie Incognito
on Sunday for conduct detrimental to the team, a move that stemmed from allegations of harassment from offensive tackle
Jonathan Martin
, who after leaving the Dolphins last week checked himself into a South Florida hospital to treat emotional distress.
[+] Enlarge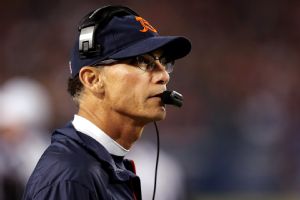 Jonathan Daniel/Getty Images"I told the team the first night," Bears coach Marc Trestman said, "when you haze somebody, you take their ability to help you win."
"I've been in places where there's been hazing, and I've been in places where there has not been hazing," Trestman said. "I told the team the first night, when you haze somebody, you take their ability to help you win. Everybody's here to help you win. We're not talking about taking a helmet and walking off the field with a helmet. We're talking about other things. The words you use, the way you act, the things you say, affect people from all different backgrounds and places. We've got to understand that the beauty of this game is it draws people from everywhere, from different realities and different perceptions, but that can all be neutralized through respect and using the proper language and proper words in the right place and the right time, in this building, on the field, and when we're out in the community because we represent the entire city."
Receiver
Brandon Marshall
and some of the veterans who weren't pleased with Trestman's order initially, now appreciate the coach's insistence on eliminating hazing. An eight-year veteran who started his career in Denver and played with Incognito in Miami before joining the Bears, Marshall admitted he was intimidated as a rookie in 2006 when Broncos veterans put him through some of the typical hazing rituals, which are viewed by many players as a rite of passage.
Marshall said he's seen "guys getting their eyebrows shaved, heads shaved," but he was only asked by veterans such as former Broncos
Rod Smith
and
Javon Walker
to do "simple things" such as "stock up the room with sunflower seeds and occasionally bring in some donuts." The receiver also carried veterans' helmets off the practice field, making sure to do it "so it wouldn't escalate into something serious."
"Here, it's different. We look at rookies differently," Marshall said. "You have to earn your stripes, earn your place on the team, earn your place in the NFL. But as far as crossing that line -- disrespecting guys, demeaning guys -- that just doesn't happen here. Actually, coach Trestman did a great job of really going out of his way to make everyone feel comfortable from Day 1. There were some things where we were like, 'Man, this stuff goes on in every locker room. We would love to continue to do it.' But Coach just said, 'Hey, we're gonna nip that in the bud. I want guys to focus on football, and everyone just focus on their jobs and not Rookie Night or what guys might do to me the next day [in terms of hazing].'"
Rookie guard
Kyle Long
appreciates Trestman's approach, but made it clear that he understands he's a rookie who hasn't yet paid his dues. The team's offensive line will hold a rookie dinner at some point soon, "and I'm sure [fellow rookie]
Jordan Mills
and I will split the tab eventually," Long said on "The Carmen & Jurko Show" on ESPN 1000. He and Mills are also often asked to supply dipping tobacco for the veteran offensive linemen.
Long said Trestman made the no-hazing rule "very clear from the beginning."
"I feel that's very conducive to a healthy workplace," Long said. "We really appreciate that about Coach, where nobody is put ahead of anybody else. But at the same time, for you to think that we don't understand that we are rookies, you'd be mistaken."
Trestman's philosophy regarding hazing comes from a 28-year coaching career, ranging from stints at college (where teams haze freshmen) to a head-coaching job in the Canadian Football League and several stops around the NFL. Trestman's goal upon joining the Bears was to build "on the concept of respect and the growth of respect, so guys understand what we're trying to get done here."
Besides, he's seen too many instances of hazing in the past that ultimately were detrimental to a team's overall goals.
"I've seen the incidents. I know what it does," Trestman said. "We're not going to spend time having players worry about things that can't help us win and are going to be disrespectful. I can't speak for anyone in the National Football League on that. I'm not going to stand up here after seven weeks on the job and start speaking for the league. Our whole foundation's built on respect for everyone in the organization, respect for the players, respect for the game, honoring the game. We've talked about it a lot."
November, 6, 2013
11/06/13
4:18
PM ET
LAKE FOREST, Ill. --
Chicago Bears
receiver
Brandon Marshall
views the situation taking place in Miami involving
Richie Incognito
and
Jonathan Martin
as more evidence the culture of the NFL needs to change.
"You can't show that you're hurt. You can't show any pain," Marshall said of the NFL's culture of machismo. "So for a guy that comes in the locker room and he shows a little vulnerability, that's a problem. So that's what I mean by the culture of the NFL, and that's what we have to change."
Martin recently
checked into a South Florida hospital
to be treated for emotional distress that led to him leaving the team last week, according to ESPN's Chris Mortensen, who also reported the trip to the hospital was related to the offensive tackle's belief that he had been targeted during a sustained level of harassment from teammates, including Incognito.
Marshall
The Dolphins suspended Incognito on Sunday for conduct detrimental to the team after reps for Martin provided the team voicemail and text evidence of the alleged harassment.
Having played two seasons with Incognito on the Dolphins (2010 and 2011), Marshall expressed that "you have to be sensitive to the kid, Martin, and what he's going through" because it's "a serious situation." But the receiver also said the NFL shouldn't ban Incognito, and that hazing occurs "in every locker room."
"Look at it from this standpoint. Take a little boy and a little girl. The little boy falls down, and the first thing we say as parents: 'Get up, shake it off. You'll be OK, don't cry.' When the girl falls down, what do we say? 'It's gonna be OK,'" Marshall explained. "We validate their feelings. So right there from that moment, we're teaching our men to mask their feelings, don't show their emotions. And it's that times 100 with football players. So what's going on in Miami, it goes on in every locker room. But it's time for us to start talking, maybe have some group sessions where guys sit down and talk about what's going on off the field or what's going on in the building and not mask everything because the [longer] it goes untreated, the worse it gets. Unfortunately you see this kid, Martin, he's been harboring these feelings for the past two years and now he's at a boiling point where he has to walk out. It's a good thing that it didn't escalate to something more serious. But it's time for us to take a look at some things that we can do that are proactive and start with some group sessions or group therapy or other innovative things out there."
An outspoken advocate for mental health awareness, Marshall also added some context to one of the significant allegations being reviewed in the Miami situation. Sources told ESPN that Incognito convinced Martin to contribute $15,000 to help pay for a trip to Las Vegas last summer for a group of teammates, despite the offensive tackle's preference to not travel with the team. Martin paid the $15,000, fearing consequences if he did not hand over the money, sources told ESPN.
Marshall said that a trip to Las Vegas is a yearly tradition of Miami's offensive linemen, one that existed before Incognito ever became a Dolphin.
"I would say this about Richie: I was there in Miami, and those guys have
been
doing that. The offensive linemen had been doing that before Richie got there. It's a tradition down in Miami that the offensive linemen go to Vegas," Marshall said. "I was actually invited to go to a trip, and the rookies, they were supposed to pick up a big piece of the cost. But the veterans would chip in. [Dolphins center Mike] Pouncey paid his part of it, and didn't even get on the flight. He ended up meeting the guys out there. There are some things out there where that's what I mean by [saying], 'It's in every locker room.' That had been there before Richie was there, and I was around that. So I don't think there were any ill feelings. It's just a part of the tradition that was there."
Marshall mentioned that he keeps in contact with Incognito and enjoyed playing with the guard during their days together in Miami. Marshall also discussed the racially charged text messages allegedly sent from Incognito to Martin.
In an NFL locker room, racist remarks cut both ways, he said.
"It was kind of disturbing to see some of the things that were said, but I also know that it's not an isolated incident. It's unfortunately the culture of the NFL," Marshall said. "We walk around saying the N-word as black players, and it's not right. We get offended when the white player says it. That's on him and where his heart's at when he says it. It doesn't make it right. But we can't jump down a guy's throat because he's saying it and he's white. The black guys are saying it, too; doesn't make it right. People are capable of change. That's something Richie has to deal with. I'm not condoning that. But people do things and say things that are hurtful. That's something that Richie has to deal with."