Chicago Bears:

NFL free agency
March, 15, 2012
3/15/12
6:56
PM ET
CHICAGO -- Although the Bears might continue to try to strengthen their outside pass rush in free agency or the upcoming NFL draft, the team agreed to terms on a one-year contract with 31-year-old veteran defensive end Israel Idonije. The team announced the deal Thursday night.
Idonije finished second on the club last year with five sacks and second on the defense with 37 quarterback pressures.
A versatile defensive lineman who can play end and tackle, Idonije set a career-high with 8 sacks in 2010, his first season in the league as a full-time starter.
Before Idonije was elevated to the starting line-up, he spent the bulk of his Bears' career as a reserve defensive lineman and special-teams contributor.
The Bears could still look to upgrade at defensive end, but bringing back Idonije on a one-year deal appears to be a low-risk and potential high-reward move for general manager Phil Emery.
Idonije, a finalist for the Walter Payton Man of the Year Award in 2010, devotes significant time and resources to helping the community via his foundation. This upcoming season with mark Idonije's ninth in a Bears' uniform, after he originally entered the league in 2003 as an undrafted free agent.
March, 14, 2012
3/14/12
10:31
PM ET
Now that Bears general manager Phil Emery has taken steps to retain three of his own free agents (Tim Jennings, Josh McCown, Kellen Davis), one of the next orders of in-house business should be to re-sign safety Craig Steltz.
[+] Enlarge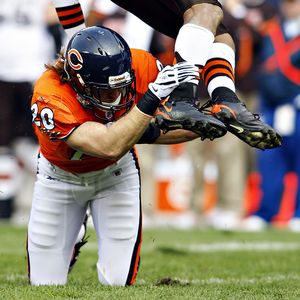 Rob Grabowski/US PresswireCraig Steltz has been a valuable special-teams contributor for the Bears.
Steltz has been a valuable asset on special teams for Dave Toub since he was selected by the Bears in the fourth round of the 2008 draft. The defensive back also proved to be a capable defender when he started the final four games of 2011.
Steltz finished the year with 48 tackles, 2 forced fumbles and a sack in just five total starts.
Given the injury histories of both Major Wright and Chris Conte, Steltz might find himself in a position to compete for serious playing time if he returns to Chicago. He would probably enter training camp as No. 3 of No. 4 on the depth chart, but if the Bears stage of true competition for the starting job, there is no telling if Steltz could unseat Wright, or if Wright can even stay healthy.
Although the Bears could probably bring back Steltz on a modest deal, it was be a wise investment moving forward.
March, 14, 2012
3/14/12
7:45
PM ET
Jacksonville Jaguars defensive end Jeremy Mincey was close to signing with the Bears Tuesday night.


How close?
Mincey explained to the media on Wednesday that a last second sales pitch from Jaguars general manager Gene Smith convinced the defensive end to spurn the Bears and instead accept the Jags' offer of 4-years, $20 million.
"At first it was a battle between Chicago," Mincey explained. "A bidding war basically between Jacksonville and Chicago and I am a loyal man and I don't just play the game for money. I play the game to win and inspire people to be the best at whatever they do in life. The business is about money. I'm not about money but that's the business aspect of what we do. Those guys swallow pride in everything. They jump up there and make sure they get me signed. Both ends were happy with the deal and it was an offer I couldn't refuse. Plus, for my home team I'm back here in Jacksonville with the greatest fans in the NFL and an up and coming team. I just want to be a part of something special.'
"Gene really wanted me here, and that was the bottom line. He really wanted me here, you could hear the sincerity in his voice. For him to reach out and outbid Chicago in a situation they could have easily let me go and grab a few guys from the free agent market, but he didn't. He chose to keep me here and that speaks value. I'm just glad that he chose to make that decision. That's what grabbed me, pulled me in, and won me over."
Mincey, however, had nothing but kind words for the Bears, a team still in need of an upgrade at defensive end to compliment Pro Bowler Julius Peppers.
"The Bears, it was a good fit," Mincey said. "Who wouldn't want to play beside Julius Peppers and Brian Urlacher? Like I said, they're a first-class organization. They do things right and have a lot of good pieces to make it happen. But the way I see it is why become part of a legacy when you can build your own? That was my take on it and that was the line that stuck in my head throughout this whole process. That was one of the key factors of me choosing Jacksonville."
March, 14, 2012
3/14/12
6:39
PM ET
Eventually the Bears need to address their depth at linebacker. One potential solution is free agent linebacker David Hawthorne, who recorded 100-plus tackles in each of the past three seasons for the Seattle Seahawks.
[+] Enlarge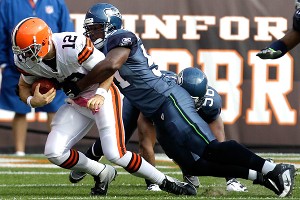 AP Photo/Tony DejakDavid Hawthorne's addition could give the Bears much-needed depth at linebacker.
At 26 years old, Hawthorne could provide the Bears with a linebacker who could play all three spots (MLB, WLB, SLB), plus be the eventual successor in the middle for Brian Urlacher. With Hawthorne in the mix, the Bears would also have an insurance policy in the event Lance Briggs' continues to push for a trade or a new contract.
The free-agent market for linebackers got off to a slow start, but Hawthorne is scheduled to visit the New Orleans Saints on Friday, per a league source. As many as four teams made inquiries about Hawthorne in the early hours of free agency on Tuesday.
ESPNChicago.com's Michael C. Wright reported on Monday the Bears were one of the teams to express interest in Hawthorne prior to the start of free agency.
March, 13, 2012
3/13/12
10:58
PM ET
At this moment, the Bears' chances of landing premiere free agent Mario Williams remain a mystery.
Williams visited Buffalo on Tuesday, but he has yet to agree to a contract, which is certainly positive news for the rest of the teams trying to land the 27-year-old pass-rusher.
Remember, Williams is the top free agent left on the market. He could, in theory, take all the time he wants when it comes to deciding on a team. After all, it's not as if a team is going to threaten to pull an offer to gain leverage. Williams has all the leverage in this process, and if he wants to drag it out hear another sales pitch from a team like the Bears, it's a decision to other interested teams must honor and respect.
[+] Enlarge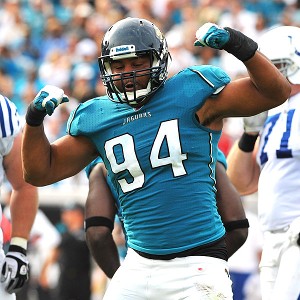 Al Messerschmidt/Getty ImagesJaguars observers will be quick to find that Jeremy Mincey is high on enthusiasm heading into camp.
The three players the Bears acquired on Tuesday (wide receiver Brandon Marshall, quarterback Jason Campbell, linebacker Blake Costanzo) ate up a chunk of the club's salary cap space. But if the organization were to get creative, it could conceivably still make a run at Williams -- although he might have to agree to sign for a tad less to play in Chicago.
In the event Williams goes in a different direction, the Bears have expressed interest in Jacksonville free agent defensive end Jeremy Mincey, who posted a career-best eight sacks last season. At 28-years-old, Mincey would be a younger option if the Bears wanted to part company with fellow free agent Israel Idonije,31, who made a base salary of $2.4 million in 2011.

Idonije, armed with agent Drew Rosenhaus, could be looking for a raise. Rosenhaus generally does quite well for his clients in free agency, and while no teams have yet been linked to Idonije, a market will no doubt emerge for the veteran defensive lineman at some point.