Chicago Bears:

NFL lockout
July, 10, 2011
7/10/11
1:35
PM ET
CHICAGO -- They disagree about whether there's a sliver of positivity hiding somewhere within the NFL lockout.
But there's no doubt
Chicago Bears
linebacker
Brian Urlacher
and running back
Matt Forte
would be ready to go if the current labor strife -- as widely predicted -- ends later this week.
Read the entire story.
June, 28, 2011
6/28/11
8:44
PM ET
CHICAGO -- Hunter Hillenmeyer's professional football career might be winding down, but the former Chicago Bears linebacker remains plugged-in to the ongoing NFL labor dispute.
[+] Enlarge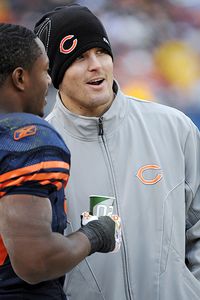 Rob Grabowski/US PresswireHunter Hillenmeyer missed all but one game for the Bears last season.
The team's former player representative -- a role currently held by kicker Robbie Gould -- Hillenmeyer landed on injured reserve Sept. 14, 2010 due to a concussion and because players on IR tend not to be around the facility every day, Hillenmeyer pushed for the Bears to elect a new player rep (Gould). Hillenmeyer continued to serve as an alternate representative, and even though the Bears released the veteran on Feb. 28, he continues to help Gould provide lockout updates to members of the Bears roster.
"It's tricky because there is definitely progress, but you have to know the starting points to know exactly where that progress has gotten to," Hillenmeyer told ESPNChicago.com on Tuesday. "In our most recent conference calls, one of our key things that DeMaurice Smith was trying to communicate to the player reps was 'listen, people in the media outlets have to have some news, people want to know what's going on, so they're probably going to lean towards making more out of the day-to-day than there really is.' DeMaurice message was that a deal is not imminent and it's dangerous for players to think that because if guys go spending money like they think there is going to be a paycheck coming on the date of the first game, that's a dangerous mindset for players to have.
"While we are certainly optimistic that it gets done way before that, and we can have a normal preseason and a normal regular season, players have got to prepare for the worst. That's a daunting thing but an important message to communicate. I'll tip my hat to Robbie on this one, because he did something that was absolutely necessary and put our entire team on the same e-mail chain. That's always an easy way to communicate and something we had never done in the past. Robbie and I, every time we have a conference call or we get information from Smith or any of the players on the executive committee, we'll pass that along or give the highlights to the other players. Some guys take a really active interest. There are really a couple of guys on the Bears who e-mail or text me bi-weekly, and then there are other guys who just want it to get done, just like the fans."
A versatile linebacker who started 69 regular-season games and posted a pair of 100-plus tackle seasons for the Bears from 2003-09, Hillenmeyer, originally selected by the Green Bay Packers in the fifth-round of the 2003 NFL draft, is unsure whether to continue playing after suffering a concussion playing special teams against the Detroit Lions in Week 1 of the 2010 regular season.
"I'm still figuring that out, but I've obviously had the benefit of time on my side. It's crazy to me does start, there are 500-600 free agents out there who are trying to figure out, not just what their contract is going to look like, but what team they're going to be playing for," Hillenmeyer said. "You're going to have a period where it's bedlam whenever it gets worked out, where general managers and agents are literally not going to be able to sleep for weeks because they're going to have to figure out where everybody is going to land.
"I'm still weighing that decision because there are a lot of factors…doctors opinions and things like that are weighing into my decision. I love football. I really do wish I could play another four to five years, but I'm still in the information gathering stage trying to figure out what is the best thing is for me to do."
Hillenmeyer remains heavily involved in teaching proper player safety and will host a free football camp at Northwestern University on Saturday, July 9 from 9 am to 2 pm. The proceeds from the camp, for players in grades 8-12, will benefit Gridiron Alliance, which helps athletes who have suffered spinal cord injuries playing high school football. The camp will feature position-specific training and combine style testing stations. Visit positionclinic.com for registration details.
June, 1, 2011
6/01/11
10:48
AM ET
The NFL lockout has put players and owners in limbo. The ripple effects are also felt by people whose lives or businesses touch their teams. Here are their stories:
Situated across Highway 45/52, and tucked conveniently next to the campus of Olivet Nazarene University -- host of
Chicago Bears
training camp since 2002 -- T.J. Donlins fills quicker than its bartenders can pour a pint once the sun goes down over Bourbonnais, a town of 19,119 located 50 miles south of Chicago.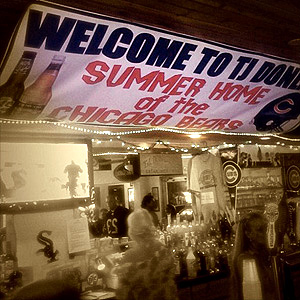 Courtesy of T.J. DonlinsBusiness typically more than doubles at T.J. Donlins during training camp.
The bar's co-owner, Tom Richmond, estimates that business picks up 2 1/2 times its normal pace in late July during training camp. But with no end in sight to this NFL lockout, camp is in serious jeopardy.
So is business at T.J. Donlins.
"Business is flat going into [training camp], but that's normal," Richmond said. "We do a nice bit during the three weeks they're here; we love them. Unfortunately, this will affect us directly. Camp is a nice spike that we have come to kind of depend on. Being a small business, it helps quite a bit. So everybody here has their fingers crossed. We hope it happens -- this lockout ends."
Football fans in the know smartly cram into T.J. Donlins during camp to cool off with beer specials, which begin at $1 and go up to the $2 Killian's pints on Tuesdays. More appealing than the cheap beer, though, is the sightseeing.
On any given night, a few coaches, players and scouts come in, graciously sign autographs, and mingle with patrons. Some hang out on the back patio deck to team up with locals for games of bag toss.
Richmond said the training camp traffic results in additional business during the season from travelers who had visited over the summer.
"The Bears have been so good to the fans. The first year or two, it was testy because they were such a novelty," Richmond said. "People bothered them to the point they couldn't even sit down. Over the last seven years, it's been good. They come out en masse sometimes. They're courteous and will give plenty of autographs."
Those good vibes could end soon, though. Richmond, who opened the bar in 1983, knows business will continue regardless of the lockout's outcome. Still, he's hoping to not have to find out what life sans training camp entails.
"Every bar in America has the NFL on their screen on Sundays. So I know there's a lot of stuff revolving around this for a lot of people, especially us," Richmond said. "I just hope they all come to a happy agreement."
April, 28, 2011
4/28/11
11:27
AM ET
CHICAGO -- Chicago Bears tight end Greg Olsen, defensive tackle Matt Toeaina and kicker Robbie Gould arrived at Halas Hall on Thursday and were once again denied permission to use the team's weight room.
Read the entire story.
March, 30, 2011
3/30/11
5:50
PM ET
CHICAGO -- With the NFL players' request for an injunction to lift the lockout scheduled to be heard before a federal judge in Minnesota on April 6, Chicago Bears kicker and player rep Robbie Gould is busy trying to keep teammates informed about the potential ramifications of next week's hearing.
"The players know the whole case is meant to lift the current lockout, because our stance has always been we want to play and we want a fair deal," Gould said Wednesday. "I e-mail and call the players, but the most effective way to communicate is a mass e-mail coming from the trade association player rep so everyone can talk freely among us. As soon as I get information from our trade association, it goes out to the players. I think everybody understands exactly what has gone on to this point, and the players are united in the sense of knowing what's coming next.
"Obviously, if the owners win [the lawsuit] and the lockout is upheld, then we'll still be without a job and paying insurance. If we win the court case, the doors will be open and we'll play under rules which are to be determined.
Judge Susan Nelson could take several weeks to rule on the matter, and since the losing side expected to appeal the decision, Gould has braced teammates for the worst. But in the event an injunction is granted, the Bears could very well be back at Halas Hall some point next month.
"There is really not a set date in which we would go back to work because that would be based on the clubs," Gould said. "Let's say we win on April 15, they could open the doors back up on the 16th. Is that realistic it could be the next day? I really don't know, but the clubs will obviously have to open the doors at some point and figure out when they would want to pay us and when they want the players back to start working out again. Of course if the owners lose, but then win the appeal, they could potentially lock us out all over again at some point in time.
"It was pretty amazing to hear the NFL owners keep saying we don't want a lockout, we don't want a lockout, and then a week and a half later [NFL league negotiator] Jeff Pash comes out and says we think everything the trade association is doing as far as decertification is completely false, and we want the lockout to continue. Well, I thought you didn't want a lockout, I thought you wanted us to play. So everything the NFL is saying is completely contradictory to what they are really trying to do.
"I've told the players you could be back to work in the middle or end of April, or you could not have a season. Prepare for the worst, prepare as if you're not having a season, and then hope for the best. "
March, 9, 2011
3/09/11
12:45
PM ET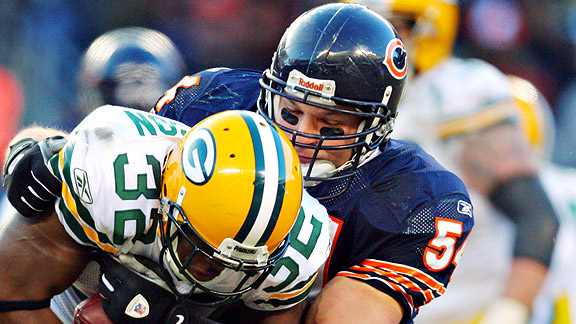 Dennis Wierzbicki/US PresswireBrian Urlacher stands to lose a $500,000 workout bonus in case of a protracted work stoppage.
The
Chicago Bears
claim to have saved money for a lockout.
Hopefully for their sake that's the case because they stand to lose quite a bit if a potential work stoppage becomes a protracted situation that extends into the summer.
With the NFL and NFLPA still deep in negotiations for a new CBA, the 46 Bears currently under contract for 2011 could lose close to a combined $7 million in roster bonuses and workout bonuses if a work stoppage extends into the period those bonuses are due, which is typically in June.
Linebacker
Brian Urlacher
, whose contract runs through 2012, will lose the most, forfeiting $2.1 million this offseason in bonuses while tight end
Brandon Manumaleuna
will lose $1.1 million.
Without a CBA in place, teams around the league won't be paying workout bonuses and roster bonuses this offseason. Some teams pay bonuses in March, but the Bears are one of many to have structured their contracts to make those payments in June.
Because of labor unrest, however, the payments could be lost, or indefinitely pushed back.
Teams usually begin offseason conditioning programs in March, and players can earn a minimum of $7,280 -- as mandated by the last CBA -- by fully participating in these programs. While the minimum $7,280 doesn't seem like much incentive to participate, 14 Bears will lose at least $25,000 in workout bonuses, with 10 of them -- receiver
Devin Hester
, Manumaleuna, quarterback
Jay Cutler
, defensive ends
Julius Peppers
and
Israel Idonije
, linebackers
Lance Briggs
and Urlacher, safety
Chris Harris
, tackle
Frank Omiyale
and cornerback
Tim Jennings
-- expected to forfeit at least $100,000 in workout bonuses alone.
Workout bonuses total $2,666,960 in potential earnings for the Bears on the roster that could be missed if an extended lockout prevents the Bears from holding an offseason conditioning program.
Potential losses in June roster bonuses, which are typically paid five days after they're earned, are much more significant for the individual players involved. Urlacher ($1.6 million), Manumaleuna ($1 million), Harris ($500,000), and kicker
Robbie Gould
($500,000) head a group of players slated to lose $4,180,732 in June roster bonuses if the sides can't strike a new agreement by the time the payments are due.
Offseason conditioning programs often run through June. So if there's a lockout, the longer it takes for NFL and the union to come to agreement on a new CBA, the more difficult it will be for the sides to determine how to make up for players' lost wages from offseason programs and roster bonuses.
Should the potential work stoppage become a protracted affair that extends into the summer, the matter of how to reconcile those lost wages and make the players whole again will likely become a major bone of contention between the sides as they continue talks toward a new CBA.
Surely, the players hope the situation never advances to that point.
March, 4, 2011
3/04/11
2:51
PM ET
Despite the NFL and union agreeing on Friday to extend the collective bargaining agreement for seven days, the Chicago Bears have made contingency plans in the case of a lockout.
Read the entire story.