Chicago Bears:

offensive coordinator
January, 16, 2013
1/16/13
8:48
AM ET
[+] Enlarge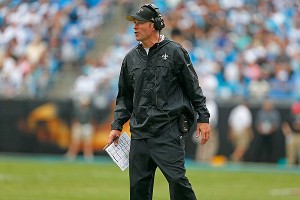 AP Photo/Bob LeveroneFormer New Orleans interim head coach Aaron Kromer was Marc Trestman's first move as Bears coach.
CHICAGO -- The
Chicago Bears
moved swiftly to begin filling out their coaching staff under new head coach Marc Trestman by reaching an agreement with Aaron Kromer to serve as the team's offensive coordinator/offensive line coach, sources told ESPN NFL Insider Adam Schefter.
Kromer has been with the
New Orleans Saints
since 2008 where he handled the running backs for one season before shifting over to coach the offensive line. Kromer was the Saints' interim head coach for the first six games of the 2012 season with Sean Payton suspended for the entire year and Joe Vitt unavailable for the opening six games. New Orleans went 2-4 with Kromer at the helm.
The working relationship between Kromer and Trestman dates back to 2001 when two men were both on the staff of the
Oakland Raiders
. Trestman arrived in Oakland as the quarterbacks coach that year before being promoted to offensive coordinator the following season when the Raiders reached the Super Bowl. Trestman left Oakland after the 2003 campaign. Kromer spent 2001-04 with the Raiders where he coached the offensive line his final three years with the organization.
Kromer also had a stint with the
Tampa Bay Buccaneers
and worked collegiately at Northwestern University and Miami University.
February, 4, 2010
2/04/10
5:22
PM ET
FT. LAUDERDALE, Fla. -- Former NFL offensive lineman
Kyle Turley
paints an interesting picture of former
St. Louis Rams
head coach and new Bears offensive coordinator Mike Martz.
"I didn't care for the guy as a head coach, but I heard a lot of great things about him as an offensive coordinator," Turley said Thursday at a press conference supporting Gridiron Greats. "I hope the best for that team. ... Lovie [Smith] is a great guy and that team deserves to win. I think their offense can be a lot better with a coach like Mike Martz as long as he's got somebody who keeps him where he needs to be. That proved itself when he was with the Rams -- what his capabilities are."
Turley thinks the Bears' success in 2010 will depend on whether Martz and Smith can find balance.
"I feel like Lovie, being a defensive-minded coach, can keep a handle on what [Martz] is doing in certain situations, you know maybe keep a governor on him, because the guy is full tilt and wants to get in that end zone as fast as possible," Turley said. "But that doesn't necessarily help out what you're trying to do on defense, you don't want to get in shootouts. I think if there is a balance there, they got a real good opportunity this season."
January, 25, 2010
1/25/10
5:11
PM ET
[+] Enlarge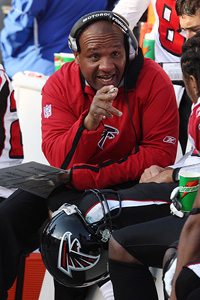 David Drapkin/Getty ImagesFormer Atlanta Falcons offensive coordinator and current Baltimore Ravens quarterbacks coach Hue Jackson will interview for the Bears' offensive coordinator position.
CHICAGO -- Former NFL quarterback and current ESPN analyst
Tim Hasselbeck
knows current
Baltimore Ravens
' quarterbacks coach Hue Jackson from their days together with the
Washington Redskins
. Back in 2003, Jackson was Washington's offense coordinator while Hasselbeck came off the bench to start five games at quarterback for a group that finished a disappointing 5-11.
"Back then, [former Redskins head coach] Steve Spurrier was pretty much in control of everything, but things weren't going that well," Hasselbeck told ESPNChicago.com Monday. "Eventually, people thought the best thing to do was let Hue call the plays and deal with our protection issues. One thing about Hue, he relates to players well and does an excellent job of keeping things fairly simple. Not simple to the point of remedial, but simple to the point that players understand their responsibilities."
Jackson, who will interview for the
Chicago Bears
' offensive coordinator position, also called plays for the 2007
Atlanta Falcons
, the same team abandoned by head coach Bobby Petrino late in the year.
"That was a tough situation for everybody down there," Hasselbeck said. "But look up how [Falcons quarterback]
Chris Redman
did late in the year. I was with Arizona in 2007, and I remember when we played Atlanta watching Redman throw the ball all over the place. Look it up. That was all Hue right there with Redman."
Redman threw for 315 yards and a pair of touchdowns in that overtime loss to the Cardinals, and then finished up the season tossing four scores against Seattle -- in six games (four starts) in 2007, Redman passed for 1,079 yards, 10 touchdowns and had a passer rating of 90.4.
But how would Jackson do in Chicago?
"Hue really has a presence," Hasselbeck said. "He can stand up in front of the room and have the attention of all 25 guys on offense. Some coaches aren't able to command the room. Hue can, and he does it quite well.
Hasselbeck said Jackson focuses on calling plays that best suit his personnel.
"Ultimately, that's what good coaches do," Hasselbeck said. "Look at [
Kansas City Chiefs
head coach] Todd Haley, people thought based on what he did in Arizona with
Kurt Warner
,
Larry Fitzgerald
and
Anquan Boldin
that he was a guy more comfortable in the shotgun. Then he gets to Kansas City, and we see he wants a tailback, fullback and two tight ends to run a more traditional style."
"The Bears have invested a lot in
Jay Cutler
, so do something [offensively] he's good at, There are a couple quarterbacks in the league that would be great no matter where they go. But the majority of the guys, even those who are Pro Bowl caliber, need to be in a system that fits them. My brother [
Seattle Seahawks
quarterback
Matt Hasselbeck
] is the same way, despite going to Pro Bowls and playing in a Super Bowl, he benefited from being put in a system that fit him, rather than being forced to fit in a system."
ESPN NFL Insider Adam Schefter first reported that Jackson is coming to interview for the Bears' offensive coordinator position on Tuesday.
January, 13, 2010
1/13/10
6:46
PM ET
[+] Enlarge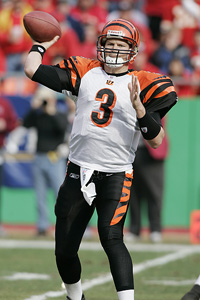 Scott Boehm/Getty ImagesJon Kitna threw for 3,591 yards and 26 touchdowns in Ken Zampese's first year as the Bengals quarterbacks coach.
CHICAGO -- Add
Jon Kitna
to the list of Ken Zampese supporters.
"He knows the game in and out," Kitna said Wednesday during a visit with the "Afternoon Saloon" on ESPN 1000. "He grew up Ernie Zampese's son, [so] he grew up around the game. He spent a few years with coach [Mike] Martz in St.Louis, and I always said you can learn a lot of football being around [Martz].
"When he came to Cincinnati in 2003, he did a great job of not only helping me, but grooming [Bengals starting quarterback]
Carson Palmer
and bringing him along. Ken is going to be a good if they get him as a coordinator, and he's somebody I talk to quite often."
Kitna echoed former teammate
Craig Krenzel
's description of Zampese as a detail-orientated coach, saying the quarterbacks were always prepared regardless of the situation. The veteran quarterback was named NFL Comeback Player of the Year in 2003, his first season with Zampese as his position coach.
"Communication-wise he's great," Kitna said. "He's a detail guy. Anybody that comes from his father and coach Martz [knows] it's all about the details of the game. If a route is supposed to be at 18 yards, then it's going to be at 18 yards. It's not going to be 17 or 19. Those details are going to be something that would probably take a lot of people by surprise early on, but they would grow to like it."
Kitna, who currently serves as
Tony Romo
's backup in Dallas, refused to take the bait when asked who he would hire if given the choice between Zampese and Martz.
"I have a lot of respect for both of the guys, having been under both of them in my career," Kitna, who played for Martz in Detroit in 2006-07, said. "I don't really think you're going to go wrong with either one of them."
January, 12, 2010
1/12/10
9:27
PM ET
CHICAGO -- When speaking to people about Ken Zampese, the first thing brought up is his proven track record of working with quarterbacks, having coached that position for the
Cincinnati Bengals
since 2003.
The second thing; his lack of play calling experience.
Zampese, who
reportedly interviewed
for the
Chicago Bears
offensive coordinator position, worked with Lovie Smith in St. Louis from 2001-02, and is held in high regard by those in the coaching community. In fact, Zampese had been considered for several offensive coordinator positions in the past, but for whatever reason, he didn't get the job.
Still, it might be a tough sell if the Bears hire somebody who's never been an offensive coordinator. But at this point in the search process, Zampese's name being thrown into the mix is a welcome relief and a pleasant departure from some of the other candidates speculated upon by the media.