May, 28, 2014
5/28/14
1:01
PM ET
LAKE FOREST, Ill. -- When the coaching staff yelled for the first-team nickel defense to take the field Tuesday during organized team activities, cornerback
Tim Jennings
simply took a couple of steps inside from his customary spot outside to the nickel position.
Jennings
First-round pick
Kyle Fuller
, meanwhile, trotted over into Jennings' spot opposite
Charles Tillman
.
Jennings understands the team wants its first-round pick on the field as soon as possible, and he's fine moving inside to nickel to make that happen.
"We're gonna try it out. We've got to get Fuller out there so I'll move in on nickel packages and we'll bring Fuller at the left corner," Jennings said. "Hopefully, it'll be a full-time thing."
What?
Having signed to a four-year extension worth $22.4 million on Jan. 2 coming off back-to-back Pro Bowl seasons as a left cornerback, Jennings said he still would have taken the new deal if told beforehand he'd wind up playing nickel this season in the team's sub packages. Bears general manager Phil Emery pointed out Jennings' enthusiasm and attitude as reasons for the club's desire to bring back the cornerback long term.
Besides that, Jennings brings a playmaking element to the nickel spot, an attribute sorely needed because in 2013 the Bears failed to generate turnovers from that position. Part of the reason for that was
Isaiah Frey
played a good portion of last season at that position with a broken hand.
"Signing Tim to me is about rewarding excellence, and he has had that," Emery said back in January. "I can't tell you enough about the energy he brings, the positive upbeat style. I've always been very impressed with his athletic suddenness, his competitive fire, and the energy that he brings along with a key thing: He's a playmaker. He's had nine picks a year ago, and four picks this year. Those are the types of players that make us better, that make a difference that make plays. Career wise, [he] started 79 games out of 115 played, had 385 total tackles, 20 picks, 71 passes defended, seven forced fumbles and five fumble recoveries. [He's a] big part of our defense since he's been here, tremendous Pro Bowl season a year ago."
Those credentials and the big paycheck aren't so much that Jennings scoffs at the idea of moving inside to nickel in sub packages. When the Bears operated out of base defense Tuesday, Jennings played left corner opposite Tillman.
Besides that, Jennings mentioned he's experienced at covering in the slot. Early in his career with the
Indianapolis Colts
, Jennings said the only way he could get a shot at playing time was to take on the role as a nickel corner.
"It's a little different for me. I've got to get back to acclimated to playing nickel, and playing two positions on defense," Jennings said. "You're just another linebacker, an athletic linebacker. You have to be able to see a lot more things. You've got to be able to see a lot more backfield sets. It's a lot more reads, a lot more keys you have to get. I've got to get used to seeing different people, different formations with my eyes, and being able to see different things with my keys. It should be a couple days going out there I'll be back in the groove. Once I think I get that going, it'll be a good transition for all three of us. I'm kind of excited about it. We feel we have to get Kyle on the field running. So whether he has to play corner and I have to play nickel, we all have to take our jobs and just do what they ask us to do."
May, 27, 2014
5/27/14
5:40
PM ET
LAKE FOREST, Ill. -- You need your NFL fix, and with the spigot of information slowing to a little more a drip at this point of the offseason, it's important to get every nugget possible.
So here are a few quick-hitting observations from Tuesday's organized team activities session at Halas Hall. The Bears won't open another OTA practice to the media until June 3.
The confidence the staff seems to have in Chris Williams taking over as Chicago's primary return man seems warranted after taking a good look at him during Tuesday's workout. He's easily the quickest among the team's receiving corps. During Williams' time in the Canadian Football League, he scored a record six return touchdowns and generated 1,117 punt return yards. At training camp, he's definitely a player folks should keep an eye on.
With Chris Conte sidelined after undergoing shoulder surgery, the Bears lined up with Ryan Mundy and M.D. Jennings as the starting safeties. It's unknown whether it will remain that way going into training camp, but safety will definitely be the most hotly-contested position battle of the summer on this team.
Charles Tillman and Tim Jennings are the club's starting cornerbacks. But when the Bears go into nickel defense, they bring in first-round pick Kyle Fuller to play outside at Jennings' spot, and move Jennings inside to nickel. At this point in the offseason, the Bears will continue to tinker with personnel and different sub packages to figure out what works best. But this is how things are looking early.
No real surprise here, but Jeremiah Ratliff and Stephen Paea worked with the first group at defensive tackle while Jared Allen and Lamarr Houston worked the end spots.
During breaks in practice, receivers Alshon Jeffery, Marquess Wilson, Josh Morgan and Eric Weems stood on the side catching tennis balls in both hands in rapid succession from offensive quality control coach Carson Walch. Interestingly, there weren't many dropped balls during Tuesday's practice.
Speaking of Wilson, it definitely appears he'll receive first stab at winning the job as this team's No. 3 receiver. He worked as the No.3 receiver with the first team on offense.
Sherrick McManis may not receive much consideration as a contributor on cornerback, but he was definitely one of the standouts at Tuesday's workout. He broke in front of a Jay Cutler pass and nearly intercepted it during team work. He broke up a pass towards the end of practice.
We finally caught a glimpse of Shea McClellin playing linebacker, and he didn't look bad at all. In fact he looked pretty natural scraping against the run and dropping back into coverage on passes. McClellin drew plenty of compliments from the coaching staff during Tuesday's practice.
It's apparent the skill-position players -- especially the receivers -- spent plenty of time training this offseason. They all appear to be in excellent shape, as does tight end Martellus Bennett.
June, 1, 2010
6/01/10
4:47
PM ET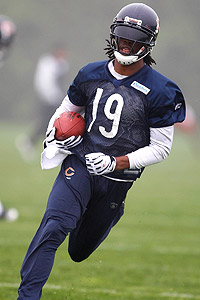 Scott Boehm/Getty ImagesBears wide receiver Devin Aromashodu may be ready for a breakout season this year.
Here are six things to keep an eye on as the Bears report for Organized Team Activities:


Installation of the offense
Even though the Bears already have spent plenty of time and effort learning their new offense, these 14 organized team activities allow players and coaches to continue ironing out the kinks before reporting to training camp at the end of July.


"We're going to try and get our entire system in, as much as possible, before we go on the real break of the summer," Bears head coach Lovie Smith said at the conclusion of last month's minicamp.


Training camp is about repetition, fine tuning and staying healthy. That's why teams stress offseason participation in voluntary workouts, minicamps and OTAs. When players report to camp, they better know what's going on. Time is always of the essence, and the Bears don't want to waste it during practice running busted plays or stopping to show players where to line up. It's imperative for players to have a fundamental understanding of their responsibilities by the end of June.


Development of the receivers
The voice of receivers coach Darryl Drake boomed over the practice field during the first two days of May's minicamp, with his words becoming more and more complimentary toward the group as the weekend continued. From Day 1 to the end of minicamp, the receivers seemed to improve with each practice session.


Those strides need to continue at OTAs.


Offensive coordinator Mike Martz said at minicamp that Devin Hester and Johnny Knox are entrenched as the starters outside. Both showcased improved route running and tremendous speed at minicamp, but they also dropped a few passes that appeared to be routine balls. Hester and Knox need to eliminate those minor lapses in concentration to develop into dependable targets.


Outside of the starters, Devin Aromashodu needs to build upon his strong minicamp performance, which drew praise from Martz. After scoring four touchdowns during the last four games of 2009, Aromashodu could be poised for of a breakout season.


Projected No. 4 receiver Earl Bennett missed time at minicamp after undergoing a minor offseason knee procedure. So he's in somewhat of a catch-up mode. Juaquin Iglesias, a third-round pick in 2009, and Rashied Davis appear to be in a battle for the No. 5 spot. Both showed flashes at minicamp, but Martz indicated he'd like for the backups to know multiple spots, which could go a long way in determining winners of the reserve jobs.


By the end of minicamp in May, the Bears receivers appeared to have gained a better feel for Martz's timing-based offense. By the end of OTAs, the receivers will have likely improved at some of the subtleties in the scheme such as sight adjustment, which would give the group some momentum and confidence headed into training camp.


Clarity at left guard
Johan Asiata, Kevin Shaffer and Lance Louis all took repetitions with the first team at minicamp in May with offensive line coach Mike Tice singling out Asiata and Louis for their performances.


"Johan Asiata and Lance Louis have really stepped it up as young players, and showed me they have the ability and the maturity to play at this level sooner than later," Tice said.


The question now seems to be who emerges as the favorite to win the position. At minicamp, it appeared Asiata, Louis and Shaffer received nearly equal repetitions with the first team. So at OTAs, it'll be interesting to see whether Tice splits up the reps differently, giving more or less based on one or more of the candidates moving ahead of the others.


Tice said he made the decision to ramp up Asiata's repetitions after seeing how the second-year pro performed once he started working against the defense. But Tice also expressed enthusiasm about the development of Louis, in addition to saying he'd also like to get rookie tackle J'Marcus Webb some reps at left guard.


"Lance has had a good camp," Tice said after minicamp. "He's certainly very powerful, a very good athlete; very thick, very strong. He only had a couple of bad plays every practice."


Having started four games at left guard in 2009, Josh Beekman also figures into the equation at left guard. Beekman didn't get to work at that spot at minicamp because he played center with the starting group, replacing Olin Kreutz.


Although Shaffer, an eight-year veteran, took reps with the first team at left guard, he seems to be better suited for a backup role partially because of his versatility. Based on how the situation has progressed, it's likely the club could be using Shaffer as insurance in the event that none of the younger candidates at the position develop quickly enough for the Bears to feel comfortable with any of them as the Week 1 starter.

At some point soon, the Bears need to identify the top candidates and prepare them to play. The Bears can't give each candidate an equal number of repetitions if they expect the eventual starter to be prepared for Week 1.

Chemistry in the secondary

Working against Martz's high-powered attack exposed what appear to be some minor chemistry issues in Chicago's revamped secondary, which features Danieal Manning and Chris Harris as the starting safeties and Zackary Bowman and Charles Tillman at the corners.

The issues seemed to stem from unfamiliarity among the group, which welcomed back Harris in April. Minicamp marked the first time all offseason the club practiced publicly with the current starting group. The starting free safety, Harris, hadn't played for the Bears since the 2006-07 season, but he said he remembers the majority of the club's defense and has picked up the concepts quickly.

The secondary as a whole made its fair share of plays at minicamp, but the frequency of over-the-top completions was concerning.

Tillman, who shuffled between the second and first teams at minicamp, seemed to struggle the most. At the end of most segments at practice -- such as seven-on-seven drills or team drills -- Tillman jogged over to the sidelines to speak to assistant secondary coach Gill Byrd. Tillman seemed unclear about some of his assignments, likely because he skipped most of the club's voluntary workouts. Tillman's absence from those workouts also likely played a role in him spending time on the second team.

"There's no second or first team right now," Bears coach Lovie Smith said at the time. "There's a starting rotation you have based on who's here the most right now. When some of the players haven't been here the entire time, you don't know exactly what type of condition they're in. You have to get them out here and see."

Everyone should be present at OTAs this week, and it's important for this group -- which also features promising rookies Major Wright and Joshua Moore -- to improve its cohesiveness as the offseason comes to a close with OTAs.

The Bears ranked 22nd last season with 13 interceptions, and just one of those picks was registered by a safety. The club knows moving forward that those numbers need to change for the defense -- which considers forcing turnovers to be one of its top priorities -- to achieve the desired results.



Strongside linebacker battle
Unexpected hamstring tightness kept Nick Roach off the field during minicamp, denying the media a chance to watch one of the stars of the offseason workout program. Despite being a restricted free agent, Roach began his offseason program at Halas Hall the first week of March, nearly a full-month before the official start of voluntary workouts.


Roach's hard work and ability -- he finished tied with Tommie Harris for a team-high 10 tackles for a loss in 2009 -- makes him the leading candidate to start at strongside linebacker, even though the Bears re-signed Pisa Tinoisamoa.


"It might be kind of reversed [this summer]," Tinoisamoa said. "Last year, although Roach was the starter, people thought I would be given the first crack at the starting job. But now, it's kind of reversed. Nick is a very good player and I like him a lot. But that's not going to keep me from competing and doing what I need to do. I still consider myself a starter. So I think this will be a healthy battle that's going to make this team better."


If both players stay healthy, this should go down as the premiere battle of the summer. Either way, the Bears win because each is extremely versatile (Roach can play middle linebacker; Tinoisamoa can play on the weak side) and valuable on special teams.

Marcus Harrison return?

The former third-round selection dealt with some much publicized personal issues last summer that resulted in the nose tackle reporting to camp overweight. It'll be interesting to note Harrison's conditioning and appearance during OTAs, considering he missed the entire three-day minicamp last month due to illness. Although Anthony Adams has always been a model of consistency at the position, the defense needs Harrison to reach his full potential. Badly.

"He's a big, athletic man who can really move," Bears defensive coordinator Rod Marinelli said. "He did some nice things last year, and that next year doing the same thing again, he's going to take a step. It's a nice situation, we've got some inside players. To me, playing in the NFL, the key thing is being consistent because the season is so long. No ups and downs. We've got good talent and veteran players who've done it, and now it's about doing it at a high level consistently over the year. That's our challenge."


Harrison finished the 2009 campaign with one sack and one tackle for a loss. That won't fly in 2010.
May, 22, 2010
5/22/10
5:19
PM ET
By
Michael Wright
| ESPNChicago.com
LAKE FOREST, Ill. -- Chester Taylor motioned left to empty the backfield, and quarterback Jay Cutler threw up his hands to direct the running back to the other side of the field.

Finally someone made a bona fide bust to break up the happy vibe of Bears minicamp. Still, nothing would shake the optimism of new offensive coordinator Mike Martz, who acknowledged Saturday that the club still needs to make strides while expressing encouragement about how quickly the unit has progressed over the first three days.

"All three practices now, we've gotten markedly better," Martz said. "We're not where we need to be, obviously, and we're still making mistakes that we're not gonna make. [I] love their effort, and the attitude is terrific."

Affection-fest 2010 didn't stop there.
[+] Enlarge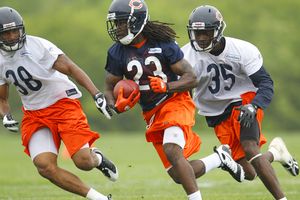 AP Photo/Nam Y. HuhDevin Hester will need to be a precise route-runner in Mike Martz's offense.

A day after Cutler gushed about working with the new coordinator and his confidence in the new offense, Martz chuckled when asked to give an update on his relationship with the quarterback, before heaping praise upon him.

"This just tickles me. I love the Jay watch kind of thing," Martz said. "It's crazy because he's everything you want as a coach. He's all about winning, and about perfection. To me there are no flaws. I don't know what the issues had been in the past. I really don't care. There certainly aren't issues here. We've connected right away. I think the world of him both as a player and as a man."

Martz said he's been especially impressed with how quickly Cutler has been able to transition from playing in a West Coast offense last year, to the club's new timing-based system, which calls for the quarterback to throw to a specific area -- in anticipation of a receiver being there -- as opposed to waiting until he can actually see a receiving target break open.

Cutler had never worked out of such a system in the past, and expressed trepidation to Martz (before the coach joined the Bears) about trying it.

"He's such a quick study at everything. There are very few people I've been around in my life that are that intelligent," Martz said. "Normally, it's an adjustment [to switch to a timing-based offense]. If there was for [Cutler], it didn't take him very long. That ball comes out of there long before the receiver comes out of the cut. That's just who he is. [When you have] a guy that can get rid of the ball that quickly, and see the things as well as he does then things get really exciting."

Cutler flashed that skillset during drills on Saturday morning. He and backup quarterback Caleb Hanie completed nearly all of their attempts during team drills, with a good number of those passes thrown in blitz situations.
Devin Hester and Johnny Knox took the first-team repetitions, while Devin Aromashodu, Rashied Davis and Juaquin Iglesias spent the majority of their time with the reserves. Cutler hit Hester and Knox for a few deep completions, before hitting Iglesias in stride on crossing routes on back-to-back-plays.

Asked what fans can expect of Chicago's offense in 2010, Martz explained that spectators should arrive early, because any play could go for a touchdown. Martz then shed light on the philosophy behind his extensive scheme, which has significantly vaulted every team he's coached toward the top of the league's offensive rankings.

"We'll play fast. We'll attack as much as we can," Martz said. "We just want to take control of the game. When you're a good team and you're playing well, you can do those things. That's what our goal is. We'd like to line up and take control of the game on offense, and play at a high speed, get in and out of the huddle fast. We don't want to slow the game down. We want to speed it up; opposite of what a lot of people like to do and attack. We just want to be in an attack mode, no matter what."