Chicago Bears:

Perry Fewell
January, 31, 2012
1/31/12
6:03
PM ET
INDIANAPOLIS -- A hot defensive coordinator candidate two offseasons ago, former Bears assistant Perry Fewell appeared destined to return to Chicago for reunion with Lovie Smith. The Bears, after all, were searching for a new defensive coordinator after Smith spent 2009 calling the defense while Bob Babich went back to coaching the linebackers. Fewell, an experienced NFL assistant and former interim head coach of the Buffalo Bills, seemed like a natural fit after coaching in Smith's defense during previous stops in Chicago and St. Louis.
[+] Enlarge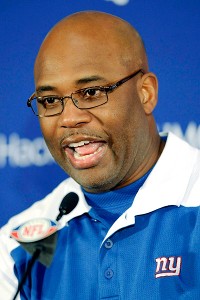 AP Photo/Bill KostrounCoaching in New York has given Perry Fewell a chance to call plays and take ownership of a defense. That might not have been possible with the Bears.
Instead, Fewell went to New York and became Tom Coughlin's defensive coordinator. The rationale behind the decision, according to Fewell, was simple: Smith will always call the shots on defense in Chicago, not the person with the title of defensive coordinator.
"I loved coach Lovie Smith and enjoyed my time in Chicago, [but] I knew that was coach Smith's defense," Fewell said Tuesday at Super Bowl XLVI media day. "He is an excellent defensive coach....but I just thought at the time I probably needed to step out on my own and run my own defense.'
"It was always going to be coach Smith's defense, and if I was going to make my mark in coaching, I had to do it Perry Fewell's way. So that's really one of the main reasons I came to New York."
Fewell claims to be still be on good terms with Smith, who eventually promoted respected defensive line coach Rod Marinelli to the role of defensive coordinator.
"I still love coach Lovie Smith," Fewell said. "I owe him a lot for my success in coaching, some of the philosophies I've adopted. The structure of who were are and what we do, all of that is attributed to him.'
"But I knew coming into the situation [in New York] that we had a good front four. These guys, Jerry Reese who is our general manager, he likes to bring in good defensive ends. So I felt like that would be a good match for me."
January, 13, 2010
1/13/10
9:57
PM ET
CHICAGO -- While the Chicago Bears search to fill their vacant offensive coaching positions continues to heat up, the quest for a defensive coordinator has come to a screeching halt. The Bears may begin to speak with other candidates in the coming days, but their clear cut No. 1 choice to run the defense remains Perry Fewell.
But according to multiple sources familiar with the situation, Fewell continues to hold out hope he'll land the Buffalo Bills head coaching job, thereby delaying any decision regarding the defensive coordinator openings in Chicago and New York. However, there is no guarantee the Giants will continue to wait much longer for Fewell to make up his mind, so this current strategy does not come without risk.
On the other hand, the Bears may be content to sit tight if they know they'll land their guy in the end. But the longer this drags out, the less leverage Fewell may have in fielding offers from both teams, thus driving up his price. Do the Bears strike you as a franchise dumb enough to bid against themselves? This isn't Jim Hendry/Alfonso Soriano we're talking about here.
January, 12, 2010
1/12/10
5:02
PM ET
By JEFF DICKERSON
CHICAGO -- Funny how things tend to work out in the NFL.
Although the Bears have identified Perry Fewell as their top choice to run the defense in 2010, it now appears the Giants are a serious threat to steal away the former Bills interim head coach.
The New York Daily News
reports Fewell has emerged as the top candidate to replace ex-defensive coordinator Bill Sheridan in New York, and that Fewell expects to receive an offer from one or both teams once he expresses official interest.
Even though Fewell first interviewed with the Giants last week, most viewed Romeo Crennel as the favorite to land the job. But Crennel's agent announced Monday his client is likely headed to Kansas City to rejoin former New England colleague Scott Pioli. With Mike Zimmer signing a new deal to stay in Cincinnati, and Jim Haslett rumored to be going to Washington, the Giants may be left without any option other than Fewell.
There's been speculation Tom Coughlin could reunite with Dick Jauron (Coughlin's former defensive coordinator in Jacksonville), but so far nothing has materialized on that front.
January, 11, 2010
1/11/10
4:13
PM ET
By JEFF DICKERSON


CHICAGO -- The Bears have confirmed, via the team's official Web site, that Perry Fewell is at Halas Hall on Monday interviewing for the vacant defensive coordinator job. Fewell is a logical choice to join the staff, considering his strong ties to current Bears' coaches and players, and his familiarity with the defensive principles preferred by head coach Lovie Smith.


A source familiar with the situation said Fewell had not made up his mind as of the weekend, but is expected to make a decision this week.


Fewell also interviewed with the New York Giants for the their defensive coordinator opening, and also met with the Buffalo Bills about the head coaching position.


It's unclear whether potential future head coach openings in Jacksonville, Oakland and Carolina would influence Fewell's decision, and it's also unknown if Fewell would even be a serious candidate if any of those jobs becomes available.
January, 10, 2010
1/10/10
4:24
PM ET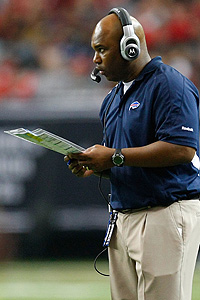 Kevin C. Cox/Getty ImagesPerry Fewell led the Buffalo Bills to a 3-4 finish after taking over for Dick Jauron as interim head coach.
CHICAGO -- It's going to be a busy upcoming week at Halas Hall as the
Chicago Bears
attempt to begin filling the vacant spots on their coaching staff. Just to recap, here is where we stand as of Sunday afternoon:
The Bears want Perry Fewell to be the new defensive coordinator -- a fact that's been obvious since the season ended -- so the job is his for the taking. The only hold up may be Fewell, who remains somewhat undecided about his next move, according to people familiar with the situation. Perhaps some of that uncertainty may be related to possible (but not guaranteed) head coach openings in Carolina and Jacksonville. For example, if Jack Del Rio leaves for USC, Fewell would probably be a candidate for the Jaguars' job considering he coached the Jacksonville secondary from 1998-2002. However, it's not a slam dunk that Del Rio or Panthers coach John Fox will go elsewhere, so holding out for one of those positions may prove to be pointless.Fewell also met with the Giants and has a strong relationship with Tom Coughlin, but Romeo Crennel and Dick Jauron have also been rumored as possible defensive coordinator hires in New York. Fewell will interview with the Bears on Monday, and may feel like he can't pass up an opportunity to work in such a familiar and comfortable setting. Since the Bears' defensive staff is currently re-evaluating certain aspects of their scheme, Lovie Smith probably wants a new coordinator in place as soon as possible.

What a wild weekend on the Jeremy Bates watch. First, he was reportedly headed to Seattle with Pete Carroll. Then just a few hours later, he was back in play for the Bears. It's never been a question about the Bears wanting to add bright, young minds like Bates and Jedd Fisch to the staff. The issue has been in what capacity. Can the Bears bring Bates to Chicago as quarterbacks coach, and not as offensive coordinator? How would that dynamic play out between Bates, Jay Cutler and a different play caller? Would such a set-up even work? If not, then the Bears have a tough decision to make. Whose happiness is most important at Halas Hall? As for Fisch, he was the Broncos' wide receivers coach in 2008, so it's not like he can only work with quarterbacks. Brandon Marshall and Eddie Royal seemed to do fine when Fisch was their position coach. Bates is scheduled to interview with the Bears early next week.Mike Martz wants the job of offensive coordinator and would make Smith very comfortable. But it's still unclear how Martz would mesh with certain players, especially Cutler, who he publicly criticized earlier last season. That might sound silly and petty, but it's the reality of the situation.If Green Bay loses to Arizona, then maybe the Bears re-visit earlier talks regarding Tom Clements.

Either way, things should become clearer once Carroll officially takes the Seahawks job and begins to assemble his staff. At least then we'll find out how Carroll really feels about Bates.
January, 6, 2010
1/06/10
12:17
PM ET
CHICAGO -- Perry Fewell reportedly interviewing next week for the
Chicago Bears
' vacant defensive coordinator job shouldn't come as a surprise Tuesday's press conference at Halas Hall.
Lovie Smith made it very clear: He believes in his defensive system, and he would like to hire a defensive coordinator who shares his same vision.
Fewell is an obvious candidate for several reasons:
He was previously Smith's secondary coach in St. Louis (2003) and Chicago (2005).
Fewell ran almost the exact same scheme in Buffalo the past four seasons, albeit with some tweaks to the terminology.
Fewell also has worked in the past with linebackers coach Bob Babich (with the Rams and Bears) and assistant secondary coach Gill Byrd (Rams).
Speaking of Byrd, Fewell coached his son Jairus this season with the Bills, helping the younger Byrd earn Pro Bowl honors in his rookie season.
Fewell has a very good handle on the defensive roster. Brian Urlacher, Lance Briggs, Hunter Hillenmeyer, Charles Tillman, Alex Brown, Tommie Harris, Israel Idonije and Nathan Vasher all remain from 2005.
Who else better fits the criteria laid out by the Bears head coach?