Chicago Bears:

Peyton Manning
January, 16, 2014
Jan 16
10:00
AM ET
We asked players in our NFL Nation survey which player they'd choose if they were to start a team with one player, and while Broncos quarterback
Peyton Manning
received most of the votes league wide, here in Chicago, the Bears chose more familiar faces.
Of the 10 Bears players participating in the survey, only one picked Manning, while
Detroit Lions
receiver
Calvin Johnson
received the majority of mention (three votes), followed by Vikings running back
Adrian Peterson
(two) and
Green Bay Packers
quarterback
Aaron Rodgers
(two).

Johnson would make sense from Chicago's perspective, considering he's caught 63 passes for 928 yards and seven touchdowns in 13 career games against the Bears. Johnson has been more productive against only one other team (Green Bay) throughout his tenure.
Peterson shares a similar story, having rushed for 1,396 yards and 14 touchdowns in 12 career games against the Bears. The only other team he's been more productive against is Green Bay -- with 1,648 yards rushing and 11 touchdowns in 14 games -- but his team is 4-9-1 against the Packers with Peterson in the lineup. Rodgers, meanwhile, owns a 9-3 record against the Bears, having thrown for 2,831 yards and 21 scores to go with a passer rating of 100.9.
Manning obviously hasn't been as successful against Chicago in the regular season because he's only faced them three times, but Super Bowl XLI likely sticks in the craw of the one Bears player that picked him in this survey. When Manning faced the Bears in that Super Bowl, he completed 25 of 38 for 247 yards, a touchdown and an interception in Indianapolis' 29-17 victory.
In the three other games, Manning posted a record of 1-2, throwing for 770 yards, seven touchdowns and two interceptions.
Interestingly, Manning's eventual replacement in Indianapolis,
Andrew Luck
, was the wild card in the survey in Chicago with only one Bear picking him as the player they'd start a team with. Luck made his NFL debut against Chicago in the 2012 season opener at Soldier Field, with the Bears winning 41-21 after picking off the quarterback three times as he finished with a passer rating of 52.9.
May, 23, 2013
5/23/13
4:16
PM ET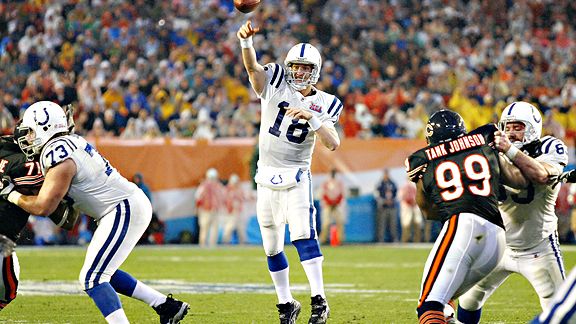 Kevin C. Cox/Getty ImagesPeyton Manning got the better of Brian Urlacher in Super Bowl XLI.
Peyton Manning
revealed on Thursday that his former team, the
Indianapolis Colts
, hoped that recently retired Bears linebacker
Brian Urlacher
would fall to them in the 2000 NFL Draft.
But with Indianapolis sitting at No. 28, there's no way that would happen. The Bears snatched up the future franchise icon with the ninth overall pick, while the Colts settled for Brigham Young's
Rob Morris
, who went on to enjoy an eight-year run in Indianapolis.
"Absolutely, (Urlacher) was high on (former Colts general manager) Bill Polian's list," Manning told ESPN 1000's "The Waddle and Silvy Show". "We drafted a middle linebacker named Rob Morris that year. He and Urlacher were kind of the top guys.
"Rob was a very productive player for us. But certainly, I remember Bill Polian telling me just what a special player this Urlacher was. Polian always had that great eye for talent. Of course, nobody knew for certain this guy was gonna go on to have a Hall-of-Fame career. But anybody with that kind of athletic ability and speed, it's very impressive."
January, 15, 2013
1/15/13
12:30
PM ET
It has been clear for some time that the
Chicago Bears
have been focused on finding an offensive-minded head coach that would get more out of quarterback
Jay Cutler
while he is in the prime of his career. The question, of course, is whether Cutler would be receptive and a willing participant in the process.
Cutler
So I found it fascinating to listen to ESPN analyst Steve Young discuss that issue
Tuesday morning on ESPN 1000
. Young provided a strong endorsement for the candidacy of Marc Trestman, who was his offensive coordinator and quarterbacks coach with the
San Francisco 49ers
from 1995-97, and said Cutler would be foolish to not maximize the kind of opportunity the Bears seem intent on giving him.
"The job [of quarterback] is like a Japanese garden," Young said. "It takes a lot of care. It takes a lot of time. It takes intricate work. … I've got to believe that if someone came in and in a resonant way could speak to him -- like when you put your finger near a crystal glass, it starts to sing to you -- that resonant sound that happens between quarterback and coach, that he would respond to that. Why wouldn't you respond to that?"
"He's ready for it," Young added. "Now, part of it is work. Part of it is really boring. It's like going to law school or med school or something else. There is a lot of study. There is a lot of time you have to spend. If you're not willing to spend it, no matter how much time you give the coach, no matter how much effort you make in practice, to make the transition, you have to turn the TV off. You've got to stay inside. You've got to put up your white board. You have to memorize things. You have to get so you have reflexive recall. With that kind reflexive recall and even without any mobility, you become
Peyton Manning
and
Tom Brady
. Jay can move around, but look at what those guys with no ability to move whatsoever. That's the high level learning I'm talking about."
Young said that "one thing" Trestman can do is "break down a quarterback and build him back up." For what it's worth, the Bears' other two known finalists -- Bruce Arians and Darrell Bevell -- also have backgrounds as quarterback coaches. For Cutler, the idea would be to transform a good quarterback into a great one. Part of it depends on the coach, and some of the responsibility will lie with Cutler. But in Young's view, Trestman and Cutler could make resonant sounds.
November, 28, 2012
11/28/12
1:31
PM ET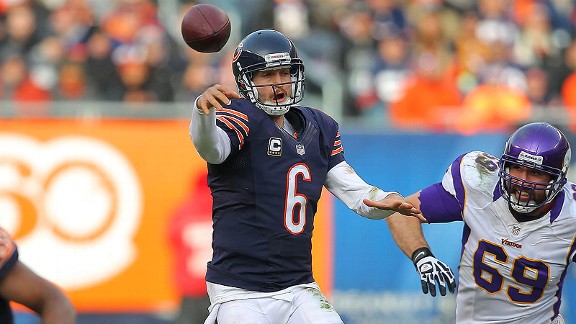 Dennis Wierzbicki/US PresswireDoes Chicago Bears quarterback Jay Cutler have a case for being in the MVP conversation? The numbers don't necessarily back it up.
The
Chicago Bears
have a 13-2 record in
Jay Cutler
's past 15 starts.
They have a 1-6 record in the games he has missed during that time.
That has to make Cutler a prime candidate for MVP Watch, right? His presence must mean everything for the Bears. We all know quarterbacks are usually the most important players on their teams. And we've all heard about what a gunslinger Cutler can be with that strong arm and defiant nature.
"MVP! MVP! MVP!"
Now comes the hard part: proving Cutler is indeed such a key player for the Bears.
Let's take a closer look at the Bears' 1-6 record without him.
That record includes a defeat at San Francisco this season. Cutler wasn't going to stop
Aldon Smith
from getting 5.5 sacks. He wasn't going to stop
Colin Kaepernick
from lighting up the Bears' defense. He wasn't going to win a game the Bears lost 32-7 without him.
Cutler missed the final six games last season, five of them losses. Running back
Matt Forte
missed the final three-plus games. Having Cutler available probably would have enabled the Bears to finish better, but Chicago wasn't going to win at its usual clip without Forte. Lots of starting quarterbacks improve their teams' chances for winning relative to what a backup would provide. That doesn't make them MVP candidates.
The one game Chicago won without Cutler during the 1-6 stretch in question came during Week 17 last season, against Minnesota. The Bears picked off three passes from Joe Webb and Christian Ponder, returning one for a touchdown.
In 2010, the Bears won the lone game Cutler missed, defeating a horrendous Carolina team on its way to winning the
Cam Newton
sweepstakes. Bears backup
Todd Collins
threw four picks in that game. Forte carried 22 times for 166 yards. The Bears won 23-6.
Doesn't exactly enhance those MVP credentials for Cutler, does it?
Neither do the stats.
Cutler ranks 20th in Total QBR at 50.4 this season; 50 is average.
Tom Brady
is in the low 80s. Pro Bowl-caliber quarterbacks usually score in the mid-60s or higher. Cutler ranks a distant third
among NFC North quarterbacks
by this measure. He isn't all that far ahead of Minnesota's
Christian Ponder
(47.7).
Cutler ranks 26th in NFL passer rating at 81.1, which is below the 86.9 figure covering every pass thrown in the league this season. He has 13 touchdowns and 11 interceptions.
But Cutler comes through in the clutch, right? Yes and no.
Cutler has a 92.9 QBR score (out of 100) on 16 fourth-quarter plays when the score was within eight points. That ranks second to MVP Watch leader
Peyton Manning
and right ahead of St. Louis'
Sam Bradford
. That's fine, but all 16 of those plays were against the Rams and Panthers. Cutler completed 10 of 14 passes with no touchdowns. He also rushed twice for 20 yards in those situations.
To further explore the clutch theory, I filtered ESPN's charting database for higher-leverage situations, defined as those when play results have above-average impact on win probability.
It's a more complicated way to measure what the vernacular calls clutch situations, but the math is sound. Ten years of charting information says teams are either more or less likely to win based on the results for each play. Some situations are more pivotal than others.
Cutler's QBR score falls to 44.4 with two touchdowns, five picks and 14 sacks in higher-leverage situations, meaning situations when the stakes were above average. That compares to a 63.3 QBR score with four touchdowns, one pick and nine sacks in lower-leverage situations.
Overall, Cutler has three touchdowns, six picks and a 47.0 QBR score in one-score games, defined as those when the margin is within eight points.
Perhaps someone else can build the MVP case for Cutler. I'd like to hear it.
October, 24, 2012
10/24/12
1:09
PM ET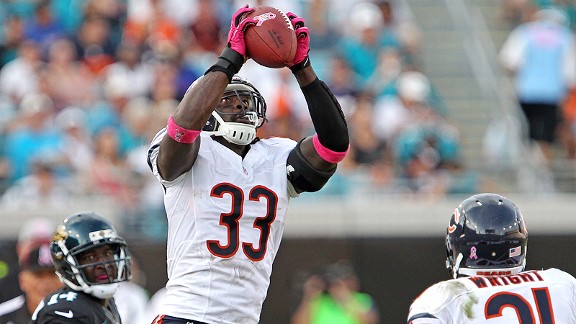 John J. Kim/Getty ImagesChicago Bears cornerback Charles Tillman makes his first appearance on our MVP Watch list.
The
Chicago Bears
have owned one of the NFL's best records, backed by a dominant defense. They haven't had an obvious MVP candidate.
How about
Charles Tillman
?
The 10th-year cornerback earned Pro Bowl honors for the first time last season. He
blanketed
the
Detroit Lions
'
Calvin Johnson
during a 13-7 victory Monday night.
With two forced fumbles against the Lions, Tillman has 32 for his career. That ranks tied for third since Tillman's rookie season (2003) and the most for a defensive back, according to the Bears. Tillman has two picks and scored on both.
Tillman is playing very well. He's playing for a dominant defense. His team is winning. He makes the MVP Watch list this week, his first appearance.
Tillman joins MVP Watch mainstay
J.J. Watt
as the only defensive players to appear on the list this season.
Lawrence Taylor
was the most recent defensive player to win the Associated Press version of the award. He won following the 1986 season.
Note: ESPN Stats & Information contributed to this item.
August, 10, 2012
8/10/12
1:06
AM ET
CHICAGO --
Peyton Manning
's first official pass in more than a season was broken up by
Lance Briggs
. His seventh pass was intercepted by
Major Wright
.
In between, Manning marched his new team, the Denver Broncos, down the soggy Soldier Field turf and finished his one-series cameo appearance in one piece, thus making his first NFL action in 19 months a relative success.

Read the entire story.
August, 9, 2012
8/09/12
11:02
PM ET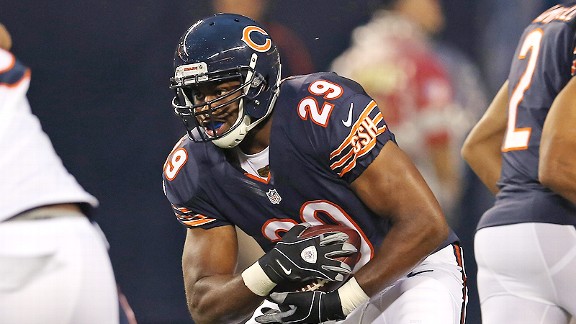 Jonathan Daniel/Getty ImagesMichael Bush started for Matt Forte and rushed for 2 yards with a fumble on Thursday.
CHICAGO -- Here are Five Things We Learned following the Chicago Bears' 24-3 preseason loss to the
Denver Broncos
on Thursday:
August, 9, 2012
8/09/12
4:15
PM ET
Peyton Manning will make his return to the field Thursday night for the first time in 19 months when the Denver Broncos visit the Chicago Bears.
A four-time MVP, Manning missed all of last season with a nerve injury in his neck that weakened his throwing arm and led to his departure from the Indianapolis Colts.
Read the entire story.
August, 8, 2012
8/08/12
4:52
PM ET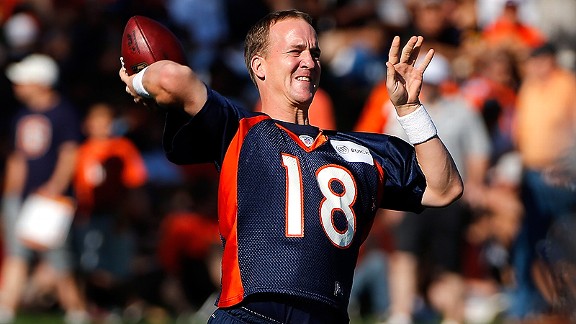 Doug Pensinger/Getty ImagesPeyton Manning hasn't faced a live pass rush since a playoff game after the 2010 season.
Peyton Manning
is setting modest goals for his first preseason game with the
Denver Broncos
, who visit the
Chicago Bears
on Thursday.
"We want to get some short-yardage work, some third-down conversions, we'd love to get some red-zone, goal-line," Manning told reporters. "In all four games, if you can get all the situations that we work on out here, that would be ideal.
"So however long we play, whatever coach (John) Fox wants to do, we're good with. We just need to play well when we're out there. I think we'd like to have some offensive rhythm out there, for however long we're out there. I know the Bears are looking for the same thing defensively. There's always some give and take in the preseason. You want it all to go perfectly and try to get some kind of rhythm, some kind of execution on offense."
Manning hasn't faced a live pass rush since Jan. 8, 2011 when his
Indianapolis Colts
lost to the
New York Jets
in a wild-card game. A nerve injury in his neck led to him missing all of last season and facilitated his exit from Indianapolis.
February, 7, 2010
2/07/10
10:40
PM ET
MIAMI -- Sitting on a bus in bumper-to-bumper traffic trying to leave Sun Life Stadium has afforded me the opportunity to jot down a few final thoughts:
It's amazing how a short quarterback like Drew Brees can stand in the pocket and survey the entire field. Both Brees and Peyton Manning showed, for the most part, exactly how a quarterback is supposed to go through his reads and check down on certain plays. Even though Manning's late game interception was inexcusable, that 27-yard throw he made to Dallas Clark in the third quarter was incredible.
I still want Colts safety Antoine Bethea on the Chicago Bears next year. Too bad he'll be a restricted free agent if 2010 is played without a salary cap.
Saints running back Pierre Thomas was the most impressive person I interviewed this week. I had no idea he was so charismatic off the field. On the field, he's quickly developing into an upper echelon running back, and it's sad Ron Turner's pleas for the Bears to sign Thomas back in 2007 fell on deaf ears at Halas Hall.
For my money, there is not a single more exciting moment in sports than the opening kickoff of the Super Bowl. I've been lucky enough to cover the last six, and I get chills every single year when all those flashes go off around the stadium.
The crowd was dead when The Who performed at halftime. Maybe it's time the NFL went back to scheduling current acts for their Super Bowl halftime show. I nominate Lil' Wayne and Lady Gaga for 2011, but seeing that the game will be played in Dallas, I have a hunch it'll be a well-known country music performer.
February, 7, 2010
2/07/10
10:14
PM ET
MIAMI -- It's hard to say what was more stunning in the
New Orleans Saints
' 31-17 Super Bowl win over the
Indianapolis Colts
. Was it
Tracy Porter
's 74-yard interception return for a touchdown in the fourth quarter or
Peyton Manning
's bad throw that led to the turnover?
"He made a good break on it, and just made a heck of a play," Manning said in his postgame interview.
The Colts made a few bizarre decisions Sunday night, including calling a run play for
Mike Hart
on third-and-1 from their own 10-yard line with only :51 seconds left on the clock. Indianapolis failed to convert, the Saints got the ball back and eventually kicked a field goal as time expired in the first half.
"We gave them a short field, so that was a disappointing series," Manning said.
It was also odd to see Indianapolis try to run the ball with
Joseph Addai
on their second-to-last offensive play of the night. Addai was stopped for a two-yard loss. Then on fourth down from the Saints' 5-yard line Manning threw an incomplete pass to
Reggie Wayne
.
For an offense that was so precise leading up the Super Bowl, it's puzzling why Manning and his teammates seemed to struggle for a good portion of the game.