Chicago Bears:

Randy Moss
January, 31, 2013
1/31/13
1:09
PM ET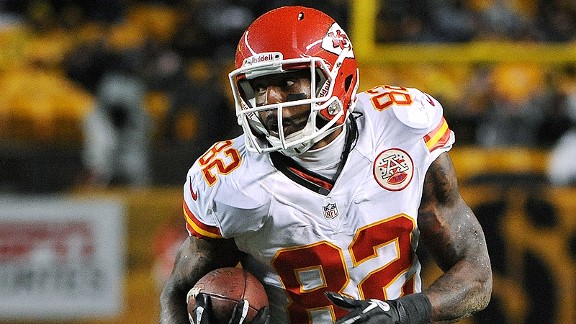 George Gojkovich/Getty ImagesBears GM Phil Emery is familiar with Dwayne Bowe after spending three years in Kansas City.
Bears free agency previews: TEs | QBs | LBs | OTs »
The
Chicago Bears
already have a significant amount invested at wide receiver next season with a combined $11.650 million in salary cap space between
Brandon Marshall
($9.3 million) and
Earl Bennett
($2.350 million) and the second-round pick the club used last year on
Alshon Jeffery
.
But while Marshall remains one of the best in the game, Bennett and Jeffery have both dealt with their share of injuries, which raises the question of whether the Bears need to protect themselves by grabbing another moderately priced wide receiver in the offseason.
[+] Enlarge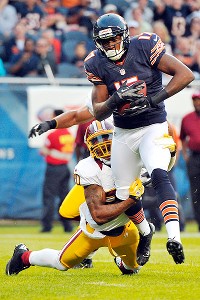 Rob Grabowski/US PresswireAlshon Jeffery caught 24 passes for 367 yards and three touchdowns in 10 games as a rookie.
Devin Hester
is under contract for one more season, but he completely fell off the map last year, especially on offense where he appears to have zero chemistry with quarterback
Jay Cutler
. Maybe the Bears keep Hester for the sake of the return game, but it seems like a long-shot that he will be asked to contribute much on offense. With Lovie Smith and Darryl Drake no longer in the building, Hester would probably benefit from a fresh start in a new NFL city. But that's an issue the Bears have yet to address.
Eric Weems
is signed through 2014, but he also seems to do his best work on special teams.
It would be wonderful to see
Johnny Knox
return to the field after the horrific spine injury he suffered late in the 2011 season against the
Seattle Seahawks
, because Knox is exactly the type of down-the-field vertical threat the Bears missed last year in the passing game.
Although Knox is determined to make a comeback and continues to work toward resuming football-related activities, it's still unknown if Knox will ever play again, which makes it difficult to count on him to fill a role in 2013. Knox is officially a free agent after his original rookie contract expired at the end of the regular season.
The wildcard in this group might be 6-foot-1
Joe Anderson
, the second-year man out of Texas Southern who made an impact on special teams late last season with a couple of big hits. Anderson carries himself with a certain confidence, that should serve him well when he tries to win a roster spot next summer in training camp.
But looking at the unit as a whole, and given the injury concerns surrounding Bennett and Jeffery, the Bears could be in the market for another receiver in either the draft or free agency. If the Bears go the veteran route, here is a look at some of the projected unrestricted free agent wideouts, in no particular order.
September, 10, 2012
9/10/12
5:48
PM ET
After the Green Bay Packers' 30-22 loss to the San Francisco 49ers, here are three issues that merit further examination:
ESPN.com

Results were inconclusive, at best, on the Packers' primary offseason thrust. On the positive side, press box statistics show their pass rush got to 49ers quarterback Alex Smith for four sacks and two other post-throw hits. Linebacker Clay Matthews was credited with 2.5 sacks and defensive back Charles Woodson got the other 1.5. And two of Smith's biggest throws -- 29 yards to tight end Vernon Davis and 14 yards for a touchdown to Randy Moss -- were the fault of busted coverages. Smith threw plenty of quick-release passes, but in the end he had enough time to connect on nearly three-quarters of his throws. So to me it was a mixed bag. And for what it's worth, the Packers were blitzing heavily for a good portion of the game to ratchet up their pressure. They sent at least one extra rusher on 10 of Smith's first 21 dropbacks, according to ESPN Stats & Information. Woodson insisted the Packers' pass defense is "nowhere close to where it was last year" and said he liked the energy he saw. We'll see.

Tight end Jermichael Finley was targeted a team-high 11 times and caught seven passes for 47 yards and a score. He also had one clear drop, another that could have been called one if you're a tough grader and a third play where he had enough trouble controlling the ball that the 49ers challenged the ruling of a completion. Afterwards, it was interesting to note how Finley responded when asked about the Packers "dropping" their first game. He misunderstood the question and belied his insistence that he isn't going to mourn drops this season. Here's what he said: "I thought about it all last year. I let it stress me. But this year, a drop is a drop. An interception is an interception, and we've got to move on from it. And go to the next play."

If there was any doubt before, it's clear now: Veteran Donald Driver ranks no better than fifth on the Packers' receiver depth chart. He doesn't play on special teams, so the blunt truth was that he was active Sunday for insurance purposes. He didn't play until the final three snaps of the game, when starter Greg Jennings waved himself off the field. Before that, Driver did not get a snap. As we noted Sunday, second-year receiver Randall Cobb was a key part of the primary set the Packers used Sunday: Four receivers with Cobb lined up, initially, in the backfield. They used a variation of that formation on 31 of their 61 plays. Still, I actually think it makes sense to keep Driver on the roster as injury protection. If the Packers lose Jennings, Cobb, Jordy Nelson or James Jones, they could plug in Driver and not lose any formational versatility. Without him, they would be limited to three-receiver sets if someone were injured. It's worth a September roster spot.
And here is one issue I still don't get:
Who did officials initially believe had committed an illegal block on Cobb's 75-yard punt return? I hope it was linebacker Brad Jones, whose block seemed questionable at best, and not linebacker Terrell Manning -- who blatantly hit Anthony Dixon in the back. The officials eventually picked up the flag, allowing the touchdown to stand. Such plays aren't reviewable, but Manning's illegal block was clear and undeniable. For the sake of the integrity of this replacement experiment, I hope they simply missed it altogether and didn't actually judge Manning's block to be legal upon further consideration.
May, 15, 2012
5/15/12
12:58
PM ET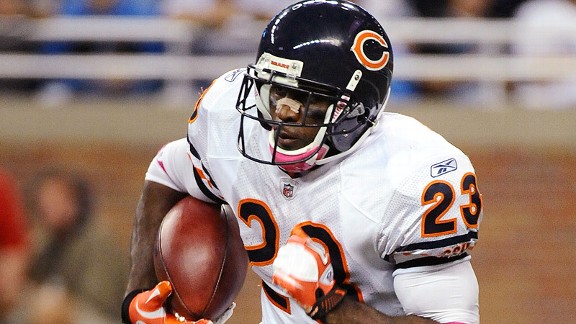 Tim Fuller/US PresswireChicago Bears fans will likely see more of the 'Devin Hester Package' in the 2012 season.
Over the past few months, the
Chicago Bears
have transformed their receiving corps from one of the NFL's shortest to arguably the tallest. They've reunited the key players from the
Denver Broncos
' dynamic 2008 offense and they've fended off questions -- including some from their quarterback -- about their offensive line. But to me, the most intriguing thing happening in Chicago at the moment is the development of a mysterious package of plays for receiver/kick returner
Devin Hester
, the latest in a long line of attempts to harness Hester's Hall of Fame speed and skills for their offense.
General manager Phil Emery hinted at the new approach shortly after the draft. Offensive coordinator Mike Tice and receivers coach Darryl Drake offered some morsels to reporters during last weekend's rookie minicamp, and all that's left now is to see if it actually works.
Part of me wants to roll my eyes and cringe,
as we did recently on the blog
, as the Bears once again refuse to accept what Hester is and isn't -- at least what he hasn't been yet. They remain unsatisfied with him simply being the best kick returner in NFL history. And another part thinks this attempt could prove to be the most productive balance the Bears have tried yet.
Drake
might have best explained the plan last weekend
by suggesting the "Hester Package" will limit snaps but elevate targets to make more efficient use of Hester's time on offense.
"The talent has always been there," Drake told reporters. "It's just a matter of not having him play 70 plays and throw to him twice. Play him 15 [plays], let him touch it 13 [times.] In order for him to be effective, we don't need to have him out there playing that many plays. If he's out there, put the ball in his hands. We need to have that package, and Mike Tice -- I promise you -- he's going to do it."
On the surface, it makes sense. Hester's combination of speed and open-field running ability is rare and awfully tempting to expand on. And when you look at the chart, you see what happens when a team doesn't have or utilize the speed to stretch a defense vertically. The 2011 Bears, for instance, had one of the least efficient short passing games in the NFL last season.
But running a full game's worth of pass routes probably takes the edge off Hester's energy in the return game. There is reason to think he could have a similar impact in 15 plays designed to involve him than he could in 70 plays that spread the ball around the field.
That appears to be the starting point for a tweak that appears to have emanated from, or at least endorsed by, Emery himself.
"I want to make sure that we have a special plan for Devin," Emery said last month. "We have the 'Devin Package' -- packages of plays as a receiver. You never know where he's going to line up. I don't want to get too far ahead of that in terms of letting other people know what we're going to do with him, but he will have a package of plays that we feel can bring out his dynamic ability to the forefront and if not only as carrying or catching the ball, but sometimes that's a decoy.
"Devin's speed vertically is something that has to be accounted for. So if that pulls people from coverage, to handle that vertical ball, you've got other people; we've got some awfully big targets to hit."
On the other hand, of course, it's not as easy as it sounds. You better believe that opposing defenses will notice when Hester is on the field, especially now that the Bears have announced they want to get him the ball often in the relatively brief period of time he plays offense. I don't think it will make teams leave, say,
Brandon Marshall
wide open to account for Hester, but his appearance isn't going to surprise anyone, either.
The "Hester Package" has already conjured comparisons to the "Randy Ratio" that Tice used after taking over the
Minnesota Vikings
' head coaching job in 2002. As you might recall, a study of the Vikings' 2001 season showed they won every game they targeted receiver
Randy Moss
on at least 40 percent of their throws. Tice announced he would make that goal a centerpiece of his offense.
The "Randy Ratio" wasn't a schematic adjustment as much as it was Tice's attempt to cajole the notoriously anti-authoritarian receiver to buy in as a team leader. It backfired on a number of fronts, and
Tice himself acknowledged over the weekend
that it "came back to bite me in the [rear end]."
Turning serious, Tice said: "Devin is going to be on the field. If he's not on the field, then they should fire me."
That final line speaks to the extent the Bears have prioritized Hester's potential contribution. You know the old saying: If at first you don't succeed, try try again.
November, 3, 2010
11/03/10
2:31
PM ET
By
ESPN.com news services
November, 3, 2010
11/03/10
1:09
PM ET
November, 2, 2010
11/02/10
8:08
PM ET
November, 1, 2010
11/01/10
6:15
PM ET
In the interest of keeping you interested, I'll abstain from transcribing and transmitting the quotes I got at Halas Hall on Monday.
But if you really want to know what was on the minds of Lovie Smith and the handful of players I talked to, or listen to talk, I'll summarize with a haiku:
Good to get on field Running ball helps you win games Bills not that crappy
Is everyone caught up? Well good, now let me just get up on my soapbox and tell a professional football team ranked in the top 32 by Forbes Magazine how to handle its business.
Sign
Randy Moss
. Sign him tomorrow and pay him the $3.38 million he's owed for the rest of the season. You can pay him in "straight cash homey," his preferred method of paying fines, or you can pay him in unsold
Jay Cutler
jerseys.
Read the entire story.
November, 1, 2010
11/01/10
5:01
PM ET
[+] Enlarge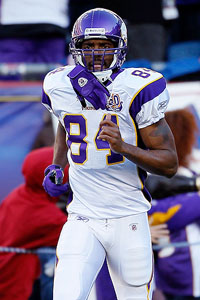 Jim Rogash/Getty ImagesThe Minnesota Vikings have parted ways with Randy Moss and are expected to place him on waivers.
LAKE FOREST, Ill. -- Surely news of Minnesota's shocking decision to waive
Randy Moss
evoked thoughts around Chicago of the talented receiver finally donning a Bears uniform.
Yet it's unlikely the club will put in a claim for Moss, who isn't expected to be waived officially until Tuesday afternoon at the earliest.
The Bears haven't made any public comments about the possibility of acquiring the receiver, but there's a good chance the brass at Halas Hall has at least discussed -- albeit briefly -- whether such a move makes sense. It doesn't, based on a couple of preliminary factors. That's not to say making a move for Moss is totally out of the realm of possibility, it's just highly unlikely.
ESPN NFL Insider Adam Schefter said various league sources indicated the
Washington Redskins
,
Dallas Cowboys
,
St. Louis Rams
,
Miami Dolphins
,
Oakland Raiders
,
Kansas City Chiefs
,
New York Jets
,
Seattle Seahawks
,
New England Patriots
and the Bears could be possibly interested in making a claim for Moss.
The receiver will enter waiver process Tuesday, and there's a good chance he could join a new team soon after he's officially waived, considering his representatives -- according to reports -- have already been contacted by the Dolphins and Seahawks. The
Buffalo Bills
, by virtue of owning the worst record in the league, get first dibs on Moss, who will be awarded to the team with the worst record to put in a claim.
If Moss isn't claimed, he becomes a free agent and is free to sign with any team.
The first and likely most insignificant obstacle to acquiring Moss would be his salary. The team making the successful waiver claim for Moss would be on the hook for nine game checks, or approximately $3.6 million of the receiver's $6.4 million base salary.
General manager Jerry Angelo has indicated several times that he's exhausted the budget allocated by ownership for high-priced acquisitions. So given the fact Moss is highly unlikely to sign a multi-year deal upon joining his new team, the Bears would be essentially renting the receiver for nine games.
That's probably not the route the Bears want to go, especially after spending so lavishly in free agency to acquire defensive end
Julius Peppers
.
Besides that, the club claims to be happy with its young group of receivers led by
Devin Hester
and
Johnny Knox
. It would be difficult for Moss to grasp the intricacies of offensive coordinator Mike Martz's system quickly enough to make a significant impact without sacrificing the playing time of others who have already spent approximately eight months learning the offense.
Chicago's 4-3 record could make acquiring Moss difficult, too. Not counting the Bears, 17 teams -- possibly 18 depending on the outcome of tonight's matchup between the Colts and Texans -- own records of 4-3 or worse, which puts the club near the back of the line for a crack at Moss' services.
While Moss contributed (13 catches for 174 yards and two touchdowns) in four games as a Viking, the team's decision to waive him after giving up a third-round pick to acquire him indicates the receiver's physical gifts weren't strong enough for Minnesota to deal with whatever issue or issues lurked behind the scenes.
Clearly Moss, 33, still possesses elite physical skills.
In addition, he's not the "cancer" he's portrayed as being, although Moss' run-ins with coaches and the media have been well documented. Given the aversion for such players by Bears coach Lovie Smith and Angelo, don't count on the club taking a chance on sacrificing chemistry in the locker room and harmony among the coaching staff for one player, no matter how talented.
Martz and nearly every facet of the club's offense are already under intense scrutiny. No need to crank up the question marks another three or four levels by adding Moss.
November, 1, 2010
11/01/10
3:53
PM ET
By
ESPN.com news services