Chicago Bears:

Rex Grossman
April, 26, 2013
4/26/13
8:35
PM ET
LAKE FOREST, Ill. -- With three linebackers flying off the board early on Day 2 --
Manti Te'o
(No. 38),
Kevin Minter
(No. 45) and
Kiko Alonso
(No. 46) -- the
Chicago Bears
joined the party at No. 50 and selected University of
Florida
inside linebacker
Jonathan Bostic
to complement the offseason additions of veterans
D.J. Williams
and
James Anderson
.
Linebacker was a must for the Bears.
Bears general manager Phil Emery needed to find a young linebacker to push Williams and Anderson for starting jobs, while at the same time providing the club with insurance in the event one of the front line guys went down with an injury.
"The reason we like Jon -- he's a three-position linebacker," Emery said. "We felt it was very important that if we were going to take a linebacker in the second round, that we get somebody who can immediately fill in at all three spots. If one of our starters was not available due to injury, that he could fill in immediately and we would have a good football player in place right now.
"Obviously he'll be given the opportunity to earn a starting job. We see him as a future starter."
January, 29, 2013
1/29/13
11:28
AM ET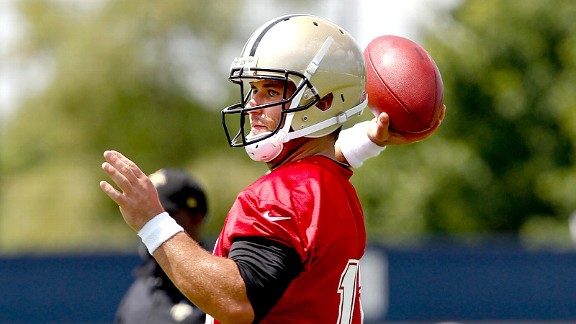 Derick E. Hingle/US PresswireNew Bears offensive coordinator and offensive line coach Aaron Kromer is familiar with Saints backup QB Chase Daniel.
There are two
Chicago Bears
quarterbacks under contract:
Jay Cutler
and Matt Blanchard. That will change at some point in the offseason when the Bears fill out the back end of the quarterback depth chart either via free agency or the draft.
The Bears could also decide to bring back one, or both of the veteran reserves they had at the end of last season in
Jason Campbell
and
Josh McCown
, both of whom are scheduled to be unrestricted free agents.
[+] Enlarge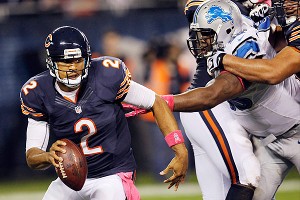 AP Photo/Charles Rex ArbogastA second year of Jason Campbell could be an option for the Bears.
The Bears signed Campbell to a one-year deal last offseason worth a total of $3.5 million ($2 million signing bonus, $1.4 million base salary, $100,000 workout bonus) in order to better protect themselves in the event Cutler missed any time due to injury, which he did.
Campbell took over for a concussed Cutler at the beginning of the second half of the Bears' home loss to the
Houston Texans
, then got the call to start the following game in San Francisco. The 49ers game was a debacle, but it's difficult to blame it all on Campbell, considering his two offensive tackles spent much of the night on their backs. Campbell finished the season completing 32-of-51 passes for 265 yards, two touchdowns, two interceptions and a passer rating of 72.8, not exactly the kind of numbers that will excite teams in need of a starting quarterback, although it is possible Campbell could find a better opportunity and more playing time elsewhere in free agency.
But the laid back and reserved Campbell certainly did not make any enemies during his one-year stint in Chicago, so if the Bears decide they can't upgrade the No. 2 spot, another season with Campbell isn't a horrible option.
McCown brings tremendous value to a roster because of his personality, experience and willingness to impart his wisdom onto others. There is no doubt in my mind that McCown will be an NFL coach one day when his playing career is officially over. But with any veteran back-up, the issue always comes back to money. It is much more expensive to pay the veteran minimum to a guy like McCown with 10 accrued NFL seasons than it is to carry a younger player on your roster, even if it would be more beneficial to the team to keep the older player. McCown can also still play if necessary, which he showed last season in the preseason finale versus the
Cleveland Browns
.
If the Bears choose to add another veteran quarterback, not named Campbell or McCown, here are some of the options expected to be available in free agency, in no particular order.
December, 23, 2011
12/23/11
12:33
PM ET
»
NFC Final Word
:
East
|
West
|
North
|
South
»
AFC
:
East
|
West
|
North
|
South
Five nuggets of knowledge on Week 16:
Busted rivalry:
When the NFL released its schedule this spring, many of us had high expectations for a late-December matchup between the
Green Bay Packers
and
Chicago Bears
. Instead, an injury-devastated Bears team will limp north
as a (deserved) 13-point underdog
. It's possible the Packers will have clinched home-field advantage even before taking the field Sunday night, if the
San Francisco 49ers
lose Saturday at the
Seattle Seahawks
. If not, the Packers will attempt to secure it against a team playing without quarterback
Jay Cutler
, running backs
Matt Forte
and
Marion Barber
, and receiver
Johnny Knox
. Third-string running back
Kahlil Bell
is expected to start, pairing with third-string quarterback
Josh McCown
-- who has a history of helping the Packers' playoff positioning. (See:
Noooooooooooooooo!
) One other interesting bit of history: The Packers are one of five teams in NFL history to open a season 13-0 and then lose in their 14th game. All four of the other teams lost their 15th game, too. That list includes the 2009 and 2005
Indianapolis Colts
, the 2009
New Orleans Saints
and the 1998
Denver Broncos
.
[+] Enlarge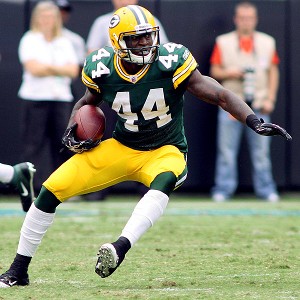 Jeremy Brevard/US PresswireGreen Bay's James Starks is expected to play Sunday against the Bears.
Packers' run game:
For several reasons, Sunday night's game would be an obvious target for the Packers to try to enhance their running game.
James Starks
(ankle) and
Brandon Saine
(concussion) are expected to return. The Packers will start a makeshift offensive line that likely will include
T.J. Lang
at right tackle and
Evan Dietrich-Smith
at left guard; the best way for offensive linemen to get comfortable is via run blocking. And it's also worth repeating that the Bears historically have done a good job limiting Packers quarterback
Aaron Rodgers
' downfield opportunities. According to ESPN Stats & Information, Rodgers has completed only five of 26 attempts on throws against the Bears that traveled in the air 21 yards or more. He's thrown for one touchdown, a game-winner to receiver
Greg Jennings
in 2009, and two interceptions on those passes.
Detroit's challenge:
The
Detroit Lions
will clinch a playoff spot Saturday if they beat the
San Diego Chargers
in what will likely be a raucous atmosphere at Ford Field. (There are also several scenarios to clinch this weekend even if they lose.
They're noted in this post
.) Hopefully everyone knows the Chargers are on one of their annual December rolls. They've won three consecutive games after a six-game losing streak. Since Norv Turner took the head coaching job in 2007, the Chargers are 20-2 in December. This will be no cakewalk.
Big targets:
Chargers quarterback
Philip Rivers
struggled earlier this season, but he has been the NFL's most efficient quarterback over the past three weeks based on Total Quarterback Rating. Rivers has hit a groove with a pair of 6-foot-5 receivers that will pose significant matchup problems for the Lions.
Malcom Floyd
has 11 receptions for 233 yards and two touchdowns over the past two games, while
Vincent Jackson
has caught 12 passes for 211 yards and a touchdown. Jackson has been sidelined in practice this week by a groin injury. Lions cornerback
Chris Houston
(knee) clearly wasn't 100 percent last week against the
Oakland Raiders
, and the team re-signed
Brandon McDonald
this week for extra depth. Safety
Louis Delmas
(knee) also remains sidelined, and backup
Chris Harris
was cleared Thursday to practice following a concussion.
Make it stop:
If you're a big-picture observer, you see ample motivation for the
Minnesota Vikings
to lose Sunday at the
Washington Redskins
. One more victory by the Indianapolis Colts, in conjunction with two more Vikings defeats, would give the Vikings an excellent chance to secure the No. 1 overall pick of the 2012 draft. A loss to the Redskins would extend the Vikings' losing streak to seven games, tying a franchise record set in their expansion season of 1961. But I'm not sure what would be worse: tying that record or extending their NFL record of games without an interception, which stands at nine. Redskins quarterback
Rex Grossman
has thrown at least one interception in his past 10 starts, and he is tied for the second-most interceptions in the NFL (18) despite missing three games this season. Something's got to give.
October, 20, 2010
10/20/10
10:42
AM ET
[+] Enlarge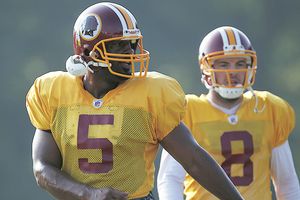 AP Photo/Pablo Martinez MonsivaisRex Grossman has become a huge fan of Donovan McNabb.
Washington Redskins quarterback Rex Grossman talked about returning to play in Chicago for the first time since leaving the Chicago Bears.


On coming back to Chicago to play the Bears
"I think it's crazy that I'm coming in as an opponent. It will be an exciting game."


On the most memorable moments, both positive and negative, of his career in Chicago
"Definitely the 2006 season. All the great, great games. The kind of team chemistry we built during that season and the momentum we had to start off the season on offense. Some of the great moments: overtime of the Seahawks game, obviously the NFC Championship game in the snow celebrating. All of those types of memories will stick with me for the rest of my life. All the negative, bad comments are just a blur."


On if the workers at his father's clinic in Bloomington, Indiana now wear Redskins jerseys on Fridays
"There's no doubt that they are all Redskins. Whatever team I'm on, they're one hundred percent behind me."


On which Redskins quarterback handles the scout team
"I get a percentage of the offensive snaps and I will take as much scout team as I need to get me ready for the week."


On what distinguishes Donovan McNabb as a quarterback
"He's an unbelievable football player. If the play isn't designed to do something, he is good at when things break down finding a completion or escaping the pocket to be able to make something good happen out of a mismatch versus the coverage. If we don't draw it up right, he will find a way to make it a positive play. His arm strength and leadership are the other two attributes that impress me."


On the Bears defense, that has many of the same players while he was in Chicago, this season
"I think they're playing really well. They've obviously added just a little bit of a wrinkle since I've been there. They play a lot of man coverage and cover-3 and cover-2, predominantly, but they've added a little bit more of what we call a cover-6 or quarter-quarter-half with it. So, there's a little bit of difference with it, but I think [Brian] Urlacher's healthy and playing really well. Obviously, Julius Peppers is a dynamic player. Lance Briggs is still one of the best players in the NFL as far as I'm concerned."


On what type of reaction he expects in Chicago
"I don't know. It's hard to anticipate, but I would assume it's a boo. I don't think it should be, but you know how it is there; you never know what is going to happen. I've seen former players come in there and they've usually gotten booed. Either way, I don't care, I still love Chicago. I love the city, the tradition, the team and everything about it. I'm very proud to be a part of it."


On if Chicago creates more of a fishbowl effect than other cities
"It is different. The passion, the tradition and the whole deal is exciting to be a part of, especially when you get a good team and you're on Super Bowl run like we were, everything gets magnified. Everybody's involved, watching and paying attention, especially when you have a good team. Everything is moving along and you have a lot of expectations. It is one of the biggest football towns in the NFL. Going to Houston after Chicago was night and day. They're obviously a young franchise, but to go from Houston to Chicago, it almost didn't feel like the NFL. Washington is a lot more like Chicago. This is a very similar setup."
October, 19, 2010
10/19/10
10:01
AM ET
Considering how often he was booed in Soldier Field while he played for the Chicago Bears, Rex Grossman probably was safe to assume he'll be booed Sunday when he visits as the Washington Redskins' back-up quarterback.
Read the entire story.
November, 17, 2009
11/17/09
9:11
AM ET
CHICAGO -- Stop me if you've heard this one before: The Bears need to essentially "run the table" in the final seven games to make the playoffs.
[+] Enlarge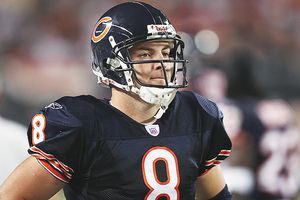 Jonathan Daniel/Getty ImagesAre the Bears better than they were in 2007, when Rex Grossman and Brian Griese were under center?
Isn't that exactly what Lovie Smith said at this juncture of the season in 2007 and 2008? Has time stood still here in Chicago?
Forgive me, but I'm having a difficult time believing this group can put together some magical run. Quite frankly, it doesn't matter how many games in a row the Bears won in 2005 or 2006, because those days are over. A much better comparison to this current group can be found in the last two years.
The Bears stood at an identical 4-5 mark after nine games in 2007 -- they went 3-4 the rest of the way. We should also point out those final two victories against Green Bay and New Orleans occurred after the Bears were officially bounced from playoff contention. So much for finishing strong.
Last year, Smith's team was 5-4 with seven games left on the schedule -- they went 4-3 the rest of the way. Despite being a fairly mediocre team, the Bears still had a chance to clinch a postseason berth with a win at Houston, but couldn't seal the deal.
Now the Bears have to go at least 5-2 (possibly 6-1) to have any shot to extend their season. That seems like a major long shot when you look at the remaining quality opponents on the schedule: Philadelphia, Minnesota (2), Green Bay and Baltimore.
Actually, come to think of it, these current Bears look strikingly similar to the 2007 squad -- remember, the one that went 3-4 down the stretch.
Two years ago, the Bears couldn't run, protect the quarterback, score in the red zone or consistently play good defense.
But of course, those Bears had a legitimate down-field threat in
Bernard Berrian
, got 17 combined sacks from
Adewale Ogunleye
and
Tommie Harris
, and six special-teams returns for touchdowns from
Devin Hester
.
Which leads me to a scary question: Even with
Jay Cutler
, are the Bears worse in 2009 than they were in 2007?
I guess we'll find out in the next seven weeks.