Chicago Bears:

Ron Turner
July, 11, 2013
7/11/13
10:35
AM ET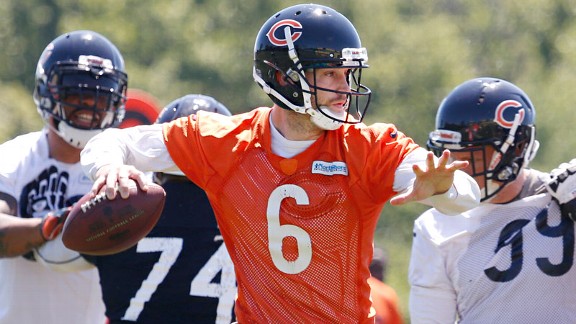 AP Photo/Nam Y. HuhJay Cutler faces another new offense, and if history is a judge, he should pick it up quickly.
Editor's note: Michael C. Wright and Jeff Dickerson will preview the top storylines heading to the Bears training camp.
Balls thudded to the grass. Quarterbacks and receivers seemed out of synch sometimes. The defense feasted on interceptions.

That's what transpired for the
Chicago Bears
at organized team activities and minicamp. Fortunately for the team, the offseason is the time for such miscues. However, once the team hits the field for training camp in Bourbonnais, the margin for error starts to shrink significantly.
So as the team prepares for its 12th training camp trek to Olivet Nazarene University, one burning question seems to be whether the Bears can absorb the new system of Marc Trestman and offensive coordinator Aaron Kromer sufficiently enough to operate productively once the Sept. 8 opener rolls around against the
Cincinnati Bengals
.
Recent history indicates the Bears will be up to the challenge.
Last season, when the Bears switched from the offense of Mike Martz to the system of Mike Tice, quarterback
Jay Cutler
completed only 1 of his first 10 passes in the season opener before catching fire and hitting 11 of his next 12 throws. The Bears stomped the Colts 41-21 in last year's opener with Cutler completing 21 of 35 for 333 yards and two touchdowns. The Bears started the fourth quarter with a 34-14 lead.
When the Bears transitioned into Martz's system from the offense utilized by former coordinator Ron Turner in 2010, Cutler threw for 372 yards and two TDs -- including a 28-yard pass to
Matt Forte
with 1:32 left to play -- as the club defeated the
Detroit Lions
19-14.
So the move to Trestman's precision and timing-based West Coast scheme should come with relatively few hiccups. In fact, it wouldn't be much of a stretch to expect the Bears to put forth one of their best performances offensively in a season opener in recent history in 2013, given Trestman's reputation for attacking defenses, his ability to groom quarterbacks, and the fact the team is stocked with successful veteran players at most of the key positions.
February, 17, 2011
2/17/11
8:47
AM ET
CHICAGO -- Indianapolis Colts quarterbacks coach Ron Turner spent one forgettable season with Jay Cutler as offensive coordinator of the Chicago Bears, but Turner believes patience and a stronger supporting cast will help Cutler develop his obvious talents.
Read the entire story.
August, 26, 2010
8/26/10
12:44
PM ET
[+] Enlarge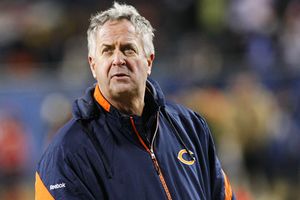 AP Photo/Charles Rex ArbogastThe Bears seem to feel they're much better prepared than they were last season under Ron Turner.
LAKE FOREST, Ill. -- They didn't necessarily rip former offensive coordinator Ron Turner, but some of the Bears obviously weren't always in agreement in 2009 with the direction the offense was taking.
Bears quarterback
Jay Cutler
said assignments are more clearly defined in the club's new offense, led by Mike Martz.
"Things are a little clearer offensively for us, assignment wise, what we need to get done," Cutler said. "Sometimes things were a little gray last year when we had to make some stuff up on the run. Here it's very much in granite. Here's what you have to do. You have to be here at this time. You got to do this or do that. If you do that the play will be successful."
Cutler indicated that with more clear-cut direction in the new offense, he'll be less likely to throw interceptions, which was a problem last season when the quarterback led the league with 26.
Asked whether the new offense will lead to fewer picks, Cutler didn't hesitate.
"Absolutely," he said. "Whenever everybody knows exactly what they're supposed to do on every given play, no matter what the defense does, the front is, or the coverage is … Mike [Martz] does a great job of preparing everybody for whatever look [we'll see], and giving answers. [If] he doesn't have an answer for that play, he's not going to call [it]."
Receiver
Devin Aromashodu
, who caught 14 passes for three touchdowns over the final three games, said he was too busy trying to execute his assignments to notice problems last season in Turner's offense.
"There may have been some [ambiguity in Turner's system]; I couldn't tell you for sure," Aromashodu said. "I just went out there, the coaches called the plays, and I did what they said to do."
For Aromashodu, Martz's offense is actually more difficult than Turner's due to all the responsibilities that fall on the receivers.
"You have to know a lot more," Aromashodu said. "There's a lot more responsibility for the receivers. It's all on us. It's definitely a more fun receiver-friendly offense. I'm enjoying it."
March, 8, 2010
3/08/10
3:52
PM ET
Former
Chicago Bears
quarterbacks coach Pep Hamilton is reportedly on the move -- again.
Hamilton, who initially accepted a job as co-offensive coordinator/receivers coach at New Mexico last month, has apparently bolted to join Jim Harbaugh's staff at Stanford, where he will coach wide receivers.
Former Bears offensive coordinator Ron Turner originally took a job at Stanford to coach receivers and quarterbacks, but Turner also changed his mind, and took a position with the
Indianapolis Colts
.
Before coaching quarterbacks for the Bears (2007-09) and
San Francisco 49ers
(2006), Hamilton coached wide receivers for the
New York Jets
in 2005.
January, 5, 2010
1/05/10
5:15
PM ET
By JEFF DICKERSON
LAKE FOREST, Ill. -- Bears players reacted with a mixture of emotions Tuesday upon learning about the various changes to the coaching staff.
"On one hand, I'm really happy that coach [Lovie] Smith is going to back next year," starting fullback
Jason McKie
said. "I think all the players knew Lovie wasn't going anywhere, but it's still a relief.
" But on the other hand, I'm very sad to see Ron Turner go. I feel like, as players, we made a lot of mistakes on offense this year. When you look at all those penalties and missed opportunities in the red zone, that falls on the players, not the coaches."
An eight-year veteran, McKie played for Turner the last five seasons.
"Ron is a good coach," McKie said. "I know he'll find a job soon. Besides being a good coach, he's a good person. But that's just the nature of this business."
January, 3, 2010
1/03/10
4:57
PM ET
DETROIT --
Chicago Bears
offensive coordinator Ron Turner refused to speculate on his job status Sunday following his teams' 37-23 victory over the Lions.
"My mindset right now is to enjoy this win," Turner said. "We'll go in [to Halas Hall Monday], and I'm pleased with the way we developed, and pleased with the progress we made and what we did the last couple of weeks. That's where my mindset is right now. Go in [Monday], and get ready to go."
Does he expect to return in 2010?
"Yeah, yeah," Turner said. "So again, I'm pleased with the way we played today. We did a lot of good things, and the last couple of weeks our guys responded. When they scored to tie it up [at 20-20], our guys showed what they're made of and showed their character. Right now, that's where my focus is, and what I'm thinking about right now."
The Bears are expected to conduct their organizational meetings Monday, and an official announcement on the fate of the coaching staff should come shortly thereafter.
December, 29, 2009
12/29/09
12:57
AM ET
CHICAGO -- Nobody was touching the topic of job security after the
Chicago Bears
' 36-30 overtime victory over the
Minnesota Vikings
.
Lovie Smith:
"I think the game tonight made a statement about our football team, where we are, and what we could be in the future, no more than that. As a football coach, your job is at stake every day you go to work, from the first day you go on the job till the end. I realize where I am, where we are. It's been a disappointing season, and I'm the head football coach."
Ron Turner:
"I'm not even focusing on that. We'll get ready to go in (Tuesday) and get ready for Detroit. We'll enjoy this one for about two hours, as long as it takes to get home. With traffic it might be about three hours. But anyways, we'll just enjoy this one and focus on Detroit Tuesday. I'm not even thinking about all that stuff."
It's too late for Turner, but the Bears' effort against a superior Vikings team may bode well for Smith.
December, 16, 2009
12/16/09
4:43
PM ET
LAKE FOREST, Ill. -- Ron Turner deals with questions surrounding his job security on a weekly basis, so
Devin Hester
predicting "a lot of changes" this offseason did little to rattle the
Chicago Bears
offensive coordinator.
"I mean that's obvious, they're going to hear that everywhere," Turner said after Wednesday's practice. "When you have a disappointing year, that's going to be the talk. They're going to hear it, we're going to hear it, and you just go about your business."
"When you're struggling, that's part of it. You can't really get caught up in all that. All you can do is continue to focus on the things you can control."
One thing Turner can't control is the Bears' reluctance to offer any sort of statement about his future. Since the front office has failed to make a public comment, the offensive coordinator receives his only feedback from coach Lovie Smith. Turner and Smith meet every Monday to discuss the state of the offense.
"Lovie comes in with us every week, no matter what happens or how the game goes, and we watch the film together," Turner said. "We watch it together as a staff, and he's in there with us. We talk about it, and we talk about what we can do, what we need to do. I have most of my talks with him."
For his part, Smith seemed annoyed by Hester's comments, but he refused to discuss any future changes within his coaching staff.
"You got to talk to Devin Hester about that. We're thinking about Baltimore," Smith said, "When you're 5-8, guys are frustrated, like we all are. I can't talk anymore than that. Devin, along with the rest of the guys, we all need to focus on Baltimore. No more than that."
December, 2, 2009
12/02/09
5:02
PM ET
LAKE FOREST, Ill. -- Bears running back
Matt Forte
pulled a nifty move to avoid an approaching group of media members after Wednesday's practice, but he did speak to a pair of reporters before pulling his disappearing act.
On the subject of
Brian Urlacher
's comments to Yahoo Sports, Forte told the Chicago Sun-Times and Chicago Tribune:
"Urlacher has his own opinion. If I couldn't make anybody miss, I probably wouldn't be playing pro football."
Bears offensive coordinator Ron Turner was also asked to respond to Urlacher's notion about the team's changing identity.
"I can't comment on that, because I haven't seen it, I haven't read it," Turner said. "I talked to Brian yesterday, and I think he's got a lot of confidence in us. He's a team guy. Whatever he said, he said. Yeah, do we want to run the ball more, yeah, no question about it. We want to run the ball more, and better. I've got to give our guys a chance to do that, and sometimes a game dictates what you do and where you go. It's kind of been the case this year a little bit."
November, 29, 2009
11/29/09
8:25
PM ET
MINNEAPOLIS -- The opening of the second half provided an excellent snapshot of the 2009 Chicago Bears season. Johnny Knox returned a kickoff 77 yards to the Minnesota Vikings' 8-yard line. Should be an easy touchdown, right?

Unlucky Seven
Jay Cutler struggled when the Vikings dropped seven into pass coverage. This has been a recurring theme in 2009 - 15 of Cutler's now 20 Int have come against four pass rushers or less.
Passing by Number of Rushers, vs Vikings

| | | |
| --- | --- | --- |
| | 4 or Less | 5 or More |
| Comp-att | 13-17 | 5-6 |
| Pass yds | 96 | 51 |
| TD-Int | 0-2 | 1-0 |
| Passer rtg | 49.8 | 141.7 |
Wrong.


The Bears went backwards 12 yards; Jay Cutler was sacked on second down, Orlando Pace was then whistled for a false start on third down, then Cutler was sacked again and the Bears had to settle for a field goal. But there's more, as Bears offensive coordinator Ron Turner explained in the postgame locker room.


"On (the) second down play, his [Cutler's] primary receiver ran the wrong route," Turner said. "So he's [Cutler] looking for a guy that's supposed to be there, who would have been wide open, so then he gets sacked."


Turner refused to identify the receiver in question.


"It's easy to blame the quarterback, but everybody has to execute," Turner said. "That's kind of been the story. Especially in the red zone, we seem to botch base plays we've had in, and not give ourselves a chance."


Turner has taken most of the blame for the offense, but how does an NFL receiver run the wrong route in that situation? That's not on the offensive coordinator, it's on the player.
November, 25, 2009
11/25/09
4:23
PM ET
LAKE FOREST, Ill. -- Lovie Smith and Ron Turner deny getting caught up in any of the speculation surrounding the future of both coaches in Chicago.

"I just look at Minnesota film," Turner said after Wednesday's practice. "I put that film on, and I'm not going to think about anything else but Minnesota. That's where all my energy and all my focus has to go. How can we get our team better? How can we get our guys to perform at a high level consistently? (We're) looking at ways to move the ball and attack those guys, and that's where all the focus has got to go."

"You can't (react to those stories)," Smith said. "Minnesota is enough to keep you occupied. You have to say focused on the task at hand. We're 4-6, any team that's 4-6 right now is answering questions about things that really don't affect what's going on (on the football field). We're trying to get better each day. We have a big game coming up this week, and our focus is just on that."
November, 25, 2009
11/25/09
11:21
AM ET
[+] Enlarge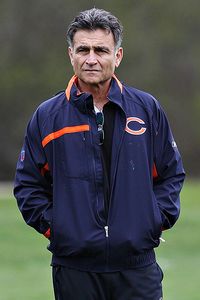 Jonathan Daniel/Getty ImagesOne rumor has the Bears thinking about replacing Jerry Angelo, but there are millions of reasons why that's not likely.
LAKE FOREST, Ill. -- I'm trying to pinpoint the exact moment this Bears season totally jumped the shark.
Was it when Dr. Dan Grossman ripped the Bears for being unable to develop a quarterback. What exactly makes him an authority on the subject?
Or maybe it was when the Bears blew off a few NBC interview requests. That was funny to those in the media, but why do Bears fans care?
Hang on, it must be somebody above Jerry Angelo reportedly wanting to axe the general manager and Lovie Smith. Hub Arkush, of WSCR-AM (670) reported that Bears brass above the GM level is surveying options to replace Smith, Angelo or both.
Wait, I've got it, it's Mike Martz
throwing
his hat into the ring for the soon-to-be vacant Bears offensive coordinators job. Martz would take any NFL job, wouldn't he?
Look, I respect all of these stories and reports, I just don't think the Bears -- the actual decision makers -- have reached a point where they are seriously discussing these changes.
Martz to the Bears makes all the sense in the world -- especially when you factor in his relationship with Lovie Smith. They coached together with the
St. Louis Rams
. But Martz was fired after only one season in San Francisco, and after just two years in Detroit -- Rod Marinelli was the head coach during that time in Motown. Does his offense still work? How will
Jay Cutler
react to his 5,000-page playbook? Will Martz let his ego get in the way if things don't function properly?
And why should Lovie be able to hire the next offensive coordinator? Look at his track record of hiring and firing assistants. Isn't there a better name out there? Isn't Martz just a desperate hire for a head coach probably on his way out after 2010?
There are so many questions surrounding the future of this organization, it's hard to believe anybody has totally made up their mind about anything -- other than the McCaskeys, who probably don't want to eat the six combined years left on Smith and Angelo's deals, plus the remaining years for all the assistant coaches, and the support staff upstairs. Not only that, but there's the matter of $40-$50 million for a guy like Bill Cowher.
For the record, the Bears have denied putting out feelers for the "big-name" coaches on the open market. That's not to say organizations don't deny accurate reports all the time in the NFL, but something about the family eating all that remaining cash just doesn't sit right.
Yes, changes will likely happen. But will they be the proper changes? I can't promise you that, because after all, these are the Bears we're talking about here.
November, 18, 2009
11/18/09
6:11
PM ET
[+] Enlarge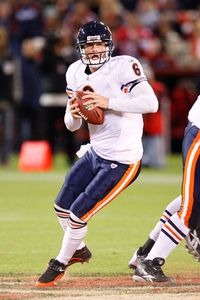 Tony Medina/SMIIt wasn't Jay Cutler's fault that one of his receivers felll and another stopped his route against the 49ers.
By JEFF DICKERSON
LAKE FOREST, Ill. -- Ron Turner spent a lot of time going over the San Francisco film, and what he found should come as no surprise to anybody who watched the game: Not all of Jay Cutler's five interceptions were a result of quarterback error.
"I looked at three of them, and I couldn't really grade him down," Turner said. "I couldn't really say 'Jay, you need to do something different on these plays'. You know what I mean? It's part of the game, and it happens. The ones that he can avoid, he's got to avoid. He's got to throw the ball away at times. But as a team, we have to cut them out, eliminate them."
Turner was asked to identify the three interceptions in question.
"I'm not getting into specifics. Okay," Turner replied.
He doesn't need to. The two red-zone turnovers were all on Cutler, while the rest were due to other factors: a receiver falling down; a receiver running into an official and stopping his route; a tight end falling down/non-call on pass interference.