Chicago Bears:

Ryan Fitzpatrick
November, 6, 2010
11/06/10
7:23
PM ET
THREE KEYS FOR THE BEARS
Run the ball
Fingers are cramping from typing this week after week, but it's true: The Bears need to run the ball to eliminate predictability, and improve on time of possession, which in the process helps out the passing game and prevents the defense from being on the field too long. Since Buffalo's rush defense ranks last in the league, this appears to be the perfect opportunity for the Bears to get running backs
Matt Forte
and
Chester Taylor
going. Considering the club has invested $9 million guaranteed between the running backs, perhaps it's time for the Bears to start getting their money's worth.
[+] Enlarge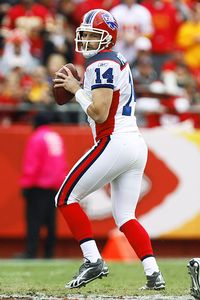 AP Photo/Ed ZurgaThe Bears need hard hits to make Bills QB Ryan Fitzpatrick think twice about scrambling.
Make Fitzpatrick pay
Buffalo quarterback
Ryan Fitzpatrick
continues to light up opponents. He's passed for 605 yards and five touchdowns with two interceptions in his last two outings. So it's important for the Bears' front seven to put pressure on him and for the secondary to maintain tight coverage. Interestingly, Fitzpatrick has shown a tendency to be reluctant to slide to avoid contact when he scrambles out of the pocket. Instead, Fitzpatrick puts his head down and fights for extra yardage in those situations. So when Fitzpatrick gets out on the loose, the Bears' front seven -- especially the linebackers -- need to punish the quarterback with hard shots to discourage him from scrambling, which in the past has allowed him to find open receivers down the field.
Stop being stubborn
At the slightest sign of trouble, offensive coordinator Mike Martz calls for an aerial strike almost without fail. Stop it, coach. It's not only killing the team, it's jeopardizing the long-term health of quarterback
Jay Cutler
because of the offensive line's inability to protect him. Martz needs to diversify the play calling to include a mix of both passes and runs; long pass drops and short drops. The club also needs to diversify its personnel groupings to get more touches for little-used weapons such as
Earl Bennett
and
Devin Aromashodu
, who have proven adept at gaining yards after the catch.
THREE KEYS FOR THE BILLS
[+] Enlarge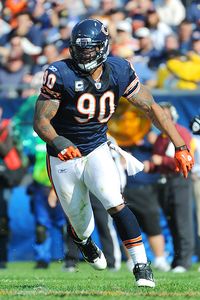 AP Photo/David DrapkinWould the Bills be better off not double-teaming Bears defensive end Julius Peppers?
Experiment on Peppers
Some teams have shown the ability -- not consistently -- to handle Bears defensive end
Julius Peppers
with just one blocker. The Bears are counting on teams double- and triple-teaming Peppers on occasion, and have tailored the defense to account for such a possibility. But the Bills can throw a curve ball at Chicago by rolling the pocket away from Peppers, and deploying just one blocker to handle him, which frees up more receivers in routes and takes away some of the one-on-one blocks the Bears anticipate in other areas. If the Bills try such a tactic, it's important for Fitzpatrick to get rid of the ball quickly, which shouldn't be a tough proposition, considering the Bears play so soft on the outside.
Mix it up on the ground
Buffalo's backfield duo of
Fred Jackson
and rookie
C.J. Spiller
presents significantly differing styles, which can throw a defense off balance. The problem is the Bills don't distribute the workload evenly enough for it to be impactful. Jackson is the clear-cut feature back, handling the bulk of the carries. But the Bills need to get Spiller -- a dynamic threat to go the distance on any play -- more involved in the attack. Spiller carried just six times in the club's last game, which clearly isn't enough for the rookie to develop a rhythm.
Test Garza
Bears' starting right guard
Roberto Garza
is coming off Oct. 15th surgery on his left knee, and it's almost a given his range of motion won't immediately be the same, nor will his cardiovascular conditioning. Add that to the fact he's playing alongside a rookie in right tackle
J'Marcus Webb
, and you've got a matchup situation definitely worth testing. The Bills need to bring most of their stunts and blitzes to the right side of Chicago's line, and use lots of twists that will force Garza to have to move laterally. Moving consistently between their 4-3 and 3-4 fronts would be a good idea for the Bills, too.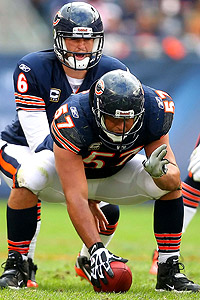 Dennis Wierzbicki/US PresswireBears lineman Olin Kreutz will have his hands full on Sunday with the Bills' Kyle Williams.
MATCHUP TO WATCH: OLIN KREUTZ VS. KYLE WILLIAMS
Kyle Williams
has emerged as one of the league's more dominating defensive linemen, and it's a sure bet
Olin Kreutz
will need plenty of help handling him. A nose guard in Buffalo's 3-4 fronts and a defensive tackle in the 4-3 fronts, Williams has benefitted tremendously from the club's move to more 4-3 looks, because of the penetrating nature of a four-man front.
Since Buffalo switched to a predominantly 4-3 alignment, Williams has racked up 19 tackles over the team's last four games, including three sacks and six stops for lost yardage. More than likely, Williams will shut down any attempts by the Bears to run between the tackles. Williams is currently third in the NFL in tackles among defensive linemen with 37.
Kreutz, who is somewhat undersized, won't be able to handle Williams one-on-one consistently. So look for the Bears to deploy plenty of double teams on Williams.
STREAKS
Two of Buffalo's last three wins over the Bears have come by more than 14 points.


The Bears haven't converted a third-and-9 since Week 1, and are 5 of 42 from third-and-8 or longer this season.


Since 2004, the Bears have forced 361 three-and-out drives out of 1,336, which ranks as first in the NFL during that time span.

BY THE NUMBERS

17: Takeaways by the Bears this season, with eight coming on fumble recoveries and nine on interceptions.

4: Punt returns of 20 yards or more by Devin Hester, which ranks as first in the NFL.

13: Bears younger than 25 years old.

39: Career tackles against the Bills in three games by Brian Urlacher.
November, 3, 2010
11/03/10
6:01
PM ET
LAKE FOREST, Ill. -- Buffalo Bills quarterback Ryan Fitzpatrick knows precisely what Jay Cutler deals with on a day-to-day basis trying to execute the scheme of Bears' offensive coordinator Mike Martz.
[+] Enlarge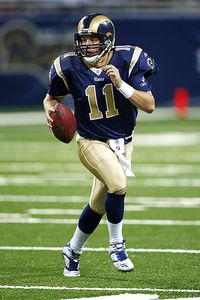 G. Newman Lowrance/Getty ImagesAs a rookie in St. Louis, Ryan Fitzpatrick had to learn Mike Martz's system.
A sixth-year NFL veteran backed by a Harvard education, Fitzpatrick played a year for Martz at St. Louis, which originally selected him in 2005 as a seventh-round pick. Fitzpatrick has operated five different offenses in his six seasons, but calls Martz's system -- which he learned as a rookie -- the toughest.
Here's a sampling of what Fitzpatrick had to say about Martz's offense:
What was it like as a rookie to try and learn Martz's offense?


Ryan Fitzpatrick: It was extremely difficult. I mean, it was a lot different than anything I had been exposed to. At the same time, I think that it was fun. It was a challenge, and it's obviously been very successful. For me, it provided a great base, just in terms of understanding concepts, offensive philosophy, and different ways to exploit a defense. It was difficult, but I spent a lot of time trying to get it down, and understanding why he was doing what he was doing. I think it's helped throughout my career.


Had you started learning Martz's offense as a more experience quarterback, would that have made things less difficult for you?


RF: I think it places a lot of demands on the quarterback, and in that sense, it's probably more difficult. But that's why, if you look over the years, he's had so many great years and so many good quarterbacks because they understand the challenge. He does a good job of teaching them.


What was the most difficult aspect of running Martz's offense?

RF: I was a rookie, so I was third string on the depth chart. I didn't get a ton of exposure in terms of running plays and stuff in camp. I think it's all based on muscle memory and repetition. If you don't get the chance to get the reps, then it's increasingly difficult because it's an offense that's so much based on timing and footwork. So I think the hardest thing, for me at least, was not being able to get the reps. I was the third-string quarterback, so at that point it wasn't a big deal.

Of all the systems in which you played, was Martz's the toughest?


RF: Yeah, but it's the most difficult I guess in terms of maybe terminology and volume. At the same time, it's one of those that's the most fun because when you're on the same page with everybody, and when you have weapons, then there's a lot of different things he'll do to exploit the defense.