Chicago Bears:

Sam Shields
July, 19, 2013
7/19/13
12:00
PM ET
NFC Eight in the Box:
East
|
West
|
North
|
South
»
AFC:
East
|
West
|
North
|
South
What are the three key camp issues facing each NFC North team?
CHICAGO BEARS

Offense: Kyle Long's readiness
The Bears drafted Long in the first round to help an offensive line that has struggled for years to protect quarterback
Jay Cutler
. Long, however, had a short Division I career and missed almost all of the Bears' offseason work because of the timing of Oregon's final academic quarter. The Bears will find out in camp, and during the preseason, whether Long is ready to be an immediate starter as you would expect based on his draft position.
Defense: Configuring linebackers
After the retirement of
Brian Urlacher
and the departure of
Nick Roach
, the Bears gave themselves two tiers of options at linebacker to play alongside
Lance Briggs
. If all else fails, they can use veteran
D.J. Williams
in the middle and
James Anderson
on the strong side. But they also drafted two players who one day will get their chance:
Jon Bostic
in the second round and
Khaseem Greene
in the fourth. The process of determining the best combination will begin in training camp.
Wild card: Coaching transition
This will be the Bears' first training camp in 10 years without Lovie Smith as the coach. Marc Trestman began the transition process during offseason workouts, but training camp is the time for establishing the meat of his program. How does he expect players to practice? How quickly does he expect scheme assimilation? How do players know when he's happy? When he's angry? The first training camp will set the parameters.
DETROIT LIONS

Offense: Line changes
One way or the other, the Lions will enter the season with three new starters on the offensive line.
Riley Reiff
is at left tackle after the retirement of
Jeff Backus
, and there will be competition at right guard and right tackle. Pulling off an overhaul of the offensive line in a win-or-else season is an ambitious task. All discussion of improvement for quarterback
Matthew Stafford
, and the impact of newcomer
Reggie Bush
, is made on the presumption that the offensive line won't take a step back.
Defense: Ziggy Ansah's development
Usually, the No. 5 overall pick of a draft is ready to step in and play right away. But Ansah was a late arrival to football and was almost an unknown to NFL scouts a year ago at this time. There was a sense during pre-draft evaluations that Ansah would need more development time than the typical No. 5 pick, but the Lions have high hopes of putting him into the starting lineup right away. They gave themselves some flexibility by signing free agent
Israel Idonije
, but they'll find out in camp if Ansah is going to be ready to play a full-time role in Week 1.
Wild card: Ryan Broyles' status
Broyles was a value pick in the 2012 draft, but he is very much needed after the release of
Titus Young
.
Nate Burleson
has returned to play alongside All-Pro
Calvin Johnson
, but the Lions' depth would be thin if Broyles isn't ready to play soon after tearing his ACL in Week 13 last year. The Lions hope Broyles can be full-speed by the start of the season, a pace he must confirm with at least some significant work in training camp.
GREEN BAY PACKERS

Offense: Running back rotation
The Packers added two rookies,
Eddie Lacy
and
Johnathan Franklin
, to a group that includes holdovers
DuJuan Harris
,
James Starks
,
Alex Green
and
John Kuhn
. Unless the Packers suddenly convert to a run-based offense, an impossibility as long as
Aaron Rodgers
is at quarterback, the Packers will have to thin this herd in training camp. Not everyone from that group will make the team, and a few who do aren't likely to get much action in games. Harris, Lacy and Franklin seem the likeliest candidates -- in that order -- to be feature backs.
Defense: Replacing Woodson
The Packers have openings at safety and cornerback following the release of
Charles Woodson
. Training camp should provide significant insight, if not an outright answer, into who will start at safety --
M.D. Jennings
?
Jerron McMillian
? -- alongside
Morgan Burnett
. We'll also get a sense for who is ready to step into the cornerback and nickel job opposite veteran
Tramon Williams
. Top candidates for that job include
Sam Shields
,
Casey Hayward
and
Davon House
. The Packers' cornerback group is by far the deepest in the NFC North.
Wild card: Crosby's state of mind
No one expects
Giorgio Tavecchio
to beat out place-kicker
Mason Crosby
, who went through a well-publicized extended slump last season. But how will Crosby react to the first competition of any sort he has faced since taking over as the Packers' kicker in 2007? That's what the Packers want to find out, frankly. If he isn't sharp in camp, the Packers might need to consider their options elsewhere.
MINNESOTA VIKINGS

Offense: Cordarrelle Patterson's development
The Vikings know they want Patterson to be their kickoff returner, replacing
Percy Harvin
, but is Patterson ready to take over any part of Harvin's role as a primary offensive playmaker? Patterson's short stay at Tennessee once suggested he will need some development time before contributing regularly on offense. His performance in offseason practices, however, suggested he might be further along than once believed. Training camp will tell us for sure.
Defense: Linebacker alignment
Will newcomer
Desmond Bishop
play middle linebacker or on the outside? What would that mean for
Erin Henderson
, who spent the offseason transitioning to the middle position? It seems pretty clear that Bishop, Henderson and
Chad Greenway
will be the Vikings' three linebackers. Training camp should give us a better idea of where they will line up and, importantly, who will come off the field in nickel situations.
Wild card: Chemistry in passing game
The Vikings are expecting a jump in the efficiency, if not raw numbers, of their passing game this season. Quarterback
Christian Ponder
will have to accomplish that by developing quick chemistry with his new receivers, including Patterson and veteran
Greg Jennings
. That task appeared to be a work in progress during offseason practices.
July, 16, 2013
7/16/13
2:15
PM ET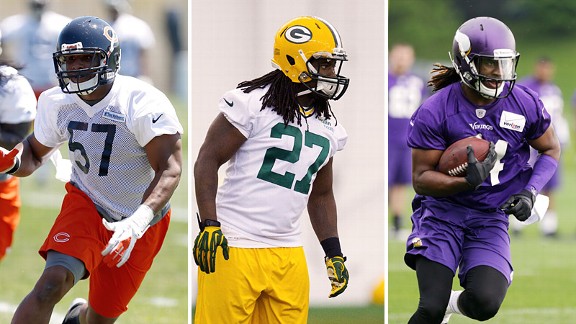 Getty ImagesOpportunities await Jon Bostic, left, Eddie Lacy, center, and Cordarrelle Patterson in training camp.
In 10 days, all four NFC North teams will have stepped onto the practice field for their 2013 training camps. I can't think of a better way to wade through these final days than by identifying 10 key issues we will no doubt be focusing on over the next six weeks or so.
I'm staying away from some of the obvious ones and instead focusing on developments for which we have a reasonable expectation of resolution before the start of the regular season. We won't know by Labor Day, for example, if
Jay Cutler
is a good fit for the
Chicago Bears
' new offense under Marc Trestman. It'll be impossible to conclude whether
Christian Ponder
has taken a step forward as the
Minnesota Vikings
' quarterback, or whether the
Detroit Lions
'
Matthew Stafford
has fixed his mechanics or if the
Green Bay Packers
know how to stop the read-option.
Answers to those questions won't be evident until regular-season games start. I think it's reasonable to expect quicker resolution to the questions identified below.
Issue:
Jon Bostic
and the Bears' middle linebacker job
Analysis:
General manager Phil Emery gave the team a safety blanket by signing veteran
D.J. Williams
, who is expected to open training camp in Brian Urlacher's old spot. But the Bears used a second-round draft pick on Bostic, and one day he almost certainly will have the job. If he can win it in training camp, the Bears can move Williams to the outside or use fellow newcomer
James Anderson
there.
Issue:
A role for Bears defensive end
Shea McClellin
Analysis:
McClellin was the Bears' first-round draft pick just one year ago, but he'll have to compete hard to establish a role commensurate with that status.
Julius Peppers
and
Corey Wootton
finished last season as the Bears' starting defensive ends, and Wootton is in a contract year and thus will be highly motivated. The Bears cleared some space by allowing
Israel Idonije
to depart via free agency, but McClellin's path to regular playing time is far from certain.
Issue:
Starting
Kyle Long
Analysis:
There has been an assumption that Long will be plugged into the starting lineup at one of the Bears' guard positions, but it's only fair to reiterate his relative lack of experience (four starts) in Division I. Moreover, Long was unable to participate in most of the Bears' offseason program because of NFL rules regarding the timing of college graduation. In other words, Long is as green as it gets for a first-round draft pick. It will be nice to see, finally, what the Bears have in him.
Issue:
Ryan Broyles
' status in Detroit
Analysis:
Broyles tore his ACL in Week 13 last season and will push to be ready for camp. If Broyles is healthy and available, he will join
Calvin Johnson
and
Nate Burleson
to form a really good trio. If he needs more time, the Lions will be thin at the position to start the season.
Mike Thomas
, a slot receiver acquired last season from the
Jacksonville Jaguars
, would be next up.
Issue:
Ziggy Ansah
's development
Analysis:
Generally speaking, the No. 5 overall pick of a draft should be ready to step into the lineup and make an immediate contribution. Ansah, as has been well-documented, was a late arrival to football and might need more development time than most No. 5 overall picks. Idonije gives the Lions an option if Ansah isn't ready to start, and in truth snaps are more important than the starting lineup. But when you draft a defensive end at No. 5 overall, you expect him to be ready to handle a full-time load almost immediately.
Issue:
Packers' running back rotation
Analysis:
The Packers gave themselves a good problem this offseason by adding two draft choices,
Eddie Lacy
and
Johnathan Franklin
, to a group that also included
DuJuan Harris
,
James Starks
and
Alex Green
. It seems unlikely that all of them will make the roster, but the more pressing matter is how they will be used and how often. Harris would have been the favorite to start entering training camp, but he missed the offseason because of injuries, and the position should now be considered wide open.
Issue:
Mason Crosby
's reaction to competition
Analysis:
Crosby's extended slump last season prompted the Packers to bring a second place-kicker to camp for the first time since he established himself as the Packers' full-time kicker. There is every reason to consider Crosby the heavy favorite over
Giorgio Tavecchio
, but that's assuming Crosby handles the competition well. It has been a while since Crosby had to secure his job.
Issue:
Replacing
Charles Woodson
in Green Bay
Analysis:
Woodson played safety and cornerback for the Packers last season. Now, they have a competitive situation at both spots. Training camp should tell us whether
M.D. Jennings
or
Jerron McMillian
is ready to grab a safety spot next to
Morgan Burnett
. We'll also get to see a spirited competition at cornerback between
Sam Shields
,
Casey Hayward
,
Davon House
and others for the chance to play alongside
Tramon Williams
.
Issue:
Vikings linebacker alignment
Analysis:
It is reasonable to expect
Chad Greenway
,
Erin Henderson
and
Desmond Bishop
to start in the Vikings' 4-3 base. But what positions will they play? Training camp should make that clear. Bishop would seem best suited for the inside, with Henderson returning to his former role outside, but it's not out of the question that the Vikings could experiment in the reverse during camp to find the best combination.
Issue:
Cordarrelle Patterson
's development
Analysis:
Shortly after the draft, we were led to believe that the Vikings rookie would fit in as a kickoff returner this season while he learned how to play receiver at the professional level. But if offseason practices were any indication, Patterson might be ready for a bigger role on offense right away. Can he emerge from training camp as a starter opposite
Greg Jennings
? That's the Vikings' best-case scenario, one that didn't seem possible in April but can't be ruled out on the eve of camp.
March, 12, 2013
3/12/13
12:28
PM ET
The pace is starting to accelerate as free agency draws closer, so let's touch on a few developments before heading off into our SportsNation chat.
The Minnesota Vikings re-signed receiver Jerome Simpson to a one-year contract, giving him a second chance after a disappointing season in 2011, according to
ESPN's Adam Schefter
. He caught 26 passes for a 10.3-yard average and no touchdowns in 12 games, all while battling a murky back injury of uncertain severity.
With that said, the Vikings have no choice but to be in receiver collection mode after trading Percy Harvin on Monday. By default, Simpson is the most established receiver on the Vikings' roster. I expect the team to continue in this mode throughout the offseason as it attempts to assemble a functional and reasonably deep group on the fly.
According to multiple reports,
beginning I believe with
Mike Garafolo of USA Today
, Detroit Lions place-kicker Jason Hanson decided this week to return for another season. There have been no contract negotiations of yet, but the guess is the Lions want Hanson back as well.
The Green Bay Packers issued a second-round tender
to cornerback Sam Shields and a low tender to center Evan Dietrich-Smith,
as we noted earlier
. But they won't make offers to three other restricted free agents: tight end Tom Crabtree and linebackers Robert Francois and Frank Zombo, according to the
Green Bay Press-Gazette
. It's possible all three players could re-sign for deals less than the lowest tender value, which is $1.323 million, but for now they'll be able to test the market.
Finally, for now, I would suggest that perhaps
the biggest slam dunk of free agency is the widespread notion that the Lions are the top candidate to sign running back Reggie Bush. There is every possibility that a team could jump out after the deadline and trump the Lions, but as of the moment I feel relatively confident that a deal will be worked out.
Before you ask, I'm not certain how the Lions will account for Bush from a salary-cap perspective. But the widespread speculation about the obvious connection between the sides is legitimate.
February, 15, 2013
2/15/13
12:23
PM ET
»
NFC Eight in the Box
:
East
|
West
|
North
|
South
»
AFC
:
East
|
West
|
North
|
South
Welcome to "Eight in the Box," a new NFL Nation feature that will appear each Friday during the offseason. This week's topic: Which free agent is essential for each team to keep from its 2012 roster?

Chicago Bears:
In his two years as a starter,
Henry Melton
has 13 sacks -- more than all but one NFL defensive tackle over that stretch. Some argue his skills only fit certain schemes, but if that's the case, the Bears' new coaching staff should make sure it runs one that allows Melton to continue rushing the passer.

Detroit Lions:
Defensive end
Cliff Avril
has his detractors, but there are plenty of teams that would love to have a player who has collected 29 sacks in his past three seasons. Safety
Louis Delmas
is important as well, but he has trouble staying healthy while Avril has started 40 consecutive games, including playoffs.

Green Bay Packers:
The team can probably absorb the expected departure of receiver
Greg Jennings
, but there should be no debate about the value of keeping cornerback
Sam Shields
, a restricted free agent. Shields' starting-caliber play late last season means the Packers have no choice but to issue him a high enough RFA tender to prevent him from signing elsewhere.

Minnesota Vikings:
The Vikings were one of four teams to use the same starting offensive line all season, and right tackle
Phil Loadholt
was a big part of their success. He won't command elite money and wants to return, so a deal shouldn't be difficult.
September, 14, 2012
9/14/12
1:53
AM ET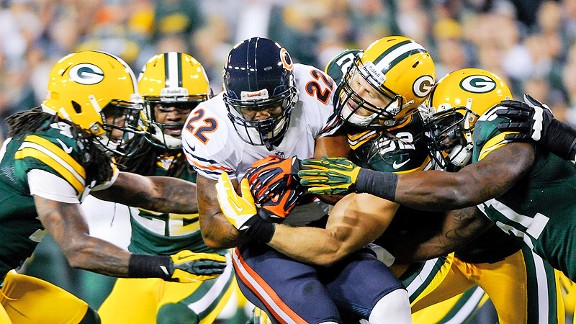 Benny Sieu/US PresswireThe Packers defense forced four turnovers, had seven sacks and limited Chicago to 168 total yards.
GREEN BAY, Wis. -- Yes, the
Green Bay Packers
were miffed in the days and hours leading up to Thursday night's divisional showdown with the
Chicago Bears
. No, it had little to do with Bears quarterback
Jay Cutler
's
challenge to their defensive backs
. The issue was much larger than that, and it goes all the way back to March 13 -- the day the Bears made their surprise trade for receiver
Brandon Marshall
.
"We thought it was kind of funny," cornerback
Charles Woodson
said, "that all of a sudden they were the team to beat because they got a couple new guys."
So it was with great delight that Woodson and his defensive teammates tore up the Bears' offense in a
23-10 victory
at Lambeau Field. It wasn't because Cutler had wished them "good luck" this week if they tried to play press coverage against Marshall and rookie
Alshon Jeffery
. It was the larger notion that Marshall's arrival had elevated the Bears to a level where they would challenge the Packers' supremacy in this division.
As a result, this game had an edge rarely seen in what is normally a friendly rivalry. The Packers got under Cutler's skin early, sacking him on the Bears' first play from scrimmage and ultimately forcing him into
one of the worst games of his career
. They sacked Cutler seven times, including 3.5 by linebacker
Clay Matthews
, and intercepted him four times. Cornerback
Tramon Williams
grabbed two of those interceptions, but even more notably, he blanketed Marshall for almost the entire game.
The Packers left the Bears' hype in ruins, limiting them to 168 total yards and 11 first downs in 57 plays. Woodson, for one, appeared quite satisfied afterward to have challenged the Bears' narrative.
"Their offense didn't look any different to me," he said. "We know those guys. We've played them a lot. They didn't look much different. They just have some new players."
The primary newcomer, Marshall, didn't see a single pass thrown his way until Williams slipped in coverage with 8 minutes, 59 seconds remaining in the third quarter. Wide open for a touchdown, Marshall dropped the ball in the end zone.
Williams said Cutler's words this week didn't get him "out of whack" but made clear that "guys wanted to come out and put on a good performance, and we did that."
[+] Enlarge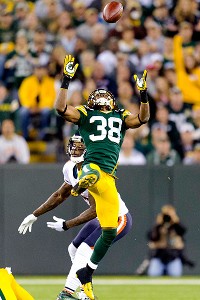 Jeff Hanisch/US PRESSWIREGreen Bay cornerback Tramon Williams grabs one of his two interceptions.
Said Woodson: "Tramon is a tremendous player, and he helped us dominate today."
Indeed, Bears coach Lovie Smith said there were plays called throughout the game for Marshall "that we couldn't get off."
This was as complete of a defensive game as I've seen the Packers play in some time, even dating back to the elite level they played during portions of their 2010 Super Bowl season. They limited tailbacks
Matt Forte
and
Michael Bush
to 85 yards on 21 carries, putting the Bears' offensive line in the unenviable position of pass-blocking against rushers highly motivated to reach Cutler. As a result, the Packers' blitz was highly effective. Defensive coordinator Dom Capers sent an extra rusher on 13 of Cutler's 35 dropbacks, according to ESPN Stats & Information. They sacked him on four of those blitzes and recorded interceptions on two others.
Most importantly, I thought, the Packers' defense got after it in a way that permeated the entire game. Cutler was hit a total of 12 times, frustrating him to the point that he was screaming at his offensive linemen and even kicked Woodson after a third-quarter blitz. Bears left tackle
Gabe Carimi
was penalized 15 yards in the second quarter after retaliating to a shove from Packers linebacker
A.J. Hawk
, and Bears players protested loudly when Packers cover man
Rob Francois
roughly shoved returner
Devin Hester
out of bounds.
You could see the tension on both sides of the ball, and even Packers quarterback
Aaron Rodgers
gestured angrily and screamed at receiver
James Jones
after a fourth-quarter interception put the Bears in position for their only touchdown. (Rodgers said afterward he and James were "not on the same page" on the play call.) The Packers' best offensive player Thursday night might have been tailback
Cedric Benson
, who helped set the physical tone by grinding out 81 tough rushing yards.
"There was definitely words out there," Packers cornerback
Sam Shields
said. "You could tell Cutler was getting frustrated. We know what Cutler does. We were just out there as a defense trying to take advantage."
Matthews, meanwhile, now has six sacks in two games this season after abusing Bears left tackle
J'Marcus Webb
all night. Matthews said he hopes the performance "becomes our theme for this defense and this team."
Yes, the Packers revealed Thursday night how amused they were by the Bears' new status as media darlings. But were you expecting their defense to be the group that realigned our thoughts on that? I'm not sure I was. So it goes. That's, as they say, why they play the games.