Chicago Bears:

Santonio Holmes
August, 28, 2014
Aug 28
9:45
PM ET
CLEVELAND -- Here are five things we learned in the first half of the
Chicago Bears
' preseason finale versus the Browns.
1. 53-man roster mostly set before game:
The Bears offered up a fairly complete picture of the final roster when they decided to sit numerous reserve players like:
Josh Morgan
,
Ka'Deem Carey
,
Brock Vereen
and
Michael Spurlock
. Unless the Bears find better alternatives over the weekend; all four appear to be in decent shape as the final cut date looms on Saturday. However, the decision to rest Carey and Vereen is somewhat curious. Outside of their draft status as fourth-round picks, neither did much to stand out over the summer. And no,
Shea McClellin
was never going to be cut. The Bears have not abandoned hope of salvaging the career of the former first-round draft choice.
2. David Fales knows the offense:
Fales lacks ideal arm strength, but he does come across as a smart quarterback who understands where the ball is supposed to go. He did a decent job under intense pressure, and showed serious courage by throwing the ball deep on several occasions. The Bears are probably better off keeping only two quarterbacks on the active roster, but Fales showed enough smarts in the preseason to warrant a spot on the practice squad, if he clears waivers as expected.
3. Santonio Holmes can help Bears:
Holmes proved he still has some juice left when he broke a tackle to score a 32-yard touchdown, followed by a 30-yard punt return. Granted, Holmes accomplished this against Cleveland backups, but he made the most of the opportunities presented to him. Holmes has too much experience to let walk away.
Josh Bellamy
had himself a solid first half with two catches for 43 yards in the opening quarter, but Holmes seems a smart choice to be the No. 4 wideout behind
Brandon Marshall
,
Alshon Jeffery
and Morgan, with Spurlock also in the mix. We'll see how/if
Marquess Wilson
's injury complicates the situation when it boils down to determining the 53.
4. FirstEnergy video screens a nice touch:
The Browns installed two giant video screens in the upper decks behind each end zone, a move that greatly enhances the in-stadium experience in Cleveland. The Bears need to strongly consider adding similar technology at Soldier Field, because the current video setup is below average for a stadium built in the last 11 years. The fans would love it. And it opens up tons of marketing and sales opportunities for the club. That's a win-win for everybody involved.
5. Browns took it seriously:
Cleveland needed starting quarterback
Brian Hoyer
to orchestrate a touchdown drive. The Browns are desperate for good vibes heading into Week 1. We all know Cleveland will probably stink again, but this is a franchise that is trying to sell hope to its tortured fan base. They call this place the "Factory of Sadness" for a reason. But the home fans actually seemed upbeat after the first 30 minutes, especially when
Johnny Manziel
fired a touchdown pass. Mission accomplished for the Browns.
August, 22, 2014
Aug 22
12:00
PM ET
The
Chicago Bears
(2-0) face the
Seattle Seahawks
(1-1) in preseason game No. 3 at CenturyLink Field.
No. 3 receiver battle: Bears coach Marc Trestman said Josh Morgan deserves first shot at the No. 3 job with Marquess Wilson on the shelf because of a fractured clavicle. So Morgan is set to receive all the repetitions at the No. 3 spot with the first-team offense. He's been one of the team's most productive targets this preseason, but the Bears signed Santonio Holmes on Saturday. Holmes expects to play sparingly. So he'll certainly be a player to watch as Chicago continues to look for a competent complement to Brandon Marshall and Alshon Jeffery. The Bears plan to make sure to put Holmes into situations he's comfortable with to help him succeed as he learns Chicago's offense.
How starters handle the noise: In addition to changing eating, sleeping and practices in anticipation for the late West Coast start, the Bears have worked all week at operating in noisy environments, such as what they'll see at CenturyLink Field. The club catered its game plan going into this contest to feature as little verbiage as possible in making adjustments, and the Bears plan to utilize silent snap counts all game in addition to using hand signals to call in plays. The Bears welcome the challenge of dealing with the noise after struggling in the last preseason game to call plays because of headset malfunctions.
Competition for No. 2 quarterback: The Bears plan to play Jay Cutler and the first-team offense into the early part of the second half. Afterward, Jordan Palmer will be the first quarterback off the bench as he continues to compete with Jimmy Clausen for the primary backup job. Right now, the competition appears too close to call. So this game will play a major role in the staff's decision. Palmer's completion percentage (70.0) is higher than Clausen's (64.3), but the latter owns the better passer rating (123.3) and has thrown one more touchdown pass this preseason (2).
August, 20, 2014
Aug 20
4:09
PM ET
LAKE FOREST, Ill. --
Santonio Holmes
expects to see action in some spots Friday night when the
Chicago Bears
face the
Seattle Seahawks
, but the staff wants to make sure to put the receiver into positions he's comfortable with as he learns the new offense.
Holmes
"I'd like him to dress," Bears coach Marc Trestman said. "I haven't had a chance to talk to him and see where he is. As I said yesterday, we want to get him in there as quickly as possible. We also want to respect him and do the right thing."
While Chicago's offense is very similar to what Holmes executed as a New York Jet, the terminology is substantially different, he said. So the Bears want to make sure to use Holmes in situations that will allow him to excel.
"We don't want to put him in a situation where he can hurt himself or hurt our football team," Trestman said. "We'll have that talk. I'll talk to [receivers coach] Mike Groh about it, and I'll talk to Santonio about it, and see how he feels about getting some playing time on Friday night."
Holmes welcomes the opportunity, and said he respects Groh and Trestman's handling of the current situation as he continues to learn Chicago's playbook.
A ninth-year veteran and MVP of Super Bowl XLIII, Holmes has caught 381 passes for 5,963 yards in eight seasons with the
Pittsburgh Steelers
(2006-09) and
New York Jets
(2010-13).
August, 19, 2014
Aug 19
6:20
PM ET
LAKE FOREST, Ill. --
Jay Cutler
's interactions with teammates and the media always seem to creep into the narrative about the quarterback, and on Tuesday
Chicago Bears
offensive coordinator Aaron Kromer said "we've absolutely noticed a difference in Jay."
Cutler admits he's changed, too.
Cutler
"It might be true. Anytime you are in an offense and have the same group of guys around you, it's going to be more comfortable. It is for me anyway," Cutler said. "I like the group of guys we have in the locker room, understand what we are doing offensively. And it's early. It's still preseason with you guys."
Described as petulant to the media in the past with televised on-field blowups with teammates and coaches as evidence that he's been difficult to get along with, Cutler hasn't displayed such qualities so far. But to Cutler's credit, he didn't in 2013 either.
Going into 2014, Kromer believes Cutler is taking on more of a leadership role. He's moved on to a new staff led by an offensive-minded head coach in Marc Trestman. He's finally protected well, and not taking unnecessary punishment every time he drops back to pass. He's surrounded by a bevy of weapons on offense, and playing in an offensive system he believes in strongly on a new seven-year contract.
"I think everyone in the building has noticed a difference in Jay," Kromer said. "None of us knew Jay very well before getting here last year, and we worked through the year and that first year is always hard on everybody. But what I see in Jay Cutler right now is a guy that's the leading the group; a guy that is approachable, and is working to make everybody better because he realizes it's important that everybody is on the same page with him."
New receiver
Santonio Holmes
admitted as much Monday, saying the quarterback has "taken me under his wing, talked to me, and kept me close." The expectation is Cutler's approach will translate into victories this season. During training camp,
Brandon Marshall
called Cutler "a totally different person," adding that "I think he has great balance in is life now."
"He's talked with receivers. He's talked with linemen. He's working with running backs constantly," Kromer said. "That's a maturity on his part of knowing the offense, knowing what we want as coaches and feeling good about being the leader that he is. It's been a very good start of the year that way."
Will it continue? Well, it did in 2013 despite the Bears finishing 8-8 in a season in which Cutler was forced to miss time due to injuries on two occasions.
Cutler seems to now totally understand the value of making everyone else around him better, which is part of the reason that within an hour of Holmes signing his contract on Saturday, the two were on the field together working on plays to develop a rapport as quickly as possible. Cutler displayed similar qualities in 2013, too.
"If Santonio Holmes is going to play, Jay's going to rely on him," Kromer said. "Jay knows he has to be on the same page with him. So the faster he can get to know him, the better off he's going to be and that's Jay's goal."
August, 19, 2014
Aug 19
5:48
PM ET
LAKE FOREST, Ill. -- The
Chicago Bears
continue to ponder whether to play recent signee
Santonio Holmes
on Friday night at Seattle due to the receiver's limited exposure to the offense.
Bears coach Marc Trestman said he hasn't yet made a determination.
"I can't say that right now," Trestman said. "I think we're trying to get him to that place. I think I'll know a little bit more after practice tomorrow. We'll see where he's at. We'll talk to him and we'll see if he's ready to go and get some playing time."
Holmes
Holmes participated in the club's Tuesday workout inside the Walter Payton Center and Trestman "thought he worked positively today." Within an hour of signing his contract with the Bears on Saturday, Holmes and quarterback
Jay Cutler
were on the field working together; the quarterback administering a crash course to the receiver on the nuances of the club's offense.
What Cutler notices is Holmes still possesses the speed and explosion that made him one of the league's most feared deep threats at one time, but it might be too lofty an expectation -- despite recent efforts -- for the duo to strike on-field accord by the time takes the field to face the Seahawks.
"He obviously knows how to play football," Cutler said. "He's been around a long time, been in a few different systems and been successful. It's just a matter of getting him caught up with our verbiage, how we like to do things, the little tweaks we like, and just kind of get in a rapport with him timing wise. It just takes time. He's explosive. He'd probably be honest [and tell you] he's a little bit rusty. He's been out of football. But getting in and out of cuts, [he] catches the ball well, extremely explosive, fast. He's exciting. It's hard coming in where we are offensively and just kind of throwing him into the mix."
With second-year receiver
Marquess Wilson
out of action due to a fractured clavicle suffered in training camp, the Bears hope to find a suitable slot receiver to complement
Brandon Marshall
and
Alshon Jeffery
. Trestman said veteran
Josh Morgan
deserves the first opportunity to work with the starters Friday at Seattle, but Cutler believes the team could have Holmes ready to play by the Sept. 7 regular-season opener against Buffalo.
Morgan has caught five passes for 77 yards through the first two games of the preseason, and outside of Holmes, appears to be the most capable fill-in option at the No. 3 receiver spot.
"He's had two good weeks of practice, two good games, productive games," Trestman said. "He's made plays out there. I think he deserves a chance to step up now and get the first opportunity to do that. He's a powerful guy. He's explosive. He's got straight-line speed, and he's got experience. He's the most experienced, other than Santonio, of any of the receivers that we have."
If Morgan falters, the club appears confident it can get Holmes up to speed quickly enough for him to have an immediate impact in the regular season. Kromer said Holmes "has been impressive in practice. Especially today, he stood out."
Still, Trestman wants Holmes to develop enough of a comfort level with the system before the club rushes him out onto the field.
"I just want him to feel comfortable to be able to go in there and perform and not put our team in a position where his mistakes would create mistakes around him," Trestman said. "We want to give him the best chance to succeed on an individual basis as well."
A ninth-year veteran, and the MVP of Super Bowl XLIII, Holmes has caught 381 passes for 5,963 yards over eight years with the
Pittsburgh Steelers
(2006-09), and
New York Jets
(2010-13). Holmes could also become a contributor on special teams, as he's returned 66 punts for 636 yards and a touchdown in addition to 18 kickoffs for 436 yards.
But do the Bears have enough time to prepare Holmes for the limelight?
"We'll find out," Cutler said. "I think [we do]. We might have to help him along in the huddle and make sure he knows what he's doing. But we've got enough veteran guys. We can get him to where he needs to be."
August, 18, 2014
Aug 18
6:32
PM ET
LAKE FOREST, Ill. -- Veteran
Josh Morgan
receives his turn on the No. 3 receiver carousel Friday when the
Chicago Bears
face the
Seattle Seahawks
on the road for preseason game No. 3, according to Bears coach Marc Trestman.
Morgan
"It's still wide open," Trestman said of the club's search for a No. 3 receiver. "In terms of how we're doing it, Josh Morgan will get some work this week. We'll see where the other guys are as we move through the end of the week, but Josh will get the first shot at it as we work into this week's practice and as we work into the game."
Although the club signed
Santonio Holmes
on Saturday, it's expected he won't receive sufficient repetitions at practice this week to make an impact against the Seahawks. Holmes spent several minutes after practice Monday working with backup quarterback
Jordan Palmer
and receivers coach Mike Groh in an effort to quickly acclimate himself to Chicago's system.
But a week of practice won't be enough.
Holmes
"I don't know where he is right now. He's still learning the plays," Trestman said. "I can't invent the opportunity. We can't put him in there before he knows what to do, where to go, where to line up, and how to do it. We're going to try like heck to give him a chance to play, but it's just Day 1. I can probably give you a little better information as we move more into the week. Right now, I'm not quite sure where he's at, it was just Day 1."
Besides that, Morgan would seem deserving of the opportunity because he's been the club's most productive receiver thus far this preseason outside of tight end
Zach Miller
and
Brandon Marshall
. He's caught five passes for 77 yards through the first two games, and outside of Holmes, appears to be the most capable fill-in option at the No. 3 receiver spot until
Marquess Wilson
recovers from his fractured clavicle.
Asked specifically what the club seeks in a No. 3 receiver, Trestman said: "I don't know that we're looking for anything but guys that can get lined up, and be flexible to do it in different places. We've got guys who can do that. Certainly Josh can do that. Then, it's just to perform. When you have a target, have an opportunity to make a play, and that goes for practice as well: to do the things we need to do on the perimeter in our run game, and be as effective as you can be with what we're asking you to do."
Morgan feels he's perfectly capable of all that. Listed at 6-foot-1 and 220 pounds, Morgan has caught 199 passes over six seasons in the NFL, finishing 2009 and 2010 with 52 and 44 receptions, respectively. He hauled in 48 passes for the
Washington Redskins
in 2012.
"If you need me to go down there and block a 330-pound defensive end, that's what I used to do a lot with the Redskins," Morgan said during training camp. "If you need me to be a big major part in the running game like I was in San Francisco for
Frank Gore
, I did all those types of things throughout my career. If you need me to make the big play or the tough catch -- the catch in traffic or the catch across the middle -- I think if you watch film of me over the years, I think I've done all of that."
August, 16, 2014
Aug 16
4:35
PM ET
They'll say signing
Santonio Holmes
was all about adding competition to the mix, and that will be true.
The
Chicago Bears
also might be concerned the abilities of the candidates vying for
Marquess Wilson's
No. 3 receiver spot lack what the club is looking for at the position.
When Wilson fractured his collarbone diving for a pass at camp, it appeared Chicago's roster contained several suitable prospects as potential replacements. Surely, between players such as
Eric Weems
,
Josh Morgan
,
Chris Williams
,
Armanti Edwards
and
Micheal Spurlock
, along with newcomers Greg Herd and Dale Moss, the Bears could find a receiver capable of getting the job done until Wilson returns. They still might be able to pull from this group, with the exception of Weems, who was released once the Holmes news became official.
Holmes
Let's take a look at how they've played through the first two games of the preseason.
Of the group, just Morgan and Spurlock caught more than three passes over the first two games as both have five receptions. After
Josh Bellamy
(three receptions), none of Wilson's potential replacements collected more than two receptions. Williams (two receptions) receives a pass since he suffered a hamstring injury catching a 73-yard pass against the
Philadelphia Eagles
in the exhibition opener and sat out of Thursday night's game, while Weems didn't record a single reception in two exhibition outings.
So while the group has shown some production, catching a combined 18 of the 32 passes thrown its way for 301 yards and two touchdowns, the team needs to find about half that output over two games from one player. Wilson showed that capability, and perhaps some of the other candidates possess it, too, but haven't received ample opportunity due to the Bears shuffling so many players in and out of the lineup to glean a clean evaluation.
Holmes, 30, caught 23 passes for 456 yards and a touchdown in 11 games last season for the
New York Jets
. He played in four games in 2012 before suffering a lisfranc injury.
Holmes put together his most productive season with the
Pittsburgh Steelers
in 2009, registering a career-high 79 receptions for 1,248 yards, in addition to receiving MVP honors at Super Bowl XLIII.
Holmes doesn't need to be all that in Chicago; just a suitable and consistent complement in the slot, which at this point appears more difficult to find with Wilson out of the picture.
August, 6, 2014
Aug 6
2:22
PM ET
BOURBONNAIS, Ill. --
Chicago Bears
head coach Marc Trestman confirmed the team put free agent wide receiver
Santonio Holmes
thru a workout on Tuesday.
Holmes
ESPN NFL Insider Adam Schefter reported that the Bears brought in free agent receivers Holmes and
Ben Obomanu
before eventually signing wide receiver Greg Herd to a one-year contract.
"I did not [attend the workout]", Trestman said. "I have it on tape but I haven't looked at it. I think that's something for our personnel department at this time. I don't have a response [as to how Holmes looked] because I didn't look at it."
Holmes, 30, caught 23 passes for 456 yards and one touchdown last season in 11 games for the
New York Jets
. He played in just four games in 2012 before suffering a lisfranc injury.
Holmes best season in the NFL came with the
Pittsburgh Steelers
in 2009 when he posted a career-high 79 receptions for 1,248 yards. Holmes was also named MVP of Super Bowl XLIII.
The Bears assigned the 6-foot-3 Herd uniform No. 81. He is expected to add a fresh set of legs to a unit that is currently down in numbers after
Marquess Wilson
fractured his collarbone. Wilson is out indefinitely following surgery on Tuesday morning.
July, 25, 2011
7/25/11
1:20
PM ET
The possible acquisition of a big-bodied receiving threat dominates discussions concerning the
Chicago Bears
with the NFL lockout lifted.
What about the man responsible for delivering the ball?
Let's not forget that quarterback
Jay Cutler
absorbed a league-high 52 sacks in 2010, in addition to leaving one game with a concussion, and another with a sprained knee in part because of shoddy protection along an offensive line that went through five combinations of starters before eventually settling on continued inconsistency.
Twenty-four of Cutler's sacks came over the final eight games -- after the Bears supposedly fixed the line -- begging the question: How do they expect to improve protection in 2011 utilizing virtually the same players (with the exception of first-round pick
Gabe Carimi
) as the year before?
They can't. That's why the receiver position, while important, shouldn't take precedence over the offensive line during this upcoming period of unrestricted free agency. Without adding more than just a rookie first-round pick to the offensive line, there's no way the team can realistically expect the unit to significantly improve.
"Free agency is a big part of our team," running back
Matt Forte
said. "We've signed a lot of big free-agency deals the last couple of years, [and] I could see us picking up some more linemen in free agency."
Surely, Cutler hopes so, too.
Here's a list of positions the Bears might address in order of importance, and potential free-agent targets. Because of his uncertain status, Patriots guard
Logan Mankins
was excluded from consideration for this list.
OFFENSIVE LINE
Roberto Garza
gradually improved after missing two games due to arthroscopic surgery. Still, the team needs to acquire Garza's eventual replacement, while upgrading the left side, where former first-round pick
Chris Williams
played inconsistently.
With a rookie (Carimi) and second-year player (
J'Marcus Webb
) penciled in as starters at tackle, depth at that position might also be addressed in free agency. But it's doubtful the club pulls the trigger on expected big-ticket players like
Jared Gaither
(Ravens),
Willie Colon
(Steelers) or
Doug Free
(Cowboys).
Harvey Dahl, Falcons:
Dahl flashes the type of nastiness coveted by Bears offensive line coach Mike Tice. Because the Falcons have to find a way to re-sign three offensive linemen, Dahl -- who represents an upgrade -- might be in play for the Bears.
Kyle Kosier, Dallas:
He allowed only one sack last season, but his age (32) and salary demands might be too much for the Cowboys, who appear to be approximately $18 million over the $120 million salary cap. Might be too rich for the Bears' taste, too, but would start right away.
Evan Mathis, Bengals:
Mathis makes this list because he could turn out to be a bargain-priced steal. Mathis didn't start most of last season, but played well with limited opportunities. At worst, Mathis -- who possesses starting-caliber ability -- could provide strong interior depth.
LINEBACKER
Brian Urlacher
and
Lance Briggs
are the only Bears linebackers under contract, and the team needs to find a starter to play on the strong side.
Nick Roach
appears to be the most likely candidate, but Lovie Smith said the team will bring in competition at the position.
James Anderson, Carolina:
Coming off a breakout season (130 tackles, 3.5 sacks, five pass breakups), Anderson, 27, fits Chicago's system. He's indicated he'd like to re-sign with the Panthers quickly, but a lucrative contract could lure him away.
Keith Bulluck, N.Y. Giants:
Bulluck has said he wants to play for a contender. His age (34) and recent injury history (torn ACL in 2009) are a concern, but his track record and leadership are undeniable. His salary demands may be more than what the Bears would pay.
Justin Durant, Jacksonville:
The Jaguars don't plan on bringing back Durant, who fought through nagging injuries during somewhat of a down 2010 season. Although he's the type of run-and-hit style of linebacker the Bears like to utilize in their system, Durant would seem like an ideal fit for a two-down role.
RECEIVER
Although the Bears would like to add a veteran to the group, several in the organization feel the team could get by with the players already on the roster.
Santonio Holmes
,
Santana Moss
and
Mike Sims-Walker
appear to be the most likely candidates, but players such as
Braylon Edwards
and
Brad Smith
figure into the mix, too.
Santonio Holmes, N.Y. Jets:
At 27, Homes is in his prime. But surely, Jets GM Mike Tannenbaum will do everything he can to retain Holmes' services, which means the Bears might also have a shot at players such as Edwards and Smith. Holmes likely will be highly coveted.
Santana Moss, Redskins:
Despite his age (32), Moss is an explosive deep threat, who fits what the Bears do offensively. Bears receiver
Devin Hester
told the Chicago Tribune he'd like to play with Moss. But Moss has stated his desire to remain a Redskin.
Mike Sims-Walker, Jaguars:
Sims-Walker is somewhat of an enigma considering his size (6-foot-2, 214 pounds), deceptive speed and smooth route-running ability. Injuries and life outside of football (let's be clear that he doesn't have off-the-field issues) have kept Sims-Walker from reaching his full potential. The Bears may be able to acquire him relatively cheaply.
PUNTER
The Bears brought in
Richmond McGee
as a potential replacement for veteran free agent
Brad Maynard
, who isn't expected to be brought back. But surely the Bears don't trust the unproven McGee, which means there's a chance they will bring in another player whether it's an established veteran or rookie free agent.
Sam Koch, Ravens:
He has a 43.7-yard career punting average (38.1 net), and he's landed a Ravens franchise-best 149 punts inside the 20.
Adam Podlesh, Jaguars:
Podlesh was tendered, but is a four-year veteran, which means he's not expected to be a restricted free agent under the new CBA. Considered a free-agent priority by the Jags, Podlesh ranked fifth in the NFL in net average (39.12 yards).
Steve Weatherford, Jets:
Posted a 38.1 net average in 2010, and is believed to be the Bears' targeted player to replace veteran
Brad Maynard
. Weatherford punted a league-high 42 balls inside the opponent's 20-yard line last season.
OTHER POSITIONS
Depth along the defensive line and secondary certainly make sense in free agency.
Strong safety
Danieal Manning
isn't expected to return, meaning the team will need to find a capable backup to play behind
Chris Harris
and
Major Wright
.
At cornerback, the Bears are happy with
Charles Tillman
starting on one side, with
Tim Jennings
and
Zack Bowman
competing for the job at the opposite corner in training camp. Second-year man
Joshua Moore
figures into the mix, too, according to Smith. So with five players -- counting nickel corner
D.J. Moore
-- capable of contributing already on the roster, it's unlikely the Bears use free agency to add a veteran unless they can swing a deal for a major upgrade.
Prior to the draft, the Bears wanted to add to the defensive line, and they did just that by drafting second-round pick
Stephen Paea
. There's still a possibility they bolster the position in unrestricted free agency.
The Bears are reportedly interested in Seattle's
Brandon Mebane
, who has ties to Tim Ruskell, the Bears' vice president of player personnel, and defensive line coach Mike Phair.
April, 13, 2010
4/13/10
10:42
AM ET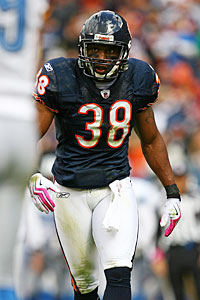 Jonathan Daniel/Getty ImagesDanieal Manning has a strong relationship with Bears coach Lovie Smith.
Q: When is Danieal Manning going to start attending the offseason workouts? I'm not the biggest Manning fan, but Lovie Smith did say Manning is going to start at strong safety. It can't be a good thing that he's staying away from the team. – Christopher, Round Lake, Ill.
A:
Manning
made it clear to ESPNChicago.com
his decision to skip the start of workouts was purely business, and he holds no ill will towards the Bears organization. But there is something to be said for a player feeling disrespected, and I get the feeling Manning thinks the Bears should offer him a new one-year contract, or tender him at a higher level. Since neither of these things are likely to happen, I expect Manning to eventually sign his injury waiver and start attending workouts -- perhaps as early as next week. Manning loves football and has a very strong relationship with Smith, so I bet this whole saga ends peacefully. However, I wouldn't anticipate Manning showing up this week because it wouldn't make much sense for him to return before April 15, the deadline for teams to sign restricted free agents to an offer sheet. Manning has incredible talent, and I really hope the Bears find a way to utilize him properly this year, but I'm not holding my breath.
Q: I saw that Santonio Holmes was traded to the Jets for a fifth-round pick. What gives? Why weren't the Bears players in this deal? Aside from his suspension, Holmes would be a true No. 1. He would instantly upgrade a young group of wide receivers not to mention fit in perfectly with [Mike] Martz's spread offenses. Thoughts? -- Zach, Chicago
A:
It's hard to blame the Bears for taking a pass on Holmes. Yes, the former Super Bowl MVP is coming off a career best 79 receptions for 1,248 yards, but look at all the off-the-field nonsense surrounding this guy. Not only is he suspended for the first four games of 2010, he's also under investigation for a glass-throwing incident in Florida, and has previously been arrested for domestic violence and possession of marijuana. Jerry Angelo once said the biggest character gamble he ever took was on
Tank Johnson
, and we all know how that turned out. Holmes may be an excellent talent, but in my opinion, he's not worth the hassle.
Q: JD, you really think Hunter Hillenmeyer would be a "solid addition" for multiple NFL teams at linebacker? Have we been watching the same Hunter Hillenmeyer? He's below average at best. -- Ryan, Crown Point, Ind.
A:
I just don't understand why people fail to appreciate Hillenmeyer. He's not the flashiest guy on the field, but is always in the right spot, and more times than not, makes the necessary plays. Not only has Hillenmeyer recorded 100-plus tackles in two of the last three seasons, he's a prime example of somebody who sacrifices his body to play through tremendous pain. Let me ask you this question, Ryan: How many below-average former fifth-round picks stay in the league long enough to start 69 regular season games in his first seven seasons? Not many. Hillenmeyer is certainly not "below average" and if any team is looking for veteran help at linebacker, he'd be a solid choice given experience, intelligence, productivity and versatility [either at middle or strong side linebacker].
Q: Jeff, this might be a shot in the dark, but how about re-signing Adewale Ogunleye? Now that Alex Brown is gone, shouldn't the Bears look to add another veteran defensive end? Thank you for your response. -- Mark B. -- Skokie, Ill.
A:
I don't think so. The Bears made it pretty clear they were moving on without Ogunleye, who remains unsigned. If I were to guess, I'd say Ogunleye ends up somewhere after the draft, when teams have a firmer idea of what they still need to fill out their rosters. I thought Ogunleye did a decent job here in Chicago, but the Bears need a little more consistency from that premiere pass-rushing spot. Also, I don't believe Ogunleye is looking to be a reserve -- he still views himself as a starter -- so the prospect of returning to Chicago probably isn't all that appealing.
Q: I was wondering if you think the Bears will try and turn Lance Louis into a fullback for certain situations? He can obviously block and has great speed, and also has great hands for his size. -- Jake, Calif.
A:
I wouldn't rule anything totally out, but tight ends usually take on that H-Back blocking role, and the Bears already have plenty of candidates for that role:
Greg Olsen
,
Brandon Manumaleuna
,
Desmond Clark
and
Kellen Davis
. Plus, the Bears signed
Eddie Williams
, a bigger fullback who may be able to handle those short-yardage situations. However, Mike Martz is known to be very creative, and using Louis in that way certainly would be thinking outside the box. Unfortunately, I can't give you a scouting report on his hands, since we never saw him catch any passes last season -- he only had a small number of receptions at San Diego State. You're right about his speed, Louis is fast and athletic, a major reason why the Bears feel he can at least compete for a job this summer. To sum it up; it's not a bad idea, but I'm not sure if it's likely given the players currently on the roster who could fill that need.