Chicago Bears:

Senior Bowl
December, 5, 2013
12/05/13
8:00
AM ET
ESPN.com dropped its
2014 NFL draft order through Week 13
on Tuesday, and it at least plants the seeds for imagination -- or perhaps wishing -- about what the
Chicago Bears
might do in May.
As it stands now, the Bears hold the No. 18 pick. But more than likely, the team's draft position will drop to a lower spot over the next month of the season if it fights for a spot in the postseason the way we all expect the Bears to do.
It's obvious the Bears need to add depth to the defensive line, possibly upgrade the safety position, and maybe add some youth at cornerback, in addition to possibly drafting a quarterback to develop over the next few years. But if you're general manager Phil Emery, what would you do?
Emery hit the road to scout the matchup between Texas A&M and Missouri in Columbia, Mo., last Saturday, and he's definitely expressed appreciation in the past for the dynamic skill set of Aggies quarterback Johnny Manziel, who hasn't yet declared for the NFL draft. A scout at the core, Emery surely has done his due diligence on several of college football's top quarterbacks as well as at other positions, judging from his attendance on Sept. 12 at the matchup in Lubbock, Texas between Texas Tech and Texas Christian University.
After all, Chicago's roster features 30 players with contracts set to expire at the end of the season.
That group includes 11 starters on offense, defense and special teams, in addition to 10 key contributors such as backup quarterback
Josh McCown
and cornerback
Zack Bowman
.
So clearly it's time for Emery and the Bears to reload across the board through the draft and free agency in addition to making huge decisions on some of their own free agents such as
Jay Cutler
,
Charles Tillman
,
Tim Jennings
,
Roberto Garza
,
Major Wright
,
Matt Slauson
,
D.J. Williams
,
James Anderson
,
Robbie Gould
and
Devin Hester
.
While wading through those difficult decisions, Emery will be attending the Senior Bowl on Jan. 25, the NFL Combine in late February, and the regional combine at Halas Hall scheduled for Mar. 15.
So while we're caught up in Chicago's push over these next four weeks for a postseason berth, Emery has to deal with all that comes with that, in addition to the upcoming offseason schedule, which is where the general manager makes his money.
ESPN.com's release of the 2014 NFL draft order only reminds me of Emery's daunting road ahead, not to mention the fact I've got tons of homework to do for what should be one of Chicago's most challenging offseasons in the last four years.
As I asked before, if you're Emery, what would you do this offseason?
January, 25, 2012
1/25/12
8:04
PM ET
MOBILE, Ala. -- Former
Chicago Bears
offensive tackle
Kevin Shaffer
wrapped an arm around the neck of
University of Alabama-Birmingham
's
Matt McCants
to congratulate him for a job well done in one-on-one drills against defensive linemen.
Just as quickly, Shaffer crouched into a stance to point out some of the technical kinks in McCants' game.
[+] Enlarge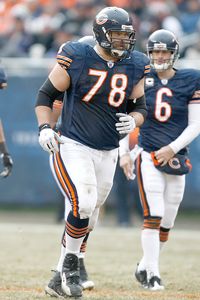 Scott Boehm/Getty ImagesFormer Bears offensive lineman Kevin Shaffer has been coaching NFL prospects.
"Hey, let's watch some film tonight so I can show you some of the things I'm talking about," Shaffer told a nodding McCants just after the South team's Senior Bowl workout on Wednesday.
Released by the Bears last February after a nine-year career in the NFL, Shaffer says he's retired with no plans to return and sees coaching as his potential niche. Shortly after leaving the NFL, Shaffer volunteered to coach at local high schools but quickly realized the techniques he was teaching "were too advanced for high school kids," he said.
But later, Shaffer received a call from his agent Alan Herman, who runs Sportstars, to come and work with the agent's draft-eligible clients in New York as they prepare for the NFL combine, and other pre-draft workouts.
"I've been doing this ever since, and having a lot of fun doing it," he said.
In working with McCants and other Sportstars clients, Shaffer said he's called upon teachings from his former coaches such as Alex Gibbs (
Atlanta Falcons
), and current Bears offensive coordinator Mike Tice, whom he described as a "technician".
Here are a few more interesting morsels from the Senior Bowl:
Bears attendance:
Chicago's coaching staff isn't well-represented at the Senior Bowl with just running backs coach Tim Spencer and offensive line assistant Dan Price in attendance. And with the entire coaching staff on vacation, it seemed a tad odd the coaches would be at the Senior Bowl.
Many times out-of-work coaches, scouts and other workers frequent the Senior Bowl to network and search for employment. But that's not what Spencer and Price are doing. Even with all the changes being made, there's no need to question whether those coaches will remain on Lovie Smith's staff.
Spencer has been eyeing potential backup running backs. With his wife, Gilda, out of town, Spencer said he was "tired of sitting at home looking at the dog" and wanted to get a jump on preparations for 2012. Price, meanwhile, has been spotted all week following offensive linemen at drills.
Uncertainty not stopping work:
Despite the future of the Bears' scouting department appearing to be on shaky ground with the team searching for a new general manager, that's not preventing the group from putting in plenty of hard work at the Senior Bowl.
None of the members of the department were willing to go on the record with ESPNChicago.com, but most of them expressed the sentiment that they can't and refuse to worry about circumstances beyond their control.
One member of the department said that he knows quite a bit about the team's finalists for the GM position -- Phil Emery and Jason Licht -- and would be excited to work with either candidate.
Emery has been spotted walking around at Ladd-Peebles Stadium during workouts, and surely it must feel awkward for Chicago's scouts to be trying to get their work done knowing that their potential next boss is likely watching closely.
Speaking of awkward:
New York Giants
college scouting director Marc Ross interviewed with the Bears last week, according to a source who described the process as "a little weird."
Ross met with Bears president Ted Phillips, senior director of football administration Cliff Stein and senior director of corporate communications Scott Hagel in one sitting, according the source, and later spoke with Smith.
Perhaps what the source found "a little weird" was that Ross interviewed with only one "football guy" (Smith) throughout the process.
Etc:
Sportstars has an astounding eight clients playing in the Senior Bowl. ... Shaffer pupil McCants (6-5 1/2, 309 pounds) played the tuba in his high school's marching band and wasn't even allowed to play football until his senior year. McCants made a deal with his mother, Birtha, to let him play if he made good grades. McCants delivered on the academics, and Birtha allowed him to play. McCants has already finished a degree in criminal justice.