Chicago Bears:

Sidney Rice
October, 8, 2011
10/08/11
3:02
PM ET
Your conversation on the NFC North's
most significant player departure
centered mostly around three players: Defensive lineman
Cullen Jenkins
, receiver
Sidney Rice
and tight end
Greg Olsen
.
A few other names surfaced, including linebacker
Nick Barnett
and center
Olin Kreutz
. But Barnett in essence departed midway through last season, replaced more than capably by
Desmond Bishop
, and it's hard to argue that the
Chicago Bears
offensive line is in worse shape without Kreutz than it was when it contributed to 56 sacks with him last season.
Jenkins is an interesting case. He was not a full-time player last season, starting eight games, but none of you have forgotten his seven sacks and the apparent impact it had on the
Green Bay Packers
' No. 1 pass defense (based on opponents' passer rating). This season, the Packers' pass rush has been limited and opponents have the NFL's 15th-best passer rating against Green Bay's defense.
Mavajo
wrote Jenkins is "the only key difference between this year and last year. … You gotta put 2+2 together and figure that's why." Added
tearloch
:
"I will say that last year the Packer D was noticeably better with Jenkins in the lineup as opposed to without him, especially on run D. This year, with the big leads they have had for most of the games, the run D, IMO, has been artificial inflated by minimum attempts against, much like the end of last year (playoff run). It will be interesting to see how the GB run D holds up when truly tested. I think Jenkins is sorely missed in GB. His replacements are doing an OK job, but Jenkins was a really good player, but his age and injury history, as well as contract demands, made him expendable."
Jenkins has four sacks in four games this season for the
Philadelphia Eagles
. Rice, on the other hand, has piled up 188 receiving yards in two games with the
Seattle Seahawks
.
Biglamb7474
thinks Rice is "the obvious choice" and added that the
Minnesota Vikings
have been forced to make
Percy Harvin
their No. 1 receiver "even though his talents are much more emphasized in the two spot."
Biglamb7474 added: "The loss of Rice also gave an already declining [quarterback Donovan] McNabb even that much less to work with. ... I mean, did the Vikings even once pay attention to what happened in Washington last year when McNabb was inserted into an offense with a mediocre receiving corps at best? Rice is a big and fast sure-handed receiver in a league that has transformed into one in which defense is becoming less important and elite offenses (particularly the air attack) are essential."
Wrote
severs28:
"They have no one to stretch the field right now, and when healthy, Sidney Rice is a premier wide receiver. I mean, he has better stats in two games than any Vikings receiver through four? And it's not like he went to New England or Green Bay. Seattle has a terrible o-line, and Tarvaris [Jackson] as a QB. He would have at least those numbers for Minnesota."
[+] Enlarge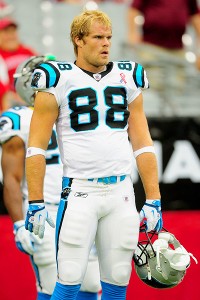 Mark J. Rebilas/US PresswireGreg Olsen has re-established himself as a downfield threat with Carolina.
Meanwhile, the Chicago Bears' decision to trade Olsen to the
Carolina Panthers
generated more debate than I thought it would.
Tearloch
wrote: "Olsen's trade was not a good move, IMO. However, I don't think it is fair to compare his production in Carolina to what the current Bears are doing. Even if Olsen was still a Bear, I don't think his production would be any better than what the current Bears players are doing. It is still [offensive coordinator Mike] Martz running the show, and he does not care for TEs, regardless of their talent. "
Added
DaBearz84:
" Olsen is not as missed as Kevin would like us to believe. The reason that no one on the Bears team has more then 12 receptions is because [quarterback Jay ]Cutler can't get enough time to throw the damn ball."
On the other hand,
Jveyron19
thinks Olsen was "the biggest loss from a 'team' aspect" because the Packers "have enough playmakers to fill in the gap that Jenkins pass rush."
My take?
I agree that Olsen wouldn't have the same numbers with the Bears that he does with the Panthers. But to me, that's a big problem.
I don't think pass protection alone is to blame for the Bears' anemic pass offense thus far. Let's just say that Cutler doesn't always have a bevy of open receivers to choose from. Olsen has re-established himself as a downfield threat, as well as a sure-handed check-down receiver, and if used properly would absolutely help alleviate some of the Bears' issues.
The Bears traded Olsen rather than require Martz to find a way to incorporate him into his offense. Given what he could have offered them, and the mess he's left behind to this point, I think that makes his departure the most significant thus far in the NFC North.
November, 13, 2010
11/13/10
9:10
PM ET
November, 10, 2010
11/10/10
3:39
PM ET
September, 15, 2010
9/15/10
8:53
AM ET
Just like here in Chicago, the Bears' Week 1 win over Detroit did little to impress the voters in the latest installment of
ESPN.com's Power Rankings
. Even after a victory, the Bears slipped in the polls, dropping one spot to No. 22. This lack of respect can likely be attributed to how close the game turned out to be, considering the Lions played the second half without their starting quarterback, and were one controversial
Calvin Johnson
call away from potentially pulling the upset.
Around the rest of the division, the
Packers
moved up one spot to No. 2 after their win against the
Eagles
. However, the loss of running back
Ryan Grant
for the remainder of the season certainly hurts the Packers' offense, especially when they face the Bears, considering Grant usually torches Lovie Smith's defense. Grant ran for 137 yards and a pair of touchdowns in the meeting last season at Solider Field.
Despite the offense sputtering in
Saints
, the
Vikings
only dropped one slot to No. 6. But if last Thursday night was any indication,
Sidney Rice
's absence at the start of the season will definitely affect
Brett Favre
's ability to move the ball through the air. Favre had success throwing the ball to tight end
Visanthe Shiancoe
, but seemed out of sync with receivers
Bernard Berrian
and
Percy Harvin
.
Finally, the Lions fell one spot to No. 29. It's tough to anticipate Detroit moving up the charts with starting quarterback
Matthew Stafford
expected to miss time because of a separated shoulder.
July, 6, 2010
7/06/10
8:45
AM ET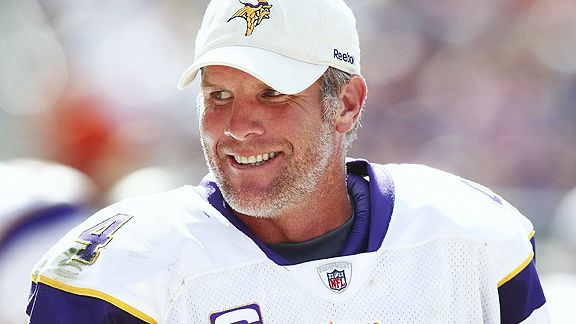 Joe Robbins/Getty ImagesAs usual, Brett Favre's decision on his future controls the Vikings' offseason headlines.
Intel on the
Chicago Bears
opponents creeps its way onto the blog today, which marks the beginning of a four-day look at the NFC North.
Talking to reporters who regularly cover Chicago's divisional opponents, we asked each of them to thoroughly break down the teams they cover, providing both strengths and weaknesses.
We kick off the series with the
Minnesota Vikings
by asking
Judd Zulgad of the Minneapolis Star-Tribune
for five concerns his team faces this season, in addition to five issues the team shouldn't have to worry about:
Five things the Vikings need to worry about
1. Brett Favre:
We all think it's 99 percent certain he's coming back. But until he is officially back, that's got to be No. 1 on the list. As it is, he's not gonna be there at the start of camp.
[+] Enlarge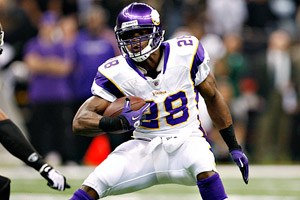 Matt Stamey/US PresswireAdrian Peterson's fumbling problems are a concern for the Vikings.
2. Adrian Peterson:
It's been well documented that he's had problems holding on to the football, and that's a killer. He skipped mandatory minicamp to be at "Adrian Peterson Day", and didn't take part in offseason activities with the team. That's not a huge deal, but somewhere along the line he needs to address this issue and the fumbling. Teams are targeting the football when he carries it.
3. Finding Chester Taylor's replacement:
Taylor wasn't a starter, but he is a huge loss. The fact they lost him in the division hurts even more. He played a ton on third down, and took a load off Peterson. Peterson still isn't great at pass protection. So on third downs in two-minute situations Chester [Taylor] was used a lot. That security blanket is now gone, and it's definitely a concern.
4. Safeties Madieu Williams and Tyrell Johnson:
Williams, who they paid a lot in free agency, and Johnson, who was in his first year as a starter last season, didn't exactly perform up to par. They need to take a step up, or the Vikings need to give serious consideration to a guy like
Jamarca Sanford
. The safeties lacked aggressiveness at times. The game in Chicago, when the Vikings played the Bears,
Jay Cutler
bowled over Williams, which was definitely embarrassing. The safeties need to take a step forward.
5. Cornerbacks Cedric Griffin and Antoine Winfield:
Griffin tore an ACL in overtime of the NFC Championship game, and Winfield missed six games, and was severely hampered by a broken foot last season. The Vikings signed
Lito Sheppard
, and my assessment is Griffin might not be ready to start the season. So health of the cornerbacks is a concern. They need at least one of those guys to be ready this season.
Five things not to worry about
[+] Enlarge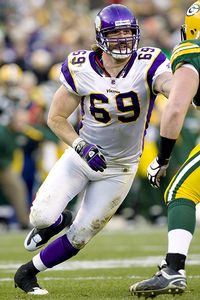 Jeff Hanisch/US PresswireJared Allen has 29 sacks in two seasons with the Vikings.
1. Jared Allen:
He had 14½ sacks last season, which was his second season with the Vikings. He's had 29 sacks over the past two seasons. Statistically, he's an elite pass-rushing right end. That's been huge because the Vikings haven't had that for so many years. He plays so many snaps and rarely comes out, it's really a luxury to have him because they don't really have to worry about that position.
2. The availability of DTs Kevin Williams and Pat Williams:
That [Star Caps] case has been tied up for so long, it looks like there's no way this thing gets to court again until after the season. There shouldn't be a lot of concern about them missing time. The Vikings don't have a lot of concern about those two guys being suspended.
3. Sidney Rice:
It's a little bit of a wildcard, but physically, he looked like he made huge strides last season. He had 83 receptions and eight touchdowns. Even if Favre doesn't return, Rice has pretty much established himself as potentially an elite receiver. Sure, the Vikings have
Bernard Berrian
. But Rice looks like the team's top receiver now.
4. Ryan Longwell:
This isn't a sexy one, but Longwell has more than proven himself as far as placekicking goes. He's just incredibly consistent. He made 26 of 28 field goals and 54 of 55 extra points. The Vikings have the luxury of not having to worry about a field-goal kicker, and that's a nice thing to have. It's worth mentioning that Longwell is entering the final season of his contract. It's unclear whether he will be back after this season.
5. Linebackers Chad Greenway and Ben Leber:
They are about as steady as it gets. Both have been consistent at their positions, and both are entering what looks to be the last year of their contracts. Greenway has gotten nothing but better as he has progressed. There's some question about when middle linebacker
E.J. Henderson
will return from his broken left femur. So the stability of at least having so much consistency on the outside is important.