Chicago Bears:

Steve Young
November, 5, 2014
Nov 5
9:00
AM ET
Former
Green Bay Packers
and
Seattle Seahawks
Mike Holmgren appeared on ESPN 1000's "The Carmen & Jurko Show" on Monday, and discussed some of the challenges
Chicago Bears
coach Marc Trestman is likely facing with his team at 3-5 coming out of the bye week.
Like Holmgren during his coaching days, Trestman utilizes a West Coast attack on offense. Holmgren described how such an attack is built to operate. Yet strangely, that's not what's taken place in Chicago over the first eight games of the season.
[+] Enlarge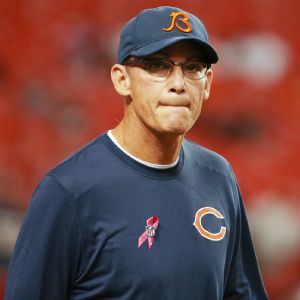 AP Photo/David GoldmanMarc Trestman needs to gain trust and respect out of his star QB and star receivers in order for the Bears' offense to succeed, says Mike Holmgren.
"For the offense to work most efficiently… the way it's built is to move the ball around and throw to the open guy," Holmgren said. "So the defense, regardless of the coverage you see, you're gonna have to throw to someone. That's how it's taught. I know that's what Marc believes in, and I know that's the way it is. Now within that framework, if you have a superstar at wide receiver like they have there, like I had with Jerry Rice, you're obligated now to try to get him to be a real active part of this."
That seems to be what's occurred for the Bears with regards to receiver
Brandon Marshall
.
Although there's the perception Bears quarterback
Jay Cutler
throws mostly to Marshall, the receiver actually ranks No. 2 behind
Matt Forte
in terms of balls thrown his way, while also checking in at fourth on the team in receptions (34) behind the running back (58), tight end
Martellus Bennett
(47), and
Alshon Jeffery
(38). Trestman has talked about making Marshall more of a focal point in the offense, and Holmgren said he did the same with Rice during his time with the receiver as the offensive coordinator of the
San Francisco 49ers
.
"So on my sideline sheet, as you well know, I had throws to Rice," Holmgren explained. "I had throws to whoever was our top gun at the time. That's part of calling a good game. Here's what would happen. I'd call the player's number, a pass to Jerry Rice as an example, and the coverage, they doubled him. So I don't want him to throw the ball there. You don't do that. You throw it someplace else. Typically, it worked. But then all of the sudden, that player gets a little frosty. 'I'm not getting my catches.' Jerry, he'd come into my office on a number of occasions on Monday, and say, 'Mike, I'm not getting the ball.' I'd sit down with him and then I'd show how I was calling the game, why I called it, and those things because I needed him to be happy. Then after those meetings, he'd go, 'OK, I get it.' But still, he's proud and he wants to be a part of helping the team win. So you're fighting that little battle, too."
There's also the internal struggle between quarterback and coach for the two to gain an almost unbreakable level of trust. Holmgren fought through such a dynamic with Brett Favre, Steve Young and
Matt Hasselbeck
and said it will take time for Cutler and Trestman to develop real chemistry.
Holmgren's only advice to Cutler at this point would be "to smile a little more."
"He looks like he's not having nearly enough fun out there," Holmgren said. "I think everybody is watching the quarterback. His teammates are watching him. The fans are watching him. Even though you say, 'Well, what's that have to do with anything?' Well, I think it does. That's what I would talk to him about. I think when the head coach and the quarterback get into this real trust thing, and I don't want to sound corny. But it happened with Matt Hasselbeck. It happened with Brett Favre. The first year or two when you're trying to implement or change their game perhaps, or get them to do it a certain way, they're thoroughbreds and they fight you a little bit. Steve Young was the same way. Then all of the sudden, a light comes on and to quote Matt Hasselbeck with me, he came into my office. He goes: 'I get it. I get it. I'm sorry that I fought you on stuff.' I said, 'Matt, did you ever think that I didn't want you to be good?'
"So I think there's a point in time where that happens. It's a trust thing. He's like an extension of you on the field, and I think that just takes some time. Now, having said that, the player who is an awesome player, he has to totally buy in and believe you're there to help him. Until that happens, you see these little inconsistencies I guess."
January, 16, 2013
1/16/13
6:57
PM ET
Above all else, the
Chicago Bears
' coaching search was focused on finding a candidate whose intellect and ideas would provide quarterback
Jay Cutler
the environment to raise his game to elite status.
Tuesday,
we noted Cutler must be a willing recipient to a new level of coaching. Wednesday, as I discussed in this week's Blogger Blitz video, the Bears decided that Marc Trestman was best suited for the role.
Hall of Fame quarterback Steve Young, now an ESPN analyst, spoke eloquently this week on ESPN 1000 about the "platform" Trestman will provide and how Cutler will come to view himself as escaping "quarterback purgatory" if he buys into the program. Young played for Trestman in the mid-1990s when both were with the
San Francisco 49ers
.
"He can be as good as anybody if he wants to be," Young said. "But you need the platform to find out how good you are. I was in a platform in Tampa Bay [early in his career] where you are not going to find out. Then I got to San Francisco, and now I'm going to find out. I might find out that I still stink. I might suck at it, but I'm going to find out. ...
"You realize, 'I've been in purgatory, quarterback purgatory. I've been in a lot of places in the league where the quarterback is in purgatory.' You get discouraged, especially when you see others doing things and you think, 'That would be a platform I would love to have.' … I've got to believe that when Jay sees it, he'll see it as the greatest opportunity of [his] life."
For his part,
Cutler told the Bears' website
that Trestman is a "great hire." He said he has spoken with people who know Trestman and done other research as well.
"He understands quarterbacks," Cutler said. "He understands their thought process and the minds of quarterbacks and what we have to go through. It's going to be a quarterback-friendly system and I can't wait to get started with him."