Chicago Bears:

Sunday Matchups
December, 18, 2011
12/18/11
9:16
AM ET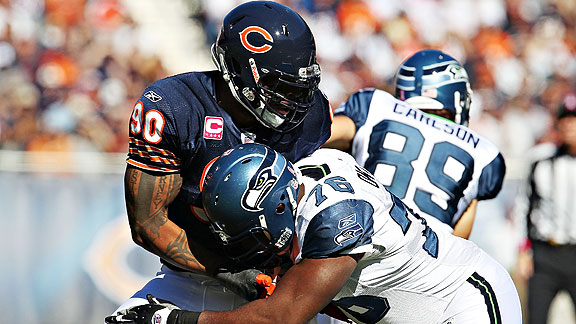 Jonathan Daniel/Getty ImagesJulius Peppers and the Bears' defense are going to need to carry them on Sunday.
BEARS (7-6) VS . SEAHAWKS (6-7) Noon, Sunday at Soldier Field on FOX
Quarterback

Advantage

Caleb Hanie continues to make strides, but they have been significant enough to warrant much optimism about this team's prospects for advancing to the postseason. Tarvaris Jackson is playing with an injured pectoral muscle, but is completing better than 60 percent of his passes, and generated a passer rating of 96.4 last week in Seattle's win over the St. Louis Rams.


Running Backs

Advantage

Marion Barber gives Chicago a power dimension between the tackles, but is coming off a performance in which he made two critical mistakes that ultimately cost Chicago a victory. Kahlil Bell will likely take on more attempts to give the Bears an elusive element. But Seattle's Marshawn Lynch is on fire, having rushed for 100 yards or more in five of his last six games.



Wide Receivers

Advantage

Hanie's lack of consistency is one component of the problem, but Chicago's receivers simply haven't made enough plays to keep the Bears in games. Earl Bennett has caught just two passes over the past two weeks while Johnny Knox and Roy Williams have been nonfactors. Seattle rookie Doug Baldwin leads the team in receptions (45), and yards (718) and is complemented by talented players in Golden Tate, Mike Williams and tight end Zach Miller.


Offensive Line

Advantage

The major difference in these teams is the fact that Seattle actually invested in its offensive line over the last few years. But like the Bears, the Seahawks have suffered some injuries. Seattle started the season with the NFL's third-youngest offensive line, but because of injury replacements, the unit is now the eighth youngest in the league. Chicago has shown flashes in protection, but has lost consistency with the absence of starting quarterback Jay Cutler.


Defensive Line

Advantage

Seahawks defensive end Chris Clemons is tied with Chicago's Julius Peppers for seventh in the league with nine sacks. Seattle defensive tackle Brandon Mebane leads the NFC in tackles (44) at his position, but Chicago's Henry Melton is tied for the NFL lead in sacks (7) among NFL interior D-linemen. The Bears have been a tad stouter than the Seahawks against the run this season.


Linebackers

Advantage

Two of Chicago's starting three linebackers (Brian Urlacher and Lance Briggs) have already tallied more than 100 tackles and both appear poised to make yet another Pro Bowl together. Seattle's David Hawthorne (88 tackles, three interceptions) is an emerging star along with Leroy Hill (76 tackles, three sacks). Hill, Hawthorne, and K.J. Wright have combined for six sacks. Urlacher, Briggs and Nick Roach haven't notched a sack all season.


Secondary

Advantage

A 2010 first-round pick, Seattle free safety Earl Thomas ranks second on the team in tackles (81), while strong safety Kam Chancellor and cornerback Brandon Browner have a combined nine interceptions. The Seahawks are surrendering 230.8 yards per game through the air, while the Bears give up an average of 256.5. Inconsistent play at safety hurt the Bears last week, but they're expecting Major Wright to return to the starting lineup. Wright might be paired with veteran Craig Steltz this week.



Special Teams

Advantage

Seattle return man Leon Washington is the first player in NFL history to return three kickoffs for touchdowns in two different seasons (2007 and 2010), while Chicago's Devin Hester is arguably the most dangerous returner in NFL history (leads NFL in career punt return average (13.1) and is second in NFL history for most combined return TDs (19). Kicker Robbie Gould and punter Adam Podlesh tip this matchup in Chicago's favor.


Coaching

Advantage

Pete Carroll's motivational style has the Seahawks believing they've got a shot to win out in a schedule that includes two road contests over the last three weeks. The Seahawks have won four of five, scoring at least 22 points in each of the victories. Lovie Smith finds himself in a difficult situation without Jay Cutler and Matt Forte in the lineup. But Smith's teams consistently play hard for him despite arduous circumstances.



Overall

Advantage

Bears offensive coordinator Mike Martz and offensive line coach Mike Tice will be the key in this game because everything hinges on Hanie's protection. But the recent controversy stemming from Sam Hurd's arrest might be the distraction that finally breaks this team given that it was already trying to fight through the absence of Cutler and Forte, not to mention Hanie's inconsistency or the fact it is coming off an emotionally-draining loss at Denver. Chicago may find motivation from knowing it has to win out for a chance at the postseason. There's no question the defense will perform to its usual standards. But the offense just can't score points.



PREDICTION: Seahawks 13, Bears 6
December, 4, 2011
12/04/11
10:01
AM ET
BEARS (7-4) VS . CHIEFS (4-7) Noon, Sunday at Soldier Field on CBS
Quarterback

Advantage

Frankly put, Kansas City quarterback Tyler Palko might be in over his head, and even if head coach Todd Haley decides at some point to go with Kyle Orton, the Chiefs would still be in major trouble. Perhaps collectively the Chiefs are better at the position. But Caleb Hanie seems to be the better starting quarterback in this game if the Chiefs decide to go with Palko.


Running Backs

Advantage

Former Bears running back Thomas Jones is one of just two active running backs in the NFL to have rushed for 10,000 yards or more. Jones can still be productive, but he's not as talented as Matt Forte, who has developed into one of the league's elite. Throw in bruiser Marion Barber and the Bears are better stocked at this position.


Wide Receivers

Advantage

Both Dwayne Bowe and Steve Breaston average at least 14 yards per reception, and Bowe has scored 19 touchdowns from 2010 to 2011, which ranks as the fourth-highest TD total in the NFL over that span. While Johnny Knox, Earl Bennett and Roy Williams haven't been as productive as Bowe and Breaston individually, collectively they might be the better group even though we'll give the Chiefs the edge here.


Offensive Line

Advantage

The Chiefs have given up just one less sack (26) than the Bears. But Chicago's line has paved the better way for better team rushing numbers. A 2008 Pro Bowler, Chiefs Center Casey Wiegmann is 38 years old and has been limited at practice all week (finger), along with guard Ryan Lilja (head). Chicago's offensive line, meanwhile, continues to make strides despite all the changes.


Defensive Line

Advantage

Defensive end Julius Peppers was recently named NFC Defensive Player of the Month, and leads the team with eight sacks. Hands down, Peppers will be the best defensive lineman on the field. The Chiefs have generated just 13 sacks, with more than half of those coming from linebacker Tamba Hali. So other than ends Glenn Dorsey and Tyson Jackson, the Chiefs aren't getting much production from the defensive line.


Linebackers

Advantage

Lance Briggs just reached the 100-tackle plateau for the eighth consecutive season, Brian Urlacher needs just eight stops against the Chiefs to reach the century mark for the 11th-straight year. Strong side linebacker Nick Roach has put together a couple of strong performances in recent outings, giving the Bears plenty of confidence in the position. Kansas City's Derrick Johnson and Hali are impact players. But Chicago has the stronger overall crew.


Secondary

Advantage


Chicago's passing defense ranks No. 30 with the Bears allowing an average of 270.5 passing yards per game. The Chiefs are 12th against the pass with every starter in a secondary comprised of Kendrick Lewis, Jon McGraw, Brandon Flowers and Brandon Carr having intercepted at least two passes apiece. The Bears have improved because of better safety play between Chris Conte and Major Wright. But the Chiefs are more consistent.


Special Teams

Advantage

Devin Hester struggled somewhat last week against the Raiders, which probably fielded the best special-teams unit the Bears will see for the rest of the season. But the Chiefs aren't slouches in that department. The Chiefs' kickoff-coverage unit allows a 19.6-yard average on kickoffs, which ranks as best in the league. Still, they're no match for Hester, and Knox as return men or Bears kicker Robbie Gould and punter Adam Podlesh.


Coaching

Advantage

The Chiefs find themselves in a difficult situation having started the season on a three-game losing streak, before going on a four-game streak before going back on another skid (four games). Chiefs coach Todd Haley has put together a competitive team that has struggled with injuries; especially at quartertback. Bears coach Lovie Smith is in the same situation regarding injuries at quarterback. Ultimately, the experience of Smith and his staff win out over Kansas City, which also has a solid staff.


Overall

Advantage

The Bears don't typically repeat mistakes. So don't expect them to duplicate the first half of last week's game when they came out to a conservative game plan that contributed to Hanie struggling. Offensive coordinator Mike Martz said that Hanie performed better in the second half once they unleashed the full playbook. So expect for the Bears to open things up early. But also anticipate a healthy dose of the rushing attack led by Forte and Barber to take pressure of Hanie. Defensively, this could be a game in the Bears could score points off turnovers, and that will likely be accomplished regardless of what quarterback -- whether it's Palko or Orton -- lines up under center for the Chiefs.



PREDICTION: Bears 20, Chiefs 10
November, 20, 2011
11/20/11
10:39
AM ET
BEARS (6-3) VS. CHARGERS (4-5) 3:15 p.m. Sunday at Soldier Field on FOX
Quarterback

Advantage

Phillips Rivers has put together a more successful body of work, and is probably the better pure quarterback. But Jay Cutler is playing better in 2011. Cutler averages 229.1 yards per game, but has cut down on the interceptions (6 so far). Rivers, meanwhile, has given up an NFL high 19 turnovers (15 interceptions, four fumbles). According to ESPN Stats & Info, 8 of Rivers' 18 interceptions have been the result of either underthrown or overthrown balls.


Running Backs

Advantage

Matt Forte has started in every game he's played for the Bears since his rookie season. Over the last 30 seasons, just two running backs -- Tennessee's Eddie George (130) and former Charger LaDainian Tomlinson (63) -- have longer streaks of starts from the beginning of their careers. Forte averages 145.3 yards from scrimmage. San Diego's Ryan Matthews and Mike Tolbert have a combined 70 catches, which ranks as the second-most by any running back duo in the NFL.


Wide Receivers

Advantage

The Chargers' receiving corps takes somewhat of a hit with the announcement that Malcolm Floyd (hip) is out for Sunday's game, but Vincent Jackson, Vincent Brown and Patrick Crayton make the group a formidable challenge. Earl Bennett paces Chicago's receivers and is coming off the best production in back-to-back games of his career. Still the club needs more contributions from Roy Williams, Devin Hester, and Johnny Knox.


Offensive Line

Advantage

Even with the injuries Chicago has sustained along the offensive line with Chris Williams and Gabe Carimi recently going on the injured reserve, its offensive line is in much better shape physically than the San Diego Chargers. Left tackle Marcus McNeill (neck) is out for Sunday's game. His replacement, Brandyn Dombrowski gave up four sacks and 10 pressures last week. Somewhere Julius Peppers is smiling.


Defensive Line

Advantage

Again, injuries tell the tale here. Chargers DT Antonio Garay (hip) is questionable, and the team hasn't received much in the way of contributions from left end Vaughn Martin (20 tackles, no sacks) and right end Corey Liuget (6 tackles, no sacks). Chicago's defensive line, meanwhile, is almost completely healthy. Hobbled by a knee injury, Peppers is probable for this contest.


Linebackers

Advantage

Brian Urlacher and Lance Briggs have combined for 44 tackles, four pass breakups and three quarterback pressures over the past two games, while Nick Roach seems to be coming into his own. San Diego's Takeo Spikes is coming off a concussion, and Shaun Phillips is out with a foot injury. So the Chargers will need strong contributions from Antwan Barnes, who leads the team with six sacks.


Secondary

Advantage


Chargers right cornerback Marcus Gilchrist is doubtful with a hamstring injury, but left corner Quentin Jammer can hold his own against most receivers. Safety Eric Weddle is tied for the NFL lead in interceptions (5). Thanks to improved play at the safety position, the Bears are playing the best ball they've played all season in the secondary. Look for the Bears to match up Charles Tillman with Jackson.


Special Teams

Advantage

Devin Hester is back up to full strength, and the Bears will need him against San Diego's strong group of specialists. Chargers' punter Mike Scifres ranks fourth in net average (41.9), and the team didn't allow any return yards the last time they faced the Bears in 2007. Of Scifres' six punts that game, Hester fair caught three, and returned one for no yards, while another was down and another travelled out of bounds.


Coaching

Advantage

Turner holds the edge in experience, and is undefeated against the Chicago Bears. But the skids Turner's teams experience have become all too familiar, and it wouldn't be a surprise to find out that ownership in San Diego is considering a coaching change. The Bears continue to improve because of the coaching staff's attention to detail, and its desire to clean up even the smallest issues. Given all the challenges they've faced along the offensive line, offensive coordinator Mike Martz and offensive line coach Mike Tice deserve kudos.


Overall

Advantage

Smith likes to joke about the Bears getting off the bus running. But that's precisely what fans can expect Sunday when the club hosts the Chargers. Look for the Bears to give San Diego a healthy dose of Forte from the onset before hitting the visiting team with the passing game once it starts to crowd the box and focus on the run.Defensively, the Bears will look to shut down the run first and make the Chargers one dimensional. If they can do that early, this could turn out to be another turnover fest for the Bears. The Bears will deploy Peppers from a variety of spots along that defensive line, and that should confuse San Diego's struggling offensive line and likely lead to sacks. If Moore can't play, the Bears are confident in Corey Graham's ability to get the job done. So don't expect them to change up any of the calls to compensate for the loss of Moore.



PREDICTION: Bears 34, Chargers 20.
October, 23, 2011
10/23/11
9:00
AM ET
CHICAGO BEARS (3-3) VS. BUCCANEERS (4-2), 12:00 p.m. Sunday at Wembley Stadium on FOX
Quarterback

Advantage

Tampa Bay's Josh Freeman ranks among the best young quarterbacks in the league. Eight of his 17 career wins have come by way of fourth-quarter/overtime comebacks, including five last season (the most in the NFL). Thanks to improved protection, Chicago's Jay Cutler is riding a hot streak in which he's thrown three touchdowns and no interceptions over the past two games while posting passer ratings of at least 99.6.


Running Backs

Advantage

Matt Forte is just 92 yards shy of reaching 1,000 all-purpose yards. So Forte could walk out of Wembley Stadium with yet another major accomplishment. Tiki Barber (1,100 yards) and Priest Holmes (1,017) were the last two players to reach 1,000-all purpose yards in the first seven games of a season back in 2004. Tampa Bay's LeGarrette Blount is a force, too. Blount, however, won't play because of a knee injury. He will be replaced in the starting lineup by Earnest Graham.



Wide Receivers

Advantage

Considered a 2010 draft steal, second-year Buccaneer WR Mike Williams set the franchise record as a rookie with 11 receiving touchdowns. He is complemented by tight end Kellen Winslow (team-high 27 catches) and former Illinois star Arrelious Benn (team-best 16.2 yards per catch, and team-high 2 TDs). The possible return of Earl Bennett could considerably improve Chicago's receiving corps, which has shown signs of progress in recent weeks.



Offensive Line

Advantage

The Bears will utilize the same combinations of starters in consecutive games for just the second time this season; it appears the club has come up with a formula (keeping tight ends in on passes, and chipping from running backs) to adequately protect Cutler. Tampa Bay used eight different lineup combinations up front last season, but the protection hasn't missed a beat. Having surrendered nine sacks, the Bucs are tied for fourth-fewest sacks allowed in the league.



Defensive Line

Advantage

The Bucs are in the midst of a rebuilding process along the defensive line with the club having used four high picks over the last two drafts on defensive linemen. Of the team's 10 sacks, six have come from the young defensive line. Chicago's front four, meanwhile, features a mix of youth and experience, and is led by arguably the most talented defensive lineman in the game in Julius Peppers. The addition of Amobi Okoye and rookie Stephen Paea makes the Bears' interior more active.



Linebackers

Advantage

Lance Briggs leads the Bears with 61 tackles, followed by Brian Urlacher, who hasn't put forth a double-digit tackle performance since Oct. 2. Nick Roach rebounded last week after a one-tackle game in the loss to the Detroit Lions. Tampa Bay's young, active linebacking corps is led by rookie MLB Mason Foster, who leads all rookies in tackles (42), and Chicago native Quincy Black.



Secondary

Advantage

Buccaneers corners Aquib Talib and Ronde Barber combined for nine interceptions in 2010. So far this season, all but one member of Tampa Bay's secondary has picked off at least one pass. Chicago cornerback Charles Tillman has been the most consistent member of a Bears defensive backfield that hasn't performed up to standards due to shoddy play from the safety position.



Special Teams

Advantage

With the best return man in the NFL in Devin Hester, the Bears face one of the league's most dominant special-teams units in terms of kickoff and punt coverage. The Buccaneers are limiting teams' starting field position after kickoffs to the 18.8 yard line, and kicker Michael Koenen has the third-most touchbacks since 2005 (120), in addition to landing 162 punts inside the 20 over that same span.



Coaching

Advantage

Raheem Morris' fiery disposition contrasts sharply with Lovie Smith's stoicism. Still, Morris has produced results over a short period. Last season, the Buccaneers became the first team since the 1970 merger to start 10 or more rookies and finish the season with a winning record (10-6). Strong coaching plays a major role in that success. The Bears are attempting to navigate crisis after crisis, ranging from contract issues to relationships between the quarterback and offensive coordinator. But if any coach can handle such a challenge, it's Smith, who hopes to come out of this game in the same position the club was in last season (4-3), when it went on to reel off five straight victories on the way to an NFC Championship Game berth.



Overall

Advantage

The absence of Tampa Bay running back LaGarrette Blount could loom large over the Buccaneers, considering their reliance on the rushing attack. But Chicago's decision to travel to London on Thursday night might come back to haunt this team. The Bears' roster features 12 players age 29 or older, and the club faces the league's youngest team (average age of 25), which will be better rested after arriving in London on Monday. Don't underestimate the significance of the travel arrangements made by these teams. The fatigue from long travel and the time difference will be a factor.



PREDICTION: Buccaneers 21, Bears 20.
PODCASTS
Best of Mike and Mike
Play Podcast Greeny and Golic discuss the Warriors and Stephen Curry's MVP candidacy. Plus, they welcome Tom Waddle, Wichita State head coach Gregg Marshall and Jets corner Darrelle Revis.
Tom Waddle, NFL
Play Podcast ESPN 1000 in Chicago's Tom Waddle gives his takes on fan reaction to the Bears' signing of Ray McDonald, fallout from the deal and whether the team had interest in Greg Hardy.
Antrel Rolle, Bears safety
Play Podcast NFL safety Antrel Rolle tells Carmen & Jurko why he chose to join the Chicago Bears and what he'll bring to his new team.
BLOG ARCHIVE:
CATEGORIES:
LATEST ON THE CHICAGO BEARS