Chicago Bears:

Tavon Austin
November, 22, 2013
11/22/13
3:30
PM ET
LAKE FOREST, Ill. -- Return specialist
Devin Hester
grinned Friday when approached by reporters to explain the cameo appearance he made at practice this week with the club's defensive backs.
"If I go line up at quarterback and take a couple of snaps, you are all going to say we are running the option or running the Wildcat," Hester said. "That's your job."
Hester
Hester, a former collegiate and NFL cornerback and nickelback, participated with members of the secondary in individual drills open to the media twice this week (Wednesday and Friday), and even spent roughly 10 minutes after Wednesday's session working one-on-one with Bears' defensive backs coach Jon Hoke.
"I did it to have fun," Hester said. "Being a special-teamer now, I really don't get as many reps as the normal guys do in practice since I'm a specialist now with the returns. That's pretty much all I do now. To keep myself busy, I jump in every now and again to play around.
"We all hang out off the field, so whenever I come over there and play around with those guys, it gives them a little more energy and a little more excitement to go out there and work hard. When they see me in their group, it sparks them up a little bit. You have to make practice fun. You just can't go through the same routine every day. When you joke around and have some fun, it goes by quick."
While Hester seemed to enjoy the attention, he got serious for a moment when asked if he could cover
Tavon Austin
, the Rams' speedy rookie wide receiver, if the situation called for it.
"I can cover anybody," Hester said before cracking a smile. "Just put a safety over the top, and I can shut anybody down. I need a safety over the top; I'm a Cover 2 man."
Hester is likely an emergency option for the Bears if they suffer more injuries in the secondary Sunday. Cornerback
Charles Tillman
(triceps) has already been ruled out, while safety
Craig Steltz
is questionable with a concussion and starting nickelback
Isaiah Frey
is dealing with a fractured right hand that will require him to wear a cast during the game. The Bears also have reserve cornerbacks
Sherrick McManis
and
Derrick Martin
on the depth chart, and could theoretically elevate another defensive back from the practice squad before Sunday since the active roster stands at 52 (the max is 53).
April, 25, 2013
4/25/13
12:44
PM ET
Draft day is here, and the Chicago Bears are hours away from being on the clock with the 20th overall pick in the first round (assuming they don't trade down). Who would our Bears writers take if they were running the war room at Halas Hall?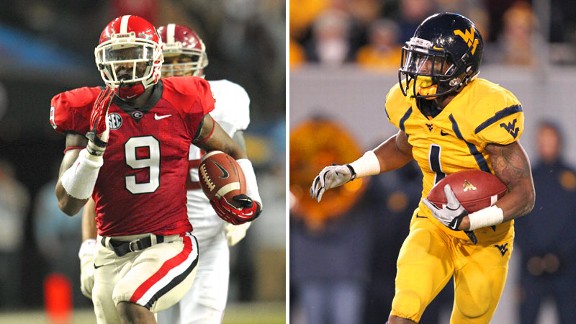 USA TODAY SportsAlec Ogletree and Tavon Austin are two of the best athletes in the draft.
Michael C. Wright: Tavon Austin, WR, West Virginia
He added three offensive linemen in free agency, including starters
Jermon Bushrod
and
Matt Slauson
, and a pair of starting linebackers in
James Anderson
and
D.J. Williams
, while also addressing the rotation along the defensive line.
Now it's time for Bears general manager Phil Emery to bring in a difference maker on offense at one of the skill positions with the 20th pick for quarterback
Jay Cutler
or for the possibility of a future without him.
If he's there, I'd take West Virginia's Tavon Austin at 20. Tennessee's
Cordarrelle Patterson
works too, or perhaps one of the top tight ends in either Notre Dame's
Tyler Eifert
or Stanford's
Zach Ertz
, provided the Bears don't trade down. This draft class is deep enough at other positions such as the offensive line (center in particular), linebacker, defensive line and cornerback for the Bears to add an immediate contributor in the later rounds.
With a first-round pick, you want an impactful player for 2013, not one expected to play a key role a year or two down the road (see 2012 first rounder
Shea McClellin
).
The offensive line appears to be set for the most part, with training-camp competition expected to decide one or two of the other spots. Linebacker is set (even though all the starters' deals are up after 2013, it's important to remember contracts can always be extended). So is the defensive line. More than likely, any addition at these positions just provides depth.
With Cutler going into the final year of his contract, there's no guarantee the team will re-sign him beyond 2013. So by selecting a dynamic skill-position player, the Bears give Cutler a better chance to succeed and earn a lucrative contract extension. If Cutler isn't the quarterback moving forward, the team has at least stocked the offense with enough talent for the next guy to achieve at least a moderate level of success.
Jeff Dickerson: Alec Ogletree, LB, Georgia
In hindsight, the Bears probably wish they finished 6-10 last season instead of 10-6.
In a draft loaded with offensive talent in the top-15 picks, the Bears sit at No. 20, and probably out of the running the land one of the four tackles or two guards projected to come off the board earlier.
If the Bears were in the top 15, my choice would be easy: Alabama right tackle
D.J. Fluker
. To steal a phrase from Mike Singletary, "I want winners." But alas, the buzz is that Fluker will be long gone by the time the Bears go on the clock.
If that is indeed the case, the Bears might at the very least consider Syracuse OL
Justin Pugh
, Oregon OL
Kyle Long
or Florida State OT
Menelik Watson
. I believe the Bears view Pugh, whom the club just put through a private workout, as draftable somewhere between 20-50, but it's tough to pinpoint the exact spot. The Bears also took a closer look at Long in recent weeks, and some predict he's a sleeper first-round pick.

But there could be better value at linebacker or cornerback.
Washington's
Desmond Trufant
would be a worthy first-round choice for the Bears, although a couple of teams might be looking to move up a few spots to grab him. However, the Bears did work out several mid-round cornerbacks, so perhaps the club could wait until later to address the position.
Same with linebacker.
But the dilemma could come down to choosing between Trufant or Georgia linebacker Alec Ogletree. I just can't wrap my mind around
Manti Te'o
at No. 20. Maybe I'll end up being wrong, but at least it'll be an honest swing and miss.
Trufant comes from a football family and seems to have it all together from a maturity and off-the-field standpoint.
Ogletree is a high-end athlete who has had off-the-field issues.
I'll always predict the Bears to select the superior athlete. In this case that's probably Ogletree.
Now, with all that being said, let's hope Emery finds a way to trade the pick.
April, 17, 2013
4/17/13
12:00
PM ET
The
Detroit Lions
hosted the top receiver prospect in the 2013 draft, West Virginia's receiver
Tavon Austin
, on
a visit Wednesday
. But barring some draft-day maneuvering -- a trade down by the Lions or a move up from another NFC North team -- it seems unlikely that Austin will wind up in this division.
Which begs the question: How does the rest of the receiver class stack up for our teams?
That was one of the topics ESPN draft analyst Todd McShay discussed during a conference call last week. McShay ran through six other names, most of whom should be available when the
Chicago Bears
,
Minnesota Vikings
and
Green Bay Packers
choose between No. 20 and No. 26 overall.
[+] Enlarge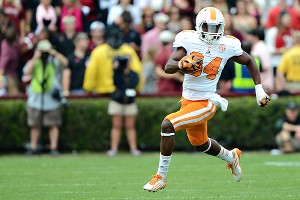 Donald Page/Tennessee Athletics/Collegiate Images/Getty ImagesTennessee receiver Cordarrelle Patterson is expected to be selected in the top 20 next week according to ESPN draft analyst Todd McShay.
I consider this position to have division-wide relevance, given the Lions' clear desire to add an outside receiver opposite
Calvin Johnson
, the Vikings' depth issues following the trade of
Percy Harvin
, the Bears' continued push to fortify their passing game, and the Packers' history of relative routine drafting at the position.
The Lions have hosted three of the six names below on visits, in addition to Austin, while the Vikings had at least two in their building this month. The names are listed in order of McShay's evaluation. Note McShay's upside-down thoughts on the pair of Tennessee receivers.
Cordarrelle Patterson
School:
Tennessee
McShay:
"He scares me coming out of Tennessee, but I see the talent. Everyone I talk to in the league, I think he's gone in the top 20. … Patterson, with the ball in his hands is just freakish, and even though he disappears for 30-40 plays, he'll show up with one or two big plays a game that just kind of blow your mind and leave you wanting more, and I think that's why he's going to be able to go where he's going."
Keenan Allen
School:
Cal
McShay:
"Keenan Allen is not 100 percent [because of a knee injury]. He ran a 4.7 the other day. It's not a perfect situation. But he's a late-first, early-second round prospect and should play like that. He runs on tape, we estimate him at 4.53, 4.55 range. I think he is going to be a really, really good No. 2 in the league. He would be a good fit. He was catching the ball better than ever this year. He knows how to use his body. He's got size and he's thickly built. He's not a burner, but he's quick and he's athletic and he's got enough speed to challenge you and take advantage of mistakes. Keenan Allen to me would be the highest rated wide receiver when Tavon Austin and Patterson are off the board." [After the conference call,
ESPN's Adam Schefter
reported that Allen's drug test at the NFL scouting combine had been "red-flagged," requiring a re-test.]
Justin Hunter
School:
Tennessee

McShay:
"If you're looking for someone to run vertical routes and stretch the field … a poor man's
Randy Moss
, that's what Justin Hunter is. … He's a silky-smooth route runner, and he's the guy quite honestly when they needed a throw, when they needed to pick up a first down, when they needed a play at Tennessee, that's where they went. It wasn't to the other guy, Patterson. He's the one who showed up consistently on tape. I think he's a better football player than Cordarelle Patterson."
[+] Enlarge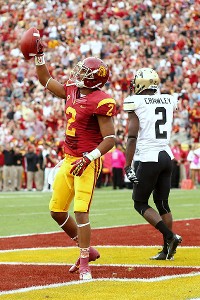 Stephen Dunn/Getty ImagesUSC receiver Robert Woods had 11 touchdown catches last season.
DeAndre Hopkins
School:
Clemson
McShay:
"After that group, you start getting into
Robert Woods
, DeAndre Hopkins, and
Quinton Patton
. They're all kind of in that same range -- 6-1, 200, 210, 212 pounds -- and they're all in mid-4.5's in terms of speed. Hopkins has the best hands of the three."
Robert Woods
School:
USC
McShay:
"I think you have to look at the whole picture and what has gone on throughout his career and the ups and downs. It might amount to nothing … The thing so often that's difficult to predict is, in addition, what are guys going to do when they have all this free time on their hands. … He could end up in Atlanta with a guy like
Roddy White
who will be [on him] all day … and he'll be fine. Or he could go to Detroit, where Calvin Johnson is the greatest guy in the world but he's not going to get on you for making mistakes. He's not that kind of leader. If [Woods] is not going to be around guys that are going to make him accountable, maybe he's not the player he would be if he goes to an Atlanta and plays with Roddy White. That's the tricky part. That's why there is some more risk with him, because he's not necessarily the greatest self-starter."
Quinton Patton
School:
Louisiana Tech
McShay:
"He doesn't like going over the middle, but he's very athletic, he has great hands and ball skills 90 percent of the time, but he'll have some focus drops. He's a wild-card to me. If he plays to his potential, he could be the third- or fourth-best receiver of this group in the NFL."
Note:
The Lions hosted Patterson, Hunter and Woods,
according to the team's web site
. The Vikings, according to
1500ESPN.com's Tom Pelissero
, hosted at least Allen and Hopkins.