Chicago Bears:

Ted Phillips
November, 8, 2014
Nov 8
9:00
AM ET
LAKE FOREST, Ill. -- We decided to bring back the Twitter mailbag feature, which will now run on Saturdays for the rest of the season.
Thanks everyone for participating. Let's get started:
@mikecwright I know you believe in Christian Jones as SSL of the future. Does Shea have a place on this team or in the NFL? #bearsmailbag

— Malcom C. Riley III (@MalcomRiley22) November 6, 2014
@mikecwright: Just because I believe Christian Jones is the future at strongside linebacker for this team doesn't mean I think Shea McClellin doesn't belong on the team or the NFL. Jones is just better suited to play the position than McClellin. But I still think there is a place for McClellin on this team as a reserve and as a designated pass-rush specialist.
@mikecwright is marquess wilson the prophesied messiah who will bring bountiful playoff appearances to the peasant bears? #bearsmailbag

— Kevin Gee (@InnerGee_ktg) November 6, 2014
@mikecwright: They sure make it seem that way, don't they? I personally don't believe that Marquess Wilson is going to add significantly to the offense upon his return. I know Wilson and Jay Cutler developed a rapport during the offseason, but from what we've seen thus far, the quarterback rarely throws to anyone not named Brandon Marshall, Alshon Jeffery, Martellus Bennett or Matt Forte. So I don't see Wilson making a huge impact once he's back out on the field. Also, I don't consider Wilson a player capable of taking the top off the coverage. I think he will fare well in the slot, but he's not a speed-burner by any means. And I think when you have got a speed receiver in the slot, you force teams to play you more honestly. When Wilson returns, I anticipate teams continuing to devote the extra coverage on the outside to Jeffery and Marshall. Now if Cutler hits Wilson down the seam a few times when he comes back for big gains, it will make defenses respect the threat of a slot receiver.
@mikecwright When will Ted Phillips be held accountable for actions during his tenure with the Bears? #bearsmailbag

— GaryBusey'sTeeth (@GaryBuseyTeeth1) November 6, 2014
@mikecwright: That is a great question that unfortunately I don't have a good answer for. Ted Phillips played a key role in the Bears hiring Phil Emery, and obviously, you know what the general manager did in terms of firing Lovie Smith and bringing in Marc Trestman. The thing about Chicago's ownership is the group doesn't meddle, which can be both a positive and a negative. I think the best course of action for ownership is to hire football people to run the football side of things. Obviously, you know that Phillips isn't a football person. I certainly think Phillips should be held just as accountable by ownership as he and George McCaskey hold Emery and Trestman.
@mikecwright if Jim Harbaugh becomes available do you think that the Bears will be interested? His resume is stacked. #bearsmailbag

— Mr. Conrad (@DarrylConrad) November 6, 2014
@mikecwright: With the Bears being what I'd consider a mom-and-pops organization, I don't think ownership would be interested in eating another contract with Trestman the way they did when the club parted ways with Smith and Jerry Angelo prior to that. Besides that, I think you would have to consider what a new coach would mean for Cutler. Emery wanted to give Cutler stability with the coaching staff when he brought in Trestman. Now that the team has invested so much financially in Cutler, do you want that stability Emery has built around the quarterback to be disrupted? So if Jim Harbaugh does become available, I don't think the Bears will be interested unless ownership decides to get rid of Trestman. I seriously doubt Emery would want to fire Trestman regardless of what transpires over the last half of the season. Then again, ownership could take that decision out of Emery's hands. I don't see that happening.
@mikecwright Compared to previous years, do YOU see a lack of leadership in locker room? Is it different w/o Urlacher & Olin? #Bearsmailbag

— William (@born2bear) November 6, 2014
@mikecwright: You're not going to like my answer here, and although I never played in the NFL, I did play from the age of 6 through four years of college. From my own playing experience, all the talk about leadership is way overblown. No player needs another player for motivation. At the NFL level, even on the college level, if a player isn't self-motivated, the truth is he shouldn't be on the team. He shouldn't be in the sport. Honestly, it used to irk me to have those teammates who used to yell all the time, give the rah-rah speeches, and scream out, "Let's go guys." That's all unneeded hot air. Leaders do their thing by example. In Brian Urlacher's case, he produced on the field, worked hard in practices and in the weight room, and the other players saw that and figured if they conducted themselves in a similar fashion, they would achieve success, too. That is leadership. So do I see a lack of leadership in the locker room? Not really. When a team is 3-5 like the Bears, "leadership" or lack of becomes one of those low-hanging fruit types of storylines. Leadership truly starts with the coach and his staff. If the coaching staff consistently puts players in the position to succeed, they gain the trust of the players, who will run through a brick wall for their coaches. Lovie Smith built that type of trust from players during his tenure in Chicago, which in turn led to the players self-policing in the locker room to make sure the team took the lead of its coach. That is not what's currently going on with the Bears. But it's not a locker room leadership thing. I think it's more an issue of the coach not getting through to the players..
May, 24, 2013
5/24/13
11:37
AM ET
Mike Ditka's final season as a player for the
Chicago Bears
was in 1966. His last season as their coach was 1992. So why did it take 47 years after his departure as a player, and 21 years after his final season as the coach, to retire the number of one of the most recognizable figures in team history?
A small part of the explanation could be the sheer size and breadth of the Bears' history. Before retiring Ditka's No. 89,
a move the team announced Friday
, the Bears already had the most retired numbers in the NFL (Ditka's is the team's 14th). I chuckled
Friday morning
when punter
Adam Podlesh
tweeted: "BREAKING: The NFL finally gives Bears the nod to use fractions and decimal points on jerseys after the last whole number is retired #iwantpi"
If you retired every deserving number in Bears history, there wouldn't be many left over for the current team.
But I think we all know that more than numbers were in play here. Ditka alluded to it during a morning appearance on ESPN Radio, noting the efforts of Bears chairman George McCaskey to reach out after succeeding his brother, Michael, in 2011. Michael McCaskey, of course, was running the Bears when Ditka was fired as coach.
"I never left" the Bears organization, Ditka said, but added: "I think what happened is they made a decision based on what they wanted to do. They had a right to make that decision. It hurts. It always hurts when there is a separation or divorce.
"But when George took over running the Bears and he called me, him and [team president] Ted Phillips and I met with him. I think [the meeting] was so cordial. George is a special guy. He probably had a little bit more vision than somebody else. But that didn't matter. That's not important to me. Whatever it is, it is. … I am very, very honored. That's the bottom line."
The ceremony will take place Dec. 9 at Soldier Field, when the Bears will host a "Monday Night Football" game (on ESPN!) against the
Dallas Cowboys
. It should be a great night.
Note:
The video of Ditka's radio appearance is at the top of this post. Here is the link to
the audio version
if you prefer that.
January, 13, 2013
1/13/13
9:21
PM ET
Chicago Bears
general manager Phil Emery acknowledged Jan. 1 that in his search for a new head coach "the playoffs are a consideration," but that potential roadblock appears to have come down Sunday with the conclusion of the divisional round of the postseason.
[+] Enlarge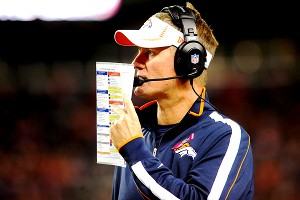 Byron Hetzler/US PRESSWIREDenver's Mike McCoy is one of four offensive coordinators whose season ended this weekend, opening the door for the Bears to move forward in their coaching search.
Of the known candidates, four coached for teams that lost in the divisional round, a group consisting of four offensive coordinators: Seattle's Darrell Bevell, Houston's Rick Dennison, Green Bay's Tom Clements and
Mike McCoy
of the
Denver Broncos
. The losses by the Seahawks, Texans, Packers and Broncos open up availability for those coaches to talk more in the coming days, with Emery expected to move into the next phase of the process. He'll probably pick two to three finalists for second interviews that will also involve team president Ted Phillips and Bears chairman George McCaskey.
"There may be a candidate that's in the playoffs and may be unavailable to us (that) we may have to wait out," Emery said. "After we're at the point where we feel good (that) we have quality candidates to select two or three as finalists, we will either have them come to us or go to them so we can have an opportunity for them to talk to George or to talk to Ted and that George and Ted can interact with them and get a feel for them. At the end, the final decision will be mine."
The timeline for Emery making the choice seems now to be a little less difficult.
December, 31, 2012
12/31/12
10:10
AM ET
After the Chicago Bears' 26-24 victory over the Detroit Lions, here are three issues that merit further examination:
ESPN.com

All eyes are on general manager Phil Emery, and by extension team president Ted Phillips and chairman George McCaskey. The Bears finished with a playoff-worthy record at 10-6, even if it was after a 7-1 start, but ultimately they missed the postseason for the fifth time in six years under coach Lovie Smith. That sounds like a fair recipe for making a change, even for a coach with a career record of 81-63. But there is more gray area here than you might realize. The Bears have spent almost a decade building their defense around Smith's scheme. The chances of finding a new coach with the identical defensive approach are not high. So firing Smith is a move to overhaul the entire defense, long the lifeblood of this team. In other words, the Bears stand on the brink of a major rebuild if they fire Smith. Are they ready for that, with quarterback Jay Cutler and receiver Brandon Marshall in their prime? Emery has a chance to change the direction of the franchise, but it remains to be seen whether he thinks it is necessary.

This has to be the most disappointing season in Devin Hester's career. The much-heralded "Hester Package" never materialized in the Bears' offense, and none of his 64 combined punt and kickoff returns went longer than 44 yards. Cutler targeted him on only 40 of the 208 routes he ran this season, including just one over the final three games, according to EPSN Stats & Information. Hester caught 23 of those passes for 242 yards and one touchdown. This was the first of Hester's seven seasons when he was productive neither as a receiver nor as a returner. He turned 30 last month and is entering the final year of his contract. Assuming he didn't hit any of his contract escalators this year, he is signed for a reasonable $1.857 million in 2013. But you wonder what his place would be in a revamped Bears program.

On the other hand, I don't think the Bears could have taken better advantage of their acquisition of Marshall. His reunion with Cutler produced career highs in receptions (118), yards (1,508) and touchdowns (11). You would have to consider Marshall's performance one of the best for an offensive skill player in Bears history. One interesting offseason discussion will be the 194 passes Cutler targeted Marshall on. It tied for second in the NFL behind the Detroit Lions' Calvin Johnson (205) and was nearly four times as many as the Bears' next-most targeted receiver. Was it too much? You wonder if the Bears' approach in 2013 will include a plan to target Marshall less, incorporate more players on a weekly basis and be more productive as a whole.
And here is one issue I still don't get:
Middle linebacker Brian Urlacher is a pending free agent, and it's at least worth discussing whether his career is over. He gutted through 12 games on a knee that never completely healed from a January 2012 injury, and most football people would tell you he was nowhere close to his usual sideline-to-sideline self. He is 34 and his contract status could give the Bears a relatively graceful way of moving on. Emery paved the way for that possibility by declining to extend his contract before the season. Urlacher's 2012 season made that decision seem wise. Emery can't bring Urlacher back for a competition or as a role player, however. That wouldn't be respectful to one of the best players in Bears history. It's all or nothing, and at this moment it's not clear which way he will go.
January, 31, 2012
1/31/12
4:45
PM ET
New
Chicago Bears
general manager Phil Emery has plenty of issues to address as he gets to work at Halas Hall. With three weeks to decide whether to apply the franchise tag on Pro Bowl running back
Matt Forte
, Emery's boss said Tuesday that the Bears won't let the Pro Bowl running back reach free agency.
Read the entire story
.
January, 28, 2012
1/28/12
4:12
PM ET
In retrospect, the
Chicago Bears
' 25-day search for a general manager played out exactly as they said it would. Team president Ted Phillips made clear he wasn't looking to turn the organization upside down after firing Jerry Angelo on Jan. 3. No,
as we discussed at the time
, the Bears wanted someone who could bring a better hit rate as a talent evaluator.
Kansas City Chiefs
executive Phil Emery emerged as a favorite early in the process because of his unique qualifications under those criteria, and for that reason it was far from surprising to hear
that the Bears hired him Saturday
.

Emery spent seven years as a Bears scout from 1998-2004, making him relatively familiar with the inner workings of Halas Hall and unlikely to pursue a massive overhaul. He was part of a Bears scouting department that drafted eight future Pro Bowlers, from receiver
Marty Booker
to linebackers
Brian Urlacher
and
Lance Briggs
to safety
Mike Brown
and cornerback
Charles Tillman
. Later, he drafted receiver
Roddy White
and quarterback
Matt Ryan
, among others, as the
Atlanta Falcons
' director of college scouting.
Emery surely will bring his own tone and vision to the Bears' front office. But initially, at least, he'll do so by assimilating the existing infrastructure and minimizing the side effects of transition.
The Bears have missed the playoffs in four of the five seasons since their appearance in Super Bowl XLI. But whether you agree or not, Phillips said he thinks the team has suffered from inconsistent talent evaluation rather than larger-scale issues. So in essence, he has swapped one longtime scout-turned-general manager for another in hopes of getting better results.
Phillips said Jan. 3 that the Bears needed to close the "talent gap" that exists between the Bears and their two most competitive NFC North rivals, the
Green Bay Packers
and
Detroit Lions
. In many ways, the decision to bring back Emery reflects the Packers' hiring of general manager Ted Thompson in 2005.
Thompson spent eight years with the Packers in various personnel roles between 1992 and '99 before returning as general manager in 2005. Emery brings a similar reputation as a blue-collar scout and workaholic who figures to spend a good portion of his years on the road personally scouting college players.
Thompson, of course, had the authority to remake the Packers franchise as he saw fit. Much of the front office remained intact, but he fired coach Mike Sherman after one season and hired Mike McCarthy in 2006. The Packers won Super Bowl XLV with a 53-man roster that included 49 players acquired after Thompson's arrival.
That's a tough ideal for Emery and the Bears to pursue, but I wouldn't be surprised if it comes up at some point during Monday's news conference to introduce him formally. The Bears wanted a low-key leader who would focus on talent evaluation and, like Thompson, stay below the radar. By all accounts, Emery fits that bill.
January, 3, 2012
1/03/12
8:02
PM ET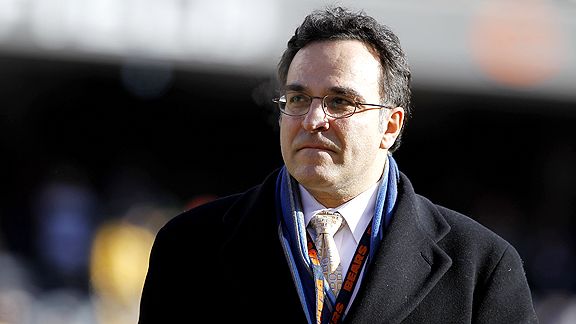 Joe Robbins/Getty ImagesTed Phillips made the decision to fire general manager Jerry Angelo, according to Bears chairman George McCaskey.
LAKE FOREST, Ill. -- The romantic version of the
Chicago Bears
' new power structure in the post-Jerry Angelo era portrays Chairman of the Board George McCaskey as a hands-on owner, interested in making key football decisions to help shape the future of the organization.
That couldn't be further from the truth, according to McCaskey, who on Tuesday singled out Bears president and CEO Ted Phillips as the driving force behind the ouster of the club's long-time general manager.
"Let me correct the misconception; it was Ted's decision," McCaskey said. "He asked for my input. I gave it to him. I gave him the input of the rest of the ownership, and Ted made the decision which we fully support.
"Under our organizational structure, ownership selects the president and CEO. The president and CEO, in consultation with ownership, selects the general manager. The general manager, in consultation with the president and ownership, selects the head coach."
The prevailing feeling at Halas Hall following the 31-minute press conference in response to the firing of Angelo, was that Phillips and coach Lovie Smith wield the bulk of the power in the building. While McCaskey is certainly involved to a certain extent in the organization's decision-making process, he claims not to be interested in using his authority to personally usher in sweeping changes.
"I said when I became chairman that I didn't feel any particular need to place a personal stamp on the Bears, that my job was to work with and in support of the president and CEO, and that's what happened in this case," McCaskey said. "Ted consulted me, I supported his decision as does our entire family."
August, 11, 2011
8/11/11
4:18
PM ET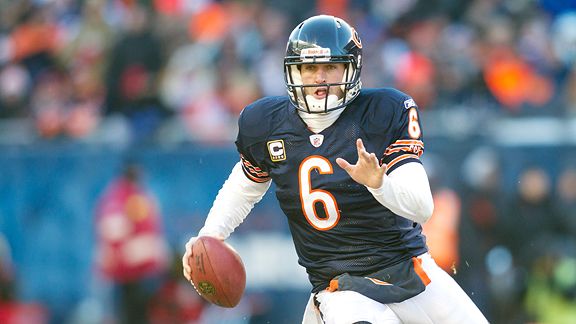 Tom Hauck/Getty ImagesBears president Ted Phillips said Jay Cutler is as tough as any player.
Chicago Bears
president Ted Phillips said on Thursday that
Jay Cutler
is developing into a team leader and hasn't disappointed since the 2009 trade that lured him from the
Denver Broncos
.
"I think he's really developing into a good leader," Phillips said on "The Waddle & Silvy Show" on ESPN 1000. "Love his talent.
"He came here in a difficult situation with the trade. We gave up a lot to get him [
Kyle Orton
, three draft picks, including two first-rounders], and he hasn't disappointed."
Cutler did have a disappointing '09 as he threw 26 interceptions to go along with 27 touchdowns. He rebounded last season with Mike Martz as offensive coordinator, with 23 TDs and 16 picks.
"I'm excited about Jay," Phillips said. "I love his ability and what he's bringing to the team in terms of leadership. I think he grew a lot last year, and I think he's going to continue to surprise his -- if he has any doubters -- he's going to surprise them this year."
Phillips praised the toughness of Cutler, who was sacked a league-high 52 times last season. That's what made many Cutler supporters upset with critics who questioned his toughness when he left the NFC Championship game against the
Green Bay Packers
with a sprained MCL.
"It's ridiculous," Phillips said. "It was laughable.
"There is no tougher player than Jay Cutler. I feel bad that he had to go through that, but he's very resilient. He's dealt with it very well and he's not one of those guys who seeks out attention. And that's ok. He's just going to keep getting more and more comfortable and confident as the weeks go by. He's probably one of the most competitive guys I've ever been around, and he's got an incredible drive to win. That's what's most important."
August, 11, 2011
8/11/11
2:53
PM ET
BOURBONNAIS -- Chicago Bears president Ted Phillips doesn't anticipate running back Matt Forte sitting out of Saturday's preseason opener against the Buffalo Bills.
Read the entire story.
September, 7, 2010
9/07/10
1:11
PM ET
If Ted Phillips has a checklist of accomplishments for Lovie Smith to meet to keep his job past this season, the
Chicago Bears
president isn't saying.
But making the playoffs sure wouldn't hurt Smith's chances.
Read the entire story
.
March, 1, 2010
3/01/10
10:59
AM ET
[+] Enlarge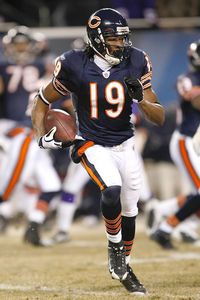 Scott Boehm/Getty ImagesJerry Angelo used Devin Aramashodou as an example of the Bears' approach to developing talent on Friday.
INDIANAPOLIS -- During a pleasant, 24-minute chat with reporters in his sumptuous hotel suite, Bears general manager Jerry Angelo offered what might be my favorite out-of-context quote of the year, maybe the decade.


"We just don't collect talent," he said. "That isn't what this is about."


I mean, is that perfect or what? The Chicago Bears: We don't collect talent. We just collect season-ticket deposits.


And I thought team president Ted Phillips' decree that the Bears aren't going "to go hog wild in free agency" was deflating. Now the Bears don't even want talent!


OK, I'm kidding a bit here. In context, it had a different, less hilarious meaning, but what fun is that? Angelo was answering a question about bringing in fresh faces with uncertain futures. I think.


"We have to have a plan for him to play and to develop," Angelo said, using Devin Aromashodu as an example. "We just don't collect talent. That isn't what this is about. You have to put a plan in place and adhere to it. We've been pretty good about that."


I guess the plan for Aromashodu was to hide him on the bench until the season was in the toilet, but no one asked that follow-up question.


January, 5, 2010
1/05/10
3:41
PM ET
LAKE FOREST, Ill. -- There was a ton to digest during the hour-long press conference at Halas Hall. Here are some of the highlights from the principle players.
Bears CEO Ted Phillips:
"After discussions with both Jerry [Angelo], Lovie [Smith] and ownership, the conclusion was that Jerry and Lovie still know what it takes to win. They both brought us a championship-contending team. They did it together. There are aware of the mistakes that were made, and they're welcoming change."
Phillips:
"We expect to win now in 2010. This isn't a long-term project in my eyes."
Phillips:
"It has not crossed my mind that we are rewarding mediocrity. We're frustrated like everyone else is, and we're making changes. The changes that are being made now are not insignificant."
Phillips:
"I met with Virginia [McCaskey] and Michael [McCaskey] on the ownership side of things."
[+] Enlarge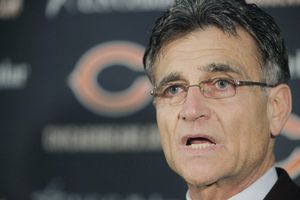 AP Photo/M. Spencer GreenBears GM Jerry Angelo on Tuesday denied talking to any potential "big name" coaches.
Bears general manager Jerry Angelo:
"We're in a business of evolvement. You have to evolve. There is no more status quo in our league. The one thing I'm becoming more and more clear in my own mind (about), is that you have to stay ahead of the curve. You can lay the best plan on paper coming in, and I thought our plan coming in was a very good plan looking at the additions versus the subtractions. I look back at it, there really isn't anything I would have changed, and I'm not saying that trying to be obstinate or defending anything we did. I would make those same decisions going forward if they were presented to me. But they didn't work. That's obvious."
Angelo:
" I myself did not talk to anybody (potential big-name head coaches) personally."
Angelo:
"There were games this year that were over by halftime. A big part of it was our defense. I'm concerned about that. We have issues that we have to deal with on defense. Scheme, personnel, yes, we don't have as many dominating players on defense to do the things we did in past years."
Angelo:
"Nobody has 100 percent the answer. There are no guarantees on everything. Everything evolves. These are decisions. There's a lot of gray in these decisions. You have opinions. If you were held accountable, some of you, on some of the opinions you give, you wouldn't have a crayon in your hand."
Bears head coach Lovie Smith:
"I'm excited to remain in my position as head football coach of the Chicago Bears. I think I'm remaining in the position because ownership, administration, the powers-to-be have confidence that we can get the Bears back on top."
Smith:
"A lot is being placed on the [defensive] scheme. Every team in the league plays Cover 2, we're basically all playing the same thing. It's gap control. That's what defense is. The person (new defensive coordinator) coming in, I would like for him to have some of the similar beliefs that I have."
Smith:
"We've been in a position where we've won with the things (defensive scheme) we believe in. So why can't we get back? We can."
Smith:
"There were times during the year where I said to myself, I wish I had someone else in this role (defensive coordinator) so I can concentrate on a couple of other things."