Chicago Bears:

Terrell Owens
May, 20, 2014
May 20
3:49
PM ET
The likelihood of
Brandon Marshall
eclipsing Hall of Famer Cris Carter's receiving milestones boils down to one simple question: Can Marshall maintain his current level of production over the next four to five years?
Over eight seasons with Chicago, Miami and Denver, Marshall has averaged 89 catches for 1,131 yards and seven touchdowns per year, for a career total of 712 receptions for 9,050 yards and 57 touchdowns.
Marshall

Carter
Carter finished his 16-year NFL career with 1,101 receptions for 13,899 yards and 130 touchdowns.
There is little chance Marshall will break Carter's touchdown mark, but the Bears wideout only needs 389 catches and 4,849 receiving yards to pass Carter on the list of the all-time NFL receivers.
That is doable. In fact, Marshall actually has more receptions, yards and touchdowns than Carter did in his first eight years, according to ESPN Stats & Information, but Carter managed to last an impressive 16 seasons in the league.
Marshall, 30, stated on ESPN 1000's "Carmen and Jurko Show" on Tuesday that he's focused on playing 14 seasons until he reaches the age of 36. But even if Marshall ends his career two years before Carter ended his, the evidence suggests Marshall can finish with more receptions and receiving yards.
First of all, Marshall has been extremely durable, missing just six regular season games over eight years, despite undergoing three hip surgeries.
Secondly, he's been reunited with his old Denver quarterback,
Jay Cutler
, in Chicago, and the results speak for themselves. In only two seasons with the Bears, Marshall has caught 218 passes for 2,803 yards and 23 touchdowns.
An argument can be made that Marshall was the Bears' only target on offense in 2012 and therefore put up some of those numbers by default, but the Bears were flush at talent at the skill positions last year (
Matt Forte
,
Alshon Jeffery
and
Martellus Bennett
) and Marshall still managed to have another Pro Bowl year and record his fifth 100-plus catch season -- Marshall is the only player in NFL history to catch 100 balls for two different teams (Bears and Broncos).
With Marshall (four years, $40 million) and Cutler (seven years, $126.7 million) both under contract for the foreseeable future, Marshall can theoretically expect to play with his favorite quarterback for possibly the rest of his career, a luxury few wide receivers are afforded.
Thirdly, while statistical evidence suggests running backs fall off a cliff in terms of production when they hit a certain age, wide receivers have been known to flourish deep into their 30s.
One of the best recent examples of this phenomenon is
Terrell Owens
, who topped the 1,000-receiving yard mark five times after turning 30 and continued to be a productive player up until he left the league at age 37.
October, 26, 2011
10/26/11
1:16
PM ET
The Lions suddenly aren't so formidable and the Bears get them soon for a rematch at Soldier Field. The NFC West is too feeble to yield a wild-card team, and the NFC East has four pretty evenly matched teams that after beating up on one another will leave just one playoff team standing. And the Bears already have a leg up on Tampa Bay and Atlanta, having beaten both. With the first half of the NFL season just about done the Bears are in as good a position as anybody in the NFC, except the undefeated Green Bay Packers.
Read the entire column.
October, 25, 2011
10/25/11
12:43
PM ET
Scratch the
Chicago Bears
from Terrell Owens' potential list of suitors.
The team won't have any representatives at the six-time Pro Bowler's workout on Tuesday, according to a source with knowledge of the situation.
[+] Enlarge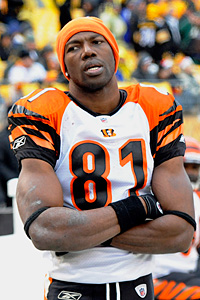 AP Photo/Don WrightTerrell Owens, 37, hopes to sign with an NFL team, but the Bears don't appear to be interested.
A former 49er, Eagle, Cowboy, Bill and Bengal, Owens, 37, reportedly plans to hold a workout in Southern California in front of media and NFL scouts to draw the potential interest of teams looking to add a receiver. Agent Drew Rosenhaus said last week that Owens is fully recovered from ACL surgery conducted in April and is ready to play.
But the source expected there "to be more media than NFL teams there."
While Chicago's receiving corps hasn't exactly lit up opponents over the first seven games, the team's brass continues to express optimism regarding the group's progress. Running back
Matt Forte
leads the Bears in receptions and yardage (38 catches for 419 yards), but three receivers --
Devin Hester
,
Johnny Knox
, and
Dane Sanzenbacher
-- sit around the 20-catch range, while new acquisition
Roy Williams
(four catches for 59 yards and a touchdown against the Buccaneers) appears to be developing some chemistry with quarterback
Jay Cutler
.
Cutler reiterated last week that a No.1 receiver isn't a requirement in the team's offense, and general manager Jerry Angelo has expressed the same sentiment on numerous occasions.
Cutler added that a new receiver joining the team this late in the season might make for too difficult of an adjustment period in Mike Martz's complicated passing scheme.
Owens plans to run routes Tuesday and participate in agility drills, and told ESPN earlier this month he expects to "be even better next year."
Owens has caught 1,078 passes for 15,934 yards and 153 touchdowns, and ranks No. 2 in all-time receiving yards. He is tied at No. 2 with recently-retired
Randy Moss
in TDs.
Last season, Owens gained 983 yards receiving and nine touchdowns with the
Cincinnati Bengals
.
January, 12, 2011
1/12/11
8:49
AM ET
While oddsmakers don't seem convinced that the Seattle Seahawks have much of a chance Sunday in an NFC divisional playoff game against the Chicago Bears, Terrell Owens likes the long shot.
Read the entire story.
July, 23, 2010
7/23/10
3:32
PM ET
[+] Enlarge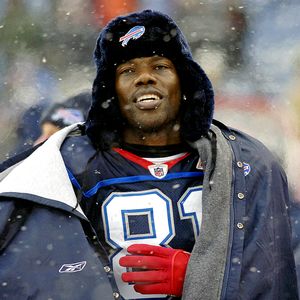 AP Photo/Don HeupelTerrell Owens could either help a group of young Bears receiver or disrupt team chemistry.
Subject: Should the Bears acquire Terrell Owens?


Dickerson's point: The Bears don't need T.O.


Statistics say the Bears should sign Terrell Owens.


Common sense dictates otherwise.


Owens' on-field accomplishments over the course of his 14-year NFL career can't be disputed, but neither can the receiver's selfish, me-first attitude, which caused well-documented friction in San Francisco, Philadelphia, Dallas and Buffalo. We should point out all great wide receivers possess that prima donna gene, but at 36 years old, is the juice really worth the squeeze at this point?


One of the great unknowns for the Bears is how this team responds to adversity. Let's face it, enormous egos occupy key positions on the offense, and how they manage to coexist could determine the fate of this current regime. Adding Owens to the mix of an already potentially volatile cocktail would be foolish. What happens if just a few passes are thrown his way the first week? How long until he's performing shirtless sit-ups on the driveway leading up to Halas Hall? The last thing the Bears need are more distractions in the locker room. We've seen certain personal agendas sabotage the collective group at times in the post-Super Bowl era, which ironically, hasn't included a single postseason berth. For Lovie Smith to survive another campaign, everybody needs to be pulling on the same end of the rope.


Hindsight is always 20/20, but the Bears should've added a veteran wide receiver for the purposes of helping younger and inexperienced wideouts digest the complex Mike Martz offense. Despite what the Bears have tried to sell this offseason, the receivers are still a major question mark heading into camp.


But they'd still be better off if Owens took his tired act someplace else.


Wright's counterpoint: Put yourself in the positions of Lovie Smith and Jerry Angelo. Your job's on the line, depending on how this season pans out. The onus seems to be win games at all costs.


Given the complexities of Mike Martz's offense scheme, coupled with the personnel on hand, Smith and Angelo would be selling the team short -- especially if Owens can be acquired at a bargain-basement price -- by not seriously considering the receiver as an addition. Truth be told, T.O. isn't T.O. anymore. He's lost it somewhat.


But let's take a closer look.


His 55-catch output in 2009 ranks as the lowest of Owens' career, since 2005, when he caught 47 passes in a season shortened by nine games because he was suspended by the Eagles. In Chicago, however, 55 catches would more than do the job.


With Devin Hester and Johnny Knox entrenched as the No. 1 and No. 2 receivers for the Bears, Owens would come in as the No. 3 receiver, and line up primarily in the slot. For all the publicity Chicago's young receiving corps has garnered this offseason, the reality is the group isn't exactly proven. Owens is.


Because of the blazing speed possessed by Hester and Knox -- who aren't exactly polished route runners -- opponents would have to account for them in coverage, which would open things up in the middle for Owens and tight end Greg Olsen to do damage. During the height of Martz's "Greatest Show on Turf" days in St. Louis, slot receiver Az-Zahir Hakim caught 36, 53, and 39 passes from 1999 to 2001. Possessing as good if not better run-after-catch skills as Hakim -- even at age 36 -- Owens would surpass that production and put the Bears offense over the top, while giving Cutler a big, dangerous target (security) underneath, in addition to a mentor (most of Owen's former teammates swear by him) to the team's young receivers.


If my job's on the line like Smith's and Angelo's, I'm all over Owens. Dealing with any headaches he might bring to the table seems a small price, when pondering the potential for a pink slip at season's end if things don't go as planned.

June, 15, 2010
6/15/10
11:52
AM ET
By
Michael Wright
| ESPNChicago.com
[+] Enlarge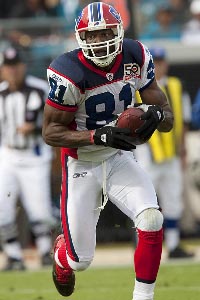 Michael DeHoog/Getty ImagesThere are some pros and cons when considering Terrell Owens for the Bears.
I've been a Bears fan forever. I am just wondering why the Bears aren't jumping on the opportunity to sign Terrell Owens? He will take all the attention away from Devin Hester and open the run game. Do I need to work in the front office? -- Manny, Colorado Springs


Keep your resume safe at home. The Bears aren't the only ones not 'jumping at the opportunity' to sign Terrell Owens. At this time of the year, when teams have spent the bulk of the cash allotted for free-agent acquisitions, a player such as Owens (who is seeking substantially more than the veteran minimum) just doesn't fit. Throw in his reputation, which probably isn't deserved; the potential for him to become a distraction -- the Bears don't handle distractions well; the fact such a situation could prove highly detrimental to the growth of the club's young receivers; and his age – 36 -- as factors explaining why teams haven't shown significant interest in the receiver. Owens appears to be primed to join a team at some point during training camp as a stop-gap measure because of injury.


With that said, I'm somewhat in agreement with you. Why not take a chance? Lovie Smith's job appears to be on the line, so if I'm in that situation, I'm doing everything I can to win games. At the same time, money would be a huge factor in acquiring Owens. I seriously doubt Owens would play for the veteran minimum, and that's likely all the Bears are willing to pay.


How comfortable are you with Mark Anderson starting opposite of Julius Peppers? I would have loved to have seen Adewale Ogunleye and Peppers together. -- Joe, Sacramento, Calif.


Joe, I could tell you how Julius Peppers would draw lots of attention lining up opposite Anderson, which would free him up to do his thing on the other side. But let's be real: Anderson hasn't been a significant factor since his 12-sack rookie season. So I'm somewhat skeptical at this point.


That's not to say the potential doesn't exist for Anderson -- if he wins the starting job -- to make plenty of noise playing opposite Peppers this season. But that potential currently exists on paper. I need to see it on the field. In the three years since his rookie season, Anderson has produced just 9 ½ sacks, but flashed glimpses last season of his rookie year. Even if Anderson becomes the starter, you should expect to see plenty of Israel Idonije at that spot, too. Rookie Corey Wootton could also earn his way into the rotation.


Jeff, O.J Atogwe, one of the top safeties in the NFL, is in free agency. Bears need safeties, so should we, or should we not sign him and why? -- Henry, Chicago


Henry, it's my week to do the Bears mailbag, but I'm sure Jeff would agree with me on this one. Atogwe's pricetag at this point appears to be too high for the Bears, who are at their spending limit, in regards to adding new talent.


In addition, based on what's happened so far, the Bears would be reluctant to disrupt the strides they've made at the position this offseason. To me, the club trading to bring back Chris Harris and drafting Major Wright indicated it wasn't interested in adding a high-priced free agent at safety. Atogwe has intercepted 18 passes over the past four seasons, in addition to breaking up 29, and he played a role in a league-leading 41 takeaways. So adding him would seem to be a no-brainer. The problem though is that even without a salary cap going into the season, the Bears aren't willing to spend the cash.



Do you think that Devin Aromashodu has a chance to start at wideout? -- Abdul, Chicago


I do. Apparently the Bears don't. Offensive coordinator Mike Martz has already said that Devin Hester and Johnny Knox are the starters, while adding that Aromashodu "has stepped it up quite a bit … we're trying to see what he can do with getting him the ball a little bit more."


So at some point, Aromashodu could possibly land a starter's role. But it appears Aromashodu will go into training camp as the No. 3. I'll say this: Aromashodu is more polished overall as a receiver than Hester and Knox. Yeah, I said that.



Could you see Juaquin Iglesias supplanting Earl Bennett on the depth chart since both are very similar in terms of skills? -- Dominque, Phoenix


It's a possibility, but I don't see it happening. Did you know that Bennett led the team last season in receptions for gains of 20 yards or more (15)? I'm not sure you can disregard that big-play ability. Besides that, Iglesias has played in only one NFL game and still hasn't caught a pass. You talk about them being very similar in terms of skills. The difference is that Bennett has proven himself against NFL competition. Iglesias hasn't.


[+] Enlarge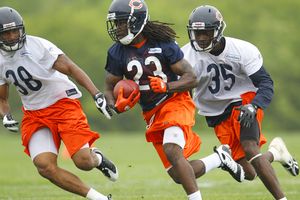 AP Photo/Nam Y. HuhDevin Hester's role as a receiver remains a hot topic of debate.
I think it was interesting that Mike Martz thought Hester would have a limited role as a receiver when he was first hired as the Bears offensive coordinator. As a Bears fan, I thought Martz was absolutely right. We already seem to have three other solid receiving options in the other Devin (I'm not even gonna attempt to spell his last name), Bennett and Knox. Why not let Hester return to being the best return specialist of all time, and limit his playing time at receiver to 15-20 snaps a game in the slot? Lovie Smith was quick to assert Hester would be the "No. 1 receiver" again this year when it's obvious the other Devin has developed the chemistry with Cutler to fill that void. Is the reluctance to give up on the Hester receiver experiment simply a financially driven decision? -- Randy, Silver Spring, Md.


Randy, I'd say you answered your own questions. At the same time, Hester is such a dynamic playmaker that you want to get the ball into his hands as much as possible, whether that's in the return game or as a receiver. With what the Bears are paying him, sure the club wants to squeeze the most it can out of its financial investment. Hester is scheduled to make $750,000 in base salary this season. But the contract extension he signed in 2008 maxes out at $40 million if he hits performance-based escalators, which are directly tied to him reaching the performance levels of a No. 1 receiver over the course of the deal. In fact, if Hester fails to perform like a No. 1 receiver, his bonus money de-escalates to account for that.



Is Tommie Harris healthy as of now? -- Brian, Memphis, Tenn.


Brian, he says he is. At minicamp, you could see almost a sense of relief on his face when discussing the situation. Harris said that one of the major plusses of being completely healthy for the first time in recent memory comes in the confidence department. Harris said his confidence is built out on the practice field. But in the past, he wasn't able to work out with the team, which always gave him a sense of uncertainty about whether his body would hold up during the season. "So it always felt weird [to be recovering from an injury or surgery nearly every year]," he said. "I feel really good, man compared to last year where I really didn't know what would happen. I'd come out, go to rehab, and do all the other stuff and just hope that everything is gonna turn out well. The grass is a lot different than a treadmill. Football is just one of those sports where you can't come out here and think what you did in the training room is gonna translate."


May, 25, 2010
5/25/10
12:25
PM ET