Chicago Bears:

Thomas Jones
December, 1, 2011
12/01/11
2:38
PM ET
LAKE FOREST, Ill. -- For a three-year stretch from 2004-2006,
Thomas Jones
was the heart and soul of a
Chicago Bears
' offense that helped a stellar defense pave the way to back-to-back division titles and a trip to Super Bowl XLI.
[+] Enlarge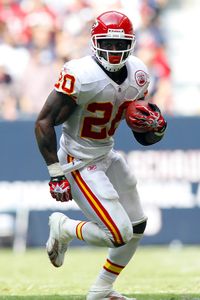 Brett Davis/US PresswireThomas Jones, 33, is splitting time with Dexter McCluster and Jackie Battle in the Chiefs' backfield.
A ferocious competitor on the field, Jones posted two consecutive 1,000-yard rushing seasons for the Bears before being shipped off to the
New York Jets
before the 2007 campaign. As a member of the Jets, Jones continued his torrid pace and reached the 1,000-yard mark three straight times, including monster years in 2008 and 2009 when he scored a combined 27 rushing touchdowns.
Now in his second year with the
Kansas City Chiefs
, Jones, 33, is no longer a featured runner in Todd Haley's offense. Even with Chief's star rusher
Jamaal Charles
on injured reserve, Jones is splitting time with
Dexter McCluster
and
Jackie Battle
.
Regardless of how the Chiefs' depth chart looks, Bears defenders are taking Jones very seriously as they prepare to battle Kansas City on Sunday at Soldier Field.
"He's just a great professional," Bears defensive end
Israel Idonije
said on Thursday. "He brought a lot of value through his leadership and the way he kind of rallied the guys and brought everybody together. He's one of those guys who elevates everybody around him. You know he's going to get in and play hard, and run, he looks good on film. He's a talented guy, so it'll be fun to go up against him."
"He's one of those throwback players. He's a tough guy. He just comes to work and handle his business. He comes to work all the time, works hard and then shows up on Sunday and runs like a monster."
Jones has 10,402 career rushing yards, and is one of only two active players (
LaDainian Tomlinson
) to have reached the 10,000-yard mark.
"He was great, I loved Thomas when he was here," Bears middle linebacker
Brian Urlacher
said. "He was also [NFL] class of 2000, so we were drafted in the same year. I think he was the No. 7 pick [of the
Arizona Cardinals
] and I was No. 9, so it's good to see him still in the league doing well.
"He was a great teammate and had some good times when we went to the Super Bowl when he was here. He's been doing well since he left. He's a good guy, good teammate and I still talk to him here and there. I've never played against him in 12 years, so it'll be fun playing against him."
Jones had 13 carries for 37 yards in the Chief's 13-9 loss to the
Pittsburgh Steelers
on Sunday night.
March, 30, 2010
3/30/10
1:25
PM ET
[+] Enlarge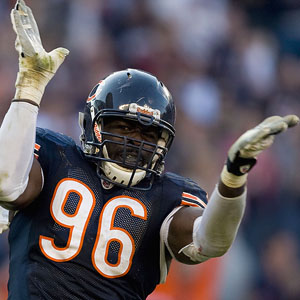 Dilip Vishwanat/Getty ImagesAlex Brown isn't a superstar, but he has been the Bears' most consistent pass rusher the past few seasons.
Q: Jeff, What is wrong with Jerry Angelo and the Bears? Just when I start to like Angelo, he pulls a move like this and gets rid of Alex Brown. I'd like your thoughts on this decision, and how much you think this will hurt the defense going forward. -- Roy S., El Paso, Texas
A:
My response is simple; it's a bad idea motivated solely by money. The defense doesn't get better without Brown, and I question any move that hurts the product on the field. Let's not kid ourselves, Brown wasn't a super-elite defensive end, but he came to play every single down, every single week, every single season. Do you know how many games Brown has missed during his NFL career? One. That absence occurred Sept. 8, 2002, the first week of Brown's rookie season. I've seen the guy play through countless injuries, and play at a high level, even though his sack totals weren't eye popping.
Frankly, I'm tired of seeing certain members of this defensive line only show up when they feel like it. Leaders like Brown and
Anthony Adams
brought/bring a type of professionalism and work ethic that has been missing from others in the post-Super Bowl years. Brown's departure in no way sinks the Bears season, but if the
Thomas Jones
trade taught us anything, it's that moving aside a proven, respected veteran isn't always the best decision. Teams like the
New England Patriots
and
Pittsburgh Steelers
can get away with it because they draft so well every year. The Bears on the other hand, are not the Patriots or Steelers.
Q: JD, this is kind of a follow up to Alex Brown being shipped out. I've read a lot of reports stating Henry Melton could be a starter next year. Is that true? Could Melton ease a loss of Brown? -- Paul, Downers Grove, Ill.
A:
This question needs to be answered in two parts. First, reports indicating the Bears -- especially Lovie Smith -- are fans of Melton are accurate. He has clearly shown them something since last fall that has the Bears convinced the former fourth-round pick can be a major contributor. However, I have to point out that I saw little from Melton last summer before he was placed on injured reserve. Maybe I was suffering from my annual case of Bourbonnais malaise, but I swore Melton was getting routinely pushed around by former Bears tight end
Fontel Mines
during practice. When I say pushed around, I mean being driven back like 7 yards, by Mines of all people -- no disrespect to Fontel.
So when I hear about these grandiose plans to move Melton inside to tackle, I have to wonder how he will hold up against bigger, stronger offensive guards. All that being said, I try to give every young player the benefit of the doubt, and I'll do the same with Melton. If the defense can get solid contributions from Melton and fellow second-year player
Jarron Gilbert
, then yes, that could ease the loss of Brown. But right now, that's kind of a big 'if'.
Q: All of you reporters keep hinting that Pisa Tinoisamoa is coming back to the Bears, but it hasn't happened. Why not? -- Morgan, Tinley Park, Ill.
A:
I'm actually surprised we haven't heard more teams around the league expressing interest in Tinoisamoa. Maybe there are questions about his durability -- he only played in two games last season -- but there shouldn't be any issues surrounding his ability. I know Bears fans didn't get a chance to see Tinoisamoa much in 2009, but trust me, this guy can play, and would be a valuable asset for the Bears this season. If you read this blog you know I'm very high on
Nick Roach
, who can do everything on the field. But bringing back Tinoisamoa only strengthens both the defense and special teams. The Bears already made Tinoisamoa a contract offer before the regular season ended, so hopefully it's just a matter of time before he's back in the fold.
Q: You clearly don't have a clue about talent evaluation if you don't consider Kevin Payne the best safety on the roster. Craig Steltz, Josh Bullocks, are you joking? Payne is the best of the group and should be a starter again next season. -- Chris, Little Rock, Ark.
A:
Payne is the best hitter of the bunch, but has limited coverage skills. There was a time in 2007 when I though Payne was going to be a star, but when he was moved to free safety, things sort of fell apart. He brings the hammer, but that's about it. Bullocks is probably the best safety on the roster, which really isn't saying much, and only illustrates how badly the Bears need to upgrade the position.
Danieal Manning
is the only guy who can cover, but he's been moved around so much it's tough to forecast his role. If you could combine Manning's speed with Payne's toughness in the box, you'd have one great safety. But this isn't a science project, it's football, so the Bears are going to have to go out and find safeties they can trust to tackle and cover. Finding the right parts is easier said than done, but it's imperative Lovie Smith finally gets some continuity at the position.
Q: I saw that Greg Olsen showed up Monday and seems to be happy, what does this mean now for other tight ends on the roster? -- Danny, Joliet, Ill.
A:
Olsen and
Brandon Manumaleuna
are locks to make the team, so if the Bears decide to only keep three tight ends, the decision comes down to
Desmond Clark
or
Kellen Davis
. If the Bears keep the best three tight ends, Clark is on the roster, but the NFL doesn't always work that way. Right now, I don't know what role Clark fills in Mike Martz's offense, and until some clarity is provided on the subject, it's safe to assume his status is shaky at best. It does seem silly the Bears would cut Clark after paying his roster bonus, but maybe the front office wanted to see how the whole Olsen thing played out before making any final determinations. If the Bears release Clark, I wouldn't expect him to stay unemployed for long, especially since ex-Bears tight ends coach Rob Boras landed in Jacksonville. Don't be surprised if the Jaguars express interest in Clark if he hits the street.
February, 4, 2010
2/04/10
1:01
PM ET
FT. LAUDERDALE, Fla. -- A different challenge faces the
Indianapolis Colts
' defense in this South Florida Super Bowl.
"The Bears, they had
Thomas Jones
and
Cedric Benson
that were running the ball," Colts safety
Antoine Bethea
said. "This week, this time, we have to prepare for
Drew Brees
and that passing sector that they have. Not to disregard the running back that they have [
Matt Forte
], they do have a great running game. They've got real good balance. It's going to be a good chance for our defense and no better showcase to see it rather than in the Super Bowl."
The Colts benefited from five Bears turnovers back in Super Bowl XLI, as
Rex Grossman
threw for just 165 yards and a pair of interceptions. Something tells me Brees will be a little more efficient than Grossman was three years ago.
December, 17, 2009
12/17/09
2:02
PM ET
LAKE FOREST, Ill. -- On Wednesday,
Devin Hester
hinted at future changes that will sweep through Halas Hall. On Thursday, Bears linebacker
Lance Briggs
openly discussed prior changes made by the front office since the 2006 Super Bowl season.
"You miss some of those guys when you don't have them, and sometimes you realize what you have when it's not there anymore, or what you could of had when it's not there anymore," Briggs said. "There are things that I do miss about some of those players ... even guys like
Ian Scott
,
Mike Brown
,
Chris Harris
,
Thomas Jones
...
John Tait
...
Ruben Brown
... I can go down the line.
"The thing is, you know in football nothing lasts forever, and who's to say if those guys were with us today that we would be successful.
"You think about a (former defensive coordinator) Ron Rivera, you think about a lot of these guys that were here."
Briggs wasn't the only veteran to cite former teammates while discussing a third consecutive sub-par season. Bears tight end
Desmond Clark
echoed the sentiments made by Briggs, and even added a few of his own names to the growing list of ex-Bears.
"You look back at some of those players who aren't here, three of them pop out right now," Clark said. "You look at Thomas Jones,
Muhsin Muhammad
and
Bernard Berrian
. Three of our big-time playmakers that were here. You look at a guy like John Tait ... who was a big part of the offensive line. Ruben Brown, who was a big part of the offensive line.
"Those five guys right there, were a big part of this team, and leaders on this team. When you take that into account, we have a whole different make-up. We're just not playing as well as we played in 2006 as a unit."
However, defensive end
Adewale Ogunleye
shot down the theory, refusing to blame the team struggles on poor personnel decisions made the past three years.
"Me and Lance, we don't agree on everything," Ogunleye said. "Every year you've got a different opportunity, and a different chance to win. Definitely, we are missing some guys from this year. I don't even look in the past, if we had Brian [Urlacher], if Pisa [Tinoisamoa] would have stayed healthy, what would that have done for our defense. We don't know. But to look back, and to think about guys on other teams and think about what they would have done for us, I don't think that's a great way to think."