Chicago Bears:

Tim Masthay
September, 14, 2012
9/14/12
1:00
PM ET
After the Green Bay Packers' 23-10 win over the Chicago Bears, here are three issues that merit further examination:
ESPN.com

The Packers' first touchdown came on a fake field goal that got lost in the postgame shuffle Thursday night, at least on this blog. So let's first note how gutsy the call was considering it came on fourth-and-26 from the Bears' 27-yard line. The play essentially had to score to work; the Bears would have taken over if reserve tight end Tom Crabtree had been stopped outside of the 1-yard line. "That's like the call of the year," cornerback Tramon Williams said. "Fourth-and-26? You would never think anyone would go for that. You've got Tom Crabtree and you give the ball to him to get 26 yards? You never think that would happen again." Coach Mike McCarthy said the Packers have been waiting "two or three years" for the Bears to give them an alignment that would make the play work. To me, the first key was that Bears cornerback Charles Tillman -- aligned over Crabtree on the left side of the Packers' formation -- chased place-kicker Mason Crosby away from the play for several steps. That gave Crabtree some separation to catch holder Tim Masthay's pitch and get a head of steam.

There are many ways to determine the motivation for a fake field goal. Did the Bears simply provide a once-in-a-lifetime look the Packers knew they could capitalize on? Was McCarthy pulling out all the proverbial stops to avoid going 0-2? Or was it, at least in part, an acknowledgment that the Packers' offense left them needing to find alternative ways to score touchdowns? I think an argument could be made for the latter motivation. We noted last week the sharp decrease in the Packers' explosiveness and wondered what adjustment they would make. We got at least a one-game answer Thursday night: With Greg Jennings (groin) sidelined and the Bears aligned to take away the deep pass, the Packers powered down and emphasized their running game along with their short(er) passing game. They ran 25 running plays, nearly tripling their Week 1 attempts, and were rewarded when tailback Cedric Benson (81 yards on 20 carries) got warmed up and began churning up yardage. The longest pass quarterback Aaron Rodgers completed was a 26-yard touchdown to receiver Donald Driver, and their longest play overall was Randall Cobb's 28-yard run off a pitch play. Overall, the Packers averaged 4.9 yards on 66 plays, holding the ball for 32 minutes, 11 seconds. It was a very Black and Blue approach in what we once thought was the Air and Space division.

As we discussed Thursday afternoon, the Packers weren't dumb enough to take up quarterback Jay Cutler on his offer to press receivers Brandon Marshall and Alshon Jeffery. Instead, they played man-to-man coverage with Williams, Sam Shields, Charles Woodson and rookie Casey Hayward with two safeties -- Morgan Burnett and another rookie, Jerron McMillian -- stationed deep. Williams turned in an awesome performance on Marshall, and afterwards reiterated his approach to playing big receivers. "With a guy that size," Williams said, "you can't be too physical on him. That's what he wants. He'll beat you most of the time. I didn't give him that."
And here is one issue I still don't get:
Did the Packers settle their defensive rotation Thursday night or add a level of intrigue? Shields (60 snaps, according to Pro Football Focus) and Hayward (24) appeared to leapfrog Jarrett Bush on the cornerback depth chart. And McMillian (44 snaps) has jumped ahead of M.D. Jennings at safety. On the other hand, the Packers rotated veteran linebacker Erik Walden (36 snaps) with rookie Nick Perry (20), and Walden's active (half sack, two quarterback hits) probably played a role in Clay Matthews' 3.5-sack outburst. Rookie Dezman Moses also got 19 snaps. My guess is the Packers would like to establish some consistency at defensive back but could use their linebackers more to match with specific aspects of opponents. In all, it should be noted that the Packers got substantive contributions from five defensive rookies Thursday night: Perry (three hurries, via PFF), Hayward, McMillian, Moses (two hurries) and defensive lineman Jerel Worthy (sack, two quarterback hits). "We've got a good group of young talent," Matthews said.
February, 7, 2012
2/07/12
3:33
PM ET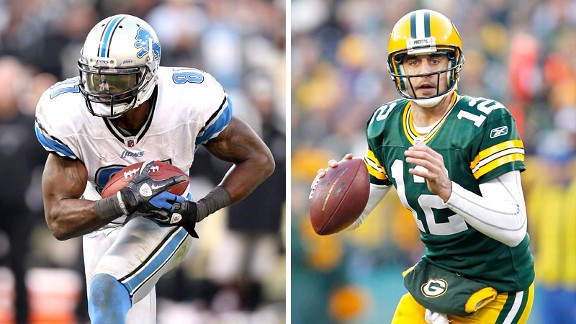 Getty ImagesCalvin Johnson, left, and Aaron Rodgers were easy picks for the All-NFC North team.
It took longer than expected. Preliminary decisions were questioned. Debates extended into the wee hours. We went through a first draft, then a second and even a third. Countless observers were consulted. It wasn't until I had a full week to
mull the 2011 All-NFC North team
that I was prepared to make the big reveal.
Via Twitter,
@jpberthiaume
asked: "Do people really care about these 'teams?'" I guess it's a fair point. I doubt few, if any, of the players listed in the chart wrote a fifth-grade essay about their plans to one day make the All-NFC North team on ESPN.com, even if it was only because the NFC North hadn't yet been formed in those days and ESPN.com was operating out of a Bristol-based closet.
So I'll let you be the judge. This is annually a fun exercise, even if it doesn't lead to a deep understanding of the human condition or even reveal any breakthroughs about the just-completed season. If nothing else, it offers us a blank template to recognize the best-performing players in the division without the hindrance of the politics and reputation.
Some notes on some of the tight decisions, for which I seriously received input from multiple angles:
One of the fiercest debates came at wide receiver. Everyone agreed that the Detroit Lions' Calvin Johnson deserved one spot, but there was a split about the other two. Did the Green Bay Packers' Greg Jennings, who missed three games because of a knee injury, deserve an automatic bid? And if he did, should the Packers' Jordy Nelson or the Minnesota Vikings' Percy Harvin get the third spot? I thought Jennings' 67 receptions, 949 yards and nine touchdowns in 13 games merited a spot. And ultimately I chose Nelson over Harvin. I realize Harvin caught 87 passes in a punchless offense and added 345 rushing yards to his total, but in the end I couldn't overlook a player who scored more touchdowns (15) than all but four players in the NFL this season. Plus, as Hatterbot pointed out: "Rushing yards don't count in the WR category."

I went with the Lions' Rob Sims at left guard in part on the advice of John McTigue of ESPN Stats & Information, who noted that Sims was the only NFC North left guard to play the position for 16 games this season. Sims also had the best pass-sack ratio (19.7 passes per sack) of the group, based on video study.

There is no doubt that the Lions' Brandon Pettigrew (83 catches) had a more productive season than the Packers' Jermichael Finley (55). But the Lions often used Pettigrew as a substitute for their punchless running game, and that's why his per-catch average of 9.4 yards was lower than any other tight end with at least 30 catches. According to ESPN Stats & Information, the average pass to Pettigrew this season traveled 6.5 yards in the air. The average pass to Finley traveled 11.4 yards. Finley caught five passes of at least 30 yards. Pettigrew's longest was 27. Both players had their share of drops, combining for a total of 15, but I thought Finley made a bigger impact on his catches than Pettigrew did.

I really debated the Bears' Julius Peppers and the Lions' Cliff Avril at defensive end. Avril (11.5) had a half-sack more than Peppers (11) and forced twice as many fumbles. But one of the advantages we have on this team is investigating beyond the conventional numbers. Our friends at Pro Football Focus (PFF) credited Peppers with 53 quarterback pressures, the second-highest total in the NFL. Avril ranked No. 8 with 37, but in a close race I chose the maximum number of plays impacted over Avril's slight edge in "playmaking" statistics.

I used a similar approach in choosing the Vikings' Kevin Williams and the Lions' Ndamukong Suh as my defensive tackles. It's true that the Bears' Henry Melton led the NFC North's defensive tackles with seven pressures, but PFF had Suh with 27 quarterback pressures, an NFL high for an interior lineman. Williams tied for No. 3 with 25. Melton wasn't that far behind at 23, but I also took into account that the Bears nearly benched him for inconsistency at one point in the season. (Coach Lovie Smith in November: "He hasn't showed up as much. Whether teams have adjusted to him or whatever, we need to get more production from him because he's capable of it.") Meanwhile, I thought Packers defensive lineman B.J. Raji took a step backward in 2011. PFF credited him with only 10 stops (the cumulative number of plays made that constitute an offensive failure) in 842 snaps.

If you want to say I chickened out at linebacker, go ahead. I originally left open the middle and one of the outside spots, but in the end I went with our division standbys: Brian Urlacher and Lance Briggs. For starters, Briggs was one of six non-offensive linemen to play 100 percent of his team's snaps in the NFL this season. There's something to be said for being available to your team. And while I do think that the Packers' Desmond Bishop and the Lions' Stephen Tulloch had good seasons, I couldn't find a statistic or an opinion that convinced me they were better than Urlacher. Someday, there will be turnover among NFC North linebackers. But it didn't happen this season.

Safety play was poor throughout the NFC North, so I'm not at all ashamed to have chosen a third cornerback to replace one of the safeties on this team. It came down to the Lions' Chris Houston and the Packers' Tramon Williams. Both had their ups and downs in coverage. Houston had five interceptions and two touchdowns in 14 games, while Williams had four interceptions and one touchdown in 15 games. In the end, I chose Williams because I think it was pretty clear he was pushing through a really limiting shoulder injury for much of the first half of the season.

I chose the Packers' specialists, kicker Mason Crosby and punter Tim Masthay. Crosby converted 24 of 28 kicks, including a 58-yarder, and ranked third in the NFL with 49 touchbacks. Masthay downed a division-high 23 punts inside the 20-yard line despite a division-low 55 punts.

I mistakenly left off a coverage specialist from our original post. There should be no debating that the Bears' Corey Graham deserves that spot.

Go ahead. Rip away....
Coming later this week:
Some supplementary NFC North awards, including our top coordinators.
September, 23, 2011
9/23/11
4:27
PM ET
We're Black and Blue All Over:
Here's something that might catch you by surprise: Green Bay Packers receiver Jordy Nelson is on an extraordinarily productive run dating back to Week 16 of last season.

As
Tyler Dunne of the Milwaukee Journal Sentinel
notes, Nelson has caught 34 passes for 610 yards and five touchdowns over the Packers' past eight games, including the playoffs. Greg Jennings is the only receiver who has caught more passes for more yards over that span, but Nelson has him beat by a touchdown.
Consider this development another example of where the Packers' purported starting lineup doesn't necessarily correlate to playing time or production. Already, backup tailback James Starks is getting substantially more playing time than starter Ryan Grant. And by the numbers, at least, Nelson is the Packers' No. 2 receiver next to Jennings.
Nelson isn't getting more playing time than other receivers; according to Dunne, he was on the field for 33 of 58 plays last Sunday against the Carolina Panthers. But he is capitalizing on the opportunities he does get, and opposing defenses would be well advised to catch on.
Continuing around the NFC North: