Chicago Bears:

Tyler Thigpen
January, 29, 2013
1/29/13
11:28
AM ET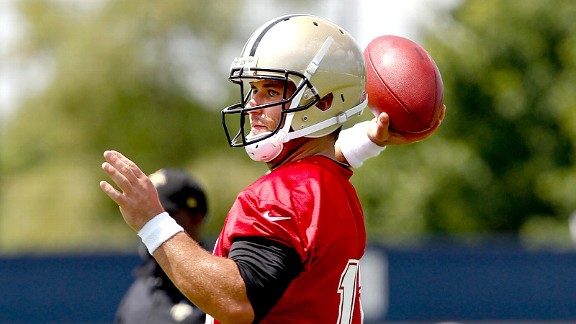 Derick E. Hingle/US PresswireNew Bears offensive coordinator and offensive line coach Aaron Kromer is familiar with Saints backup QB Chase Daniel.
There are two
Chicago Bears
quarterbacks under contract:
Jay Cutler
and Matt Blanchard. That will change at some point in the offseason when the Bears fill out the back end of the quarterback depth chart either via free agency or the draft.
The Bears could also decide to bring back one, or both of the veteran reserves they had at the end of last season in
Jason Campbell
and
Josh McCown
, both of whom are scheduled to be unrestricted free agents.
[+] Enlarge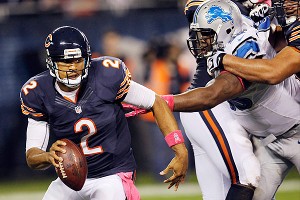 AP Photo/Charles Rex ArbogastA second year of Jason Campbell could be an option for the Bears.
The Bears signed Campbell to a one-year deal last offseason worth a total of $3.5 million ($2 million signing bonus, $1.4 million base salary, $100,000 workout bonus) in order to better protect themselves in the event Cutler missed any time due to injury, which he did.
Campbell took over for a concussed Cutler at the beginning of the second half of the Bears' home loss to the
Houston Texans
, then got the call to start the following game in San Francisco. The 49ers game was a debacle, but it's difficult to blame it all on Campbell, considering his two offensive tackles spent much of the night on their backs. Campbell finished the season completing 32-of-51 passes for 265 yards, two touchdowns, two interceptions and a passer rating of 72.8, not exactly the kind of numbers that will excite teams in need of a starting quarterback, although it is possible Campbell could find a better opportunity and more playing time elsewhere in free agency.
But the laid back and reserved Campbell certainly did not make any enemies during his one-year stint in Chicago, so if the Bears decide they can't upgrade the No. 2 spot, another season with Campbell isn't a horrible option.
McCown brings tremendous value to a roster because of his personality, experience and willingness to impart his wisdom onto others. There is no doubt in my mind that McCown will be an NFL coach one day when his playing career is officially over. But with any veteran back-up, the issue always comes back to money. It is much more expensive to pay the veteran minimum to a guy like McCown with 10 accrued NFL seasons than it is to carry a younger player on your roster, even if it would be more beneficial to the team to keep the older player. McCown can also still play if necessary, which he showed last season in the preseason finale versus the
Cleveland Browns
.
If the Bears choose to add another veteran quarterback, not named Campbell or McCown, here are some of the options expected to be available in free agency, in no particular order.
November, 18, 2010
11/18/10
4:26
PM ET
MIAMI GARDENS, Fla. -- Kickoff for Bears-Dolphins quickly approaches, but we figured we couldn't let you guys go into the game without the weekly nuts and bolts associated with this outing.
Besides that we've gotten a little more insight into the Dolphins and how they'll match up with the Bears. So here goes:
THREE KEYS FOR THE BEARS
1. Mix it up on Brandon Marshall:
The Bears came out in their nickel defense on several occasions against the Vikings in what seemed to be inopportune times, but the tactic worked well. So against the Dolphins playmaking trio of Marshall,
Davone Bess
, and
Brian Hartline
the Bears may need to utilize that look even more. It's likely that quarterback
Tyler Thigpen
will lean on Marshall to bail him out of difficult situations, which means this outing should provide nickel back
D.J. Moore
some opportunities to build on his team high in interceptions. Moore's best shot of doing that, however, hinges on the way the club defends Marshall schematically. The Bears need to deploy a variety of methods (double teams, zones, even some man every now and then) to confuse Marshall and Thigpen.
[+] Enlarge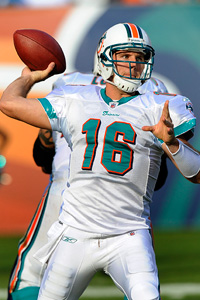 AP Photo/Rhona WiseTyler Thigpen's ability to extend plays because of his mobility excites some of his Dolphins teammates.
2. Don't fix what's not broken:
Since the Nov. 7 victory against the
Buffalo Bills
, the Bears haven't tweaked the formula on offense. They shouldn't do it tonight, either. Offensive coordinator Mike Martz has called a nice mixture of runs and passes, with a few exotic looks sprinkled in here and there. But Martz doesn't need to make any radical changes against the Dolphins for the Bears to continue their success on offense. Running backs
Matt Forte
and
Chester Taylor
, however, need to be more productive when their opportunities arise. If the duo can reach close to 4 yards per carry against the Dolphins, you can pretty much count on a Bears victory.
3. Don't be let Thigpen surprise you:
Interestingly, some of Miami's players actually believe Tyler Thigpen gives the Dolphins their best chance to win because of the quarterback's strong arm and ability to extend plays, which wind up causing coverage to break down in the secondary. Given the limited preparation time for this week's contest, it's unclear how much the Bears have studied Thigpen. But they can't get rattled early on by any big plays the quarterback may make, and drastically alter the defense, which could lead to even more problems.
THREE KEYS FOR THE DOLPHINS
1. Prevent a Peppers explosion:
Don't think for a second that
Julius Peppers
doesn't view tonight's matchup as his chance for a breakout opponent. He's got just two sacks on the season, and is playing on national television against injured left tackle
Jake Long
. So the recipe for a big game by Peppers exists. Miami needs to make sure it never transpires. The best way to do that is to help out on Peppers with running backs and tight ends chipping. But Miami also needs to be mindful of
Israel Idonije
-- Chicago's leader in sacks -- on the other side. With starting center
Joe Berger
out, it becomes even more important for backup
Cory Procter
to effectively communicate Miami's protections to the rest of the line.
2. Confuse Cutler:
Bears quarterback
Jay Cutler
has shown a penchant for being
somewhat erratic in night games
. So why not make things even more difficult by confusing him with a mixture of pressure and coverages? Corners
Vontae Davis
and
Sean Smith
should be able to hold their own against Chicago's pedestrian group of wideouts in man coverage, which means the Dolphins could have plenty of time to get to Cutler on the blitz. By mixing up things in coverage, Miami should also be able to confuse the Bears' young receivers. Cutler has already misfired several times this season because of miscommunication with his receivers.
[+] Enlarge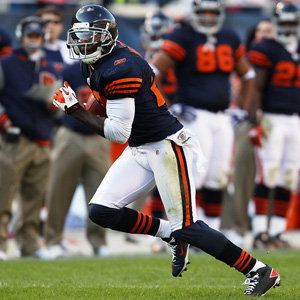 Jonathan Daniel/Getty ImagesDevin Hester flashed his dangerous return skills against Minnesota, gaining 147 special-teams yards.
3. Keep it away from Hester:
Bears return man
Devin Hester
wants to break the record for touchdowns on returns tonight in his home state in front of friends and family. Don't let him. Miami can prevent a big night from Hester by simply kicking the ball away from him. Dolphins coach Tony Sparano didn't give an indication as to what his team's plans are for defending Hester. But too many times this season, Chicago's opponents stubbornly kicked to Hester only to be burned. Chicago's special teams unit is one of the few in the league that can actually change games. It's tough enough to score victories with the offensive and defensive phases of the game. So why give the Bears an easy win in the third phase by kicking to Hester?
MATCHUP TO WATCH: Peppers vs. Long
Miami left tackle Long plans to play tonight, and while that's a courageous move, it might be unwise considering the severity of his injured shoulder and his pending match up against Peppers.
Peppers likely views tonight as a potential breakout game for him on national television, so Long is sure to get the defensive end's best effort. Occasionally, teams have successfully left tackles in one-on-one situations against Peppers. But that's probably not the way to go in this matchup, especially when factoring in Miami's injury situation at quarterback.
Peppers typically utilizes a variety of pass-rushing moves against offensive tackles, but knowing Long's injury situation, the defensive end will attack him with more bull rushes and try to wear him down as the game progresses.
BY THE NUMBERS
22:
Age of Josh Moore, the youngest player on Chicago's roster.
24:
Games in which
Ricky Williams
has rushed for 100 yards or more, which is a Dolphins franchise record.
13:
Total returns for touchdowns by Devin Hester (9 punt return TDs, 4 kickoff return TDs).
60.7:
Cutler's passer rating in his only game against the Dolphins. Cutler also threw for two touchdowns and three interceptions in that outing.
November, 17, 2010
11/17/10
8:06
PM ET
November, 15, 2010
11/15/10
7:13
PM ET
LAKE FOREST, Ill. -- First impressions won't lessen Chris Harris' opinion of
Miami Dolphins
backup quarterback
Tyler Thigpen
, who appears set to start his first game of the season because of injuries to
Chad Henne
and
Chad Pennington
.
Steve Mitchell/US PresswireNew starter Tyler Thigpen threw 18 touchdown passes in 2008 despite starting in only 11 games.
A former Carolina Panther, Harris played against Thigpen in 2008, and remembers the quarterback -- then with the
Kansas City Chiefs
-- doing "a good job" in a 34-0 rout, which is precisely why the Bears won't alter preparation in this short week for Thursday night's matchup against a battered Dolphins squad poised to be led by a backup.
"It doesn't change at all," Harris said. "He's a pretty good quarterback."
It doesn't matter that in the game Harris recalls, Thigpen -- in limited action -- actually completed 50 percent of his attempts on the way to achieving a passer rating of 59.2. It's also inconsequential to Chicago that Miami's top offensive lineman (left tackle
Jake Long
) and best pass rusher (outside linebacker
Cameron Wake
) are nursing injuries. Overall the Dolphins are expected to list in the neighborhood of nine or 10 players on this week's injury report.
Conversely, the Bears appear to be arguably the NFL's most injury-free team. With the possible exception of cornerback
Zack Bowman
-- who missed the last three games recovering from a sprained foot, yet practiced all last week -- every player on the roster is expected to be available for Thursday's contest, which the club goes into with just one day of full-fledged practice.
"I can't say enough about the health of our team," Bears coach Lovie Smith said. "When you start the season out with a certain group, and for the most part we have those guys [still] playing. It's a short week, but we should be in pretty good shape going in. They're under the same circumstances we are. Both of us have to move on, and we'll be ready to go Thursday."
Certainly, the Bears seem better equipped.
Pennington was placed on injured reserve Monday night. He had recently won back his starting job from Henne, but suffered his fourth career shoulder injury just two plays into Miami's 29-17 win Sunday over Tennessee.
Filling in for the injured starter, Henne hurt his left knee in the third quarter, which paved the way for Thigpen to enter. Dolphins coach Tony Sparano confirmed Pennington would be out for the year, but left the door open for a possible Henne return against the Bears. Miami also signed 31-year old veteran
Patrick Ramsey
on Monday as insurance.
As for Long, the left tackle dislocated a shoulder against the Titans. Although Long intends to play against the Bears, he hasn't yet been cleared medically by the Dolphins' doctors. Sparano expressed optimism Monday about Long's availability for Thursday night's game, saying "Jake's a pretty tough guy." Long has never missed a game in his two-plus seasons, but there's a question as to whether he'll be cleared medically. Center
Joe Berger
, meanwhile, also missed snaps against the Titans with an undisclosed injury.
That doesn't mean the Bears expect the Dolphins to throw the ball less frequently.
"They did throw the ball around this past game [with Thigpen coming in]," Harris said. "We're just going to prepare. The best thing about the defense we play [is that] it's not complicated. We can [go without watching] a lick of film and go out there and be productive. It's just pretty much reading your keys and reacting."
On the other side of the ball, Wake -- who leads Miami with 8½ sacks -- suffered a hip injury against the Titans, and is expected to be limited Tuesday at practice, but available for Thursday's contest. Other more minor Dolphins injuries include safeties
Chris Clemons
(left knee),
Yeremiah Bell
(turf toe), and
Tyrone Culver
(ankle), and defensive end
Kendall Langford
(left ankle).
"It's a challenge getting the body ready [to play two games in five days]," Bears center
Olin Kreutz
said. "But they've got the same thing."
Only much worse.