Chicago Bears:

Vernon Gholston
August, 25, 2011
8/25/11
6:02
PM ET
[+] Enlarge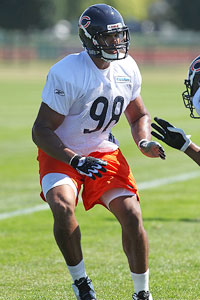 Jonathan Daniel/Getty ImagesCorey Wootton, injured in the first preseason game, could be back for the Bears' regular-season opener.
LAKE FOREST, Ill. -- Corey Wootton's recent knee injury opened the door for a third defensive end to jump into the rotation with veterans Julius Peppers and Israel Idonije. Saturday night's game against the Titans gives Bears defensive coordinator Rod Marinelli another chance to evaluate ends Mario Addison, Nick Reed and Vernon Gholston, before making any type of final decision in regards to the final roster.
"What I want to do is finish this week out," Marinelli said. "See how some of these young guys have progressed. I think Mario has come around. I want to take one more good look at it, then make some adjustments at that point, and see where we're at."
One option at Marinelli's disposal is to move one his quick, athletic defensive tackles outside to the end position. But the veteran coach seemed hesitant to go that route when he discussed the topic following Thursday's practice.
"Well, Henry [Melton] has done it, that's what we brought him here for," Marinelli said. "So, he's got that ability to do it, but right now I don't want to move anybody. I want to see if we can keep getting better and improve. We've got options in there. One, is when Corey gets back. Two, we got a couple of young guys coming. And three, Henry can always do it."
August, 18, 2011
8/18/11
2:24
PM ET
BOURBONNAIS, Ill. -- Although it's believed
Corey Wootton
could return from a knee injury in time for the regular season opener, the next few weeks provide the
Chicago Bears
coaching staff a chance to evaluate defensive ends further down the depth chart.
Defensive ends
Mario Addison
and
Vernon Gholston
, in particular, are seeing increased practice reps with Wootton currently on the shelf.
[+] Enlarge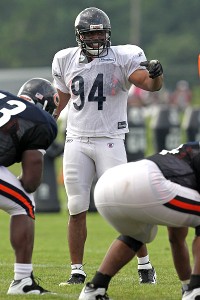 Jonathan Daniel/Getty ImagesVernon Gholston, a former first-round pick of the Jets, is making small improvements in Bears camp, says defensive coordinator Rod Marinelli.
"No. 78 [Addison] is getting a little look, I like his movement," Bears defensive coordinator Rod Marinelli said. "Vernon is getting some more reps."
Addison, an undrafted rookie free agent out of Troy, appears to be putting together a solid training camp. He registered a tackle for a loss and a quarterback hit in the Bears' preseason opener against the
Buffalo Bills
on Saturday.
"Everybody is doing a good job," Bears starting defensive end
Julius Peppers
said. "Mario is doing well, he's coming on. We have guys that need to step up with Corey being out, so guys are going to get a lot of time to make an impression. He's taking advantage."
Gholston's struggles in three years with the
New York Jets
are well documented, and although the former first-round pick hasn't exactly stood out at camp like Addison, Marinelli says he's starting to see small improvements from Gholston in practice.
"I think he's gotten better every single (day)," Marinelli said. "(It's) small things, not a gigantic leap, it's small things from his takeoff to what he's looking at. I thought his best day of practice was [Wednesday]. Sometimes you won't see it because it's the little things, but I think he is progressing. (We) just got to stay positive with him, believe in him and it will come."
One reason Gholston landed in Chicago after being waived by the Jets is because the Bears envisioned him as a better fit in a 4-3 defense, as opposed to the 3-4 scheme run in New York. It doesn't sound as if Gholston's transition has been seamless by any stretch of the imagination, but the defensive end believes he's making improvements to his game.
"It's one of those things where you look at it for what it is," Gholston said. "I'm two weeks maybe into practice, so you say, shoot, if you look at it day by day you kind of get down on yourself. But you can say it's only been two weeks, so imagine another two weeks and another two weeks from there. So that's what you got to keep focusing on."
August, 4, 2011
8/04/11
11:31
PM ET
BOURBONNAIS, Ill. -- Ratification of the new collective bargaining agreement allowed Chicago's group of unrestricted free agent acquisitions to finally join their teammates Thursday night on the practice fields at Olivet Nazarene University.
Here's a look at how the new additions performed during the session.:
Roy Williams: Williams worked with the first team through the majority of practice alongside Devin Hester. Williams ran crisp routes, displayed soft hands, and appeared to be faster than most expected. Williams slipped a couple of times early in practice. But in one-on-one drills Williams caught a slant route over Charles Tillman in one of the more physical matchups of the drill.
Williams also dropped a pass in 7-on-7 drills, but appeared to play better as the workout progressed.
Toward the end of practice, Williams tweaked a calf muscle, but it didn't appear to be serious.
"I'm just getting old," Williams joked.
Interestingly, though, Williams and Johnny Knox play the same position. Williams took the majority of the first-team reps throughout the practice, while Knox spent some time with the second group. Bears coach Lovie Smith said not to read too much into different lineups on the field at training camp, but the Williams-Knox situation is worth keeping an eye on.
Marion Barber: A fresh-legged Barber lived up to the "Marion the Barbarian" moniker during 9-on-7 drills, and even Smith said the running back "set the tone" with his physical play. During individual running back plays, Barber drew loud crowd reaction by a display of brute strength when he nearly toppled over a blocking sled during a step-and-punch drill.
Barber followed that by arguably the most exciting play of practice. On an off-tackle handoff, Barber barreled into a crowd, broke out, and clubbed Winston Venable out of the way before spinning the ball on the ground at the end of the run. The run prompted cheers from the crowd, as safety Chris Harris jokingly crawled on his knee towards Marion after the run. Smith, meanwhile, giddily ran back toward the huddle laughing at the end of the play.
It wasn't all positive for Barber, however. Darting through the secondary on a run up the middle, Barber had the ball poked loose by a safety with the defense recovering.
Sam Hurd: Made a couple of acrobatic catches during the individual period, but also did pushups on occasion after dropping a couple of passes. Hurd received some reps with the starters during 7 on 7 and team drills. Lined up against Tim Jennings during 1 on 1s, Hurd watched a couple of balls thrown fairly high sail through his hands. During team drills, another high pass slipped through his hands with Craig Steltz coming up with the interception. Like Williams, Hurd seemed to improve as the practice progressed.
Chris Spencer: Received most of his action during the early 9-on-7 period, and displayed the athleticism he's been touted for. Spencer's propensity for nastiness had been scrutinized prior to his arrival, but the center looked tenacious on a few running plays during inside drills. Offensive-line coach Mike Tice said the plan was to gradually ease in Spencer, who spent Thursday night working with the second team.
Vernon Gholston: Gholston's first night drew praise from Smith, who raved about the defensive end's quickness. Gholston chased down Kahlil Bell on an outside run during 9-on-7 drills, and stopped the running back for a loss. But Barber ruined Gholston's good play by smashing into the defensive end and knocking him back, before the running back broke through a pile of would-be tacklers. During one-on-ones between the offensive and defensive linemen, Gholston seemed to get the best of tackle Frank Omiyale throughout the drill.
Amobi Okoye: No surprises from Okoye, who similar to Gholston, put his quickness on display while working with both the starters and second team. Bears guard/center Roberto Garza struggled some plays to contain Okoye, who constantly seemed to get decent penetration during individual matchups between the offensive and defensive lines.
Matt Spaeth: Spaeth caught a pass later in practice during team drills, but obviously, that's not why the Bears signed him. The team acquired him to block, and that's exactly what he did on a running play during team drills. The tight end pancaked rookie Chris Conte, knocking the safety flat on his back.
Adam Podlesh: The new punter actually spent time covering kickoffs on the scout team as the Bears worked on their kickoff returns. The team didn't spend time punting, so Podlesh didn't get a chance to showcase his punting leg.
July, 29, 2011
7/29/11
9:08
PM ET
In acquiring former sixth overall pick Vernon Gholston, the Bears looked beyond the bust label commonly associated with him.
[+] Enlarge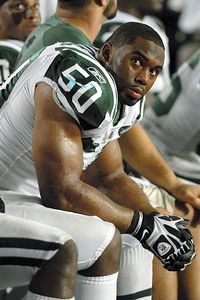 AP Photo/Edouard H.R. GluckVernon Gholston didn't live up to the hype that comes with being a high pick in New York.
Gholston's five starts in three seasons, with no sacks, and a trio of healthy scratches over his career likely scared teams away once the NFL returned to the business of consummating transactions.
But not the Bears, who think there's still a chance for Gholston to finally blossom.
"For us, we looked and we saw a talented player," Bears coach Lovie Smith said. "A player that… there was a reason he was drafted high as he was by the Jets. Hey, divorce is a part of our lives. It happens sometimes for whatever reason. You just kind of move on. For us, he's a talented athlete. We're going to put him in a position where we think he's going to have a little more success."
It's believed that Gholston's disappointing career has been partly a result of coaching and position changes. Gholston played defensive end in a 4-3 scheme at Ohio State, and then moved to 3-4 outside linebacker with the New York Jets playing for Eric Mangini.
Gholston played linebacker in Rex Ryan's 3-4 system when the coach took over the Jets in 2009, before moving back to defensive end in 2010, a position -- because of the scheme -- still a world apart from what he'd been used to in the Buckeyes' 4-3 defense.
"He'll have his hand down instead of [playing] a stand up end position [like in a 3-4]," Smith said. He'll be in a three-point stance rushing the passer most of the time. We're going to give him a shot. Everything has added up for us to give him that shot."
Should Gholston succeed in revitalizing his career with the Bears, it probably wouldn't come as a surprise to the Jets, who released him in March, but insisted he was making strides. Ryan felt that Gholston's circumstances stunted his growth somewhat.
But in Chicago, Gholston will work with Bears defensive line coach Rod Marinelli, whom defensive tackles Anthony Adams and Marcus Harrison refer to as "a guru." Physically, Gholston (6-3, 260 pounds) possesses the attributes to develop into a dangerous complement to Julius Peppers.
That's what the Bears saw in looking to acquire him. But will Gholston ever live up to his high billing?
"I think Vernon still has the chance to have a productive NFL career," Jets general manager Mike Tannenbaum told ESPN.com at the NFL owners meetings back in March. "Obviously, he didn't play to the level of the sixth pick in the draft, but he's a great kid. His career is far from over."
It's now up to the Bears to jumpstart it.