Chicago Bears:

Week 7 Injury Replacements
October, 21, 2013
10/21/13
6:28
PM ET
If
Jay Cutler
left the Bears in a tight spot on offense because of the torn groin muscle that will keep him out at least four weeks, then
Lance Briggs
gave the defense a near-insurmountable task: to somehow improve without him on the field.
That's right. The loss of Briggs weighs more heavily because at this point, he means more to the defense than the quarterback does to the offense. It sounds silly, but that's simply the state of affairs these days at Halas Hall.
We expected the defense to fall off a notch this season, with the loss of linebacker
Brian Urlacher
and the acquisition of two new faces (
James Anderson
and
D.J. Williams
) and the hiring of a new coordinator in Mel Tucker. But what we're seeing is an injury-induced dive off a cliff.
[+] Enlarge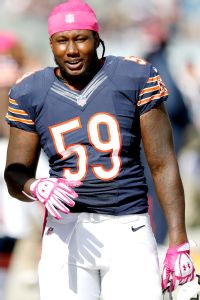 AP Photo/Scott BoehmThe Bears likely will choose between Khaseem Greene, above, and Blake Costanzo as the replacement for Lance Briggs.
In all, the defense -- which has allowed 21 points or more in every game, and gave up 499 yards to the Redskins -- has lost five starters. Briggs, who was playing at a Pro Bowl level, is expected to be out at least six weeks because of a small fracture in his left shoulder.
"There's no simple answers. There are a lot of teams in our position in the National Football League," Bears coach Marc Trestman said. "Defensively, we've got to improve our fits, our assignments. We've been completely inconsistent. At times we've been outstanding, and at times we just haven't done the right things."
That's what comes with thrusting young, inexperienced players into key roles. It's a situation not likely to improve soon. The team still hasn't decided who will call defensive signals in Briggs' place. Right now,
Jonathan Bostic
and
James Anderson
are the likely candidates.
Bostic made the calls in the loss at Washington on Sunday after Briggs left the game in the third quarter.
The club also will choose between rookie
Khaseem Greene
and veteran
Blake Costanzo
as Briggs' replacement.
"We're losing a great leader in Lance," Trestman said. "Arguably we're going to have to work very, very hard to recover, but that doesn't say we can't. It's been done before, we've got time to work through it and there's no reason why as a football team that we can't be confident we can rally around that position, find a way to win games."
On the offensive side of the ball, that's an easier proposition due to the quality of the replacement, the club's revamped protection, not to mention all of the weapons surrounding him, with running back
Matt Forte
, tight end
Martellus Bennett
and receivers
Brandon Marshall
and
Alshon Jeffery
.
Cutler's replacement,
Josh McCown
, demonstrated as much Sunday when he completed 14 of 20 passes for 204 yards and a touchdown to Bennett before finishing the game with a passer rating of 119.6 as the offense put up 34 points.
A 10-year veteran, McCown has logged 20 starts in the NFL and is considered "a glue guy" by general manager Phil Emery, and "a captain," by Marshall "without the 'C' on his chest."
Emery called McCown's "ability to play the position" the backup's greatest asset in his bid to replace Cutler without the offense skipping a beat.
"And probably foremost, just in terms of Josh and the person and the leader he is, the buy-in he has from his team in terms of being able to be a positive part of winning football on Sundays," Emery said. "I didn't notice it because I don't always watch the huddles, but Josh McCown is in every special teams break before they go out on the field. That to me signals to everybody what type of person this guy is. He could be content staying over on the sidelines with the headset and a clipboard, literally, but he's not. He's a big part of this team. He's a big part of the leadership group of this team."
[+] Enlarge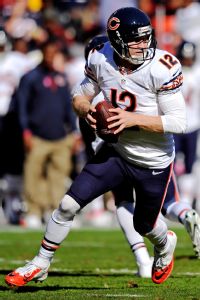 AP Photo/Nick WassJosh McCown is "a big part of the leadership group of this team," general manager Phil Emery said.
McCown's teammates agree. Cornerback
Tim Jennings
admitted Monday "it's going to be tough not having Jay out there, but I also think Josh came in there and played great, and he gave a lot of confidence to the guys in this locker room."
Left tackle
Jermon Bushrod
said he has "all the confidence in the world" in McCown because "he came in yesterday, and he did his thing. He spread the ball around. He got us in good positions, and we had a chance to win the game."
McCown, meanwhile, says the structure in place gives him a leg up from where he was two years ago, when the Bears first asked the veteran to start a game. It was 2011, he had been coaching high school football just before the Bears signed him, and he basically went in cold for his first start at Green Bay. McCown helped the Bears put up 21 points in a loss to the Packers, but helped the club break its five-game losing streak the next week in the season finale at Minnesota.
McCown says "I'm in a better spot right now," having learned Trestman's system from the ground up from Day 1 of the coach's tenure in Chicago.
"The structure is in place and the emphasis has been put on individuals to do their job and do their part," McCown said. "If we continue to get that, and we felt like we got that yesterday, it allows the quarterback to step in there, whether it's Jay or myself, to function and play, because guys are going to be coached to be where they are supposed to be and do what they're supposed to do. It's going to look different between Jay and I; our skill sets are different."
On offense, the highly productive results likely won't change, either. The same can't be said for an already reeling Bears defense without Briggs.
October, 21, 2013
10/21/13
3:40
PM ET
LAKE FOREST, Ill. -- The
Chicago Bears
have released tight end
Steve Maneri
to make room on the 53-man roster for veteran quarterback
Jordan Palmer
, who is en route to Chicago to take a physical, Bears general manager Phil Emery told reporters at Halas Hall on Monday.
If Palmer passes the physical, as expected, he will sign a contract to serve as the Bears' No. 2 quarterback behind
Josh McCown
for as long as starting quarterback
Jay Cutler
is sidelined with a groin tear -- the team announced Cutler will be out a minimum of four weeks and will then be evaluated week-to-week. Palmer impressed the Bears during his stint with the club in the preseason but failed to make the final cut as the organization decided to carry just two quarterbacks on the active roster.
Palmer completed 11 of 17 passes for 111 yards and a touchdown in the Bears' preseason finale versus the
Cleveland Browns
.
Maneri signed a two-year contract with the Bears in March after starting eight games for the
Kansas City Chiefs
in 2012. Maneri began the year on the club's active game-day roster but had been inactive the past three weeks.
Maneri's departure leaves the Bears with only two tight ends currently on the roster --
Martellus Bennett
and
Dante Rosario
. However, the Bears could choose to elevate 6-foot-6 tight end
Fendi Onobun
from the practice squad if the team is concerned about depth at the position. That would require a corresponding roster move.
The Bears also terminated the practice squad contract of wide receiver
Ricardo Lockette
on Monday, according to Emery.
October, 20, 2013
10/20/13
7:26
PM ET
LANDOVER, Md. -- An 11-year veteran,
Josh McCown
knows backup quarterbacks don't receive practice reps. So he learned the art of stealing them, which in turn helped McCown hijack an otherwise dismal Bears showing Sunday in a
45-41 loss
at Washington.
"It's just how it is," McCown explained of the practice-rep situation. "That's uniform throughout the league."
[+] Enlarge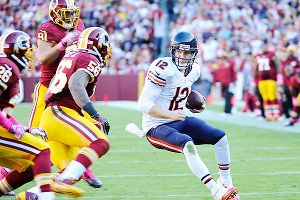 Brad Mills/USA TODAY SportsBears' backup QB Josh McCown stepped in for the injured Jay Cutler on Sunday at Washington.
So when
Jay Cutler
lines up at practice to run a play, McCown grabs backup center
Taylor Boggs
, and from behind the No. 1 offense, takes a snap, and shadows the starting quarterback's every move. When it was time to step out of Cutler's shadow in the second quarter, McCown seemed more than ready.
"I didn't ask him what he liked or what he didn't like. I just called the plays according to the plan we had put together," Bears coach Marc Trestman said. "I thought he functioned very well, moved the ball, had the confidence and led his teammates."
McCown passed for 204 yards and a touchdown in the fourth quarter to
Martellus Bennett
after entering the game with 10:09 left in the first half, when Cutler suffered a groin injury on a 6-yard sack from
Chris Baker
. The performance gives the team optimism about McCown's ability to perform if Cutler is forced to miss an extended period due to the groin injury.
Cutler
will undergo an MRI
on Monday.
"It's obviously not ideal (to not receive practice reps), but the expectations are that you play well, know what you're doing, now where you're going with the ball, and all those things," McCown said. "Those 45 guys that have uniforms on, they expect me to come in and play well, and give us a chance to win."
Through the first four drives with Cutler at the controls, the Bears failed to move the chains on all three third-down conversions, and watched
Brian Orakpo
return an interception 29 yards for a touchdown as the Redskins took a 24-17 lead into intermission. Chicago generated 46 yards on offense through the first two quarters, with McCown engineering the final possession of the second quarter after Cutler's injury.
In the second half, Chicago converted 50 percent of third downs in addition to racking up 313 yards.
"He functioned like a starting quarterback. When he stepped in there, he took over the huddle," Trestman said. "He took care of the football. He moved the football team. It was very chaotic out there today. (Redskins defensive coordinator) Jim Haslett did a good job of mixing his defenses up. Josh handled it very well. He doesn't get any practice time. The backup never does. So Josh did a very good job today."
In addition to completing 70 percent of his throws for a passer rating of 119.6, McCown scrambled four times for 33 yards and in the fourth quarter alone led three scoring drives, while completing 7 of 10 for 115 yards and a 7-yard touchdown to Bennett with 4:02 left to play. The scoring strike gave the Bears a 41-38 lead after the extra point.
"Josh was just a leader," left tackle
Jermon Bushrod
said. "Jay is tough as nails, and the fact that he went down after the second hit of the game, (McCown came in) and did well. When he gets his opportunity in the games, he knows the flow of it. He knows where the pressure's coming from, what he needs to do, where he needs to step up. He came out and was spreading that ball around, making sure were in position to almost win that game."
It's unknown whether McCown will be thrust back into that situation anytime soon. The Bears expect to receive results from an MRI on Cutler sometime Monday, and the upcoming bye week should buy some time for the starting quarterback during his recovery process.
If forced to play with McCown under center moving forward, several players expressed confidence in the veteran's ability.
"We've got the best guy you want to have at the No. 2 position," receiver
Brandon Marshall
said. "Josh, he's really a captain on this team. He just doesn't have the 'C' on his chest."
But McCown could be asked soon to put the team on his back.