October, 25, 2014
Oct 25
11:57
PM CT

By Scott Powers
ESPNChicago.com
Archive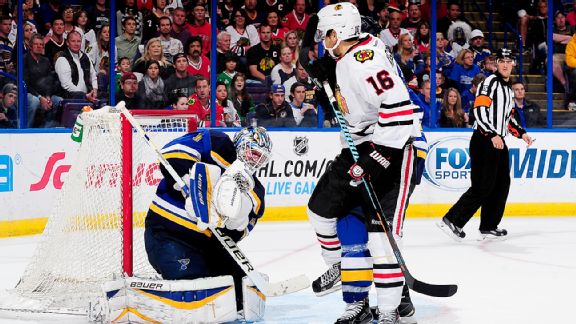 Jeff Curry/NHLI/Getty ImagesAfter averaging 2.3 goals in 5-on-5 play the past two seasons, the Hawks are at just 1.6 this season.
ST. LOUIS -- The
Chicago Blackhawks
were the league's premier 5-on-5 team over the past two seasons.
The Blackhawks scored 108 goals in 5-on-5 situations in 48 games in 2012-13 and went for 188 goals in 82 games last season. Their 296 goals and 2.3 average in 5-on-5 play led the NHL over that span.
So far this season, however, the Blackhawks haven't been able to duplicate that 5-on-5 success. Chicago continued to struggle in its even-strength play Saturday, netting just one 5-on-5 goal in a 3-2 loss to the
St. Louis Blues
. The Blackhawks have 11 goals in 5-on-5 situations through seven games this season.
Blackhawks coach Joel Quenneville has certainly tried everything to break his team out of its funk. He threw together new lines to start Saturday's game and tried a variety of different ones throughout the game. No combination has clicked consistently.
The Blackhawks' lone 5-on-5 goal came in the third period after Quenneville had made more line changes. He started the period with his lines being
Brandon Saad
/
Jonathan Toews
/
Marian Hossa
;
Bryan Bickell
/
Andrew Shaw
/
Ben Smith
;
Patrick Sharp
/
Brad Richards
/
Kris Versteeg
; and
Daniel Carcillo
/
Marcus Kruger
/
Patrick Kane
.
Sharp fed Versteeg in the slot and Versteeg scored at 2 minutes, 37 seconds of the third period.
"I thought some guys were better than other guys tonight," Quenneville said. "We tried to get four lines [going,] get everybody going, a little balance, a little threat. That was what we were doing. We scored a goal and got some momentum back kind of comparable to the
Nashville [Predators
] game [Thursday]. Again, didn't get the equalizer."
Moving Kane to the fourth line was out of the ordinary for Quenneville, but Kane had been struggling. Kane was on the ice for two of the Blues' goals, had one shot on goal and was a minus-6 Corsi in 5-on-5 situations through two periods.
Kane held himself accountable for his play.
"I don't know if he's trying to switch it up or send me a message or what," Kane said of Quenneville's moves. "You see it happen a lot throughout the season. I know I should have probably been better tonight. He's got to do what he's got to do, I guess.
"I think I'm not really generating much chances. Obviously when you're out there for two goals against, that's not good either. Try to get better here as the season goes on, especially tomorrow."
Kane is tied for second on the team with one 5-on-5 goal.
Duncan Keith
and Shaw share the team lead with two goals. Sharp, Hossa, Toews, Richards and Kruger have yet to score in 5-on-5 play.
The Blackhawks' offensive woes have especially been apparent in their second periods. The Blackhawks have yet to score in that frame this season.
Kane though that went back to their 5-on-5 play.
"I don't know if it's just one thing," Kane said. "Five-on-five all year we just haven't been that great. I guess we'll chalk it up to that."
Quenneville said he was aware of his team's second-period woes.
"We haven't [scored]," Quenneville said. "We haven't given up too many overall. Our generating in the second period, we definitely know that stat."
Defenseman Keith also had thoughts on where he and his teammates weren't getting it done so far. He was confident they could turn things around, and he believed it started with more traffic around the net.
"We're just going to have to find a way and find a way to get some of those greasy goals where we're in the front of the net, getting rebounds," Keith said. "Not every goal is going to be a pretty play, just throw it at the net and get a rebound. It seems like we're always looking for extra pass. I think even we do get our chances the goal is making some saves. Obviously lots we can work on.
"We're a confident team. We know what we have in the room. It's seven games in. They're good teams we're playing against. We need to be that. That's all it is."