March, 3, 2015
Mar 3
1:23
PM CT

By Craig Custance
ESPN Insider
Archive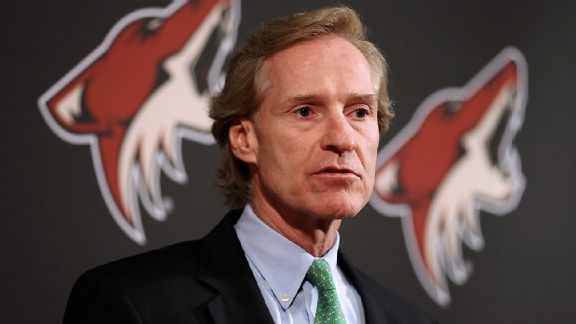 Christian Petersen/Getty ImagesCoyotes GM Don Maloney jump-started his team's rebuild process with shrewd moves at the deadline.
After the dust settled, the buzzer had finished buzzing and those final trades that trickle in after the deadline finally dried up,
Arizona Coyotes
GM Don Maloney admitted it was good to be done with the process. The trade deadline is a stressful time for a club, it's intense.
It was a ton of work, and now the next couple months for the Coyotes, well, they could be miserable.
"I think you're being kind," joked Maloney.
It's not going to be easy winning games without
Antoine Vermette
and
Keith Yandle
. Things weren't going particularly well when they were around, after all.
But during the course of the weekend and Monday's deadline day, no team did more to improve the future outlook of their team than the Coyotes. It was dramatic, and the rebuild in Arizona was absolutely fast-tracked.
"You always hope so, No. 1," Maloney said when we chatted on Monday evening. "It may depend on how this draft goes and where we end up drafting. Obviously, if we draft very high in the top couple slots, that's when you can really jumpstart this reset."
Even if they don't, the Coyotes loaded up on picks and prospects to join an organization that already has good young players coming, and a franchise defenseman in
Oliver Ekman-Larsson
.
Add Connor McDavid to Max Domi,
Anthony Duclair
, Maxim Letunov, Brendan Perlini and
Henrik Samuelsson
, and this won't be a five-year process. It may not be a two-year process. In all, the Coyotes added Letunov, Duclair,
John Moore
, a 2015 first-round pick, 2016 first-round pick, 2015 second-round pick and already had an extra third-rounder from the
Devan Dubnyk
trade.
The deadline is usually about the contending teams loading up to win a Stanley Cup. That's usually the focus. But the Coyotes won the deadline. It might not have even been all that close.
Here's how the rest of the teams rank in their performance during the last few weeks of the trade season, and for those who missed any of my trade grades,
click here
.
2. Philadelphia Flyers
.
March, 3, 2015
Mar 3
10:31
AM CT
CHICAGO --
Chicago Blackhawks
forward
Brandon Saad
will be able to add one more bullet point to his résumé when he goes to negotiate a new contract after the season.
Saad became a 20-goal scorer for the first time in his career Monday. He just missed that special number last season finishing with 19 goals in 78 games. He notched No. 20 in his 64th game this season.
The 22-year-old Saad didn't downplay the significance of the number afterward.
"That means it's big," Saad said. "It's a milestone to get there. It felt good for sure. Just want to continue to progress."
Saad's career has mostly been a progression over the last three seasons. He came in a rookie and was a contributor in his first season in 2013. He upped his play in his second season and took on a larger role. He's taken another step this season and has consistently produced. He's third on the team in goals and fourth with 43 points.
As nice as 20 goals sounds, Blackhawks captain
Jonathan Toews
expects much more from Saad in the future.
"That's great for him," Toews said. "I think he knows he's the type of player who is capable of 30 and even more. But that's the first step in his career to get to that level. He's meant a lot for our team so far this year."
March, 2, 2015
Mar 2
11:47
PM CT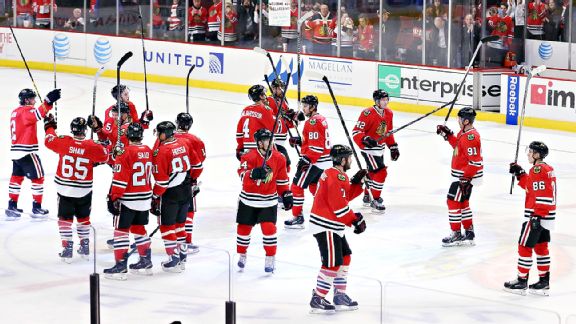 Dennis Wierzbicki/USA TODAY Sports"I think we have a good chance here to be even better than we've been," GM Stan Bowman said.
CHICAGO -- Losing
Patrick Kane
for three months could have meant losing a grasp on the season for the
Chicago Blackhawks
.
Subtracting Kane, who was playing at an all-time elite level, from a team that had been sputtering along since Jan. 1, wasn't likely to yield favorable results. But instead of seeing how things would play out, Blackhawks general manager Stan Bowman acted and found some positives to add to the equation. By getting forward
Antoine Vermette
and defenseman
Kimmo Timonen
-- addressing two needs -- prior to Monday afternoon's trade deadline, Bowman delivered a message to his team that he has faith in it.
The Blackhawks, who said they felt energized by the new players, went out later Monday and showed Bowman they're still capable of turning their game on. The
Carolina Hurricanes
might not be the best measuring stick, but the Blackhawks put together one of their more complete efforts, on offense in particular, in some time Monday with a 5-2 victory at the United Center.
Blackhawks captain
Jonathan Toews
, who accounted for two goals and an assist, described Monday as a new beginning for the team.
"I think in some ways it means a fresh start for us," Toews said. "We're happy to have the two guys -- I should say the three guys [forward
Andrew Desjardins
was obtained Monday from San Jose] eventually -- to come in our locker room. I think going into any situation like this, you feel like you got the group, you got the guys in the room that you need to have success, and you believe in that every day.
"Changes happen, and you got to go with it and make the best of it. So, like I said, we're excited about the experience that Kimmo and Antoine bring especially. They showed that tonight. Great for Kimmo to play the way he did the first time he did in a long time. I think it's a great win for our team and we need to build off wins like that."
Vermette and Timonen will certainly have better days as Blackhawks. Vermette lost 12 of 17 faceoffs. Timonen saw his first action of the season after sitting out due to blood clots. Monday was more about their presence.
"I think it helps," Blackhawks coach Joel Quenneville said of the impact of the new players on his squad. "It can certainly give everybody the feeling that, 'Hey, we're a better team,' and let's get some enthusiasm here going down the stretch and get ourselves excited as we go along here."
Vermette has witnessed such deals giving teams a spark.
"I have seen it in the past," Vermette said. "Obviously I wasn't here before. But I think over time it was a game, solid game for us. It's tough for me to compare, but hopefully we can build our game and head in the right direction here."
Vermette and Timonen displayed Monday how the Blackhawks can be deeper with them. Quenneville consistently rolled out four lines, and his bottom two lines of
Bryan Bickell
-
Brad Richards
-
Teuvo Teravainen
and
Joakim Nordstrom
-
Marcus Kruger
-
Andrew Shaw
created a number of scoring chances. All six defensemen also played 15-plus minutes.
"It was basically 56 minutes of five-on-five play, so you get in more of a rotation and predictability of the way the lines are going to roll when you get that type of continuous five-on-five action," Quenneville said. "I didn't mind the lines. I didn't mind the consistency of the lines. I was happy for the most part."
That was Bowman's objective. He was motivated to make moves that would make everyone happy now -- and potentially three months from now.
"Right now, we're trying to improve our team," Bowman said Monday afternoon. "I think we have a good chance here to be even better than we've been. We're bringing in two players, and then we add another one today. We think three new faces to give our group some excitement and push for the playoffs."
The push began Monday.
March, 2, 2015
Mar 2
10:19
PM CT
Associated Press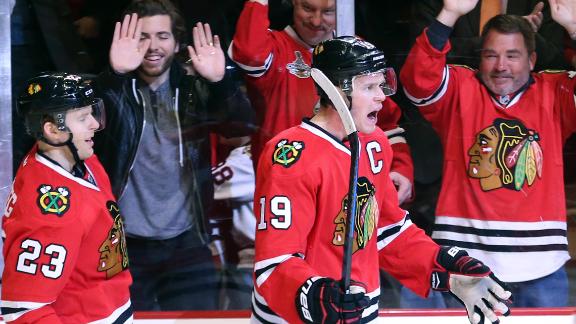 CHICAGO -- Jonathan Toews had two goals and assisted on Marian Hossa's score as the Chicago Blackhawks rolled to a 5-2 win over the Carolina Hurricanes on Monday night.
Brandon Saad scored his 20th to reach that mark for the first time in his career and Marcus Kruger also connected for the Blackhawks, who have won three of their last four. Toews increased his total to 21 goals.
Corey Crawford made 27 saves for Chicago and lost his bid for a second straight shutout when Carolina's John-Michael Liles scored at 4:29 of the third period. Alexander Semin also scored late in the third for the Hurricanes, who snapped a three-game winning streak.
Cam Ward allowed four goals on 18 shots through the first two periods for Carolina, and was replaced by Anton Khudobin to start the third. Khudobin stopped seven of the eight shots he faced.
March, 2, 2015
Mar 2
10:10
PM CT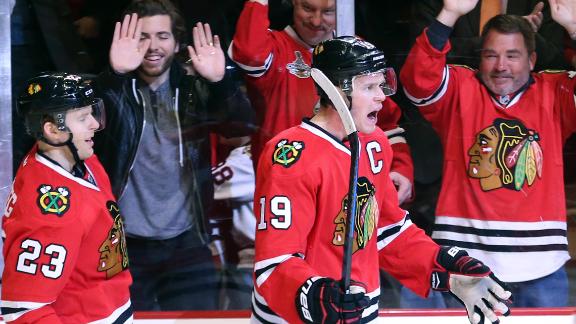 CHICAGO -- Here's a quick look at the
Chicago Blackhawks
' 5-2 victory over the
Carolina Hurricanes
at the United Center on Monday:

How it happened:
The new-look Blackhawks broke out of their scoring slump in a big way. The Blackhawks scored more than two goals, excluding empty-netters and shootout results, for the first time since Feb. 11. Captain
Jonathan Toews
accounted for the first two goals, including a short-hander.
Brandon Saad
and
Marcus Kruger
added second-period tallies to put the Blackhawks ahead 4-0.
John-Michael Liles
and
Alexander Semin
scored the Hurricanes' two goals, in the third period.
Marian Hossa
accounted for the Blackhawks' fifth goal. The Blackhawks killed off a five-on-three penalty for 1 minute, 14 seconds in the second period. The Hurricanes pulled starting goaltender
Cam Ward
after two periods. Blackhawks goaltender
Corey Crawford
made 27 saves.
What it means:
Blackhawks general manager Stan Bowman said earlier Monday that the team seemed to have a more positive vibe after he went out and acquired three players, including
Kimmo Timonen
and
Antoine Vermette
, at the trade deadline. The Blackhawks played like it. Saad scored his 20th goal of the season, a career high for the 22-year-old. The Blackhawks improved to 38-21-5, pulling within eight points of the
Nashville Predators
and four of the
St. Louis Blues
in the Central Division. The Hurricanes fell to 24-31-7.
Player of the game:
Toews has been on a roll in recent weeks, scoring in four of the past five games. He reached 20 goals Monday for the eighth consecutive time in his career. He also tallied an assist in Monday's victory.
Stat of the game:
Blackhawks defenseman
Michal Rozsival
was a plus-3 and had two assists after being a minus-4 over his previous two games.
What's next:
The Blackhawks host the
Edmonton Oilers
on Friday. The Blackhawks defeated them 7-1 on Nov. 22 and lost to them 5-2 on Jan. 9, with both games in Edmonton, Alberta.
March, 2, 2015
Mar 2
4:49
PM CT

ESPN Chicago's Scott Powers and NHL.com correspondent Brian Hedger discuss the Chicago Blackhawks' moves at the trade deadline.


Click here for more audio from ESPN Chicago
.
March, 2, 2015
Mar 2
4:03
PM CT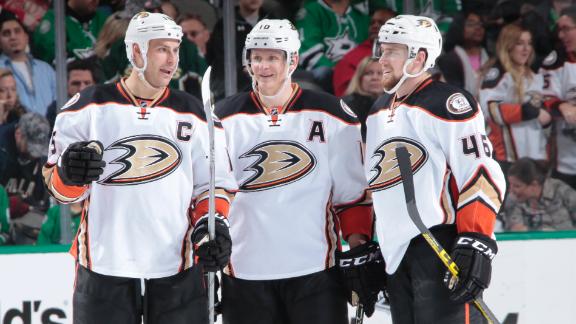 The real answer to the perennial question, who won the trade deadline, cannot be fully known for months and, in some cases, years. It will not, however, stop us from at least providing some discussion about which way the scales will tip for teams around the NHL. Here's a look at the buyers and sellers, and which ones might have swung the balance of power in their direction as the 2015 trade-deadline period comes to a close.
March, 2, 2015
Mar 2
3:57
PM CT
CHICAGO --
Chicago Blackhawks
general manager Stan Bowman didn't ignore the future, but his focus was mainly on the present as he approached the trade deadline.
Bowman' objective was to keep the Blackhawks a Stanley Cup contender despite losing
Patrick Kane
to an injury for 12 weeks. Bowman believed he accomplished that mission by acquiring defenseman Kimmo Timonen and forwards
Antoine Vermette
and
Andrew Desjardins
. In exchange, he gave up
Ben Smith
, prospect
Klas Dahlbeck
, a first-round draft pick in 2015, a second-round pick in 2015, a conditional fourth-round pick in 2016 and a conditional seventh-round pick in 2017.
Bowman acknowledged there was a price to be paid for his new players, but it was one he was willing to pay.
"You don't like to give up draft picks, but at the same time, it is a draft pick," Bowman said following the trade deadline Monday afternoon. "It's something you have time to recoup those down the road. Right now, we're trying to improve our team. I think we have a good chance here to be even better than we've been. We're bringing in two players, and then we add another one today. We think three new faces to give our group some excitement and push for the playoffs."
Bowman was enabled to make all of those moves because Kane's cap hit because available once he was placed on long-term injured reserve. Bowman's hope is for the Blackhawks to be good enough now to get deep enough in the playoffs for Kane to return to the lineup. For now, the Blackhawks are concentrating on the present.
"I think the goal for us, if you talk to our coaches, it's about the guys that are suiting up that night," Bowman said. "Patrick Kane's a tremendous player. He's probably having the best season this year. But right now he's not an option for us, so we've got to focus on the guys who are here.
March, 2, 2015
Mar 2
2:31
PM CT
CHICAGO --
Duncan Keith
became the latest
Chicago Blackhawks
player to shoot down rumors surrounding the team on Monday.
The Blackhawks'
Patrick Sharp
,
Brent Seabrook
and
Jonathan Toews
addressed the rumors on Sunday. Sharp specifically spoke about rumors regarding his personal life and said he would consider legal action.
Keith backed up Sharp on Monday.
"It seems like there's so much BS out there," Keith said after the team's morning skate. "I don't know where it comes from. I don't know who makes that stuff up and where they get off saying those type of things. I think Sharpy said it, that it'd be comical and laughable if it wasn't, you know, you or your family involved in those type of things and it becomes dragging other people into it.
"We've got a close group here. We've played together with one another for a long time and, I mean, all these rumors and stuff, it's just a bunch of BS to us players. We're out here playing hockey. We love our teammates. Whatever gets said outside of our locker room, I mean, shouldn't really matter. But when it gets to be something ridiculous like that, it needs to be addressed."
Oduya skates:
Blackhawks defenseman
Johnny Oduya
skated Monday for the first time since suffering an upper-body injury on Feb. 22, according to Blackhawks coach Joel Quenneville.
"That's a good sign," Quenneville said.
Oduya was expected to miss two weeks after suffering the injury during his lone shift against the
Boston Bruins
on Feb. 22. Oduya has two goals, three assists and is a minus-9 in 60 games this season.
The Blackhawks currently have six healthy defensemen on their roster.
March, 2, 2015
Mar 2
2:12
PM CT
CHICAGO --
Chicago Blackhawks
defenseman
Michal Rozsival
knew exactly what coach Joel Quenneville was referring to when he spoke Monday of needing more consistency from Rozsival.
"He's talking about my defense," Rozsival said after the team's morning skate on Monday. "If you look at the stats the last two games I played, I was like a minus-5. I was not defensive, obviously. It was something to be corrected. For whatever reasons, obviously, I was a minus-5. That's it. I think that says it all."
[+] Enlarge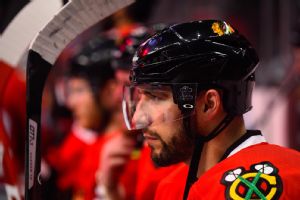 Mike DiNovo/USA TODAY SportsMichal Rozsival is battling to earn the sixth defenseman spot before the playoffs arrive.
Quenneville sent Rozsival a message by making him a healthy scratch the last two games. Rozsival will get a chance to prove himself again as he returns to the lineup against the
Carolina Hurricanes
on Monday.
Quenneville believes Rozsival can help the Blackhawks if he keeps his game simple.
"Just play," Quenneville said. "I think offensively he's got good patience with the puck. Defensively, let's be consistent. ... Simplicity is probably the best way. Consistency is what we're looking for."
Rozsival mentioned being a minus-5 his last two games, but he wasn't too critical of his own play. He thought that was up to the coaching staff to evaluate his play.
"I don't know," Rozsival said. "I never judge my play. That's the coaches' job. They let you know what they think. They do their thing when they see something. Sometimes you're not going to have a great game all the time. I guess they felt like my game should be better. That's why they made some lineup adjustments, and that's why it is."
Rozsival tried to look at the benefits of sitting out the last two games.
"Get myself ready, I've been working hard and get some rest as well," Rozsival said. "Sometimes it helps refresh everything, reset. Hopefully today I feel good. Hopefully we can win this game, too.
"I was excited to be back in the lineup today. I just need to play good hockey. We need the points. We need to win. I'm here to try to do my best to help this team win some hockey games."
Rozsival,
David Rundblad
and
Trevor van Riemsdyk
could be auditioning for the Blackhawks' final defenseman spot on the right side leading up to the playoffs. The Blackhawks are expected to go with
Duncan Keith
,
Brent Seabrook
,
Johnny Oduya
,
Niklas Hjalmarsson
and Kimmo Timonen as their five other defensemen.
"We'll see how it all plays out," Quenneville said. "I think they're all capable of playing there and possibly more. We'll sort that out between now and then."