September, 19, 2014
Sep 19
10:45
AM CT

By Scott Powers
ESPNChicago.com
Archive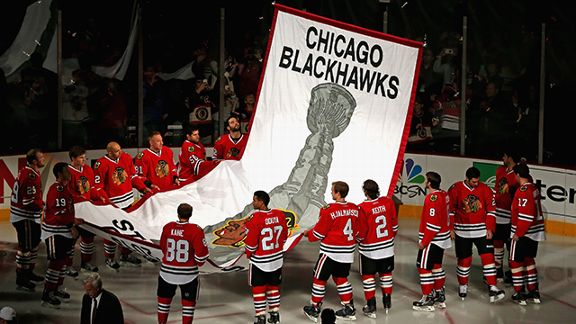 Jonathan Daniel/Getty ImagesChampionship banners are the measure of success for a Blackhawks season these days.
ESPNChicago.com's Scott Powers counts down to Friday's opening of the Chicago Blackhawks' training camp with a look at 20 storylines facing the team this season.
The Stanley Cup is where the Chicago Blackhawks measure their seasons these days.
They're successful if they win it. Anything else is a disappointment.
The Blackhawks were disappointed last season. While they exceeded their third-place regular-season finish in the Central, knocked off the
St. Louis Blues
and
Minnesota Wild
in the first two rounds and were a goal away from reaching the Stanley Cup finals again, the 2013-14 season will be remembered by the Blackhawks as a missed opportunity to repeat as champions.
"There's so many things that go through your mind," Blackhawks captain
Jonathan Toews
said after last season. "The what ifs and little things that could've gone differently, how confident we would be as a team if we were getting ready to play a game tomorrow about our chances to win another Stanley Cup. We were this close. We've been there before.
"Some other guys have said it, I've said it too, that when you win a Stanley Cup you get that feeling, that taste for what it's like and then you really realize what you're missing and how special it is, not only what it's like to parade around the city of Chicago with the Stanley Cup but just the feeling of being in that room and celebrating a great job with the guys you've been working so hard with for a long, long time. This is pretty much the opposite of that, and I guess maybe you learn something from that too and maybe it makes you even hungrier."
The Blackhawks will need more than hunger to get through the Central, unseat the defending champion
Los Angeles Kings
and capture another Stanley Cup. The Blackhawks will rely on many of the same faces again, but there will be some tweaks this season.
Blackhawks general manager Stan Bowman addressed one of the biggest issues last season and signed veteran
Brad Richards
to center the second line and add depth down the middle. With Toews, Richards,
Andrew Shaw
,
Marcus Kruger
,
Peter Regin
and possibly
Teuvo Teravainen
, the Blackhawks have more options at center than they did a season ago. That was an area where the Kings outplayed them in the Western Conference finals.
"I think you can never have enough centermen," Blackhawks coach Joel Quenneville said in July. "I think your depth at the blue line, your depth at the middle always impacts and exposes over the course of a season and challenges you. I'll been comfortable having guys that have versatility in playing wing and center.
"And having that ability and that depth over a course of a season, you look at L.A.'s four centermen with experience and proveness [sic] down the middle, strength at the faceoff circle, that's probably the elite four-man center package you're going to find throughout the league. I really like the centermen we have and the ability to play in different roles and in different situations and comfortable with both sides of the offense and defensive responsibilities."
A top line of
Patrick Sharp
, Toews and
Marian Hossa
followed by a line of
Brandon Saad
, Richards and
Patrick Kane
gives the Blackhawks two elite lines again. The Blackhawks are hopeful
Bryan Bickell
can translate his playoff success to the regular season and provide them a top-6 forward on the third line.
Bowman and Quenneville have commented they're going to give
Jeremy Morin
a larger role this season. Morin's offensive numbers were among the team's best when he got a chance to play last season. The Blackhawks are also optimistic
Kris Versteeg
returns this season as the player they hoped he would be when they acquired last season. They also return key role players Shaw, Kruger and
Ben Smith
.
Duncan Keith
,
Brent Seabrook
,
Niklas Hjalmarsson
,
Johnny Oduya
and
Nick Leddy
lead an experienced defenseman group. In net,
Corey Crawford
returns and will seek to be more consistent, but he proved again in the playoffs last season he can carry the team if needed. His six-year, $36 million contract goes into effect this season.
All in all, the Blackhawks like their chances of making another Cup run.
"It's always exciting to be part of a group that has a chance to win a Cup," Keith said on Thursday. "You look around the league and there's so many good teams, especially in our conference, in our division. But you look around the room and you look at your teammates, and it's definitely an exciting feeling knowing the opportunity that is there.
"You've been in situations before, like at the start of my career when there wasn't much talk of Stanley Cups, it was more of just try to get to the playoffs and go from there. But we have high expectations, and I think everybody on the team enjoys that challenge and having that type of expectation."