February, 27, 2015
Feb 27
12:07
PM CT

By Katie Strang
ESPNChicago.com
Archive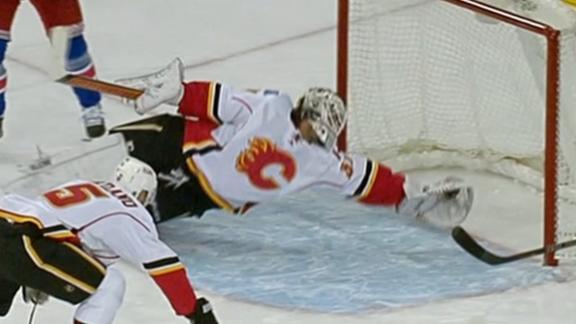 FORWARDS
Trending Up: Teuvo Teravainen, Chicago Blackhawks
-- Considering the injury to
Patrick Kane
, who is expected to miss 12 weeks after undergoing surgery to repair a broken clavicle, Teravainen's progression has never been more important for a Blackhawks team missing its biggest star. In the wake of Kane's injury, Teravainen was recalled by the Hawks in advance of their game against the Panthers Thursday night, and the 20-year-old Finnish center wasted no time getting himself on the score sheet. Teravainen scored 3:08 into play to help lead Chicago to a 3-0 win over Florida.
Trending Down: Nick Bjugstad, Florida Panthers
-- Though the Panthers added veteran scorer
Jaromir Jagr
in a trade Thursday to help propel the club's push for the playoffs, the Cats will need the help of their talented youngsters as well. That means Bjugstad has to work his way out of his current rut if Florida is going to catch Boston in the race for that last wild card spot in the East. Bjugstad has been held off the score sheet in his past five games and is minus-7 over that span.
[+] Enlarge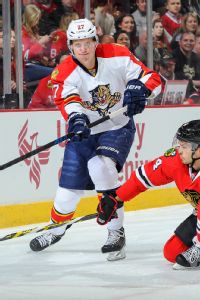 Bill Smith/NHLI via Getty ImagesNick Bjugstad has been held off the score sheet in his past five games and is minus-7 over that span.
Surprise of the Week: David Clarkson/Nathan Horton, Columbus Blue Jackets/Toronto Maple Leafs
-- Don't feel bad if you did not expect the stunning swap between the Maple Leafs and Blue Jackets. No one did. But in a creative deal that has garnered Leafs general manager Dave Nonis tons of credit, Clarkson and his albatross of a contract were shipped to Columbus in exchange for injured winger Horton. Initially, the deal was a head-scratcher, considering the assumption that Horton's degenerative back injury could prevent him from ever playing again. But the Leafs gained some much-needed cap space by utilizing their ability to place him on long term injured reserve and pay him to not play, while the Blue Jackets gained an actual roster player that can contribute for the money they were already spending because Horton's contract was not insured. Very interesting.
DEFENSEMEN
Trending up: Andrej Sekera, Los Angeles Kings
-- Things are looking up for Sekera, who upgraded from a floundering
Carolina Hurricanes
squad to a potential Cup contender in the Kings via trade this week. Sekera was a coveted trade target as teams honed in on defensive help, but it was ultimately GM Dean Lombardi who snatched up the defenseman in hopes of bolstering the Kings' blue line. Lombardi told reporters it was a reward for the team's fine play recently. Had to feel like a reward for the 28-year-old Sekera, too.
Trending down: James Wisniewski, Columbus Blue Jackets
-- First, he was scratched. Then he was placed on the trading block. And the most recent development in the ongoing saga between the veteran defenseman and the Blue Jackets is that he is reportedly using his limited no-trade clause as a way to obstruct a potential move. According to The Columbus Dispatch's Aaron Portzline, Wisniewski's recently submitted list of the ten teams to which he would approve a trade makes it "difficult" for GM
Jarmo Kekalainen
to find a suitable partner. According to the report, Wisniewski's list was all teams with limited cap space (Wisniewski carries a $5.5 million cap hit) and no need for an offensive defenseman.
Surprise of the week: Adam Larsson, New Jersey Devils
-- Larsson's tenure in New Jersey has been puzzling to say the least, but the 22-year-old seems to be finally finding his way as of late. Larsson, the fourth overall pick in the 2011 draft, has five points in his past four games, including a three-point effort in the team's 4-2 win against the
Vancouver Canucks
last Friday.

GOALTENDERS
Trending up: Andrew Hammond, Ottawa Senators
-- The rookie netminder posted back-to-back shutouts this week, blanking both the
Anaheim Ducks
and Kings on consecutive nights. The 27-year-old Hammond, thrust into action by Ottawa as a result of injuries to both
Craig Anderson
and
Robin Lehner
, has won all four of his starts this season and has turned away 60 of 60 shots in his past two games.
Trending down: Eddie Lack, Vancouver Canucks
-- With
Ryan Miller
out the next four-to-six weeks with a sprained knee, the pressure falls squarely on Lack's shoulders as the playoff race heats up out West. And while Lack bested the
Boston Bruins
in his first start following Miller's injury, he faltered in the Canucks' 6-3 loss to the lowly
Buffalo Sabres
on Thursday, giving up five goals on 23 shots to the worst team in the league, despite the fact that Buffalo was also without its top two scorers in
Zemgus Girgensons
and
Tyler Ennis
. Yikes.
Surprise of the week: Jonathan Bernier, Toronto Maple Leafs
-- Following a brutal stretch in which he was winless in 10 games, Bernier has since rattled off two straight victories for the Toronto Maple Leafs. Most recently, he delivered a spectacular 47-save performance as the Leafs edged the
Philadelphia Flyers
3-2 on Thursday night. Captain
Dion Phaneuf
told reporters that Bernier stole the game for Toronto, and Phaneuf was right. That hasn't happened too often recently for Bernier.
February, 27, 2015
Feb 27
10:39
AM CT
Former
Chicago Blackhawks
defenseman Brent Sopel announced his retirement from hockey Friday.
Sopel, 38, played for six different teams throughout his NHL career from 1998-2011 and was a member of the Blackhawks' 2010 Stanley Cup championship team. He had 44 goals, 174 assists and was a plus-32 in 659 NHL career regular-season games. He also spent three seasons in the KHL and played in 29 games for the Chicago Wolves in the AHL this season.
"I have been so lucky to play the sport I love for the last 18 years," Sopel said in a statement. "I fulfilled a lifelong dream of winning a Stanley Cup Championship with the 2010 Chicago Blackhawks.
"Today's decision is not made lightly. This is the right time for my next chapter. I look forward to staying involved with hockey while maintaining family roots in Chicago. I am excited to spend more time with my children in the city we call home."
Sopel especially reflected fondly on his time with the Blackhawks. He played 154 games for them from 2007-2010.
"While each professional season holds a special place in my heart, the years I spent with the Chicago Blackhawks are my fondest memories," Sopel said. "The Chicago Blackhawks are a top class organization with a foundation for success on and off the ice."
Wolves general manager Wendell Young released a statement Friday thanking Sopel for his time with them.
"We thank Brent for his service and his professionalism this season," Young said. "He has been an excellent role model for our players. We wish him the best as he pursues other dreams in the hockey world."
Sopel plans to continue with a broadcasting career in Chicago and coach youth players at the Sopel Academy of Defense camps. He has also accepted a role of athlete mentor at Ti22 Marketing, a Chicago-based company.
February, 27, 2015
Feb 27
10:06
AM CT
Here are five thoughts on the Chicago Blackhawks following their 3-0 win over the
Florida Panthers
on Thursday.
1.
Blackhawks coach Joel Quenneville made one of his boldest decisions of the season by healthy scratching
Michal Rozsival
on Thursday. Rozsival's inconsistencies have been apparent for some time, but Quenneville has often glossed over them whenever asked about Rozsival's play. Rozsival has been an everyday player for much of the season and has been getting major minutes. Quenneville finally was swayed against Rozsival after witnessing him be on the ice for five 5-on-5 goals over the previous two games. "His last two were not good enough," Quenneville told reporters Thursday.
With
Johnny Oduya
also still out with an injury, Quenneville put
Kyle Cumiskey
,
David Rundblad
and Tim Erixon into the lineup, and it worked. All six defensemen held their own against the Panthers. Some ended up with negative Corsi numbers as the Panthers got aggressive late in the game, but each one of them had zero or positive possession numbers in close 5-on-5 situations, which is defined as when the game is within a goal in the first two periods or tied in the period. All six defensemen also played 12-plus minutes. It was no surprise the pairing of
Niklas Hjalmarsson
and
Duncan Keith
led the effort Thursday. Quenneville will likely stick with the same pairings Friday.
2.
The Blackhawks got off on the right foot without
Patrick Kane
, but that was expected. The Blackhawks were motivated for a number of reasons. First, they want to prove they're still more than capable of winning without Kane. Secondly, they just played the Panthers and felt they let a regulation victory slip away. Thirdly,
Corey Crawford
was driven to bounce back and was due for a solid game.
There's also the fact the Blackhawks are simply better than the Panthers, who weren't all that impressive in the last two games and are now on a four-game losing streak. The real challenge for the Blackhawks will be facing the
Tampa Bay Lightning
on Friday. It'll be the second game of back-to-back road games, and the Blackhawks are likely going to have score goals to stick with the Lightning, who lead the league with a 3.24 goals-per-game average. The Blackhawks haven't scored three goals, excluding empty-netters, in the last seven games.
February, 26, 2015
Feb 26
11:13
PM CT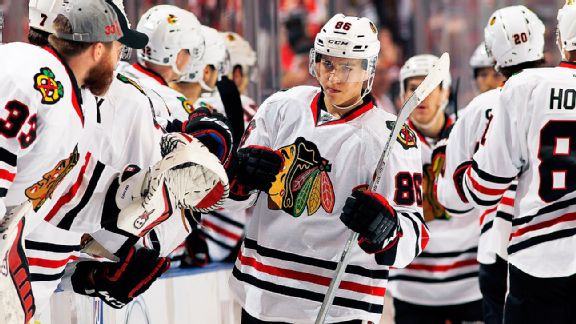 Eliot J. Schechter/NHLI/Getty Images"Very astute," Joel Quenneville said of Teuvo Teravainen. "He's got good awareness to his game."
SUNRISE, Fla. -- On a night the
Chicago Blackhawks
were looking for ways to find offense to replace the loss of one of the NHL's scoring leaders, goaltender
Corey Crawford
's keep-the-door-shut display quietly sparkled Thursday night.
"We played playoff hockey there," Crawford said after locking down a 3-0 victory over the
Florida Panthers
at the BB&T Center. "We played the puck in the right area, not forcing anything. We played well defensively, kept them to the outside for the most part, and the score showed it."
The Blackhawks found one answer to the scoring questions when recently recalled
Teuvo Teravainen
lit the lamp 3 minutes, 8 seconds into the game on his welcome-back shift. The 20-year-old, Chicago's top prospect, had been with Rockford of the AHL, where he had six goals and 19 assists in 39 games. His goal Thursday was his third in the NHL this season.
The goal came on Teravainen's only shot of the game, in which he saw 9:50 of ice time. It was a collective sigh of relief from a team one could sense was searching for answers leading up to the rematch against the team that sent
Patrick Kane
to long-term injured reserve with a broken clavicle.
Teravainen's immediate impact softened that blow.
"He's progressed," Blackhawks coach Joel Quenneville said of the young Finn. "He's very astute. When he's got the puck, he's got good awareness to his game. That was a nice play."
Brandon Saad
stepped up, too, taking over second place among the Blackhawks with his 19th goal 3:07 into the second period on assists from
Duncan Keith
and
Marian Hossa
. Saad also assisted on
Jonathan Toews
' empty-net goal, which iced it in the final minute.
Chicago has not lost to Florida since March 8, 2011.
"The last two games were big wins for us," said Toews, who's scored in three in a row. "They're hungry to win. I think we learned from our mistakes in the last game. We didn't want to let them back in the game."
The Blackhawks gave up a 2-0 lead in Tuesday night's shootout victory over the Panthers at the United Center. Thursday was a sharper display of execution in all phases.
"You feel pretty good, and the test comes as you progress," Quenneville said, careful not to evaluate his team's post-Kane state too quickly.
"Initially, you got a good response, but sustaining it is the challenge."
Following a pair of rough outings, Crawford buttoned things up at the back end. He made 20 saves, 16 of which came after the first intermission.
"I thought it was a good response," Quenneville said of his netminder's bounce-back effort, with which Crawford earned his second shutout of the season after allowing eight goals in his previous two starts.
Quenneville wouldn't say whether Crawford would draw the start Friday when the Blackhawks visit the
Tampa Bay Lightning
.
"We're going to talk about that tomorrow," he said.
Either way, Crawford gave the Blackhawks a different dynamic to hang their caps on when all the focus seemed to be about finding another scorer.
"Just got to play hard, play the same way," Crawford said. "Stuff happens. It's a tough break for our team, but we've got to keep playing."
February, 26, 2015
Feb 26
9:47
PM CT
SUNRISE, Fla. --
Chicago Blackhawks
coach Joel Quenneville might have had good reason for the twinkle in his eye before Thursday night's victory over the
Florida Panthers
-- at least if one listens to Blackhawks general manager Stan Bowman.
The team is going to be a player before Monday's NHL trade deadline.
"We're getting pretty close," Bowman said between the first and second periods of the Blackhawks'
3-0 victory
at the BB&T Center. "But until it's done, it's not done."
The Blackhawks have been actively seeking to fortify a team weakened by Tuesday's loss of
Patrick Kane
to injury. Bowman confirmed that the organization has made multiple calls, with a number of possible routes open.
"We want to improve our team," Bowman said. "There's more than one way to improve your team. It doesn't have to be a replacement for Kane."
In other words, the Blackhawks could, for example, seek out a defenseman. Chicago has also expressed interest in
Arizona Coyotes
center
Antoine Vermette
. Vermette has 13 goals and 22 assists through 62 games.
"We're open to either one," Bowman said of the ideas of acquiring a blueliner who can produce in other ways or another pure scorer. "There's more than one way to improve your team.
"You have to make a deal that works for you. We're gonna work through it. Obviously, it takes two to make a deal," he added.
"We have until Monday. That's not to say we're waiting until Monday."
February, 26, 2015
Feb 26
9:22
PM CT
Associated Press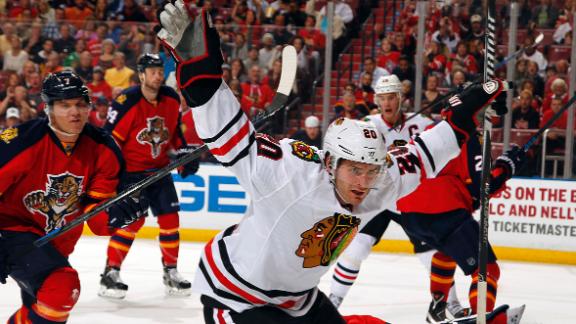 SUNRISE, Fla. -- Corey Crawford earned his second shutout of the season in the Chicago Blackhawks' 3-0 win over the Florida Panthers on Thursday night.
Brandon Saad and Teuvo Teravainen scored goals before Jonathan Toews added an empty-netter with 46.8 seconds left.
The Blackhawks won their second consecutive game after previously losing three straight and beat the Panthers for the seventh straight time. The last time the Blackhawks lost to the Panthers was March, 8, 2011.
It was the first game for Chicago since losing leading scorer Patrick Kane, placed on long-term injured reserve Wednesday with a broken left collarbone suffered in Tuesday's 3-2 shootout win over the Panthers.
Crawford stopped 20 shots by a sluggish Florida offense, which took only four shots in the first period and didn't take its fifth shot on goal until 10:47 of the second.
February, 26, 2015
Feb 26
9:18
PM CT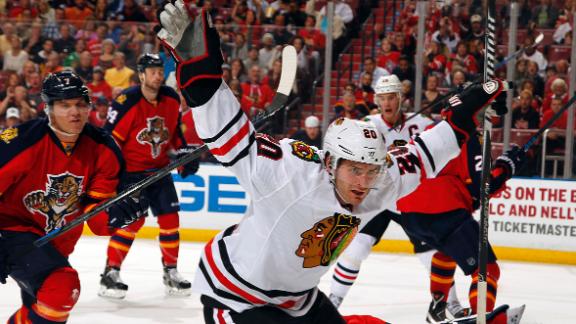 SUNRISE, Fla. -- Here's a quick look at the
Chicago Blackhawks
' 3-0 victory over the
Florida Panthers
on Thursday at the BB&T Center:

How it happened:
Left wing
Teuvo Teravainen
scored his third goal of the season 3 minutes, 8 seconds into the game on a "welcome back" shift. Teravainen, the Blackhawks' top prospect, was recalled Wednesday from the AHL's Rockford IceHogs after
Patrick Kane
was lost for perhaps 12 weeks with a broken clavicle.
Brandon Saad
doubled the lead with his 19th goal of the season at almost the exact same time in the second period, cashing in at the 3:07 mark.
Jonathan Toews
added an empty-netter in the final minute on a helper from Saad, whose goal was assisted by
Duncan Keith
and
Marian Hossa
.
What it means:
The Blackhawks proved they can produce in a variety of ways -- something they are looking for after the loss of Kane. The Hawks also proved they could get a solid defensive effort in all facets against a club that took them to a shootout two nights earlier in Chicago. Goalie
Corey Crawford
was primed for the challenge.
Player of the game:
It's a toss-up between Teravainen, who earned his keep in making good on the Blackhawks' decision to recall him, and Saad, who factored in two goals.
Stat of the game:
Crawford stopped 20 shots, including nine in the second period, as the Blackhawks completed the sweep of the home-and-home series.
What's next:
The Blackhawks complete the back-to-back set Friday night on the road against the
Tampa Bay Lightning
-- even as management continues to make calls ahead of Monday's trade deadline.
February, 26, 2015
Feb 26
7:51
PM CT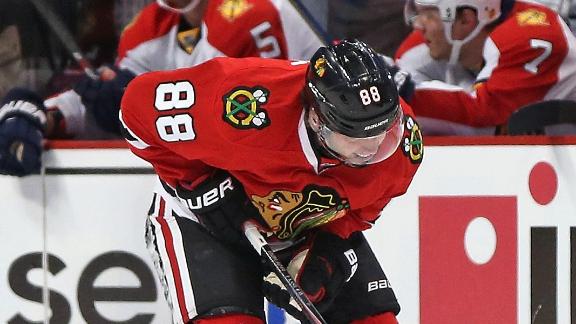 SUNRISE, Fla. --
Jonathan Toews
had a look of certainty on his face.
After the
Chicago Blackhawks
lost forward
Patrick Kane
for what's expected to be 12 weeks after a cross check Tuesday night by the
Florida Panthers
'
Alex Petrovic
, uncertainty loomed. But before Thursday's skate in preparation for a rematch with the Panthers at the BB&T Center, Toews offered reassurances.
Could a Blackhawks team that currently sits in fourth place in the Western Conference standings, three points out of third, honestly make another run at the Stanley Cup?
"Absolutely," Toews said. "We all know we can step up and produce and win a Cup with this team."
Kane was having a career season, tied for the NHL lead with 64 points through 61 games. Five of his 27 goals were game winners, with both of those totals tops among the Blackhawks. His 37 assists also led the team.
"When you lose one of your best players, it's always tough," said Toews, whose 18 goals and 31 assists for 49 points have him second among the Blackhawks' production leaders. "With the year he's having, it's heartbreaking. ... He was having one of those special years. Things can happen."
Now, a week before the NHL trade deadline, thoughts of finding someone to fill the void begged exploration. Toews, however, begged off on that score.
"You're asking the wrong person about that," Toews replied when asked if the Blackhawks would welcome a trade or addition to the roster. "We're players in the room. I'm focused on my game. That's up to the head coach and management."
And indeed, Blackhawks coach Joel Quenneville addressed the possibilities.
"We like our team, we like our depth, we like our locker room," Quenneville said, a look in his eye almost hinting that Chicago will be active in the open market for an acquisition.
"Anything you can do to improve your depth, that's certainly something you look at."
Chicago recalled
Teuvo Teravainen
, who not only saw the ice Thursday night but scored the Blackhawks' first goal. The team earlier sent
Trevor van Riemsdyk
down to the American Hockey League, but that seemingly won't be the last of the shuffling.
As for Thursday's rematch with the Panthers in sunny South Florida two days after the Blackhawks capped an eight-game homestand, Toews insisted there is no incentive for retaliation.
"The best way to do that is winning the game," Toews said.
On a sunnier note:
Following that long homestand in frigid Chicago temperatures, Toews was receptive to the getaway south, particularly considering the injury to Kane and
rumors of locker-room discord
that surfaced earlier in the day.
"It would have been nice to have a few more days down here with the weather," he said, wearing a large smile. "We will work on getting that win."
As to the purported discontent, the Blackhawks saw those whispers bubble up during lunch.
"We were having a team meal, and were kind of laughing about it," Toews said. "Not too sure where rumors like that can come from. In today's age, anyone can post anything."
February, 26, 2015
Feb 26
3:53
PM CT
The
Chicago Blackhawks
acquired forward Spencer Abbott from the
Toronto Maple Leafs
in exchange for defenseman T.J. Brennan on Thursday.
Abbott, 26, has seven goals, 17 assists and is a minus-3 in 46 games for the Toronto Marlies of the AHL this season. He has played in one career NHL game. He is set to become an unrestricted free agent after the season. He will report to the Blackhawks' AHL affiliate, the Rockford IceHogs.
Brennan, 25, was acquired by the Blackhawks along with other prospects from the
New York Islanders
in exchange for
Nick Leddy
on Oct. 4, 2014. Brennan led the IceHogs with 36 points, which included nine goals and 27 assists in 54 games. He has four goals and seven assists in 40 career NHL games. He is set to become a restricted free agent after the season.
February, 26, 2015
Feb 26
2:13
PM CT

By Pierre LeBrun
ESPNChicago.com
Archive
One wondered if
Arizona Coyotes
general manager Don Maloney waited too long on
Antoine Vermette
, given that there's been interest all season on the pending unrestricted free agent forward. But
Patrick Kane
's injury likely has made that a moot point.
With the
Chicago Blackhawks
definitely interested in Vermette, easily the cream of the crop when it comes to rental forwards, it should help drive up the price to something that the Coyotes can live with.
[+] Enlarge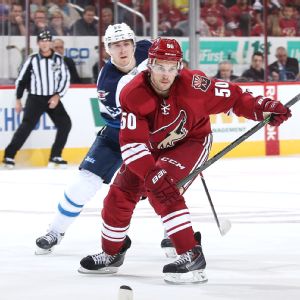 Christian Petersen/Getty ImagesThe Coyotes' Antoine Vermette is easily the best available rental forward on the market.
Although Vermette isn't the only option for Chicago, one source told ESPN.com Thursday that the Blackhawks had already made lots of calls on several players in the wake of Kane's injury, so they are being quite proactive on several fronts, not just Vermette.
Still, Vermette is the catch on the rental forward market right now.
I think the
New York Rangers
and
Winnipeg Jets
are also among other teams keeping tabs on Vermette, but only if the price makes sense -- and I don't think it will for either team.
In the case of the Rangers, they don't have a first-round pick in this year's draft (traded in
Ryan Callahan
deal), so if that's ultimately part of the price, they can't proceed. And New York doesn't want to deal any of its top young players or Grade A prospects, either.
The Jets have a pair of first-round picks, their own plus the one they got from Buffalo in the
Evander Kane
deal. But I don't think Winnipeg would want to spend a first. So you don't get the sense the Jets are going to be serious bidders on Vermette unless the price is very reasonable.
As I wrote Wednesday, I just feel Vermette is a perfect fit in Chicago. His two-way game and special-teams impact are just the tonic needed in the wake of Kane's long-term injury. But the price has to be right, of course.
As mentioned above, the Blackhawks could go elsewhere for help as well. There are other rental options, such as
Curtis Glencross
, but I just feel like Vermette is the guy who makes the most sense.
February, 26, 2015
Feb 26
12:19
PM CT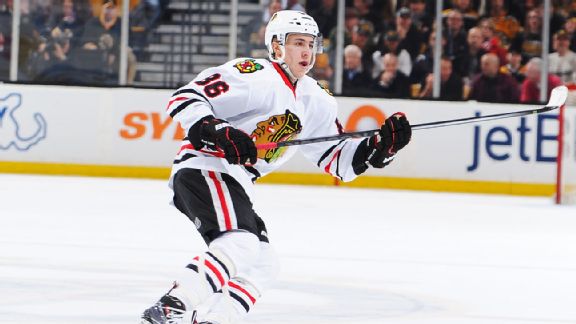 Steve Babineau/NHLI/Getty ImagesTeuvo Teravainen hopes to use what he learned in his last stint with the Blackhawks.
The
Chicago Blackhawks
would have obviously preferred
Teuvo Teravainen
's latest NHL call-up not to be in conjunction with an injury to a major player.
Putting aside
Patrick Kane
's injury for a moment, though, Teuvo Time is here again, and Teravainen, the organization's top prospect, is as prepared as he's ever been to contribute to the Blackhawks.
Let's be clear, he isn't stepping into Kane's skates and picking up the offensive load. That responsibility still falls on
Jonathan Toews
,
Patrick Sharp
,
Marian Hossa
,
Brandon Saad
,
Kris Versteeg
, etc. But Teravainen, 20, returns to the Blackhawks with confidence, NHL experience and success behind him. He knows what he's getting into, and, and just as important, the Blackhawks and coach Joel Quenneville know what Teravainen is bringing back.
"Teuvo's come in, showed that he's an NHL player," Blackhawks general manager Stan Bowman said in late January. "That's nice to know. A couple months ago, we thought he was. Now we've seen him do it. We know he can do it. So we got a lot of weapons."
February, 26, 2015
Feb 26
9:48
AM CT

By Craig Custance
ESPN Insider
Archive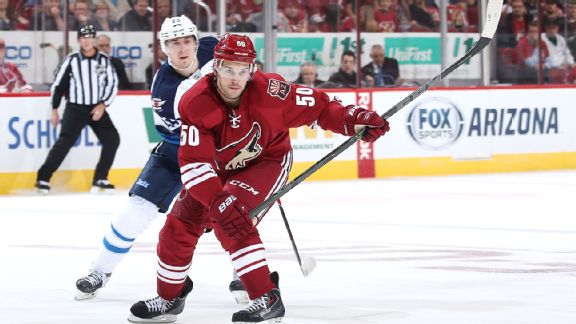 Christian Petersen/Getty ImagesAntoine Vermette is among the best remaining "rental" options on the trade market.
And just like that, the rental trade market has thinned out considerably.
On Tuesday, the trade for
Sean Bergenheim
helped set the price for a rental, with the
Florida Panthers
getting a third-round pick while shipping a seventh-rounder to the
Minnesota Wild
along with the forward, who had asked out.
The other general managers took that bit of information on Wednesday and ran with it.
"I think the Bergenheim price motivated some sellers to take what they can get. That was not a great price if you're a seller," one Eastern Conference executive said. "The value -- I don't think it was anywhere near what people were saying the market was going to be."
That said, the price the
Pittsburgh Penguins
paid for
Daniel Winnik
was high, in part because he was one of the few rentals they could squeeze under the cap. And the
Los Angeles Kings
paid a nice ransom for
Andrej Sekera
, but get the double benefit of adding the best available rental defenseman
and
preventing him from going to Chicago.
In a span of two days, Bergenheim, Winnik, Sekera and
Jiri Tlusty
were removed from a market that also no longer contained
Cody Franson
and
Mike Santorelli
.
There are still useful options out there, but it moves the spotlight to the "hockey trade" market. This is the market in which contenders vie for a player who has more term on his deal.