October, 1, 2013
10/01/13
2:15
PM CT

By Scott Powers
ESPNChicago.com
Archive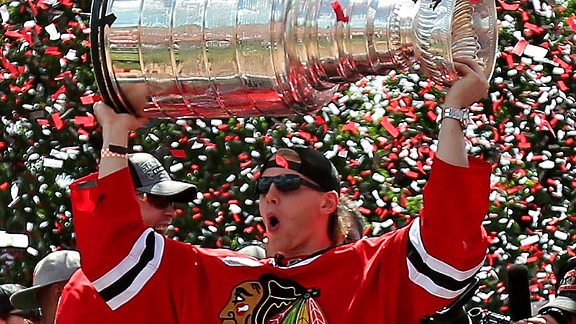 Jonathan Daniel/Getty ImagesPatrick Kane took the Cup to play ball hockey with friends this summer.
The
Chicago Blackhawks
will move on from their 2013 Stanley Cup season after their championship banner is raised on Tuesday night.
Before they do that, a number of the Blackhawks shared their favorite memories from their day with the Stanley Cup this past summer.
Bryan Bickell
"For me, my passion in the offseason is fishing. So a friend of mine has his own TV show; it's called 'Facts of Fishing,' and his name is David Mercer. It's a big TV show in Canada. I had the opportunity to bring the Cup on the show and fish with the Cup, which was special because I know all the guys around the room would say if I wasn't playing hockey I'd be fishing. There were two parts. The first day we caught fish, but there weren't any with size. We had a Part 2 the next day, and we got big ones."
Brandon Bollig
"I think being from St. Louis and taking it back there and having the Blues being a big rival with the Blackhawks, people were on the fence as to whether to come out. I got a lot of tweets from people that they weren't going to come see it until the Blues won. Then again, you get a lot people saying that's awesome, and they're going to support someone from their hometown and come. I had a lot of people with Blues jerseys and shirts at my public event. It was cool. It was all in good fun. I understand. I'd probably do the same if I was in their position."
Corey Crawford
"I think just spending it with my family. It was special to me because I wouldn't be here if it wasn't for them. They pretty much gave up their lives not only for me, but for me and my brother both so we could play hockey and do that. My parents, they pretty much paid the way for me. Not just me, but my brother and sister have been really supportive throughout my career. It was pretty special."