October, 8, 2014
Oct 8
3:53
PM CT

By Scott Powers
ESPNChicago.com
Archive
CHICAGO -- The
Chicago Blackhawks
nearly reached the Stanley Cup finals again, but they didn't have the regular season they wanted last season.
They set out to disperse any notion of a Stanley Cup hangover early in the season and achieved that with a strong start. They were actually pretty good throughout the first half of the season, going 27-7-7 after 41 games.
[+] Enlarge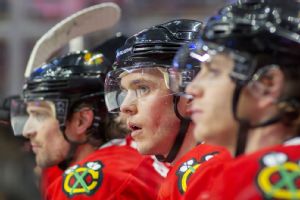 Cal Sport Media/AP ImagesJonathan Toews says the Hawks have to try to regain the pace they had during the lockout season.
But the second half of the season was a different tale. They went 8-4-7 from New Year's to the Olympic break and then 11-10-1 from the break to the start of the playoffs, finishing third in the Central Division and fifth overall in the Western Conference. They weren't exactly coasting in the playoffs.
The Blackhawks aim for improvement this season. Winning another Stanley Cup is again their ultimate goal, but they want their path there to be smooth throughout the season.
"It does matter, the regular season, I think," Blackhawks forward
Bryan Bickell
said. "To get in the playoffs is our first goal and maybe win our division. Our division is so tough nowadays. We had 107 points and finished third in our division, so it's going to come down to the start and the whole regular season. It's important to us.
"It's better to have more later rather than early. It's not always how you start, it's how you finish. I believe in that. Hopefully we can have a good start and finish the same way."
Captain
Jonathan Toews
believes the Hawks need to have a sense of urgency beginning with the season opener on Thursday against the
Dallas Stars
.
"It always seems to be a race from the All-Star break to the end of the regular season," Toews said. "Whereas it might feel like that race is going to start right off the hop this year. We'll be ready for that. It's just getting one inch at a time and we're going to have to work for every single game. We're almost going to be looking for that pace we had day in and day out throughout the lockout year."
One major reason for that rapid pace is how good the Central has become in recent years. The
Colorado Avalanche
and
St. Louis Blues
finished ahead of the Blackhawks last season, and the
Minnesota Wild
and Dallas Stars weren't too far behind. The Blackhawks went 13-13-3 in the Central last season.
Blackhawks coach Joel Quenneville belives that challenge will only be tougher this season.
"I believe it's stronger," Quenneville said. "St. Louis is better, Dallas, Colorado's young. For sure, it's going to be better. Conference probably feels it's better as well. Points are going to be hard this year, and making the playoffs will be a big accomplishment, so let's get off to a good start."
The Blackhawks especially struggled last season to pick up points in one-goal games. Their .425 winning percentage in one-goal games ranked them 27th in the league. They went 17-8-15 in those games. During the 2012-2013 regular season, they were second best in the league with a .704 winning percentage in one-goal games and went 19-3-5.
Toews is aware the Blackhawks weren't as good at finishing off close games last season.
"It's something we'll definitely have to reaffirm over and over in our locker room throughout the year. I think there were situations in the playoffs or even regular season when we didn't quite seem to have that, I don't know if you want to call it a veteran mindset in the locker room that we had the previous year where we could just hang on to one-goal leads and go out there and protect a lead for an entire third period and just be calm and relaxed and keep playing our game no matter what the score was.
"... We might have gotten away from it a little bit last year, but I think it's a thing we can reinforce that that's one thing we can be better at. We're going to be in a lot of tight games, let's learn how to play better with leads and make sure we don't give teams chances (or) at least a feeling they can come back in some of those games. It's up to us to really keep that pace high for 60 minutes."