Chicago Blackhawks:

Bruce Levine
July, 5, 2013
Jul 5
2:22
PM CT
CHICAGO -- Wrigley Field is the next stop for the
Chicago Blackhawks
on their championship celebration tour. The Stanley Cup will be on display as part of the
Chicago Cubs
' pregame ceremonies Saturday at Wrigley.
[+] Enlarge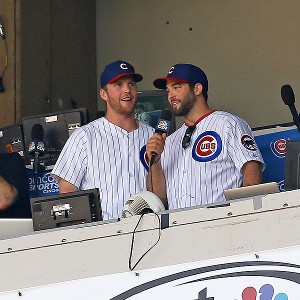 Jonathan Daniel/Getty ImagesBryan Bickell and Brandon Bollig sing "Take Me Out To The Ballgame" at Wrigley Field on Friday.
On Friday, Blackhawks
Bryan Bickell
and
Brandon Bollig
took batting practice and shagged fly balls during batting practice before the Cubs opened a series against the
Pittsburgh Pirates
.
Bickell, Bollig and
Patrick Sharp
were scheduled to be guest conductors for Friday's seventh-inning stretch.
Bickell is recovering from left thumb surgery. He scored the tying goal with 1:16 remaining in Game 6 of the Stanley Cup finals against the
Boston Bruins
, a game the Hawks won to claim the Cup.
"I tore the tendon in my thumb and had surgery," he said after going through drills with the Cubs. "I was able to get a couple of hits with it, but maybe in the future I will take some swings again."
Bollig just missed hitting one out during his batting session.
Bickell played some baseball growing up.
"Hey, that was fun then, but to see what these guys can do and what work they do is another level altogether," he said.
Bickell, whose Hawks won their second Stanley Cup in the past four seasons, understands what winning a championship does for a fan base and hopes some of the Hawks' magic rubs off on the Cubs.
"We had a period where we were rebuilding, and I think they are at a point where they are doing the same thing," he said. "It is a (process) where you have to trust and be patient. You need to trust your management and scouting staff. We waited and waited, and now we are doing [great] and very happy about it."
June, 25, 2013
Jun 25
8:14
PM CT
MILWAUKEE --
Chicago Cubs
manager Dale Sveum enjoyed the
Chicago Blackhawks
' second Stanley Cup in four years and wonders what the scene in the city might look like if his Cubs team wins a World Series someday.
"Of course it was the talk of the clubhouse," Sveum said. "Our guys understand that the (celebration) would be 10 times that if we ever won ... That whole (Wrigleyville) area and every street will look like that (party on Clark Street Monday night)."
Sveum was an avid fan of the Blackhawks as they made their run to the Cup, capped by two goals 17 seconds apart late in Game 6 to beat the
Boston Bruins
.
"Just knowing that was the ultimate goal and watching the reaction on Clark Street last night. Just watching what happened in the last minute and 17 seconds and thinking we would miss Game 7 because we are playing (Wednesday). All of a sudden they won the game and to be part of that in the city was pretty cool."
June, 13, 2013
Jun 13
12:50
PM CT
CHICAGO -- The
Chicago Cubs
clubhouse was buzzing with
Chicago Blackhawks
talk after one of the most compelling games in NHL playoff history on Wednesday night.
Cubs manager and hockey fan Dale Sveum loved the mind-over-matter mentality of players pushing themselves to the limit in the Hawks' triple-overtime 4-3 victory over the
Boston Bruins
in Game 1 of the Stanley Cup finals.
"Even without the overtime it was probably the best hockey game I have ever seen," Sveum said. "Both teams came out pounding and hitting. The competition the whole night, let alone the first three periods was incredible. To be at that high pace for that many minutes and overtime for watching on TV, there is no doubt it was the best hockey game I have ever seen."
Sveum, a former first-round draft pick of the
Milwaukee Brewers
, knows what it takes to leave it all on the field, or in this case, the ice, in big games.
"Those are the things you marvel at because in hockey there is no one on the ice that can take one second off or all hell could break lose," he said. "People do that in other sports. Not that you really take it off, but in football if the play isn't going your way half the line can take it off. In hockey the five guys or sometime four or three guys are nonstop. That is what makes that sport so great you can't take one second off."