Chicago Blackhawks:

Craig Custance
January, 23, 2014
Jan 23
5:52
PM CT
By ESPNChicago.com
ESPNChicago.com


ESPN Chicago's Scott Powers checks in with his first Blackhawks podcast. Scott spends a few minutes with ESPN's Craig Custance and also talks Olympics, consecutive games streaks and prospects.


Click here for more audio from ESPN Chicago
.
June, 16, 2013
6/16/13
1:56
PM CT

By Craig Custance
ESPN.com
Archive
CHICAGO -- This much isn't surprising: The
Chicago Blackhawks
and
Boston Bruins
are two evenly matched teams that appear on the verge of giving us a Stanley Cup finals for the ages. Two games, four overtime sessions and one win each. It's about all you can ask for from the two teams remaining.
But after two games in Chicago, a few early surprises have emerged as this series shifts to Boston. Here's a look:
1. The team that's winning isn't leading: The Bruins never trailed against the
Pittsburgh Penguins
in their dominating performance in the Eastern Conference finals, so their ability to hold a lead is well-established. Chicago broke through in Game 1, winning in triple-overtime despite never holding a lead in the game. Boston did the same thing in Game 2, surviving a barrage of shots and pressure early from the Blackhawks to even the series in overtime.
In both games, the winner never led. Both teams found needed desperation when trailing, proving that a knockout punch is going to be hard to come by in this series.
Read the entire story.
June, 9, 2013
6/09/13
12:16
AM CT
In the spring of 2010, when Blackhawks forward Patrick Kane beat Philadelphia Flyers goalie Michael Leighton in Philadelphia, he launched his gloves into the air in celebration at just about the same moment the hockey world realized Kane had just won the Chicago Blackhawks their first Stanley Cup since 1961. In that moment, most observers anticipated it wouldn't be long until Kane and the Hawks would get a chance at another one.
Read the entire article.

May, 22, 2013
5/22/13
11:00
AM CT

By Craig Custance
ESPN Insider
Archive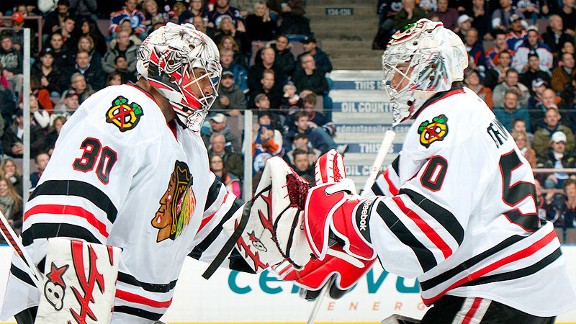 Andy Devlin/NHLI via Getty Images
In 2011, knowing they wouldn't be able to keep
Ilya Bryzgalov
, the
Phoenix Coyotes
prepared a list of replacements.
Mike Smith
, then with the
Tampa Bay Lightning
, was at the top. They loved his size, how he battled and his ability to play the puck. Because of their time together in Dallas, Dave Tippett knew he'd be a great fit.
That year, Smith struggled with Tampa during the regular season with an .899 save percentage and 2.90 goals-against average but for the Coyotes, that didn't matter. They knew what they were getting and a down year only meant he came cheaper.
Then came the playoffs.
The Lightning made an unexpected run to the Eastern Conference finals and Smith started getting playoff time spelling starter
Dwayne Roloson
that showed his confidence was back and just how good he could play in pressure situations. That postseason, Smith played three games, with a save percentage of .958. He allowed just two goals on 48 shots.
The Coyotes started to fear that Smith's playoff success might earn him more playing time and drive his asking price too high for their budget. That never happened and they signed him to a very reasonable two-year deal that is set to expire this summer.
But the playoffs can completely change the perception of a goalie and what he can demand in his next contract. It can also change how a team approaches their goaltending situation the following summer.
And two goalie situations playing out in the postseason for Pittsburgh and Chicago could help shape an interesting summer goalie market.
When
Marc-Andre Fleury
struggled to start the playoffs for the Penguins,
Tomas Vokoun
came in and steadied the ship in round 1. He's been a calming veteran presence and is a big reason the Penguins' game has settled. It's also raised questions about Fleury's future with the Penguins.
Read the entire story here
.

May, 20, 2013
5/20/13
11:29
PM CT

By Craig Custance
ESPN.com
Archive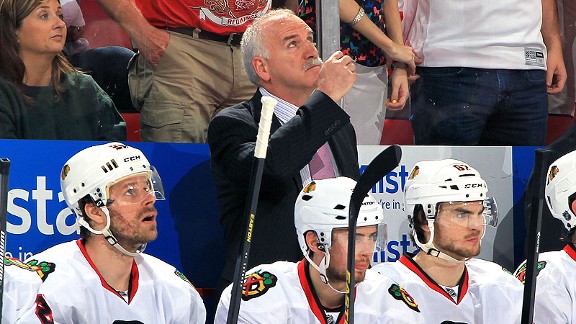 Dave Reginek/NHLI/Getty ImagesBlackhawks coach Joel Quenneville looks up at the scoreboard during their Game 3 loss.
DETROIT -- This was the slap in the face, the splash of cold water.
Not necessarily one the
Chicago Blackhawks
needed, but one they knew was coming. During any long playoff run for a Stanley Cup contender, there are moments when a big shove back from the opposition provides a very real reminder that it won't come easy.
After the
Detroit Red Wings
beat the Blackhawks 3-1 Monday night to take a surprising 2-1 series lead over the favored Blackhawks, that was the message inside the Blackhawks dressing room. Adversity was going to come at some point this spring.
Well, it's here.
"[It] almost takes something like this, maybe someone to slap you in the face, so to speak, to really understand what adversity is and how tough it can be," Blackhawks captain
Jonathan Toews
said after the loss.
May, 20, 2013
5/20/13
10:13
AM CT
DETROIT -- It's a theory Mike Babcock has had going back to his days as a junior coach. When it comes to the development of young players, a playoff game counts as two regular-season games.
One NHL scout, who has noticed the improvement in some of the young Red Wings in this postseason, thinks the ratio is probably higher than that.
Read the entire story.

February, 6, 2013
2/06/13
11:41
AM CT
It might be a little too soon to call it a Western Conference finals preview, but the much-anticipated game between the Sharks and Blackhawks, who are both off to fast starts this season, didn't disappoint. With goals from Joe Pavelski and Tommy Wingels in the first 5:18, the Sharks had an early lead, but the scoring was far from over. By the time the period was completed, there were six goals total. Patrick Kane's fifth and sixth goals of the season later in the game won it for the Blackhawks, 5-3. It was a game that featured offense, a major penalty that shouldn't have been a major penalty (Andrew Desjardins' match penalty for a hit on Jamal Mayers has already been overruled) and ultimately another Blackhawks win. Chicago now has a three-point lead on San Jose atop the Western Conference standings.
Read entire post.
December, 3, 2012
12/03/12
12:52
PM CT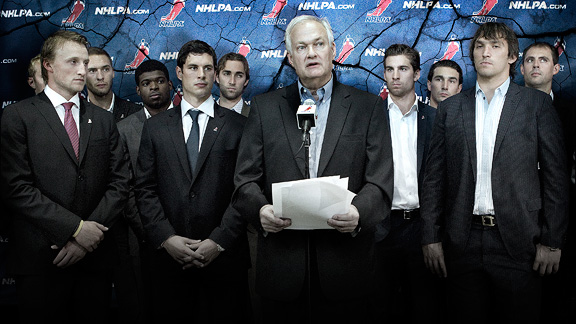 ESPN.com Illustration
On Tuesday, a small group of NHL owners and players will meet to try to find a breakthrough in CBA talks without the presence of NHL commissioner Gary Bettman and NHLPA executive director Donald Fehr.
On Wednesday, those six owners will join the rest of the board of governors for their meeting in New York, where the fate of the season could very well be decided if no progress is made.
As for the players, a Tuesday meeting without progress would push them closer to a step they've so far managed to delay: decertification.
They're not there yet, but they're getting closer.
"I think they're a lot closer to Armageddon than they ever were during the last lockout," said a veteran agent who requested anonymity.
Make no mistake, a full-on decertification would be Armageddon. Although it might not be necessary.
Read the entire story
.
October, 24, 2012
10/24/12
10:38
AM CT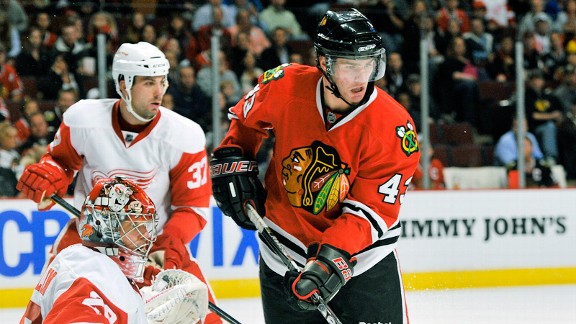 Rob Grabowski/US PresswireBrandon Saad has the potential for greatness if he can find consistency.
On Friday, members of the 2010 Chicago Blackhawks team that won the Stanley Cup will be reuniting in a game for charity. It's a fun event that should raise money for a good cause but it's also a sad reminder for Blackhawks fans of just how good that team was. It's a reminder that the salary cap system wiped out any chance at forming what could have been a dynasty.
In Rockford, GM Mark Bernard is seeing the benefits of that post-Cup dismantling. GM Stan Bowman and then-assistant GM Kevin Cheveldayoff, now running the Jets, did a great job accumulating young talent and draft picks under tough circumstances. Everybody in the league knew they had to cut salary, and yet they got a strong return for the players they had to deal. Mix in strong drafting from director of scouting Mark Kelley and the result is a talented collection of players in the AHL, waiting for the lockout to end so they can resume chasing NHL time in Chicago.
Brandon Saad has the potential to be the best of the talented group playing in Rockford right now. He's off to a slow start in the AHL (no goals and a minus-2 in three games) but the big winger is a player Bernard is thrilled to have, even if it's not for very long.
Read the entire story here
.

October, 9, 2012
10/09/12
5:25
PM CT
Craig Custance checks in with NHL coaches and execs to see who they believe to be rated too high or too low in Neil Greenberg's recent Top 25 Under 25 rankings. The consensus was that Jonathan Toews was a fine pick at No. 1 overall, but a few New York Rangers defensemen may have been snubbed in the eyes of one executive.
Click here to read the story
.

September, 10, 2012
9/10/12
12:13
PM CT
Before he posted the YouTube video
"Together We Can"
for the world to see, Janne Makkonen (
@JanneMakkonen1
) estimates that he had 500 or so followers on Twitter. One week later, that number quadrupled.
It helps when NHL players
Jack Johnson
,
David Perron
,
Ryan Nugent-Hopkins
,
Matt Duchene
and
Logan Couture
plug your video, and it helps when you're getting love on Twitter from everyone from director Kevin Smith to the Canucks Green Men.
Makkonen's following on Twitter erupted and the video, an eight-minute passionate plea on why the NHL must avoid a lockout, now has more than half a million views.
It's also the best example yet of how social media has the potential to be a game-changer during NHL CBA negotiations as another lockout closes in. And so far, public opinion has been strongly favoring the players.
Read the entire story
.