Chicago Blackhawks:

Enforcers
April, 1, 2012
4/01/12
10:25
PM CT
CHICAGO – The
Chicago Blackhawks
were surprised by some physical play from the
Minnesota Wild
on Sunday, but the Wild claimed the Hawks set that tone.
"I don't think you expected that game at all at the start,"
Patrick Kane
said after the Hawks' 5-4 shootout loss. "My first couple shifts, guys are coming up saying stuff. You get a whack on the wrist and even a whack on the back of the legs they actually called. A lot of chippiness. Those teams are hard to predict."
[+] Enlarge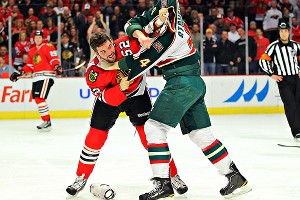 Dennis Wierzbicki/US PresswireThe Hawks' Brandon Bollig and the Wild's Clayton Stoner fight during the first period.
Kane wasn't sure if it was a case of a team out of the race just playing for some pride or young players trying to prove themselves, but a fight-filled first period set the tone.
"I was kind of shocked myself,"
Niklas Hjalmarsson
said. "It was feisty out there. It's good for us because we have playoffs coming up. It's a good test for us."
Things revved up after Kane was slashed on his surgically repaired left wrist by
Dany Heatley
. There was no call on the play so the Hawks took things into their own hands.
Brandon Bollig
was sent out on the ice with the third line instead of with his usual fourth-line teammates. He skated right up to Heatley before the next face-off.
"I was just trying to get in his ear and let him know it wasn't going to happen," Bollig said. "I think it was effective. When something happens like that you have to address it and I was the guy to do that. It's part of the game."
March, 25, 2012
3/25/12
10:42
PM CT
CHICAGO -- If the
Chicago Blackhawks
had any hope of coming back against the
Nashville Predators
on Sunday they needed their power play to come through -- with even a shot on goal, let alone a score.
Officially, the Hawks had zero shots on net in four power-play attempts. They scored their lone goal just after a power play expired, but that didn't make them feel any better about their night with the man advantage.
"It kind of stopped any chance of gaining momentum there,"
Patrick Sharp
said. "We had a tough time setting it up in the offensive zone and when we did we didn't get any pucks to the net. It definitely let us down."
January, 3, 2012
1/03/12
5:33
PM CT
[+] Enlarge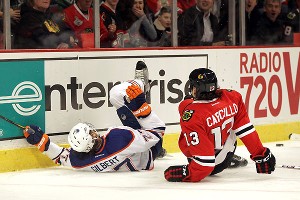 Jonathan Daniel/Getty ImagesNot only did Dan Carcillo draw a major penalty and suspension for his hit on Tom Gilbert, he also injured his knee.
CHICAGO -- News that Blackhawks forward Dan Carcillo is suspended indefinitely for his boarding of Edmonton defenseman
Tom Gilbert
can't be a shock to anyone who follows the Hawks or Carcillo. He will be able to state his case to the league at some point and then he'll finish serving his third suspension of the season. And this all happens after he recovers from his injuries.
That's one costly hit.
After talking with hockey people around the league on Tuesday, the consensus is Carcillo will get 4-6 games for the blow. No more.
Here is the bottom line: the hit was reckless but we've seen worse. He didn't target the head nor "purposely" ram Gilbert's head into the boards. Carcillo's history will play a part in the punishment but Gilbert's injuries don't appear severe so that will help his cause.
Joel Quenneville was asked on Tuesday what Carcillo could have done differently.
"It's a quick moment when you're going for a counter hit fighting for a puck," he said after practice. "He [Carcillo] probably had better leverage than the other guy. His intent certainly wasn't what happened."
It's not a cut and dry play. In fact, it's not necessarily boarding. Yes, Gilbert went flying into the boards but the players were not up against them or within inches of them as in normal boarding calls. It may have been closer to interference. And Gilbert admitted Tuesday he saw Carcillo coming.
"I should have been more ready for a guy who has made those kinds of hits before," Gilbert told reporters in Buffalo where Edmonton plays Tuesday night.
So there is enough gray area to at least believe the league won't necessarily throw the book at the controversial forward. But the big question still remains, why would Carcillo even take a chance with a questionable hit?
He had just returned from an injury, was playing on the top line and playing decent enough. In fact, he had a beautiful steal and assist on the Hawks' first goal, and in his first game back on Friday, he showed immediate chemistry with
Jonathan Toews
and
Marian Hossa
.
Monday's game was sailing along fine for the home team. The Hawks were leading 1-0 -- thanks in part to Carcillo -- and Edmonton was doing nothing on offense, plus the Oilers had just lost star rookie
Ryan Nugent-Hopkins
to an injury. On top of it, the Hawks were 14-0-1 when scoring first this season while the Oilers were 3-13 when getting down 1-0 this year. The game did not call for a borderline hit. Carcillo must know this.
He hasn't spoken since leaving with a knee injury and a game misconduct, but what could have been going through his mind?
"I think he's been fine," Quenneville said of Carcillo's season. "I think he gives us a nice look. You appreciate what he brings, his intensity. He's got some skill to complement his aggressiveness, but at the same time we still want him to play with energy. I think he has some track record that doesn't help. His leash is definitely a lot shorter than most or every player in the league. It's tough finding that right balance. From our perspective he's doing everything we want."
If everyone knows the leash is tight, why even risk it? Why does a player on a 24-10-4 team, who has been inserted onto the top line after sitting for six games take a chance like Carcillo did? He will undoubtedly try to explain the hit away but explanations aren't necessary if the proverbial line isn't approached. If Carcillo simply tries to get around Gilbert and get to the puck, the Hawks probably win the game and he's not injured.
"We want to keep a guy like that in the lineup and it's tough to lose him so quickly," Toews said. "He's an effective player for us. It's no fun when that happens."
Toews almost said that like it was out of everyone's control. It wasn't. One guy could have helped avoid a bad situation but Carcillo chose the tough route and now has to pay the price.
That's one costly hit.
January, 2, 2012
1/02/12
1:06
PM CT
CHICAGO -- Revenge is a dish best served cold -- as in ice-cold.
The
Chicago Blackhawks
will get a chance at it on Monday night when they host the
Edmonton Oilers
, this time on the United Center surface.
The teams aren't near in each other in the standings right now, as the Blackhawks lead the NHL with 52 points and the Oilers are at the bottom of the Northwest Division with just 33. But back on Nov. 19, when they met in Edmonton, the Hawks were still finding their way while the Oilers were off to a pretty good start. The result for the Hawks? A 9-2 drubbing in Game 3 of the circus trip.
"I don't know about revenge, but kind of redemption," defenseman
John Scott
said after Monday morning's practice. "They took it to us last time we were there. We talked about it. That wasn't our team when we played them a month ago. We've changed since then and kind of have gone on a rise since then."
[+] Enlarge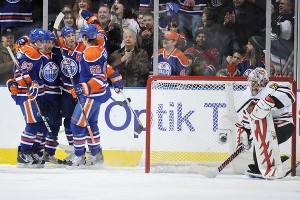 Dale MacMillan/Getty ImagesRyan Smyth scored one of the Oilers' nine goals against the Blackhawks on Nov. 19.
Scott will skate next to
Sami Lepisto
as the Hawks' third defensive pair against a fast Edmonton squad.
Steve Montador
has been ruled out due to an upper-body injury.
"I'm going to try and not do too much out there," Lepisto said. "Just think defense first and if something happens, it happens."
Lepisto has been a healthy scratch for the past eight games.
"Sitting in first place the team is doing good, but of course you get frustrated," he said of not playing. "Every player wants to play rather than sit and eat popcorn. It's a long season and hopefully I get to play more."
Lepisto didn't play against Edmonton last time, but
Jamal Mayers
did.
"We certainly should use it as motivation," Mayers said. "Obviously they took it to us in every facet of the game. We have a chance to redeem ourselves tonight."
The Hawks should have a good chance to do so. They're 14-3-3 at home while Edmonton is just 5-13-1 on the road. One of those losses came in Chicago, 6-3, on Nov. 13.
Lines the same:
Blackhawks coach Joel Quenneville liked the balance in his lines in Friday's 3-2 win over the
Detroit Red Wings
and will stick with the same trios for Monday's contest.
Marcus Kruger
did not skate Monday morning as he recovers from a concussion, so
Patrick Kane
remains at center between
Viktor Stalberg
and
Patrick Sharp
while
Jonathan Toews
has
Marian Hossa
and
Dan Carcillo
next to him. The latter trio was the Hawks' best line against the Wings.
"We had a good game, played well," Carcillo said. "They're two of the best players in the league. I have to keep my game simple and work hard to get them the puck."
Big
Jimmy Hayes
will dress for his second game in the NHL, skating with Mayers and
Andrew Brunette
again.
"The game is really fast," Hayes said of his first impressions. "I'm just trying to keep my feet moving and make some plays. [The coaches] just said to be physical."
Dave Bolland
,
Bryan Bickell
and
Michael Frolik
make up the Hawks third line for Monday's game, in which
Corey Crawford
takes on Oilers goalie
Devan Dubnyk
.
Carcillo vs. Bertuzzi:
After missing six games with a head injury, Carcillo had no issues with Detroit's
Todd Bertuzzi
asking him to fight Friday night, although he doesn't necessarily agree with Bertuzzi's reasoning. The two dropped the gloves after Carcillo hit Bertuzzi with a clean, but hard check, in the first period.
"You see a lot of that," Carcillo said Monday. "Guys get hit clean and then a team reacts or they want to start fights. But I don't think that's the way to solve a clean hit. You get up and dust yourself off and take a run at someone else. I think he saw who it was and he wants to show his bench he's ready and I'm ready. I still think it was the right time for a fight."
Although the instigator rule is called inconsistently throughout the league, Carcillo had no issues with Bertuzzi only getting five minutes for fighting.
"He looked at me and we both agreed to it," he said.
Bickell was given an instigating penalty in a similar situation against the
Calgary Flames
earlier in the season. It's more evidence the instigator rule needs to be altered or eliminated altogether.
Signings:
The Hawks signed their two first-round picks from the 2011 draft to entry-level contracts. Forwards Mark McNeill and Phillip Danault, both 18, were inked to three-year deals. They'll continue to play for their junior clubs and their contracts won't kick in until they come to the Hawks organization.
Quotable:
"It was a crazy New Year. We ordered food in and I think I had one beer. We were asleep by 12:15, so it was nuts."
-- Scott on his New Year's Eve spent with his wife and week-old baby daughter.
October, 30, 2011
10/30/11
2:38
PM CT
CHICAGO -- Arguments can be made for and against the two-game suspension of
Chicago Blackhawks
forward
Dan Carcillo
for hitting
Carolina Hurricanes
defenseman
Joni Pitkanen
into the boards on Friday night.
The Hawks and Carcillo were surprised he has to sit out two games. But almost every player is surprised when he's suspended, and Carcillo should be used to it. It's his fifth career suspension.
Was Pitkanen falling down anyway, as Joel Quenneville asserted before Saturday's game against the
Columbus Blue Jackets
? Did Carcillo take advantage of the vulnerable defenseman as the Hurricanes most certainly claimed? Those are judgement arguments online message boards will banter around until the next controversial hit.
[+] Enlarge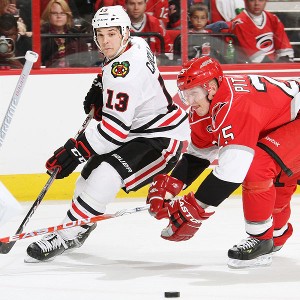 Gregg Forwerck/NHLI/Getty ImagesDan Carcillo drew a two-game suspension for a hit on Carolina's Joni Pitkanen on Friday.
The bigger question the league needs to address is the use of "prior offenses" in determining punishment. It's starting to get silly.
It's as if a player -- and this seems to apply to Carcillo -- can't change his reputation once it's established. Carcillo has been a near-model citizen in the early going this season, admittedly trying to "play hockey" and not be a menace on the ice. If punishments should fit the crime, as common sense dictates, then whether it's a first offense or a 10th, maybe the punishment should be the same.
A light suspension for an extremely dangerous hit just because the player is a first time offender simply doesn't seem fair if a less dangerous check -- like Carcillo's on Pitkanen -- gets as much, if not more, scrutiny. It means every player gets a near free-pass the first time he hits illegally. In that case, he may as well get his money's worth.
Additionally, the league looks really silly on the following point, explained by Rob Blake of the player safety department:
"Although we agree with Carcillo's assertion and have factored in he is a physical player who has never faced supplemental discipline for an illegal body check in the past, we still can't ignore the fact that he has been fined and suspended multiple times in his NHL career," Blake said.
That makes no sense.
Carcillo is punished worse because he's yelled at referees in the past? That was the reason for his latest suspension to begin the year. How does that factor into a first-time illegal check where no penalty was called and the player didn't miss a shift due to an injury from the hit.
Alex Ovechkin
hit
Brian Campbell
a couple of seasons ago much worse in a similar manner. Campbell was turning away from the puck and had finished the play when Ovechkin extended his arms shoving Campbell into the end boards while causing injury. Carcillo also extended his arms but while both players were slowing up and Pitkanen had the puck. Ovechkin got the same two games Carcillo did.
Like Blake indicated, Carcillo got a harsher sentence due to his history even though that history does not include dirty hits.
The lawyer in you might be thinking that this is how it works in the real world. A second offense earns a harsher punishment than a first offense of the same nature. But that doesn't fly here. There is plenty of gray area when it comes to hits -- Carcillo's check might even apply considering the non-call on the ice. There are no accidental thefts in real life. So again, if Carcillo is trying to clean up his act -- at least a little -- and something in that gray area occurs he's going to get no benefit of the doubt.
Bottom line: each hit should be judged in and of itself. Two illegal hits of the same exact variety should receive the same punishment. Punishment is still being handed out, hence a deterrent is still at play. Since the league emphasized Carcillo's history in determining his suspension they also admitted the hit itself wasn't all that bad. If it was so blatant, it would have been called a penalty. If it was so dangerous, they would have suspended him for longer. If not for his prior offenses, which have nothing to do with anything related to this incident, Carcillo would be playing.
Something doesn't seem right.
October, 14, 2011
10/14/11
12:04
AM CT
CHICAGO -- Already,
Daniel Carcillo
has made his presence felt.
He didn't register a hit after the first period and he didn't drop the gloves, but the
Chicago Blackhawks
forward was all over the place early and even walked away from a potential problem with the Winnipeg Jets'
Mark Stuart
.
[+] Enlarge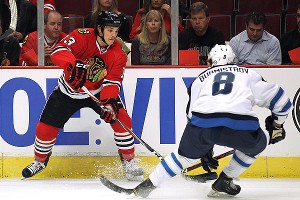 Jonathan Daniel/Getty ImagesDaniel Carcillo got off to a strong start in his first game as a Blackhawk on Thursday.
"I usually wouldn't walk away from that, but after 1:20 on the ice I'm not going to engage in a fight," Carcillo said with a smile.
OK, a long shift is a good excuse. But maybe waiting to play for the first time since last season also had something to do with his desire to stay on the ice. He was suspended for the first two games of the year.
"It sucked," Carcillo said of sitting out.
His game didn't. He got rave reviews from his two all-world linemates.
"I know the fans like that kind of [rough] stuff,"
Patrick Kane
said. "He had a rough year last year so he has something to prove. When he's not taking penalties and drawing them it's going to be some good stuff for us."
"I think Danny played an excellent game," Hossa said. "He created room for us with his physical play. Every game we're getting more comfortable."
Slappers
Blackhawks coach Joel Quenneville liked how goalie Ray Emery responded to being down 2-0.

"Early on, two deflections, we weren't in [shooting] lanes, we got off to a slow start, but [Emery] was rock solid in the third and it was a great test to see how he responded to some dangerous opportunities," he said.


The Hawks are 61-8-10 when Kane has a multi-point night.


The Hawks won 59 percent of their faceoffs. Dave Bolland won 12 of 20.


Former Hawks Dustin Byfuglien and Andrew Ladd had five shots apiece to lead the Jets. Byfuglien was credited with five hits as well.
October, 13, 2011
10/13/11
11:54
PM CT
CHICAGO --
Patrick Kane
's on-ice interviews occasionally veer off-script.
After Tuesday's 4-3 comeback win over the
Winnipeg Jets
, Kane broke free from the stock Q&A with the local TV host to ask the remaining fans a question of his own:
"It was Danny's first game," Kane said, his voice raised with joy. "You guys like him out there tonight?"
They did. Kane knows how to get a rise out of the 20,000-plus puckheads who fill the arena for every game.
"Danny" is
Daniel Carcillo
, a.k.a. Car Bomb, a.k.a. the Missing Link.
Carcillo is the heir apparent to Blackhawks alums like
Dustin Byfuglien
,
Andrew Ladd
,
Troy Brouwer
and
Adam Burish
-- bruisers that took the heat off the stars, and torched opponents during the 2010 Stanley Cup run.
Read the entire column.
October, 5, 2011
10/05/11
5:15
PM CT
The Chicago Blackhawks and Vancouver Canucks don't need much gas poured onto one of the hottest rivalries in the NHL, but new Hawk instigator Daniel Carcillo put one Canuck on notice on Wednesday.
Read the entire story.
September, 15, 2011
9/15/11
10:20
AM CT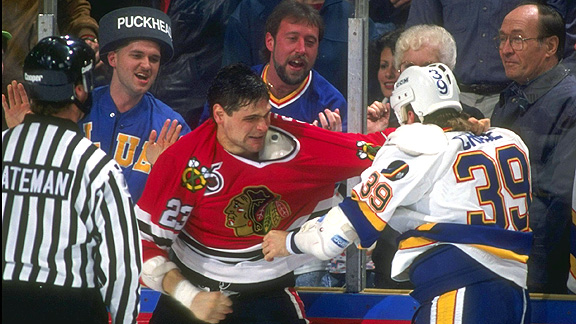 Getty ImagesEx-Blackhawk enforcer Stu Grimson said he sometimes wonders about the effects of his fights.
On Labor Day weekend, Stu Grimson drove down from Nashville — the last of eight stops he made over the course of his long and violent career in the National Hockey League — to Panama City, Fla. There, he threw himself into the surf, a short vacation from his new professional life as a lawyer and an occasional hockey commentator. It's been nearly 10 years since he last traded punches: On December 12, 2001, he fought the last of hundreds of fights, a messy heavyweight bout against Sandy McCarthy of the New York Rangers.1 It's been so long hardly anybody calls him The Grim Reaper anymore.
Read the entire story.