Chicago Blackhawks:

Five Questions
March, 8, 2012
3/08/12
2:40
PM CT
[+] Enlarge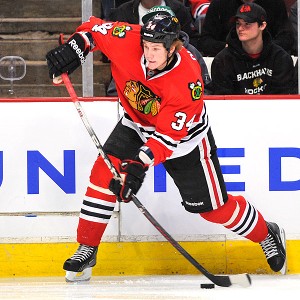 Rob Grabowski/US PresswireDylan Olsen, the Hawks' first-round pick in 2009, is enjoying travel in the NHL compared to the minors.
It's time for another edition of Five Questions With ... rookie defenseman
Dylan Olsen
.
What was your welcome to the NHL moment?
Dylan Olsen:
Was in Philadelphia my first game. Skilled forward, big guy. I don't remember his name. It was my second shift of my career, and I'm skating behind our net and he throws me a huge elbow after the whistle as I'm going by, and he just looks at me. That was kind of my welcome to the NHL. He didn't say anything, he just stared me down.
Which rookie that is up here with you is the goofiest?
DO:
(laughing) That's a toss-up between
Jimmy Hayes
and
Andrew Shaw
. They're both characters and always cracking jokes. I think I would have to give it to Shaw. I loved Shaw facts. Was pretty cool. Had a good laugh at it.
When is the last time you had a 'thank god' moment on the ice? When you were burned but not scored upon?
DO:
Actually, it happened last game against St. Louis. I was in the corner going up the wall with the puck, and I brought my head up just in time before I would have probably gotten killed by
Ryan Reaves
, the kid who fought
Brandon Bollig
. Afterwards, I was like 'Thank god I pulled my head up' or I might not be standing here talking to you.
What's better right now your puffed-out hair or your game?
DO:
The only reason I'm doing this is I have a bet with my brother of who can grow their hair out the longest and right now he's winning. Hopefully I'd have to say my game is the best right now as for the hair it's just for fun. I'll cut it at some point but not during the playoffs, that's for sure.
Other than the paycheck what's the best thing about being in the NHL compared to the minors?
DO:
There are a lot of good things, but I'd have to say the chartered flights. Lot of leg room there. That's really cool. We fly commercial in the minors.
January, 30, 2012
1/30/12
10:04
PM CT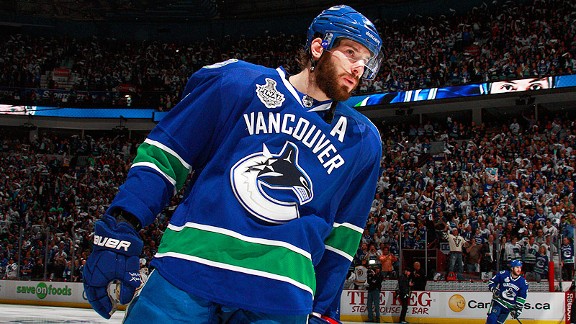 Jeff Vinnick/NHLI/Getty ImagesVancouver's Ryan Kesler has been involved in some fierce battles with the Blackhawks.
VANCOUVER -- It's time for a special edition of Five Questions With…
Ryan Kesler
of the
Vancouver Canucks
:
Who is the best trash talker on the Hawks now or in recent memory?

Ryan Kesler:
That's a tough one.
Dustin Byfuglien
had some good ones. He didn't get personal but he was funny. I'll go with him.
At the other extreme, who is/was the nicest guy out there?

RK:
That's another tough one. Probably
Marty Turco
. Does he still play there? He was always very nice.
How do Chicago fans rate compared to other cities?

RK:
They're great fans. Obviously they're passionate. They were great in the playoff series last year. When they were yelling "Looouuuuu" in Game 6 when [
Roberto Luongo
] came in, that was pretty cool. My mom said they were saying some things during one playoff series, but that's playoffs I guess.
Who would you get more pleasure out of stopping in a one-on-one situation, Jonathan Toews or Patrick Kane?

RK:
Hmm, that's a good one. Probably Kane. I know him better and it's always fun to stop him. So I'll go with Kane, not that it's easy.
Have the Sedins every tricked you since they are hard to tell apart?

RK:
When you see and play with them every day you get to know who is who. I've seen plenty of people think they are talking to one when it was the other. That's pretty funny.
January, 19, 2012
1/19/12
5:27
PM CT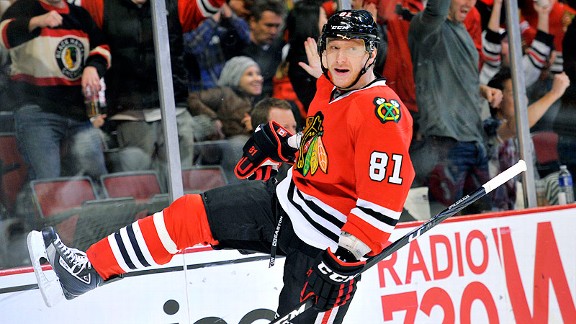 Rob Grabowski/US PresswireThe 33-year-old Marian Hossa feels young playing beside Marcus Kruger (21) and Andrew Shaw (20).
It's time for another edition of Five Questions With …. Blackhawks forward
Marian Hossa
:
1. Who is one player you disliked playing against in your career?:
When I was in Ottawa, early in my career,
Bryan McCabe
and I always had our battles. He was one of them. Back then you could hook and hold. You know, do can-openers. He was the king of the can opener (sticks his stick between the other player's legs to help knock him over.) He got me every time.
2. You just turned 33 so do you ever feel old when you're playing with Marcus Kruger (21) and Andrew Shaw (20)?:
In one sense yeah, but in another they also keep me younger. With the energy they play, with the high speed, the carelessness going to the net, it's fun to watch.
3. In this locker room, who do you go to when you need a laugh?:
I have Kaner [
Patrick Kane
] right beside me in the locker room so lots of laughs with him. He always has some type of story or some kind of joke. So he's one of the funny guys for sure.
4. Your locker was between Kane and Daniel Carcillo most of the year until now. What was that like?:
That was fun, especially at the beginning. Kane was all over Carcillo. Once he got more comfortable he gave it back to Kaner back, so we had some fun in that corner.
5. You play your good friend Tomas Kopecky Friday night when Florida is in town. What kind of trash talking could you do to him?:
I'm always telling him to zip his [hockey] pants because his pants are all over the place. We always give him a hard time about those pants. Nobody can stand those pants. Everybody back home is always asking about those pants because he doesn't zip them so they're so wide when he's skating. It bugs everybody. He wants cheap goals so he lets his pants hang out.
December, 29, 2011
12/29/11
3:15
PM CT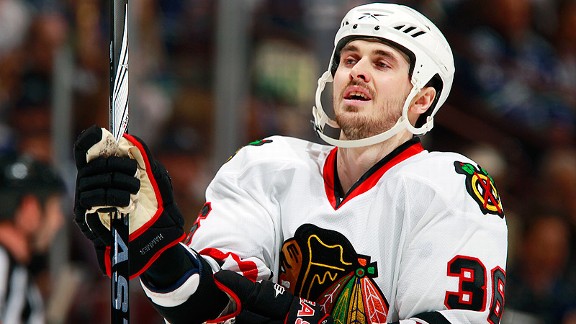 Jeff Vinnick/NHLI/Getty ImagesDave Bolland will take a pretty assist over a cheap goal any day.
1. Have you ever chirped one Sedin identical twin thinking it was the other?:
No. I know which one is which. I can just tell. Playing against them for three or four years you always know.
2. What would you prefer, the prettiest no-look assist or some cheap goal like an empty netter?:
Pretty assist for sure. It's maybe something more important [in the game] than the goal.
3. What's worse, a fight with a girlfriend or a 10-game scoring drought?:
Um, 10-game scoring drought I think. You get over a fight quicker for sure.
4. What's the worst a Hawks coach has ever been mad at you?:
I don't know. I can't remember ever. [They've] never been mad at me (smiling).
5. What's your favorite road city?:
Probably Los Angeles. It's a cool city. There are things to do, and it's sunny. You got Venice Beach and then you go to Hollywood and see what's going on.
December, 15, 2011
12/15/11
5:49
PM CT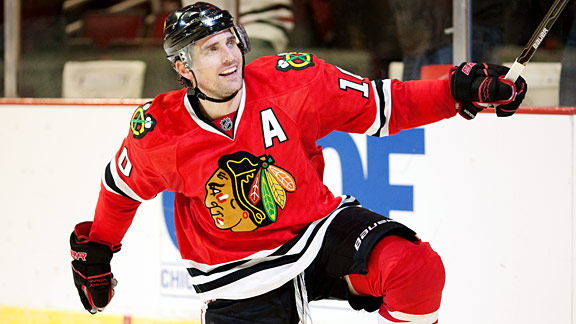 Damen Jackson/Icon SMIPatrick Sharp and his wife brought daughter Madelyn Grace home from the hospital on Sunday.
It's time for another edition of Five Questions With ... This week is a special baby edition with new dad Patrick Sharp. He and his wife brought daughter Madelyn Grace home from the hospital on Sunday.
1. Which teammate would you allow to babysit your daughter and who would you forbid?:
The last person I would pick would be
Duncan Keith
, for multiple reasons. He doesn't know what day it is, doesn't know when the next game is. He's clueless. I trust some of the older guys. Sean O'Donnell is like a father figure. I love listening to him talk. His voice could put me to sleep. Some of the younger guys, I'd probably stay away from little man Kane. Stalberg would probably try to use my daughter as a tool to pick up chicks, but he'd take good care of her so maybe Stalberg.
2. Along the line of the last question, knowing who has the hands to score around here, who do you trust to hold your baby or not hold your baby?:
If I bring Madelyn to the rink I'm going to keep her out of Dan Carcillo and John Scott's cement hands. Little man Kane with his baby soft hands can hold her anytime he wants. You know what,
Marcus Kruger
. He's got good hands and good patience so I would pass her off to him as well.
3. Easier to score on Antti Niemi or change a diaper?:
Probably change a diaper. I got a couple lucky ones on Antti but changing a diaper isn't as hard as I thought it would be. Just have to put a mask on, plug the nose a little bit and go to work.
4. Has she spit up on any Hawks apparel yet like Kane's jersey?:
No, not yet. We have lots of little mini-jerseys and onesies that she'll be wearing. I don't think she's worn any Hawks apparel yet, but she'll be spitting up on it soon enough.
5. Has anyone come to visit yet?:
Some of the other wives and girlfriends have come over. I know
Brent Seabrook
and Duncan Keith have been dying to come over and see her but my wife Abbey said no. But they'll be the first ones to come for sure.
December, 8, 2011
12/08/11
3:12
PM CT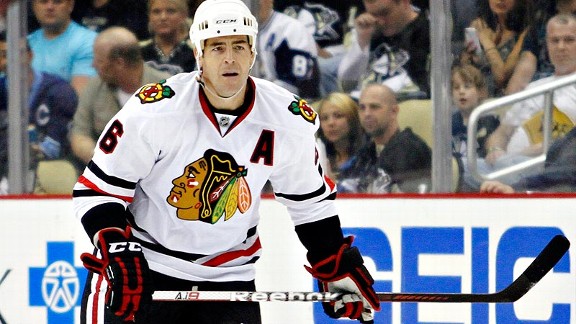 Justin K. Aller/Getty ImagesSean O'Donnell says he gets mostly "philosophical questions" during interviews.
It's time for another addition of 5 Questions With ... defenseman
Sean O'Donnell
.
How many times does an interviewer start a question to you with 'You know you've been around the league a long time?': A lot more the last couple of years. It seems like most of the time when I get interviewed it isn't about my play, whether it's good or bad, it's more philosophical questions. I seem to get those quite a bit.


What's the worst you've taken from a block shot?: I was playing for Los Angeles and it was in Edmonton. I don't remember who shot it, but I went down to block it and right at the last second as he was about to make contact it kind of rolled up on its side and I could see it and I thought 'Ah, this isn't going to be good.' He didn't get all of it but it caught me right under the lip and opened me up pretty good. It was probably 10-12 years ago.


With all the long road trips in your career, how often by the fourth hotel or whatever you've forgotten your room number?: It's happened a bunch of times. No age jokes here please, it just happens. Even when I was younger my memory wasn't that good. It happens a lot more now. When I first came into the league you had those individual keys with the engraved room numbers on them. Those came in handy some nights. Now it's just a credit card so when it's your fourth or fifth hotel in seven nights you get a little confused. I've had to call down a couple of times and ask for confirmation. Sometimes you just need the floor. On the recent long one I just needed the floor one time and I found it.


What's the worst locker room fight you've ever witnessed?: When I played for the Phoenix Road Runners in the minors two players got into a fight. Actually it was a player and a coach. And then another player, Jimmy Vesey, went to go separate them and while he was separating them rolling around he dislocated his shoulder. I can't remember the player or coach but Jimmy Vesey ended up with a separated shoulder. In hindsight that was pretty funny.


Have you ever overslept for a team related function? A morning skate or practice or something like that. If so, when was the last time?: Knock on wood I don't think I ever have. I'm pretty anal about that stuff. I tend to set two and three alarms and my wife always teases me about being anal and not relaxing and always knowing what time it is. I know I've had to try aggressively on the freeway to make it in some cases, but I can't think of a time when I've been late. In the old days you actually had to use the clocks in the hotel rooms and set the alarm. That was always a treat to try and figure out those things. Now, there is no excuse, with the wake-up calls and iPhones and all the other things that you can do now.
December, 1, 2011
12/01/11
8:41
PM CT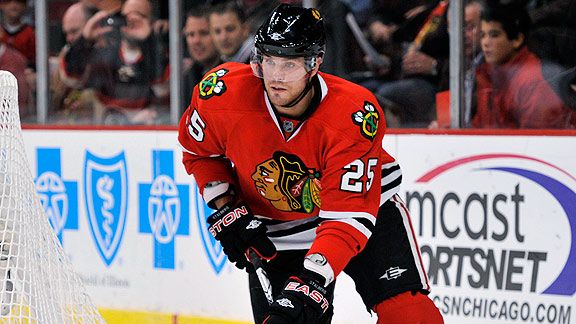 Rob Grabowski/US PresswireViktor Stalberg says he and Niklas Hjalmarsson are avid viewers of the TV show "Storage Wars" on the road.
It's time for another edition of 5 Questions. This week, Blackhawks forward
Viktor Stalberg
answers ...
Do you ever sing along with either the American or Canadian National Anthems before the game?: Not really. I'd be a little weary I think. I don't think anyone sings openly. Not that I've seen. Maybe in their heads.


What are you thinking about during the anthem?: I just kind of stand there and look at the flag, look in the crowd a little bit. Just try to get myself excited about the game. It's not too hard with the fans going crazy.


Who is the worst dresser on the team?: Sean O'Donnell wears some big suits. There's really no one terrible in terms of street clothes but in suits he has an old school look to it.


What's your favorite American television show?: Right now, [Niklas] Hjalmarsson and I watch a lot of "Storage Wars." We're watching a lot of that on the road.


You've played with Jonathan Toews a lot over the last two years. What's the worst he's been mad at you?: [Laughing] He's constantly mad at me so I don't know if there is a worst. He gets frustrated sometimes. He wants to win so badly you really can't take it personally. He gets excited in games and sometimes gets lost out there in his own frustration. He's great though.
November, 17, 2011
11/17/11
7:50
PM CT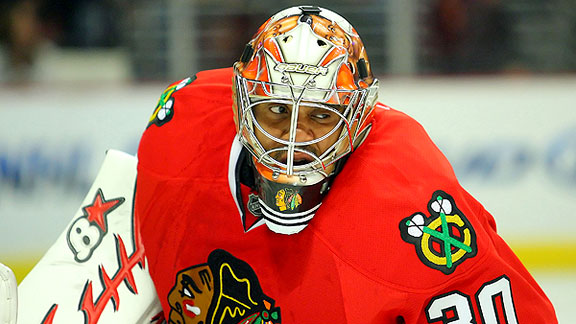 Dennis Wierzbicki/US PresswireRay Emery looks to teammate John Scott to provide some laughs. "He's a comedian," Emery said.
CALGARY -- In a new regular feature, we'll ask Hawks' players five random questions to get to know more about the person and the player.
Here are Five Questions with goalie
Ray Emery
:
1. What would you do if a guy ran you like Milan Lucic of Boston did to Ryan Miller of Buffalo?:
"It depends on the situation, but I don't think I'd do too much though. Depends on what the score was or how the game was going. I wouldn't go to the other end to get their goaltender. I might take care of the guy myself, but I would let my teammates handle it."
2. Which one of your new teammates is kind of interesting to you? Or a little out there?:
"John Scott is pretty funny. He's a comedian. He tries to crack everyone up. He's a funny guy."
3. What is your favorite road city?:
"I'd have to say L.A. The weather and the atmosphere, I like a lot."
4. Rate the "Movember" mustaches in the locker room:
"Steve Montador is the best. It's all downhill from there. Does Kane even have one?"
5. When was the last time either on the bench or in net you had to go to the bathroom in a game?:
"On the bench I do it a lot actually because I drink so much water and you're not sweating so you have to go. I think a week ago maybe. In net, I think playoffs in 2007 I did it once. You have to wait for a television timeout. Sometimes in the first period I really have to go, and I have to wait because I drink a lot right before the game. But it hasn't happened in a while."