Chicago Blackhawks:

Pittsburgh Penguins
August, 19, 2014
Aug 19
11:23
AM CT

By Katie Strang
ESPNChicago.com
Archive
Former
Chicago Blackhawks
star
Jeremy Roenick
remembers what it felt like to sign his first long-term deal. The pressure melted away, the sense of anxiety about contract negotiations dissipated and Roenick was allowed to channel all his energy onto the ice.
He suspects current Hawks superstars
Patrick Kane
and
Jonathan Toews
, who inked matching eight-year, $84 million deals this summer, will experience the same.
If that's the case, watch out.
[+] Enlarge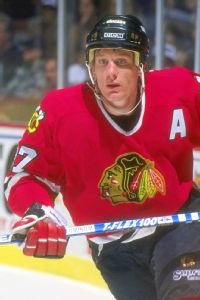 J.D. Cuban/Getty ImagesFormer Chicago star Jeremy Roenick thinks the team's current dynamic duo is set up for success.
"When I signed my contract, the pressure that was released off of me was immense," Roenick told ESPN.com, detailing his thought process after the ordeal. "'Now I can play for my team. They took care of me, now I can take care of them.' It's going to be really fun to watch [Kane and Toews] flourish and play with a free mind and confidence."
Getting the two players under contract until 2023 was a huge coup for a team that has won two Stanley Cup championships in the past five seasons and is among the select few for which the D-word -- dynasty -- can be thrown around in the salary-cap era.
"I think it was very important," said Roenick, who now works as an NHL analyst for NBC Sports. "Two quality players like that, most teams do not possess that luxury. Pittsburgh has
[Sidney] Crosby
and
[Evgeni] Malkin
, and Anaheim has
[Ryan] Getzlaf
and
[Corey] Perry
, but [most teams] don't really have those elite star players that can change the course of the game like they have."
Having those players to build around for years to come -- Kane and Toews are 25 and 26, respectively -- will ensure that Chicago is a perennial contender. In fact, Roenick sees no reason that Chicago won't be the favorite once the preseason projections roll in for 2014-15.
"I think they're one of the strongest-built teams in the league," said Roenick, who played eight seasons for the Blackhawks and scored 513 goals in his 21-year NHL career. "With them, they have amazing star power surrounded with good quality core players. The addition of
Brad Richards
coming over there as a role player who can help on the power play and be a good leader brings another experienced guy into a locker room of winners."
"I think the team has done a very good job of putting together the pieces, and with Kane and Toews signing these megadeals, they'll be playing with so much confidence. There's no competition between the two. They are both top-five players getting paid like it, and it shows the loyalty that the Blackhawks have become known for and [for] building championships."
That said, the Blackhawks will likely be forced to make some sort of trade to move salary out, given the cap constraints facing the club. According to Capgeek.com, the Hawks are $2.26 million over the cap for next year with 23 roster players.
That won't be the only challenge facing the team, which will square off against stiff competition in what promises to be a stacked Central Division.
Last year's race was a tight one, and Roenick expects that to be the case this season as well, with one team in particular with something to prove.
He still thinks the Blackhawks are the team to beat but anticipates it being a dogfight.
"I think the
St. Louis Blues
are gonna come out extremely angry and embarrassed about bowing out early," Roenick said about the Blues' first-round exit last spring after losing a six-game series to the Hawks.
"I know how Hitch [Blues coach Ken Hitchcock] is, and those two teams are gonna be battling tooth and nail again. I don't see anyone else really challenging either of those teams."
July, 19, 2013
7/19/13
12:59
PM CT
The
Chicago Blackhawks
released their 2013-2014 schedule on Friday. Here's what you need to know:
• The Blackhawks' home opener and Stanley Cup banner-raising ceremony will be against the
Washington Capitals
on Oct. 1. The Blackhawks lost their home opener in the 2010-2011 season to the
Detroit Red Wings
after winning the Stanley Cup the previous season. Four of the past five Stanley Cup champions have lost their home opener the following season. Just last season, the Blackhawks defeated the
Los Angeles Kings
5-2 in the Kings' season opener after they won the Stanley Cup.
• With the Red Wings moving to the Eastern Conference this season, the Blackhawks will now face them just twice in the regular season. They'll play in Detroit on Jan. 22 and in Chicago on March 16. They will also play two preseason games.
June, 12, 2013
6/12/13
2:59
PM CT
Bill Smith/NHLI/Getty ImagesJaromir Jagr believes Brandon Saad will be a star, and that means a lot to Saad.
CHICAGO --
Chicago Blackhawks
forward and Pittsburgh native
Brandon Saad
has received plenty of compliments throughout his rookie season, but he was especially honored to given one by the
Boston Bruins
'
Jaromir Jagr
, one of his childhood heroes, prior to the Stanley Cup finals.
June, 10, 2013
6/10/13
4:51
PM CT
CHICAGO -- The
Chicago Blackhawks
don't see themselves as the Western Conference's
Pittsburgh Penguins
.
While there may be some similarities between the two teams, the Blackhawks said Monday they believe they're a better defensive team than the Penguins and don't plan on allowing the
Boston Bruins
the same offensive chances as the Penguins gave them during the Eastern Conference finals.
The Bruins outscored the Penguins 12-2, including 6-1 in Game 2, and won the conference finals series in four games.
June, 1, 2013
6/01/13
4:35
PM CT
By ESPN Stats & Information
ESPNChicago.com
Archive
The Stanley Cup playoffs resume Saturday with Game 1 in both the Eastern (Bruins-Penguins) and Western Conference (Kings-Blackhawks) Finals. FROM ELIAS: The final four NHL teams won each of the previous four Stanley Cups: the Kings last year, Bruins in 2011, Blackhawks in 2010, and Penguins in 2009. There has been only one "final four" in NHL/NBA playoff history in which each team won its league championship in one of the previous four seasons: the 1945 NHL postseason (Bruins, Red Wings, Canadiens and Maple Leafs).
Western Conference Finals – Game 1
Kings at Blackhawks, 5 ET
* 7th time that a defending Stanley Cup Champion (Kings) will meet the current Presidents' Trophy winner (Blackhawks) in a playoff series since the Presidents' Trophy was first awarded in 1985-86.
In the 6 previous meetings, defending Cup champs and Presidents' Trophy winners each won 3 series.
* Teams have met just once before in the Stanley Cup Playoffs. Chicago defeated Los Angeles 4-1 in a 1974 Quarterfinal series.
* Blackhawks: won 2 of 3 regular-season meetings
* Blackhawks: 40-41 on penalty kill this postseason
* Kings: have not allowed more than 3 goals in any of their last 33 playoff games dating to last year, an NHL record
*
Jonathan Quick
(LA): leads NHL in GAA (1.50 .. 20 GA/799 min), save percentage (.948 .. 362 saves/382 shots) and shutouts (3).
Eastern Conference Finals – Game 1
Bruins at Penguins, 8 ET
* 5th playoff series meeting between Bruins & Penguins (1st since 1992 Wales Conf. Finals); teams have split 4 previous playoff series
* Penguins: 3-0-0 vs Bruins during regular season; won last 6 reg. season meetings vs Bruins
* Penguins: lead 2013 playoffs in total goals (47), goals per game (4.27), power play goals (13) and power play pct (28.3)
*
Sidney Crosby
&
Pascal Dupuis
(PIT): tied for playoff goal lead entering Conference Finals with 7 each (tied with Blackhawks'
Patrick Sharp
)
*
David Krejci
(BOS): leads playoffs in scoring entering Conference Finals with 17 points (5 G, 12 A)
*
Torey Krug
(BOS): tied for playoff goal lead among rookies with 4 (tied with Senators'
Jean-Gabriel Pageau
); has yet to score a regular season goal in his career
May, 14, 2013
5/14/13
3:24
PM CT
From the official NHL release:

2013 STANLEY CUP PLAYOFFS CONFERENCE SEMIFINAL SCHEDULE


NEW YORK (May 13, 2013) -- The National Hockey League today announced the dates, starting times and television coverage for the 2013 Stanley Cup Playoffs Conference Semifinals, which begin Tuesday, May 14.

NBC Sports Group will have exclusive coverage of the Conference Semifinals in the United States. CBC, TSN and RDS will provide exclusive coverage throughout Canada.

All times listed are Eastern Time and subject to change.


2013 EASTERN CONFERENCE SEMIFINALS

SERIES "I" TIME (ET) #1 Pittsburgh vs. #7 Ottawa Networks

Tuesday, May 14 7:30 p.m. Ottawa at Pittsburgh NBCSN, CBC,
RDS
Friday, May 17 7:30 p.m. Ottawa at Pittsburgh NBCSN, CBC
Sunday, May 19 7:30 p.m. Pittsburgh at Ottawa CBC, RDS,
NBCSN
Wednesday, May 22 7:30 p.m. Pittsburgh at Ottawa CBC, RDS,
NBCSN
* Friday, May 24 7:30 p.m. Ottawa at Pittsburgh NBCSN, CBC,
RDS
* Sunday, May 26 TBD Pittsburgh at Ottawa CBC, RDS,
TBD
* Tuesday, May 28 TBD Ottawa at Pittsburgh CBC, RDS,
TBD

SERIES "J" TIME (ET) #4 Boston vs. #6 NY Rangers Networks

Thursday, May 16 7:30 p.m. NY Rangers at Boston NBCSN, TSN,
RDS
Sunday, May 19 3 p.m. NY Rangers at Boston NBC, TSN,
RDS
Tuesday, May 21 7:30 p.m. Boston at NY Rangers NBCSN, TSN,
RDS
Thursday, May 23 7 p.m. Boston at NY Rangers CNBC, TSN,
RDS
* Saturday, May 25 TBD NY Rangers at Boston TSN, RDS,
TBD
* Monday, May 27 TBD Boston at NY Rangers TSN, RDS,
TBD
* Wednesday, May 29 TBD NY Rangers
at Boston TSN, RDS, TBD


2013 WESTERN CONFERENCE SEMIFINALS

SERIES "K" TIME (ET) #1 Chicago vs. #7 Detroit Networks

Wednesday, May 15 8 p.m. Detroit at Chicago NBCSN, CBC
Saturday, May 18 1 p.m. Detroit at Chicago NBC, CBC
Monday, May 20 7:30 p.m. Chicago at Detroit NBCSN, CBC
Thursday, May 23 8 p.m. Chicago at Detroit NBCSN, CBC
* Saturday, May 25 TBD Detroit at Chicago CBC, TBD
* Monday, May 27 TBD Chicago at Detroit CBC, TBD
* Wednesday, May 29 TBD Detroit at
Chicago CBC, TBD

SERIES "L" TIME (ET) #5 Los Angeles vs. #6 San Jose Networks

Tuesday, May 14 10 p.m. San Jose at Los Angeles NBCSN, TSN
Thursday, May 16 10 p.m. San Jose at Los Angeles NBCSN, TSN
Saturday, May 18 9 p.m. Los Angeles at San Jose NBCSN, TSN
Tuesday, May 21 10 p.m. Los Angeles at San Jose NBCSN, TSN
* Thursday, May 23 10:30 p.m. San Jose at Los Angeles NBCSN, TSN
* Sunday, May 26 TBD Los Angeles at San Jose TSN, TBD
* Tuesday, May 28 TBD San Jose at Los Angeles TSN, TBD

* If necessary

TBD = To Be Determined
May, 3, 2013
5/03/13
3:17
PM CT
By ESPN Stats & Information
ESPNChicago.com
Archive
Senators at Canadiens, 7 ET (OTT leads 1-0)
*
Craig Anderson
(OTT): stopped 109 of 114 shots (.956) vs Canadiens this season (incl. playoffs)
* Canadiens: lost 4 of last 5 at home (incl. reg season)
* Senators: had lost 4 straight road games vs Canadiens before Game 1 win
* 1st all-Canadian series since 2004
Islanders at Penguins, 7 ET (PIT leads 1-0)
* Penguins: allowed 1 goal in last 10 periods vs Islanders at home, outscoring NYI 14-1
* Penguins: haven't lost series when up 2-0 since 2000
*
John Tavares
(NYI): no shots on goal in Game 1, 1st time he didn't have a shot on goal in any game this season
* Islanders: 1st playoff appearance since 2007; lost 4 straight playoff games
Wild at Blackhawks, 9:30 ET (CHI leads 1-0)
* Wild: lost 4 straight playoff games
* Wild: last playoff win was 2008 conf quarters vs Avalanche
* Blackhawks: won 3 straight vs Wild (incl. reg season)
* Blackhawks: haven't lost to Wild in regulation or overtime in last 10 meetings (3 shootout losses)
Sharks at Canucks, 10 ET (SJ leads 1-0)
* Canucks: lost 5 straight home playoff games; last win was in 2011 Final
* Canucks: only higher seed in Western Conference to lose Game 1
* Sharks: won all 4 games vs Canucks this season (including playoffs)
April, 29, 2013
4/29/13
1:44
PM CT
By Neil Greenberg
ESPN Insider
Archive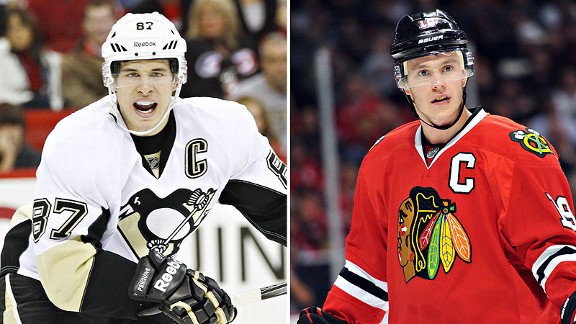 US PresswireTheir teams are potent, but both the Pens and Hawks have reason to fear an early upset.
It isn't just the best team in the East that's vulnerable: History suggests that Chicago could also face a first-round upset.
The Blackhawks opened the season with 24 consecutive games (including a franchise record of 11 straight wins) without losing in regulation, crushing the previous mark of 16 by the 2006-07 Anaheim Ducks and leading to Chicago's first Presidents' Trophy since the 1990-91 season.
Read the entire story here
.

April, 19, 2013
4/19/13
9:54
PM CT

By Pierre LeBrun
ESPNChicago.com
Archive
In about a week, I will fill out my official NHL awards ballot as a member of the Professional Hockey Writers' Association.
The PHWA votes on the Hart Trophy as well as the Norris, Calder and Selke. The NHL's 30 general managers vote on the Vezina Trophy, and the NHL Broadcasters' Association votes on the Jack Adams Award.
I reserve the right, certainly, to change my mind on these picks between now and next week, but here's where I stand:
HART TROPHY
The candidates:
Sidney Crosby
,
Ryan Getzlaf
,
Jonathan Toews
,
Sergei Bobrovsky
,
John Tavares
,
Alex Ovechkin
I'm really torn on what to do about Crosby. He easily was the best player on the planet this season. He brought his game to a level no other player could match. And as late as a few days ago, I still thought I'd give him my first-place vote despite his late-season injury. But the fact he hasn't played a game in April is beginning to weigh more in my thoughts. The Hart also isn't for the most outstanding player or the most outstanding season, but rather the MVP. Take that player away from the team and argue what impact it would have.
Well, for Pittsburgh, whether it's been without
Evgeni Malkin
or Crosby, the Eastern Conference powerhouse has just kept winning games...
Ovechkin's late-season heroics certainly put him in serious contention. But if we're going to potentially penalize Crosby's chances because he missed the past month, how can we overlook Ovechkin for not showing up in the opening month? Just saying.
Getzlaf is completely flying under the radar, perhaps because he's playing on the West Coast. But he's fully deserving of being in the mix here.
For me, though, it comes down to Tavares or Toews for my first-place vote. Tavares has carried the Islanders on his back this season. Ask yourself: Where would the Isles be without him?
Having said that, how can you not reward Captain Serious in Chicago? The Blackhawks have been the most consistent powerhouse in the NHL this season, a wire-to-wire dominance fueled by the consistent work ethic and performance of their leader.
My pick: Toews
NORRIS TROPHY
The candidates:
P.K. Subban
,
Ryan Suter
,
Kris Letang
,
Niklas Kronwall
,
Drew Doughty
,
Duncan Keith
,
Francois Beauchemin
,
Oliver Ekman-Larsson
With Letang missing a dozen games -- a quarter of the shortened season -- this comes down to Subban or Suter.
Subban, who leads all defensemen in scoring, has been out of this world, playing like a man on a mission after returning from an early-season contract squabble. The Habs aren't where they are without him.
Suter, though, is second in the NHL in average ice time (27:01), third in scoring among defensemen as of Friday morning, and overall has been a standout at both ends of the ice in his first season in Minnesota.
My pick: Suter
VEZINA TROPHY
The candidates:
Craig Anderson
, Sergei Bobrovsky,
Tuukka Rask
,
Henrik Lundqvist
,
Antti Niemi
,
Carey Price
,
James Reimer
,
Viktor Fasth
,
Marc-Andre Fleury
It will be interesting to see how the league's GMs will vote on this. There are some newcomers to the Vezina race this season.
To me it comes down to Rask, Niemi and Bobrovsky, with the impressive Anderson having missed too many games to get in that final circle.
Rask has been rock solid in his first season as the No. 1 in Boston after taking over from
Tim Thomas
. You can't ask for anything more from him.
Niemi isn't getting nearly enough credit around the league for what he's done in San Jose. The Sharks have had trouble scoring goals, but he's kept their season afloat with his best career season. He deserves serious, serious consideration.
But how do you not look at Bobrovsky? His .931 save percentage says it all. He's carried the Blue Jackets into playoff contention.
My pick: "Bob"
JACK ADAMS AWARD
The candidates:
Paul MacLean, Michel Therrien, Bruce Boudreau, Joel Quenneville, Todd Richards, Randy Carlyle,
Adam Oates
, Alain Vigneault,
Dan Bylsma
, Claude Julien
I say this every year, but I'm glad I don't officially vote for this one. There are so many deserving candidates every season, and I didn't even mention some others. The members of the NHL Broadcasters' Association vote on this one, and good luck to them.
Therrien took last season's last-place Habs in the East to challenging for second in the conference this year. That's hard to overlook. Carlyle made the Maple Leafs a playoff team, which few people predicted. Boudreau took the Ducks from near-the-basement in the West to second in the conference.
Quenneville and Bylsma likely will get penalized because their teams were expected to be dominant, but that's unfair. They're both superb coaches.
To me, though, I don't know how MacLean doesn't win this. Injuries to top players
Erik Karlsson
, Anderson,
Jared Cowen
,
Jason Spezza
and
Milan Michalek
should have been season killers. But Maclean and his staff kept it together, integrated a number of AHL call-ups into the Senators' system and against all odds stayed in a playoff spot. Simply remarkable.
My pick: MacLean
CALDER TROPHY
The candidates:
Jonathan Huberdeau
,
Cory Conacher
,
Brendan Gallagher
,
Nail Yakupov
,
Brandon Saad
,
Alex Galchenyuk
,
Justin Schultz
,
Dougie Hamilton
,
Jonas Brodin
I predict the finalists on the official ballot will end up being Huberdeau, Gallagher and Saad.
I'm torn in the end between Huberdeau and Gallagher. The former has been electrifying for the
Florida Panthers
, his speed and vision and offensive creativity top-shelf.
Gallaher really grows on you for different reasons, going to the dirty areas and playing a veteran's game. He's been so clutch for the Habs.
Really torn here between these two but ...
My pick: Huberdeau
SELKE TROPHY
The candidates:
Jay McClement
,
Frans Nielsen
,
Patrice Bergeron
,
Vernon Fiddler
, Jonathan Toews,
Craig Adams
,
Daniel Winnik
,
David Backes
,
Ryan Callahan
,
Pavel Datsyuk
You can never go wrong here with Bergeron, Toews or Datsyuk, out-of-this-world stars who do it all at both ends of the ice. And I suspect Bergeron, deservingly, will win it again this year.
But I'm going to go against the grain here a little and voice my support for the Maple Leafs' McClement.
For starters, part of me wishes this award would go back to non-superstar NHLers like in the old days, when the likes of Guy Carbonneau,
Dave Poulin
and
Dirk Graham
won.
Fact is, McClement's case is a real strong one. He leads all NHL forwards in shorthanded ice time per game (3:39) and he's the No. 1 reason for Toronto's remarkable turnaround on the penalty kill, going from 28th last season to third overall this season.
If you really look at the spirit of why this award exists, and look at when Bob Gainey routinely won it, McClement deserves to win it.
My pick: McClement