Chicago Blackhawks:

Record book
June, 1, 2010
6/01/10
4:05
PM CT
[+] Enlarge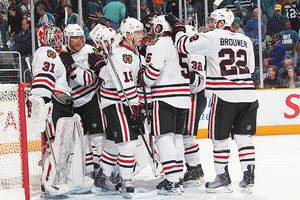 Don Smith/NHLI/Getty ImagesBonding on the road is one of the reasons the Blackhawks have been able to celebrate so often.
If the Philadelphia Flyers are planning to use their home ice as a launching pad to get back in the series, they might have to think twice about it. The Blackhawks are road warriors this postseason, having won a NHL record-tying seven consecutive games away from home. They'll try to set the record with eight in a row on Wednesday.
Here are five reasons that make them so good on the road:

Mentality: There is a saying in hockey when you go on the road: Prepare to win a 1-0 game. At home, sometimes, the Hawks look like they are preparing to win a 5-0 game, but on the road they have subscribed to the saying -- at least since midway through the Nashville series. How does that translate on the ice? Fewer turnovers, more focus on changing on the fly, and reacting to opportunities rather than taking chances to create them. In short, they have been better mentally prepared on the road than at home this postseason.

Goaltending: Whether by coincidence or not, Antti Niemi has had his best games on the road. This even extends back to the regular season, when he won in Vancouver, Pittsburgh, Detroit (twice) and several other of the tougher venues in the league. In the playoffs, he shined in Nashville, where Shea Weber and Jason Arnott were firing pellets during a 5-on-3 power play, and in San Jose he faced 45 shots to open the series, and won. Vancouver didn't turn out to be as tough as it first looked to be, but he held his own winning an unthinkable three games there in one series.

Coaching: Watching the mass fire drills the Hawks go through in trying to get the right matchup on the road has been a thing of beauty. There were very few times, seemingly, that the Sedins or Joe Thornton didn't see Dave Bolland on the ice in their own rink. Aren't the home teams supposed to get the matchups they want? It appears the Hawks are getting it as much on the road as they are at home. That takes communication and awareness, and that comes from coaching. It's been outstanding.

Leadership: Almost everything written above can be attributed to the Hawks' great leadership. It's not something that happens overnight, and not all the credit goes to Joel Quenneville and Jonathan Toews. By all accounts, John Madden has stepped up in the playoffs and Patrick Sharp is a go-to guy as well. Dealing with whatever trials and tribulations (and temptations) the road presents isn't always easy, and the Hawks have handled the postseason with relative ease. Whether it's an extremely hostile environment in Vancouver or a week-long stay in San Jose, they've shown the proper dedication and respect the playoffs demand.

Mario Kart: The Hawks aren't the first team to bond on the road, but there can't be many that have done it better. From Finland, to an eight-game road trip, to a week in San Jose, there has been plenty of time for bonding and sometimes fighting. But just like real brothers, none of it extends beyond the moment or the next Wii contest. If it takes wrestling matches, video games, and championship belts -- to keep guys engaged -- then so be it. Bottom line: this team likes to win and have fun on the road. They've done both this postseason.
May, 23, 2010
5/23/10
10:51
PM CT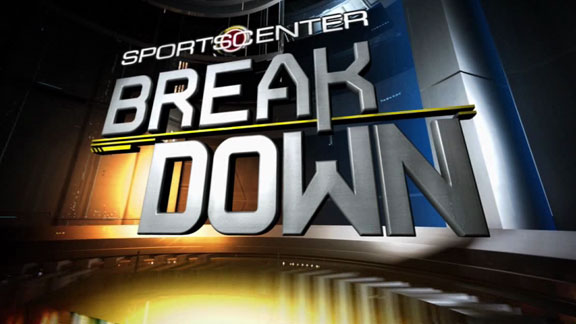 CHICAGO -- It's hard to imagine where the
Chicago Blackhawks
were and where they are now.
The Stanley Cup Finals. Let it sink in.
There was little doubt as the conference finals began, the Blackhawks had a matchup edge against the
San Jose Sharks
. They were quicker and faster than the Sharks during the regular season and there was no reason to believe that would change. And it didn't.
But a sweep?
That's not the Blackhawks way, at least not recently. A bad effort here or there prolonged previous rounds, but there was no letting down against the Sharks. Even in winning a game or two almost solely because of Antti Niemi's stellar play, the Hawks still brought it every night. On the days they squeaked by, they made their own fortune.
It's as if we've seen this team mature in front of our eyes. It goes back to some of the conclusions attained after the win over the
Vancouver Canucks
: the leadership on the Hawks is top rate.
Discipline, teamwork, and sacrifice are words that come to mind. After Game 3,
Jonathan Toews
said it's possible they got by on their talent during the regular season. But once the playoffs began, players started taking on specific roles and thriving in them.
No one epitomizes that notion more than
Dave Bolland
. A season nearly lost to a back injury has turned for him, and it all began with his defensive prowess. Always thought of as one of the smarter players on the ice, his offensive instincts emerged against the Sharks.
An eighth-round pick,
Dustin Byfuglien
is the talk of the league. By the end of the season he was embracing his return to defense, but in the Vancouver series, Joel Quenneville asked him to return to his role of a year ago: slot and crease agitator.
He did more than agitate. He scored an unheard of three game-winning goals in the sweep, and these weren't first-period tallies that held up. We're talking about clutch, late, nail-biting scores. And remember, Byfuglien didn't exactly warm to the job of man in the middle early in the season, but again, a role was asked of him, and he delivered.
At times like these, talking to players about some of the dark days surrounding the franchise gives better perspective on the current success.
"It's unbelievable, looking back at the way things started in Chicago five years ago to where we are now. I don't think anyone could have predicted that,"
Patrick Sharp
said. "It's a lot of hard work. There are a lot of reasons why we are there."
Brent Seabrook
is another holdover from the previous regime.
"I knew back then we had a good group of some young guys and we would get our chance," he said. "Maybe not this quick."
In some way it does feel like it happened overnight but everyone knows that's not true. Drafting and developing doesn't happen overnight. Dale Tallon and his staff made some brilliant trades and signed a little known goaltender that the Hawks could never know would make such an impact, so quick.
His performance in Games 1 and 3 were nothing short of fantastic. If not for a player named Toews, Niemi might just be your Conn Smythe winner for best in the playoffs. With one more round to go, he might still win it.
The great thing about the series is the Sharks never laid down. They forced the Hawks to earn it. The scorebook will say sweep, but a closer look will remind you three games were tied in the third period and one went to overtime. That's the way it should be.
And then there is Toews and Kane. Kane and Toews. Linked in so many ways, there is yet another. They're one and two in playoff scoring. That's also the way it should be.
Speaking of Toews, is there any other player in the league that has made a bigger statement about himself, this year, than the Hawks captain. He is four wins away from the end of an incredible year. Winning a gold medal and being voted best forward at the Olympics was just the beginning. He signed a mega contract and then surpassed the great Stan Mikita for most consecutive games with a playoff point. He's at 13 and counting. The NHL record is 18. Would you bet against him doing it?
If it ended today the Conn Smythe would be his as well. And he's only 22 years old.
The Hawks have surpassed their stated goals at the beginning of the season: To win the division and subsequently the West. Now, they enter sacred territory. At some point in the next two weeks they will see Lord Stanley -- either handed to them or their opponent -- and a 49-year itch might just get scratched.
If all it takes is heart, desire, hunger and talent, give them the Cup now. They have an abundance of all four.
May, 20, 2010
5/20/10
4:11
PM CT
[+] Enlarge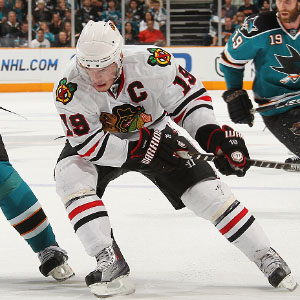 Don Smith/NHLI/Getty ImagesIf Jonathan Toews scores one point in Game 3 on Friday, he breaks Stan Mikita's Blackhawks mark for consecutive postseason games with at least one point scored. They both have scored in 11 straight.
Jonathan Toews
is hovering in rarified territory.
The captain of the
Chicago Blackhawks
is approaching or has already surpassed playoff records set by some of the greats in the franchise. Legends Bobby Hull and Stan Mikita, for example, may soon be looking up at Toews in the record books
The first to fall could be Mikita's consecutive game point streak in the postseason, achieved in 1973. Mikita and Toews are tied with at least a point in 11 consecutive postseason games.
"I'm [ticked] off as hell," Mikita joked Thursday, also his 70th birthday. "I didn't know they kept such a thing in the archives."
"God bless him. Happy to see a guy like that break it."
Toews had tied Mikita and
Steve Larmer
for most points in a playoff contest when he scored five against the
Vancouver Canucks
in Game 4 of the Western semifinals.
"He leads by example, from what I've seen," Mikita said.
Not surprisingly, Toews is uncomfortable with comparisons to Hawks greats.
"You guys are going to overwhelm me with all this stuff," Toews said after practice Thursday. "I'm trying not to think about it."
But he can't help it. A point in 11 straight playoff games doesn't happen often. If passing Mikita's mark isn't enough, consider this: With his two-point effort in Game 2, he has become the Hawks' all-time leader in points per playoff game with 1.16, surpassing Bobby Hull in that category for players with a minimum of 30 postseason appearances.
"It's a cool thing to think about," Toews said. "You don't get to this point without working hard and playing the right way and playing a team game.
"I've been lucky to be on a streak. You can work hard and play well and do so many things right, but when you don't see pucks go in, it does hurt your confidence a little bit, so I have to say things have been working pretty well for myself … but [I'm] not going to get too high on myself and go out there and just expect that kind of success."
Since Toews doesn't like to talk about himself, his teammates are more than happy to talk about their captain.
"I never get sick of talking about Toews,"
John Madden
said. "As long as I'm talking about Toews, that means he's playing well."
"You saw how great he was at the Olympics, and now you're seeing it here. He's been fun to watch in the playoffs. He competes every shift and it rubs off on the rest of us."
The phrase "He won't be denied" comes up often regarding the captain. That's a basic reference to his character and his on-ice play.
"That streak speaks volumes for what he does,"
Andrew Ladd
said. "He takes it to a whole new level. His preparation 24/7 is what makes him a great player."
As for Mikita, he'll be watching closely, in Game 3, and expecting his record to fall.
"I hope it happens and early in the game so we don't have to sit around and wait for it," Mikita deadpanned. "He's a good player."