Chicago Blackhawks:

salary cap
August, 10, 2012
8/10/12
9:43
PM CT
Depressed.
That's how most hockey fans must feel with about month remaining until the collective bargaining agreement between NHL owners and players expires (Sept. 15) and training camps are supposed to open.
There's been little progress in negotiations for a new agreement between the league and players since the league dropped a bombshell in its opening proposal. About the only thing the owners didn't ask of the players was for them to drive the Zamboni during intermissions.
[+] Enlarge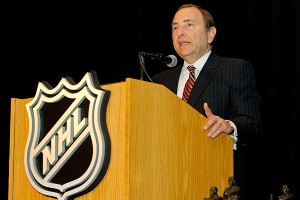 Bruce Kluckhohn/NHLI/Getty ImagesNHL commissioner Gary Bettman seems headed toward a third work stoppage in his tenure.
Perception is important in any public negotiation but apparently the owners -- under the direction of Commissioner Gary Bettman -- couldn't care less about it, or about the season starting on time. All signs point to it being delayed.
The owners asked the players to take less of the revenue generated, they asked for shorter contract terms and they asked for the end to salary arbitration. They asked for longer entry-level deals and a decade of service before a player can become a free agent. It's a long list of requests and if the league was being created from thin air then maybe these rules and numbers would all make sense without any precedent.
But here is the bottom line: the owners can't take back so much they have already given. Not for a league that has generated record revenues and is doing pretty well as a whole. Oh, and just a short time ago the players gave the
owners
the biggest thing that could be given: a cap on salaries for the first time in the history of the sport.
This is where perception plays a big role. Once again, ownership -- or at least Bettman -- is saying, "We're going to do what we want and you better follow suit." It's all disguised as a negotiation. And anyone that claims, "It's just an opening proposal," is fooling themselves. Why does every supposed legitimate negotiation have to open with the ridiculous? Why not come to the table with something reasonable that may favor your side but at least gives the other side something to be excited about? I've never been involved in anything close to what's going on, but doesn't history suggest new tactics need to be tried?
People might think there is no way Bettman wants a third work stoppage during his tenure, but maybe he doesn't care. Maybe he wants to be known as the commissioner that keeps on crushing the union. And don't forget he is supposed to be commissioner of the union as well. But for these purposes he's simply an extension of ownership -- although he's also a man with his own convictions. We don't even know if his convictions coincide with those of his owners.
The big issue last time was the salary cap. The league won out on that after losing a whole season, but the NHL has done all right ever since. The current CBA -- for the most part -- works. Small-market teams can compete and they can acquire stars. Solid talent evaluation, along with managing the salary cap properly, is still paramount. The problem is the same as it almost always is: the owners need to be saved from themselves. And it's the league asking the players to do just that.
Players were more than happy to sign decade or longer contracts that were offered to them; it gave them security they could never imagine. But it was the teams doing the offering and it also circumvented the salary cap to a degree. And now it has made it harder for trades to be consummated -- look no further than
Roberto Luongo
. So maybe that is an area where players need to give a little. A tweak to the system here or there makes sense and the players can be convinced of it. But to overhaul something that's worked stinks of greed. There is no other explanation.
The big-market owners are more than happy with the current system -- or at least they should be. The last work stoppage created the cap which, again, saved the (big-market) owners from themselves. Instead of being pressured to spend more and more every year because their competition was doing so, they had a number they couldn't exceed. "Perfect," thought many owners. Make no mistake, the implementation of the salary cap was the best thing for the big-market owners in the league. But it didn't necessarily save the small market teams.
That's where Bettman wants the players to help out. His thinking seems to be, "Let's take some of your money and spread it out to these smaller markets so they can survive." Maybe he should have told Minnesota and Nashville as much when they were able to sign big-money free agents this summer -- including huge money up front to the players. That's something no one expected out of the Wild and Predators. The system, as a whole, does work. That should be the point of the collective bargaining agreement between owners and players. Making sure the league or its owners are financially secure shouldn't be the primary concern of the players. Of course, it's in their best interests if the league is healthy but an agreement between the players and the owners should simply help that notion not make it so.
Every issue is complicated, that much we know. Take contraction for example. Maybe the league should never have expanded into some non-traditional hockey markets, so eliminating those teams could make sense. But would the NHLPA ever be in favor of eliminating jobs? Again, taking back what was already given is a hard sell. I doubt we'd see the owners giving back those rights fees acquired during expansion. But what if it
was
in the best interest of the remaining players if 20-40 or more jobs were eliminated by contracting a team or two? How would NHLPA union boss Donald Fehr answer that question?
Then again, though the players have a vested interest in league revenues, they have no say in how those revenues are obtained. For example, players might like the idea of advertisements on their jerseys -- like the NBA just approved -- but the league office might say no. And there is little doubt a second team in southern Ontario would generate huge money, but none have relocated there to this point. So if the commissioner wants the players to take less of a percentage he might want to maximize his revenue streams.
As stated previously, it's all very complicated but the players simply seem more willing to engage in a give-and-take. Fehr is no pushover, he's going to want things as well. But what can he ask for when the league has already asked for everything?
Does the current CBA need some changes? Of course. Does it need to be gutted to the point of games being canceled? Of course not. Bettman simply might not see it that way. Why would he, common sense has never been his strong point.
I certainly don't have all the answers, but work backwards. If the end result nearly every time is a work stoppage, then someone at the top is doing something wrong. He's got a month or so to figure it all out or back to square one we go.
March, 1, 2011
3/01/11
2:30
PM CT
It's been a busy few days in the NHL, and for the Chicago Blackhawks. In the midst of their best run of the season, we'll examine -- in several blog posts -- the moves and ramifications.
Between now and the beginning of the offseason (and beyond) you'll hear a lot of complaining about how much money the Hawks have tied up in their defense as well as the approximate $49 million they have committed to 12 players on the roster for next season.
[+] Enlarge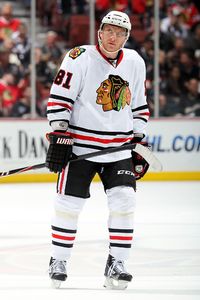 Jeff Gross/Getty ImagesEven with his massive contract, Marian Hossa's cap hit is a manageable $5.275 million.
It's a legitimate complaint which stems back to the moment the Hawks signed some big-ticket deals, starting with
Brian Campbell
in 2008.
But a knee-jerk complaint without further analysis wouldn't be fair.
In reality, since some of those bloated deals, the Hawks have shown some restraint and creativity. A "mere" $5.5 million cap hit on
Duncan Keith
, the Norris Trophy winner isn't too bad. And what did you think
Jonathan Toews
and
Patrick Kane
were going to be, $3 million guys? Even Marian Hossa's deal -- at least cap-wise at $5.275 million -- isn't so debilitating. You have to pay for talent. Yes, Brent Seabrook's cap hit is large, but as general manager Stan Bowman pointed out, his raise was only a couple million dollars more than what he is making now.
The most telling thing about Bowman's recent comments was a casual mention of the "known" being better than the "unknown" when it comes to his players. (Apparently that didn't apply to
Antti Niemi
who signed a big contract extension with San Jose on Tuesday). Here is the bottom line, setting aside some average play this year: The Hawks, including Seabrook, have a core which won them the Stanley Cup. Yes, they will have to fill in some blanks from year to year because of their cap problems, but this is about establishing a playoff foundation, as team president John McDonough said recently. And he also noted what is unique about the NHL.
Making the playoffs is the only thing that matters. Eighth seeds go to the finals, President Trophy winners go out in the first round. A core led by Toews will get you to the playoffs year in and year out, and that's about all you can ask for in the cap world we live in.
Last year, they needed less good fortune because they were loaded. Going forward they might need more, but so does any potential Cup winner. Consider how many teams would love to have the foundation the Hawks possess, no matter how many minimum salaried players have to dress. And consider this as well: A case can be made the entire core, save perhaps Hossa, is still improving. If
this
is the worst we'll see because of fatigue, hangovers, and contract pressure, then it's really not so bad.
Remember, the
Philadelphia Flyers
made the playoffs, in a shootout, in game 82 just last season, and then went on to the finals. Do the Hawks have enough to make the playoffs every year? They most certainly do. Could they have moved Seabrook and spent his money on two players? Of course, but that just means they have to find the right players as well as replace the most physical defenseman they have. Who wants to deal with all that?
The known is indeed better than the unknown.
February, 25, 2011
2/25/11
11:13
AM CT
The NHL trade deadline is just days away and the
Chicago Blackhawks
are still looking for a defenseman. As previously reported, the Hawks have interest in Colorado's
Matt Hunwick
, Edmonton's
Ladislav Smid
, and Buffalo's
Steve Montador
. League sources confirm the Hawks are looking at two other defensemen, including Tampa Bay's
Brett Clark
.
The Hawks had interest in Boston's
Mark Stuart
before he was traded to Atlanta.
Buffalo's
Craig Rivet
has entered the picture as well now that he's going through the re-entry waiver process. With a salary cap hit of $2.6 million, he was too pricey for the Hawks. Through re-entry, he can be had for half that amount which fits into the Hawks' budget.
ESPN.com's Pierre Lebrun is reporting Hawks defenseman
Nick Boynton
is on waivers which could further indicate general manager Stan Bowman is close to making a move. Sending Boynton out would clear some extra space for a new acquisition.
All reported players, except for Clark, have expiring contracts and have salary cap hits between approximately $1 million and $1.5, believed to be within the Hawks' budget. Clark is signed through next year for $1.3 million with a cap hit of $1.5 million.
The deadline for making trades is 2 p.m. CT on Monday.
November, 12, 2010
11/12/10
4:17
PM CT
[+] Enlarge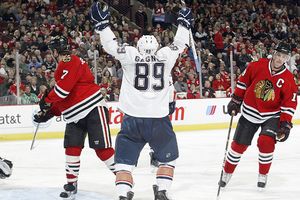 Bill Smith/Getty ImagesJonathan Toews and Brent Seabrook aren't used to watching opponents celebrate as much as they've done this season.
What's wrong with the
Chicago Blackhawks
?
It's a question that's permeated the NHL as the Stanley Cup champs have stumbled off to an 8-9-1 start, which puts them fourth in the Central Division.
Roster turnover and a short summer have contributed to the slow start, according to various scouts and league personnel.
"I think the bigger issue that hasn't really been talked about in depth, since the season started, is that this is a different team than last year," an Eastern Conference scout said. "They have the same Blackhawk jerseys, but there were a lot of changes that were made."
Because of salary cap constraints, the Hawks dealt 10 players who figured into last season's success. Several of the departed were key players, including
Dustin Byfuglien
,
Andrew Ladd
,
John Madden
,
Kris Versteeg
and starting goaltender
Antti Niemi
.
Hawks general manager Stan Bowman insisted after almost every transaction that he was keeping the core intact. But so far, the mix isn't working to maximum efficiency.
"When you look at the names that are not here compared to last year, it's a considerable difference," the scout continued. "One of the problems I've seen so far is getting the puck out of their own end. In today's game, you have to get the puck up to your forwards and move ahead, and when you are struggling to do that, you pay the price in your own end."
Doing some scouting for Anaheim now, former NHL great
Scott Niedermayer
knows what it's like to win the Stanley Cup and feel the pressure the following season. He's a four-time Stanley Cup champion.
"You definitely learn a lot," Niedermayer said. "Especially the first time you go through a long Stanley Cup run. That takes a lot out of you.
[+] Enlarge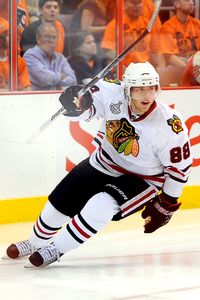 Bill Smith/NHLI via Getty ImagesThe adrenaline that flowed for the Blackhawks in the Stanley Cup finals is gone, and trying to find that same motivation level is a major challenge.
"You do have to prepare real quick to get back at it, and all these teams are not going to give you a night off. They're going to be hungry and at you every night."
Interestingly, Niedermayer said getting over the physical issues a short summer presents isn't as bad as other potential problems.
"They are in a different mental position this year," he said. "No doubt about it. You need the rest. You need the mental breaks as well. A lot of those guys didn't get it."
While youth works to the Hawks' favor for long-term success, it could work against them in the short term.
"The Hawks are different than my Detroit teams, or even Montreal team that won it," former Blackhawks star and current Red Wings executive
Chris Chelios
said. "They are young. They might be overwhelmed a little bit with the expectations. I was on older teams. It's really tough to stay on top."
Repeating is so hard that Niedermayer is most impressed with a team he played on that fell short of the ultimate goal.
"The first time [1995] we won in New Jersey, we missed the playoffs the following year," Niedermayer explained. "The second time we won in 2000, we got back in to the Stanley Cup finals, and I thought that was a great accomplishment. We lost in a seventh game, and to be that close again and to answer those challenges, that was a great thing."
It's not only hard to repeat as champs, just getting back to the playoffs the following season isn't always guaranteed. It's happened more than once to Cup champions, most recently to the
Carolina Hurricanes
after they won it in 2006.
Chelios said one of the keys in repeating is something that's already eluded Chicago.
"In Detroit, for the decade I've been here, we've expressed how important it is to get off to a good start," Chelios said. "It remains to be seen if they can get over the hump."
And it's not just the new Blackhawks who have struggled. Reigning Norris Trophy winner
Duncan Keith
found himself benched for a few shifts recently.
Chelios and Niedermayer are former Norris Trophy winners who have watched Keith up close.
Niedermayer won an Olympic gold medal with him this year while Chelios played in the same division as Keith since he entered the league.
They've never seen a player coming off a Stanley Cup run log the ice time of Keith, who leads the league at just under 29 minutes.
"I would judge it by how the player plays, and he skates a lot [as a mobile defenseman]," Niedermayer said. "You add all those minutes with how he plays, that's a lot."
The Eastern Conference scout agrees.
"He's proven to be a workhorse, but that's almost too much to ask of a player," he said. "Especially over an 82-game season."
Those minutes are probably the main reason coach Joel Quenneville split up his Olympic duo of Keith and
Brent Seabrook
. Now he can spread out the playing time as he did Wednesday night against Phoenix, in their first game apart.
"I talked to some guys in the league last week and they were saying how much of this is a hangover and how much of this is getting used to new players," the scout said. "It's probably a combination of both. There are high expectations, and you have to understand the pressure that is on you."
Part of the pressure is to just be as motivated as last season, when Olympic excitement and playoff intensity kept the Blackhawks' adrenaline flowing.
"That's a big part of it for sure," Niedermayer said. "When you are in the rink for an Olympic game or Stanley Cup game, the intensity, the emotion, the excitement is maxed out. When you get to training camp, and preseason, and then the regular season, it's pretty quiet, pretty low key.
"They don't have the same excitement, and it's your job as a professional to be mentally ready. And it's not easy."
September, 27, 2010
9/27/10
4:58
PM CT
By ESPNChicago.com
ESPNChicago.com

CHICAGO -- The Chicago Blackhawks have assigned goaltender Cristobal Huet to HC Fribourg-Gotteron SA of the Swiss National League A.
Read the entire story.
August, 23, 2010
8/23/10
11:19
AM CT
By ESPNChicago.com
ESPNChicago.com

Chicago Blackhawks goaltender Cristobal Huet may be playing for Swiss team Fribourg-Gotteron next season, although Huet's agent said Monday no deal has been finalized.
Read the entire story.
August, 6, 2010
8/06/10
5:19
PM CT
Chicago Blackhawks goaltender Cristobal Huet will celebrate his day with the Stanley Cup on Sunday in Lyon, France, but his agent won't be able to share in the festivities.
Stephen Bartlett is too busy trying to find a new team for Huet.
Read the entire story.