Chicago Blackhawks:

Shootouts
December, 5, 2011
12/05/11
11:15
PM CT
CHICAGO -- The
Chicago Blackhawks
have one of the best records in the league when they score the first goal in the game. Unfortunately, they don't do it enough.
The Hawks have tallied first just 10 times in 28 games this season and over their last 10 games they have scored the first goal just once.
The
Phoenix Coyotes
took a quick lead on Monday and beat the Blackhawks at the United Center for the second time in a week, 4-3, in a shootout. The point the Blackhawks earned was great -- considering they got down 3-0 before the game was 22 minutes old.
[+] Enlarge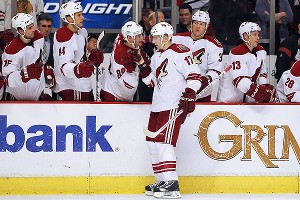 Jonathan Daniel/Getty ImagesThe Coyotes' Radim Vrbata scored the game-winning goal in a shootout against the Blackhawks on Monday.
"There are some games lately where we go down two or three goals in the first or second period and it just seems like it becomes a funk that we can't get out of,"
Jonathan Toews
said afterwards. "As a team we did that tonight."
He meant they got in a funk
and
got out of it just in time to storm back, but sleepwalking through the first period is no way to play NHL hockey. It's where many games are determined. The Hawks know that.
"Tough start to the game. You don't want to give them the lead, we were fortunate to get back in it," Blackhawks coach Joel Quenneville said. "We reversed it in our end too many times. We got better when we got the puck in their end."
Quenneville mentioned a few other technical adjustments but this came down to competing. They didn't, until Quenneville pulled goalie
Corey Crawford
and more importantly, Toews got the Hawks on the board.
"You get the excitement in the building, you get some momentum off it," Quenneville said of the Hawks' first goal. "You generate some enthusiasm on the bench and you go off of that."
Brent Seabrook
said the goalie change "sometimes wakes us up, gets us skating."
So we know why they were able to come back, but why the poor start? It's been happening way too often lately. The Hawks have now given up more goals (25) than they've scored (23) in the opening period. Elite teams don't do that.
"Just one of those nights. We had a tough start," Seabrook said, in not much of answer to the early malaise.
The perplexing thing is it was just six days ago the Hawks did about the same thing against a Coyotes team that plays as well as anyone in the league with the lead. In that game they may have had an excuse as it was the first one back from a road trip. Monday, there were no excuses.
"It was looking like the game last week," Toews said. "We didn't want to go down that road. We knew we had to be better."
Apparently, knowing it and doing something about it are two different things. Yes, they woke up in time to get a point but the game started at 7:00 instead of the usual 7:30. Maybe they didn't realize it.
"We have to remind ourselves if we bring that for 60 minutes we're going to be a tough team to beat," Toews continued regarding the comeback. "It's about bringing that complete game right now."
Even in some recent wins they aren't getting the full 60 minutes. Two losses against Phoenix in one week should drive the message home -- if anything can.
October, 25, 2011
10/25/11
11:45
PM CT
CHICAGO -- Apparently it just took a little focus and extra work to fix the
Chicago Blackhawks
' shootout woes.
After going 0-2 in shootouts in the first seven games of the season, coach Joel Quenneville decided to make it a priority. He opened practice on Monday with a shootout drill and had his players do some homework watching tendencies of
Anaheim Ducks
goalie
Jonas Hiller
.
The result? Two of their three shooters --
Jonathan Toews
and
Patrick Kane
-- scored and the Hawks won 3-2 on Tuesday.
"We studied the shootout, we studied the goalie today, and it obviously paid off," Kane said. "I tried to do something different. I knew he is an opposite-hand goalie so I knew his stick wouldn't be there when I came across. It worked out, I guess."
Toews and Kane are the Hawks' best shots in the shootout and after each opened the season 0-for-2, there was some cause for concern.
"We changed our format. We obviously went second which was an easy decision, maybe a little bit more of a batting order," Quenneville said. "It was definitely a point of emphasis going into [Monday] and [Tuesday's] game. We have to do something a little bit different if it does occur and be ready for it."
They were ready and took advantage of the extra focus.
Dave Bolland
missed but Toews and Kane did not. Quenneville was asked why it was such an easy decision to go second.
"Because we didn't win going first," he deadpanned.
Slappers
The Hawks have earned a point in seven straight games (5-0-2) since losing on opening night in Dallas. They accomplished that feat just once last season, when they won eight in a row in late February and early March.


Marian Hossa has a five-game goal scoring streak, matching the longest of his career.


Patrick Sharp has a five-game point streak and leads the team with three goals and five assists.
October, 25, 2011
10/25/11
11:25
PM CT
CHICAGO -- After not seeing his name in the boxscore in three straight games,
Patrick Kane
joked he wouldn't score again if it meant the
Chicago Blackhawks
kept winning. They were 2-0-1 without him getting a point.
But you can only keep a good man -- or a great player -- down for so long.
Tuesday night Kane got his points
and
the Hawks won, 3-2, over the
Anaheim Ducks
in a shootout. He was simply dazzling with the puck, setting up
Marian Hossa
and
Patrick Sharp
in regulation before winning the game with a shootout tally.
[+] Enlarge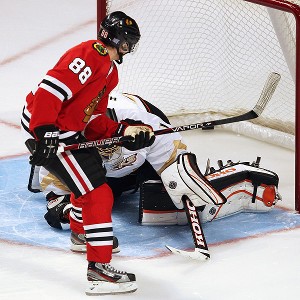 Jonathan Daniel/Getty ImagesThe Blackhawks' Patrick Kane scores the game-winning goal against the Ducks Jonas Hiller in the shootout on Tuesday.
"It's nice to get some points," Kane said. "I'd be lying to you if I said it wasn't something I wanted to do tonight. More importantly, the timing of the plays, but it's nice to get back on the scoreboard."
Kane simply makes things happen when he has the puck and he won't go many three game stretches without points. First was his spin-o-rama assist to Hossa, which brought the United Center crowd to its feet.
"It's a little bit of an underrated move," Kane explained. "I think you get acceleration out of it and protect the puck too. I've talked to Savvy [Denis Savard] about that a number of times -- when not to use [it] and when to use it. I've tried it a few times where it hasn't completely worked, but tonight it did."
Kane had the puck in the offensive zone on the right wing and as he spun he sent a perfect backhand pass through the slot, where Hossa was waiting on the other side. Hossa gave credit to
Daniel Carcillo
for taking some bodies towards him and away from Hossa.
"The rest was a highlight reel by Patrick," Hossa said. "A spin-o-rama [move], he knows where I'm going and the puck was right on my tape. It was the easiest goal I could get. What a play, what can I say?"
How about, "wow." It's what everyone in the building was saying. Later, Kane gave a puck away that led to a Ducks goal but in the third period he put the puck right where Sharp needed it for the game-tying blast.
Then, to top off the dramatic night he scored in the shootout to win the game.
"I thought all three guys on the line were effective," Joel Quenneville said. "[Kane] made a special play on that first goal there by Hossa, he had the puck a lot tonight. A nice way to end it too, because we know the alternative from the last two games in the shootout."
That would be losses in both contests, but that wasn't the case on Tuesday. Not with Kane doing his thing -- even if it was for the first time in four games. So which of the plays impressed him the most?
"I'll watch them all when I get home," Kane joked. "I'll even watch the assist to Sharpie."
He won't be the only one.
October, 25, 2011
10/25/11
10:23
PM CT
CHICAGO -- A quick look at the
Chicago Blackhawks
' 3-2 shootout win over the
Anaheim Ducks
on Tuesday night at the United Center.


How it happened:
The Hawks win their first shootout of the season as
Jonathan Toews
and
Patrick Kane
scored on
Jonas Hiller
while
Corey Crawford
stopped two of three shooters. A seesaw affair had the Hawks looking very average at times and dazzling at others, thanks mostly to Kane. After a poor second-period effort,
Patrick Sharp
tied the game on a beauty of a set-up by Kane in the third and the Hawks had new life. Kane also set up
Marian Hossa
with a spin-o-rama move on the Hawks first goal.
Ryan Getzlaf
scored just the second power-play goal against the Hawks this season and the first in six games.
Teemu Selanne
scored after a turnover by Kane and
Duncan Keith
.
What it means:
The Hawks improved to 5-1-2 and earned some much-needed confidence in shootouts with a solid finish. Kane did it all, assisting on the two regulation goals and scoring in the shootout. He also turned a puck over that ended up in the Hawks net, but he mostly dominated with the puck. The Hawks have earned a point in seven consecutive games, a feat they didn't accomplish until late in the year a season ago.
The play:
Kane made the highlight-reel move of the young season. As he had the puck on the right wing late in the second period, he spun on his defender, sending a blind pass through the slot and onto Hossa's stick. Hossa finished for the instant "SportsCenter" moment.
What's next:
The Hawks get back to practice Wednesday and Thursday before traveling to North Carolina for a Friday matchup with the Hurricanes.
October, 25, 2011
10/25/11
7:24
PM CT
The mail has really piled up this week. Time to open it:
Q: Do you think the Hawks' shootout woes will ever come to an end? -- AJ Porto, Chicago

A:
Absolutely I do. They were better than .500 last year and the year before that as well. Good teams find ways to win and they will find ways to win in the shootout over time. It usually all evens out in the end. Is it possible to have that one really bad year in shootouts? Of course, but I don't see that happening with this team. Corey Crawford's style may not lend itself to be one of the best shootout goalies, but I'm sure he can be more than adequate.
Q: Jesse, last week you said none of the big, big name players on the Hawks were on the last year of their contract. Isn't Dave Bolland on a contract year? – Alex, California

A:
Bolland is signed through 2013-14. In fact, the only players who are in contract years (again) are all the ones they just signed this past offseason. Every returning player from last year's squad is signed through at least next year, save
John Scott
.
Q: There's been a fair amount of Pat Foley and Edzo [Eddie Olczyk] bashing on the blogs lately. Based on their contract extensions, I'm thinking that the Hawks brass thinks most fans -- like me -- think they're great. What do you think the average fan thinks of them? – Tom, North Side

A:
I have no idea what blogs you are referencing. They are about as good as it gets from everything I can tell. Admittedly, I can't listen intently because I'm at almost all the games but I pick up enough through replays, etc. and they seem as good as ever. I would bet the average fan feels the same way. In fact I'm sure of it. One guy could do play-by-play in his sleep and is a 25-year pro at it. The other guy is the preeminent color analyst in the business. Having said that, everyone's tastes are different and it's impossible to please all viewers. As for complaining, people don't post compliments in blogs (usually), they're there to sound off so they're likely to read more negative in general. Doesn't mean it's fact.
Q: Which assistant coach is in charge of which special team this year? It seems like they keep switching who is in charge of which and at the same time, the penalty kill/power play switch between being amazing/awful. Is there a chance that one of the assistant coaches just isn't getting the right messages across? If so, is there a chance that they can be replaced? – Sam, Chicago

A:
I don't think it's as simple as that. I've seen both assistants and Joel Quenneville working the chalkboard during power-play practice as well as penalty killing. They all absolutely have a say in it. In-game it looks like Mike Kitchen takes charge, but unfortunately, assistant coaches aren't allowed to give interviews so it can be hard to get to the bottom of such matters. I think if you have a problem with the power play or penalty killing look to Quenneville. He's the guy in charge. If he wants to pass it off to one of his assistants, that's up to him but I think he'll take the responsibility and he should.
[+] Enlarge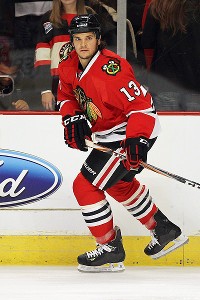 Jonathan Daniel/Getty ImagesShould the Blackhawks keep Daniel Carcillo on the Patrick Kane-Marian Hossa line?
Q: There have already been a few big trades this season. Are the Blackhawks going to pursue another Top 6-caliber forward to take over Daniel Carcillo's spot on the Patrick Kane-Marian Hossa line? If so, what are the chances that the Hawks bring back a power forward like Rene Bourque? -- Ryan, Chicago

A:
That's an interesting question and name. Bourque could be a good fit, although though he does have a decent price tag ($3.3 million per year). Money shouldn't be a problem though. Some people are worried about
Andrew Brunette
, but I think it's way too early to make those big assessments. The Hawks have the money and prospects to make a major splash before the deadline, but unless the train goes off the tracks, Stan Bowman and company will give this group a minimum of 20-30 games before doing anything drastic. With the center position maybe a little deeper than first thought, it does leave the possibilities at defense and wing a little more wide open.
Q: Any chance we move Brunette from the Jonathan Toews line? Maybe in favor of giving a young guy a chance, like Ben Smith? -- Brad, Chicago

A:
Of course it's possible, simply because that line isn't set in stone this early in the season and a guy like Smith, if and when he returns, might be the gritty player they need in the Top 6. As for probable, that's another story. Smith is behind several players right now and probably needs to make a splash in the minors before returning. Brunette looks fine on the power play. Five-on-five, that line is still finding chemistry, but again, I think it's too early to make any definitive statements -- even if you might be right in the end. Give it 10-20 games. That's not that many and knowing Quenneville he might switch tomorrow, but I'm willing to give a newcomer more time.
Q: I was wondering what you think Viktor Stalberg's role on this team is and on what line could he be most effective in that role? – John, Chicago

A:
Good question. I think he's still searching for it. It seems he's perpetually on a roller coaster with Quenneville. He can fly, but let's not confuse activity with accomplishment. He's really not a playmaker, so is he a finisher? He's close but not quite there. Right now I think he's the depth they need when there are injuries but I don't think he's broken through to be a Top 6 guy every night. Could he be? Yes, but the jury is still out.
Q: Last year the Hawks had one of the best power-play records but one of the worst penalty-kill records. So far this season, it looks like the Hawks special teams strengths/weaknesses have reversed. How would you account for the difference? – Brian, Chicago

A:
My theory involves chemistry. I think a good penalty-killing team has good on-ice chemistry. They communicate and support each other -- both essential when playing 4-on-5. We know that wasn't the case last year with this team. After addressing the chemistry issue I think we're seeing it come through on the ice.
Jamal Mayers
might be the glue to the whole thing in that respect. But I think it's almost the opposite with the power play. These guys know each other
too
well and it's become predictable. Who doesn't know that Kane is going to try and find Sharp for a back-door one-timer? And that Toews is going to try a stuff shot or pass through the crease when he gets the puck on the goal line. They also need some blasters from the point because that starts the chaos.
Brent Seabrook
is growing into that role. If I'm Quenneville, I mix up the units to find new chemistry. Maybe not yet, but soon. Make sense?
Q: Reports out of the junior league is that Brandon Saad is tearing it up with eight goals in five games. What's the potential of this kid? Is he a regular next year? – Michael, Chicago

A:
I can't tell you if he'll be a regular next season because I can't get into an 18- or 19-year-old's mind and know if he's ready for the full grind of the NHL. However, physically he's just about there so as long as the Hawks bring him along the right way mentally, I don't see why next year or worst case the year after he won't be a regular.
Q: Despite Kane's excellent start at center this season, should the Hawks still make an attempt to pick up a No. 2 centerman? If so, who could be some options? -- Sam H., Mendota, Ill.

A:
The obvious answer is yes, because no team ever made a mistake having too many centers. They don't need to do it tomorrow, but if something comes down the pike that's too good to pass up I think you have to take it. Now, if it comes down to making one big move and the Hawks' four centers are still playing very well come the New Year, that's a different story. But as of this moment, I would say you look for one as if you're still short one and deal with the consequences of having too many later.
Q: With all the miscommunication between Nick Leddy and Duncan Keith, when do you think it's time to call it quits on that pairing? It seems like they make a lot of bad mistakes at bad times. -- Kenny G., Naperville, Ill.

A:
It's not like they're both minus-7 on the season or something. There have been a few mistakes. They're still learning to play with each other and who is to say whoever is paired with Leddy isn't going to go through some growing pains. Anyway, like most of my answers at this time of the year, it's still a little early for big changes, although Quenneville will be quick to examine a major defensive issue since it's so vital to their game. Give it a little more time but maybe not the 20 games I indicated for a Top 6 forward.
October, 24, 2011
10/24/11
6:17
PM CT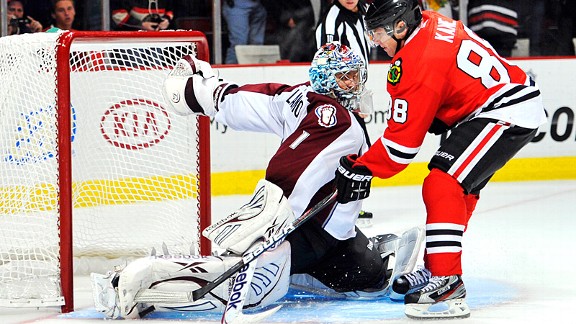 Rob Grabowski/US PresswirePatrick Kane can't get his penalty shot past Avalanche goalie Semyon Varlamov on Saturday.
CHICAGO --
Chicago Blackhawks
players couldn't remember for sure, but most thought Monday's shootout drill was the first time coach Joel Quenneville had began a practice in that manner.
And why not?
The Hawks have lost both their shootouts this season, including Saturday night to the
Colorado Avalanche
, and haven't dented the back of the opposing net even once in six tries over the two games. The Hawks were 6-5 in shootouts last season and 9-6 two years ago. Was there an obvious message in opening practice that way?
"I don't know if it's trying to make a point or trying to do it with good ice,"
Viktor Stalberg
said. "Usually at the end of practice it's pretty chewed up."
Ok, so maybe Quenneville wanted to mimic the ice the teams get when the Zamboni gives the shootout lanes a quick cleaning after overtime. Still, starting practice in that manner for a first time must have meant something. Quenneville was asked what he was looking for.
"Production," he laughed. "Its something you want to talk about but at the same time you don't want the guys that are going [out there] to feel more pressure. We know we can be better."
On Saturday, Quenneville used
Jonathan Toews
,
Patrick Kane
and Stalberg, but all three missed.
Patrick Sharp
also missed his chance against the
Boston Bruins
the week before, so did Toews and Kane. Toews is a given. He's scored 48.7 percent of the time in his career. It's the best percentage on the team. Kane seems entrenched as well, succeeding 37.8 percent of the time while
Marian Hossa
isn't far behind at 35 percent. But Hossa is just 2-for-7 over the last two years combined and hasn't tried one yet this season. Quenneville was asked if they are auditioning for a third shooter. Stalberg got his chance after going 3-for-3 in a recent practice.
"You're on the right track," Quenneville responded. "Those guys [Toews and Kane] and at the same time we're discussing orders, we're talking about candidates and shooting first or second. All phases we're visiting, and when things don't work we look at options."
Sharp has been a regular participants in shootouts but owns just a 21.9 career successful percentage. Other candidates like
Dave Bolland
(0-for-4),
Michael Frolik
(2-for-13) or
Andrew Brunette
(0-5) haven't inspired much confidence yet but might get their chance. Using a defenseman is a ploy coaches go with when everything else fails.
Brent Seabrook
is 1-for-1 in his career, winning a game two seasons ago.
"Bottom line? We have to find a way to win those shootouts," Stalberg said. "Simple as that."
Point Streak
The Hawks have earned at least a point in six consecutive games since an opening night regulation loss. The first time they achieved such a feat last season was January 7-22.
"I think we're playing with more confidence, overall," Stalberg stated. "A lot of times last year we got nervous. We just didn't have that swagger in the last 5 or 6 minutes of games. In the first 30 games [last year] we probably lost 10 points in the last minutes of games. We lost a point in the last game [Saturday] but we still found a way to get one. That's the big thing. Confidence."
Goalie
Corey Crawford
sees an immediate difference.
"It took us a little bit to get going [last year]," Crawford said. "I can just tell the way we're playing offensively. It's nice to see when you're goalie, when your team looks that good in the other zone.
"I don't know how many slipped away last year. This year we're bearing down and getting wins or it's going to overtime so it's a huge swing in points from last year to this year."
Stalberg points to confidence, Crawford to offensive prowess. Quenneville summed it up.
"In-game for the majority of games we've been pleased with our play ... there is more balance, more consistency in our team game and we're getting contributions from everybody and all the lines and all the defensive pairings," Quenneville stated. "Its been a pretty balanced attack so far."
Final Word
Quenneville said he didn't want to beat a dead horse but said everyone on the ice could have been better on the game tying goal scored by Colorado with under two minutes to play Saturday. Winger Andrew Brunette was in the middle of the action as
Gabriel Landeskog
got behind him and the defense for the tying tally.
"We were in really good position then we weren't," he explained. "It kind of ping ponged off of us. We all could have been a little bit better in our positioning from their end all the way out ... I had no idea he was there."
An angry Quenneville made his point Saturday after the game about that goal and the other three scored by the Avalanche.
"We have to be better defensively, especially in the hard areas and in front of our net," Dan Carcillo said. "That's something we'll be conscious of [Tuesday night]."
Up Next
The Hawks host the
Anaheim Ducks
Tuesday, including 41 year-old
Teemu Selanne
. The game will feature two of the four 40-year-old players active in the league, Selanne and Hawks' defenseman
Sean O'Donnell
. They played together when O'Donnell skated for Anaheim from 2006-2008. They remain good friends.
"He doesn't skate like a 40-year-old," O'Donnell said Monday. "My hat's off. Anyone that knows him as a guy, he's a heck of a guy and player."
O'Donnell said the Ducks behind NHL MVP
Corey Perry
, along with
Ryan Getzlaf
and
Bobby Ryan
present a different problem than recent opponents.
"They're fast but maybe because they're big they're not as quick as some of the guys," O'Donnell said. "You may have their body tied up but they can still do stuff with their stick because they are so strong. It's certainly a different animal than, say, Colorado. It's a good test."
Slappers
Corey Crawford will start in goal on Tuesday.


The Hawks held their annual Halloween party Saturday night after the game. Some costumes were kept a secret but Andrew Brunette said he had a good time.

"I went as Top Gun," he said. "Kind of dated myself. Not sure many guys knew who top gun was. [Dan] Carcillo had a good one. Poncherello from Chips. Not sure they knew that one either."
Your request cannot be processed at the current time. Please check back as we will work to correct the problem as quickly as possible.
Please feel free to send us any comments or feedback.