Hawks fall to Coyotes in shootout
March, 21, 2010
3/21/10
12:07
AM CT

By Jesse Rogers
ESPNChicago.com
Archive
GLENDALE, Ariz. -- "It's embarrassing. There's no other way to say it."
That summed up the sentiment in the dressing room after the Hawks blew multiple leads in falling to the Phoenix Coyotes, 5-4, in a shootout.
Duncan Keith uttered those words and a few more.
[+] Enlarge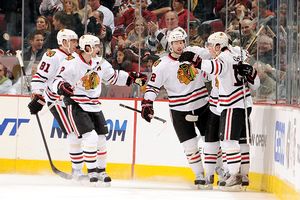 Norm Hall/Getty ImagesThe Hawks were celebrating early, but they eventually lost in the overtime shootout.
"Until we start playing the way that made us successful early on in the year and last season, these type of games are going to happen," Keith said.
The Hawks led 2-0 early and 4-2 late but déjà-vu struck again. It was the fifth straight game the Hawks had led or been tied after the first period. They lost four of them. Holding leads has been a problem, but after the 3-0 win over the Kings Thursday night, it looked like the issue might be solved. Not so. Joel Quenneville admitted it was a step back.
"We had a second period issue, now we have a third period issue," Quenneville said. "I just think defensive zone coverage, we have to be better. That's how you win. You win in this league by playing defense."
Quenneville indicated sloppy turnovers, especially by forwards, has led to some of the meltdowns, including Saturday night.
Andrew Ladd indicted his team by praising the Coyotes, who have won eight in a row, to climb within two points of the conference lead.
"That team is kind of a model of how teams should really play," Ladd said. "They come back hard, they stop and start, they go hard into areas and play well, defensively."
"It's like a broken record," Ladd continued. "It's the same thing every night. We mix in one good game and everyone starts thinking we're a perfect team again but [it's the] same old stuff pretty much."
Quenneville is known for teaching defense but for whatever reason, as Ladd put it, "guys must be tuning it out" because, right now, it's not happening. And the coach is losing patience.
"He just came in and chewed us out so hopefully guys take that as a challenge for Tuesday and we come out and play better with the lead," Ladd said.
Luckily for the Hawks, San Jose keeps losing. With the point gained by going to overtime, the visitors took over sole possession of the top spot in the conference. The Coyotes, though, are charging hard, just two points behind.
If things don't change, and soon, it will be the Hawks looking up instead of behind.
NOTES:
Joel Quenneville said Marian Hossa was "in the mix" to be a shooter in the shootout. He intimated that after two lefthanders, Patrick Kane and Jonathan Toews, he wanted to go with a right handed shot hence Patrick Sharp. They all missed.
Kane had eight shots. No other Hawk had more than four.
Ben Eager spent 1:58 more on the ice than he did in the penalty box. He took two, after the whistle infractions, including a rarely called double minor for spearing.
Brent Seabrook skated again on Saturday but did not play. Quenneville said they will re-evaluate him after he skates again on Monday.