Hawks need improvement in PP, lineup
April, 13, 2012
4/13/12
3:22
PM CT
[+] Enlarge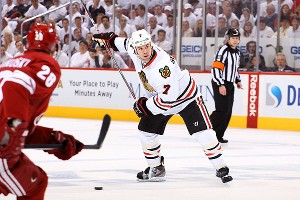 Christian Petersen/Getty ImagesThe Blackhawks' power play could have changed Game 1, but it wasted opportunities.
GLENDALE,AZ. -- Let's assess a couple of things that went wrong for the
Chicago Blackhawks
on Thursday in a 3-2 overtime loss against the
Phoenix Coyotes
night:
The Power Play
It's not just that it didn't score, it was how those opportunities were earned and how and when they were wasted.
The Hawks were down 2-1 late in the second period when
Antoine Vermette
took a bad penalty during a goal-mouth scrum. With all the momentum going the other way, and a 33-1 regular season record for Phoenix when leading after two periods, this was a chance for the Hawks to change the tide back in their favor.
They didn't.
And with two more key opportunities in the third after lazy penalties by the Coyotes, the power play came up short again.
Those are the ones you want to make the opposing team pay for. They managed seven shots on four attempts for the night, but that means little when it doesn't score in a one-goal game.
Patrick Sharp
pointed out the goal at the end of regulation came with an extra attacker, but those kind of scores even out over the course of the season.
The power play can be a difference maker and it simply hasn't been for a long time. It's scoreless in its last 14 attempts, going back to the regular season, and just 3 for its last 39.
Yes, the Coyotes missed on their chances -- including some 5-on-3 time -- but they don't have the firepower the Hawks possess. They were also missing their leading scorer,
Radim Vrbata
, who left early with an injury.
The Hawks' strength is their offense but it's come up short when it has a man advantage almost all year. They can't play even with Phoenix in this department and expect to win the series because the Coyotes do other things better than the Hawks.
The Lineup
Joel Quenneville deserves every benefit of the doubt for his Game 1 lineup but now changes have to come.
Sean O'Donnell
played 10:31 and was minus-2. Nothing more needs to be said there.
Sami Lepisto
or
Dylan Olsen
should be dressed for Game 2. Maybe both, considering
Niklas Hjalmarsson
also was minus-2 in just 16:11 and helped raise the turnover quotient for Chicago. But Hjalmarsson is a mainstay, O'Donnell is a questionable starter.
Brandon Bollig
should be replaced by
Michael Frolik
or maybe even
Jimmy Hayes
. There's simply no use for Bollig considering the lack of fighting in the playoffs. Bollig has yet to earn a point in 19 NHL games and he was part of a brutal fourth line shift that led to the Coyotes' first goal which changed the momentum in the game completely. Frolik should be the choice. It's not about scoring goals -- Bollig isn't going to do that either -- it's about a quicker, better defensive, more experienced player. It was just two games ago Frolik created with a nice move around the opposing net getting a helper on the play. Bollig can't do that. Nor could he get to the puck quick enough to clear it on that fateful shift in the second period when Phoenix scored.
A loss can never be blamed on one or two people but it's the job of the coaching staff to put the team in the best position to win and max out every player available to them. The Hawks didn't do that in Game 1, but they get a pass. A second lineup mistake can't happen.