Trade Kane? Only if it improves Hawks
June, 4, 2012
6/04/12
12:35
PM CT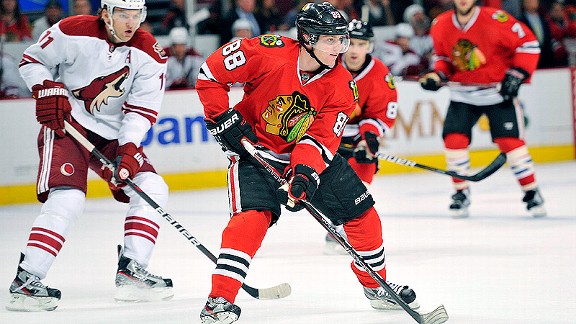 Rob Grabowski/US PresswireThe Blackhawks may be disappointed in Patrick Kane, but that's no reason to trade the unique talent.
It's been asked in bars, restaurants, hockey message boards and social media sites throughout the hockey world. Should the
Chicago Blackhawks
consider trading
Patrick Kane
?
An absurd notion just two years ago as he was scoring the winning goal to break a 49-year Stanley Cup drought, it's entered the conversation in the wake of general manager Stan Bowman's admission that the team was "disappointed" in Kane's recent public display of allegedly partying at a Cinco De Mayo celebration last month in Madison, Wisc.
It remains unclear exactly what the Hawks were disappointed in since Kane did nothing illegal, but certainly the image he's portraying and the potential for him getting into serious trouble has to be at the top of the list. We can debate if image is an important part of this equation, after all, Kane was posing for pictures so it's not like he was too worried about the lasting impression.
More important is the idea of putting himself in a position where serious trouble could occur. A multi-million dollar athlete on a college campus during a well known party holiday is a recipe for disaster. Kudos to Kane for being himself and posing with people and having fun, but that doesn't mean others won't want to start trouble, especially when alcohol is flowing. These are the main points the Hawks are trying to get across to their 23-year-old star.
But does any of that draw a direct line to trading him?
Not yet. Not even close.
Now make no mistake, only
Jonathan Toews
or maybe
Brent Seabrook
are untouchable. But to make an urgent move to trade Kane because he allegedly went to a party or was partying in a limousine two years ago or even because he got into it with a cab driver is foolish.
Basically, if the Hawks were thinking of trading Kane to improve their team, that's fine. But to accelerate the process due to his "antics" would be short-sighted, unless of course, the Hawks feel Kane is underperforming due to his off-ice activities.And if that's the case, does anyone know what
Michael Frolik
or
Andrew Brunette
were doing with their free time? Frolik's five goals are more worrisome then Kane's 66 points.
Bowman, if nothing else, is patient and deliberate about things. And he should be no different in this case. The only difference between Kane and most of the players in the NHL is Kane tends to be more public in his off-ice activities. Is that a reason to trade a player?
Many will say trade him before he blows up, but that's acting as if they have a crystal ball. Many will say trade him because he's underachieving. That's fine, but if you think he's underachieving, what do you think opposing teams are saying?
Kane is not a lost cause. Convince him that the price of fame is laying low sometimes, and convince him he has better hockey ahead of him. Trade him if it makes the Hawks better.
Simple as that.