Chicago Blackhawks:

2012 NHL lockout
October, 17, 2012
10/17/12
8:43
PM CT

By Jesse Rogers
ESPNChicago.com
Archive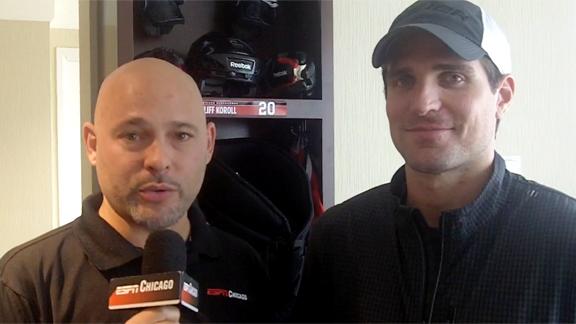 CHICAGO -- It wasn't that long ago that
Adam Burish
,
Patrick Sharp
,
Brian Campbell
,
Patrick Kane
and
Jonathan Toews
were on a stage answering questions from the press during the Blackhawks' run to the 2010 Stanley Cup. The five reunited Wednesday to officially announce a charity hockey game -- "Champs for Charity" -- that will take place Oct. 26 featuring members of that team and other NHL players unable to play due to a work stoppage.
[+] Enlarge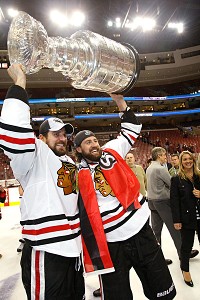 AP Photo/Kathy WillensMembers of the 2010 Stanley Cup champion Blackhawks -- along with others unable to play because of the NHL lockout -- will reunite Oct. 26 in the name of charity.
"We want to give fans that are starving for hockey something to watch and we want to give back to this charity," former Hawk Burish said from the Ronald McDonald House on Grande Ave.
They'll do just that when they take the ice at the All-State Arena in what the players hope is more than just a leisurely skate.
"To put together a competitive game was the idea," Burish said.
That idea came from Burish and his agent, Bill Zito, who spoke of his own personal situation involving a family member who had recently been hospitalized for a long stay. They want the Ronald McDonald House to benefit, knowing what families go through in caring for sick ones. Their goal is to raise $250,000.
"I didn't know what my plan was, to play (in charity game) or go overseas," Kane said. "I'm excited about it."
Kane said he was close to signing in Europe but that's on hold now because of the game and potential movement in CBA discussions, though players were more than cautious regarding the latest proposal from the league.
"As long as they don't think it's their final drastic attempt to salvage an 82-game season," Toews said. "If they were that desperate to preserve an 82-game season and get things done, this would have be done already. There's no real effort there. It's just a ploy to sway a positive light back in their favor. It's still a small movement but hopefully it's something we can work off of."
Toews said he will fly to Toronto on Tuesday night to assist in negotiations within the players association. In the meantime, other members of the 2010 Stanley Cup winning Hawks will prepare for the charity game.
"He's looking forward to playing on a line with me," Burish quipped of good friend Sharp.
"I think it's a pretty good coincidence Great Clips is the main sponsor of the game," Sharp shot back to the raggedy-haired Burish.
This kind of back-and-forth was -- and still is -- a signature of the 2010 championship team. It will always be linked, and now many will take the ice together for the first time since leaving it with the Cup in Philadelphia that June.
"It's a great group," Campbell said. "It's nice to get together with one another. It'll be fun to get back in the locker room."
Andrew Ladd
,
Kris Versteeg
and others will join their former teammates for the game while Burish says others will commit as the game gets closer. It'll be a diversion from the business side of hockey which has dominated the headlines during a lockout which began in mid-September. And it will benefit a charity while bringing together an iconic team that fans fell in love with.
"It's a great opportunity to get the guys back together but it's for the fans more than anything," Sharp said. "Some of the guys from the Cup team haven't even had a chance to come back and play against the Hawks so it will be nice to get those guys out. ... No one cares about Burish, we've had enough of him. You saw at the press conference, guys are excited to get back together and make fun of each other just like we used to."
Tickets for "Champs for Charity" can be purchased at Ticketmaster.
September, 27, 2012
9/27/12
3:16
PM CT

By Jesse Rogers
ESPNChicago.com
Archive
CHICAGO -- Another sign the NHL is getting closer to cancelling regular season games came on Thursday when the league said
goodbye to the rest of the preseason schedule
which included
Chicago Blackhawks
contests against the
Pittsburgh Penguins
and
Philadelphia Flyers
in early October.
The NHL had canceled all games through the end of September but with no signs of a new collective bargaining agreement on the horizon, the rest of the preseason was canceled and the now the start of the regular season is in peril.
The Hawks are supposed to open up against the
Columbus Blue Jackets
on Oct. 13 and for the game to be played as scheduled the league and players would probably need to come to an agreement at least a week in advance.
More than likely that game and the early portion of the season would be in jeopardy if a new deal isn't struck by the middle of next week.
September, 27, 2012
9/27/12
2:41
PM CT
By ESPN.com news services
ESPNChicago.com
Archive
The NHL on Thursday announced the cancellation of the remainder of its 2012 preseason schedule due to the lockout of its players.
Read the entire story
.