Chicago Blackhawks:

Alain Vigneault
March, 21, 2012
3/21/12
11:48
PM CT
CHICAGO -- Blackhawks defenseman Duncan Keith should expect a mini-vacation before the postseason begins. His elbow to the head of Vancouver Canucks' forward Daniel Sedin in the first period of the Hawks' 2-1 overtime win Wednesday night is bound to incur supplemental discipline.
[+] Enlarge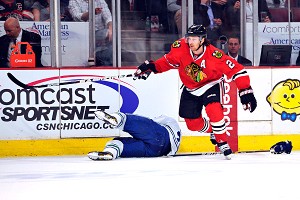 Rob Grabowski/US PresswireThe league is sure to review Duncan Keith's hit on Daniel Sedin.
"I'm not trying to hurt anybody," Keith explained after the game. "I hope he's OK."
As Sedin turned near away from the boards at center ice, Keith hit him with an elbow knocking him to the ice immediately. Sedin took a shift on the ensuing two-minute power play then left for the night.
"Deliberate, principal point of contact, everything you're trying to take out of the game," an angry Canucks coach Alain Vigneault said. "I expected a major, and I got a minor, so we'll let the league deal with it. You saw the hit, you didn't see a puck near the hit, you guys make the judgment call on that and the league will do what they have to do."
Keith said several times he needed to see a replay of the hit before he could make a final assessment on it.
"It's a fast game," he said. "I'm not trying to hurt anyone. I haven't seen the replay so I really can't comment on it."
Plenty of Canucks were just fine with commenting on it. One of their best players was knocked out of action, and it could be longer than just the rest of Wednesday's game.
"I got a lot of respect for a lot of guys on their team," Daniel's brother Henrik told NHL.com. "There's been things said from their room before, but not from him. He's always been good, but I don't know if it was too [many] emotions playing against us or what it was. Again, it's too bad. I had a lot of respect for him."
Defenseman Kevin Bieksa said Keith wasn't going to be a "Lady Byng candidate that's for sure. You have to watch him a little closer."
Even if Keith was responding to a cheap shot by Daniel on him from earlier in the period, the league won't take that into consideration. The NHL can always punish Daniel as well, if it sees fit. As a first time offender Keith won't get the book thrown at him, but he should be ready to sit for several games.
Slappers
• Marcus Kruger left the game late in the first period with an upper body injury. Joel Quenneville said he would be re-evaluated on Thursday.
• The Hawks won just 40 percent of their faceoffs. Patrick Kane was 3-of-18 in the circle.
• Andrew Shaw has four goals during a three-game scoring streak, and seven points (4G, 3A) during his current four-game point streak.
• Patrick Kane tallied his 20th goal of the season. He's the third player in franchise history to score 20 or more goals in each of his first five seasons in the NHL joining Jonathan Toews and Denis Savard.
• Over his last five appearances Corey Crawford has stopped 102 of 107 shots.
• Jamal Mayers was scratched before the game in favor of Brendan Morrison. According to the Blackhawks twitter account Mayers was sick.
Quotable
"I don't think I've scored off my head yet but I'll work on it," -- Shaw, on his propensity to score goals off his body.
February, 4, 2011
2/04/11
2:38
PM CT
VANCOUVER -- The war of words between Vancouver Canucks coach Alain Vigneault and Chicago Blackhawks coach Joel Quenneville appears to be over.
Read the entire story.
December, 3, 2010
12/03/10
11:55
PM CT
Was Alain Vigneault being a hypocrite, trying to prove a point, or playing it straight when he put out some of his top players for a late power play in the Vancouver Canucks' 3-0 win over the
Chicago Blackhawks
at the United Center on Friday?
The Canucks coach had been critical of the Hawks, accusing them of running up the score, when they beat his team, 7-1, in Vancouver last month, although he said afterward it was within their right.
"They do things their way and we do things ours," he said.
Vigneault thought Blackhawks coach Joel Quenneville played his top power-play unit during a Hawks' 5-on-3 last month. He hadn't.
As for the way the Canucks do things, Vigneault had said that in a blowout win against Calgary, he sent out his fourth-liners during a late man-advantage, instead of his regular power-play participants.
But on Friday, some of the Canucks' stars were on the ice in a similar situation.
Here is the scenario:
With the Canucks leading 3-0,
Jack Skille
was called for a high-sticking penalty with 3:16 left in the game. Henrik and
Daniel Sedin
were on the ice when the penalty was called. They had already had skated a 0:26 shift but stayed on for the power play. Joining them were the top two scoring defensemen for Vancouver,
Christian Ehrhoff
and Alexander Elder, along with
Ryan Kesler
, who is second on the team with 10 goals.
They played with the man-advantage for nearly a minute, then a second offensive-minded unit took the ice. It wasn't until the penalty expired that Vigneault sent some fourth-liners on the ice --
Tanner Glass
and
Jannik Hansen
for example -- to finish the game.
Is 3-0 with 3:16 left in the game enough of a lead to call off the dogs, especially when the leading team is about to begin a two-minute power play? It seems it would be, which means Vigneault was either rubbing it in, or simply a hypocrite.
December, 3, 2010
12/03/10
4:16
PM CT
CHICAGO -- Vancouver Canucks head coach Alain Vigneault didn't back off his stance Friday that the Chicago Blackhawks tried to run up the score the last time the teams met in the Hawks' 7-1 victory.
Read the entire story.
November, 21, 2010
11/21/10
1:10
PM CT
[+] Enlarge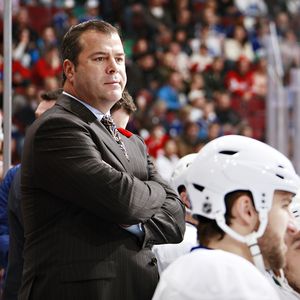 Jeff Vinnick/Getty ImagesVancouver head coach Alain Vigneault said he thought the Blackhawks ran up the score during the Canucks' 7-1 loss on Saturday.
VANCOUVER, British Columbia -- An apology may be in order from Vancouver head coach Alain Vigneault.
He could not have been more mistaken in his assertion the Blackhawks were trying to "rub it in" by running up the score during the third period of the Chicago Blackhawks' 7-1 win over the Canucks on Saturday night.
"We basically embarrassed ourselves tonight in front of our fans, and they did everything they could tonight to rub it in our face. [Leading] 6-0 and they throw their No. 1 power-play unit when it's 5-on-3," Vigneault said after the game. "They have every right to do that. They did it. They were pushing it, and they did."
If
Nick Boynton
is part of the No. 1 power-play unit, that's probably news to the Blackhawks. Boynton was on the ice for the 5-on-3 with his regular partner,
Duncan Keith
, while the forwards consisted of
Jonathan Toews
,
Patrick Kane
, and
Viktor Stalberg
-- also a regular trio of linemates. Like Boynton, Stalberg does not play on the No. 1 unit either.
Blackhawks coach Joel Quenneville was so taken aback by Vigneault's remarks, he was actually confused when asked his response. But the essence of his answer made sense: "It's tough to comment. I don't know. [I] was rolling four lines."
That's exactly what Quenneville did: Rolled through his lines with no personnel adjustments for the man or two-man advantages.
During the preceding 5-on-4,
Jake Dowell
,
Jack Skille
, and
Troy Brouwer
were on the ice and before them,
Dave Bolland
,
Bryan Bickell
, and Fernandi Pisano took a shift. In fact, regular No. 1 power-play unit forwards
Patrick Sharp
and
Marian Hossa
never saw the ice during either the 5-on-4 or 5-on-3.
It's pretty simple. Vigneault saw Kane, Toews, and Keith and assumed the No. 1 unit was on the ice.
It was just their turn for a shift.
November, 21, 2010
11/21/10
1:10
AM CT
VANCOUVER, British Columbia -- Vancouver Canucks head coach Alain Vigneault wasn't just upset with his team's performance in a 7-1 loss to the Chicago Blackhawks on Saturday.

He said the Hawks were trying to run up the score, although he also said it was their right.

"We basically embarrassed ourselves tonight in front of our fans, and they did everything they could tonight to rub it in our face. [Leading] 6-0 and they throw their No. 1 power-play unit when it's 5-on-3," Vigneault said. "They have every right to do that. They did it. They were pushing it, and they did."

Vigneault was referring to the two-man advantage the Hawks had in the third period. At 6:58, Alexander Elder took a tripping penalty and at 8:24 Dan Hamhuis went to the penalty box for high-sticking.

Quenneville put out a modified power-play unit which included Jonathan Toews, Patrick Kane, Viktor Stalberg, Duncan Keith and Nick Boynton. Stalberg and Boynton are not normally on that unit.

"It's tough to comment," Quenneville said when informed of Vigneault's remarks. "Don't know. I was rolling four lines. Don't know if it was an insult or not an insult. I was worrying about playing everybody."