Chicago Blackhawks:

Alexander Salak
June, 18, 2012
6/18/12
10:55
AM CT
CHICAGO -- The
Chicago Blackhawks
have come to terms with forwards
Brandon Bollig
and
Ben Smith
on two-year contracts and goalie
Carter Hutton
on a one-year deal, the team announced on Monday. The Hawks also released goaltender
Alexander Salak
.
Bollig's contract is a two-way deal for his first year and a one way for his second that will pay him $575,000 per season, according to a source. A one-way deal means a player is paid the same NHL salary whether he's playing in the minors or the NHL. No other terms for the contracts were released.
Bollig, 25, appeared in 18 regular season games and four postseason contests in his rookie year in the NHL this past season. He earned nine fighting majors and scored his first career goal in Game 2 of the Hawks playoff series against the
Phoenix Coyotes
.
Smith, 23, has six goals in parts of two seasons with the Blackhawks, including an overtime game-winning tally in Game 6 of the 2011 playoffs against Vancouver. He started and finished the 2011-2012 season with injuries but had 15 goals in 38 games with Rockford of the AHL this past year.
Hutton, 26, compiled a 22-13-4 record with three shutouts, a career-best 2.35 goals-against average, and a .917 save percentage in 43 regular-season games with Rockford last season.
Salak was signed to a two-year deal last summer but underperformed compiling a 6-10-2 record and 2.69 GAA in 21 games for Rockford. He's owed $600,000 for the final year of his contract.
October, 12, 2011
10/12/11
8:45
PM CT
CHICAGO -- If you're wondering why Chicago Blackhawks forward Brandon Saad was sent back to his juniors' team, it's pretty simple: when healthy, the Hawks are in a number's crunch and it's just not Saad's time yet.
The 18 year-old from Pittsburgh made quite an impression, and he certainly could be a major contributor for the Hawks as soon as next year. But the Hawks are trying to win something now and have more than enough talent to fill the roles they need filled. Saad being sent out was always a foregone conclusion -- unless he really forced the Hawks to re-consider with his play. That didn't happen in the two games he saw in action in. He played OK but not well enough to supplant others. More than likely the only reason he lasted this long was due to injuries, and Dan Carcillo's two-game suspension, which is over.
Carcillo is back and Ben Smith and Viktor Stalberg are close to returning. Now the interesting question -- barring a new injury -- is what moves the Hawks make next.
Make no mistake, it's a good problem to have, but the Hawks will have one too many bodies when the two forwards return -- assuming Alexander Salak is sent back to the minors shortly.
So who goes and who stays?
The easy answer would be to send Marcus Kruger back to the minors, but he might be best suited to continue in a fourth-line role as he develops his game in the NHL. Plus, something felt right, down the middle for the Hawks, in their home opener on Saturday against Dallas.
Joel Quenneville agreed.
"[There was] a little uncertainty when you're going into Dallas [Friday] and you have three or four guys that you're a little hesitant about or not sure about but I thought Kane, he's been fine there and you got Kruger back and [Dave] Bolland back so it gives you all the lines with more of a role and more of a predictability," he said Wednesday after practice.
In other words, Quenneville felt better with his center position coming out of Saturday's game then going into Friday's.
Ben Smith could be sent down just to get some games under his belt considering the time he's missed with a concussion, but he deserves a chance to pick up where he left off last season. There could be another surprise move, like a trade or sending one of the eight defensemen down to the minors.
But the smartest move remains sending Rostislav Olesz to Rockford, or at least trying to. He is a man without a role right now. A healthy scratch last Saturday, he's been running drills with the injured forwards and extra defensemen this week at practice. He would need to clear waivers, and while valuable insurance, if he's claimed, it could benefit the Hawks. It would wipe $3.1 million off their salary cap and give them a huge amount of money to spend on an in-season trade, if needed. If he clears waivers, he'll get valuable playing time, something he could use coming off a major knee injury. If the Hawks want to bring him back, he'll go through re-entry waivers and a team could claim him for half his salary -- the Hawks would be on the hook for the other half. Even then, they save about $1.5 million. There's no downside, unless they are in desperate need of Olesz, a scenario that doesn't seem plausible. And if they are in desperate need of Olesz or anything else, they'll have the money and wherewithal to make a trade.
Even if Kruger falters, Brandon Pirri is waiting in the wings for a return so it keeps a healthy competition among the young forwards while not taking away from the core of the team or depth on defense. And if Olesz clears waivers he gets to find his game with a chance to return as well -- whether it be for the Hawks or another team.
Of course, this is the NHL and an injury is always around the corner so it be a moot point. In this case, the Hawks would like the tough decision.
October, 12, 2011
10/12/11
11:06
AM CT
October, 3, 2011
10/03/11
8:08
PM CT
There's bound to be some raised eyebrows over the
Chicago Blackhawks
' decision to sign and keep goalie
Ray Emery
in Chicago while sending
Alexander Salak
to Rockford.
After all, Salak (1.94 goals against average) had better numbers than Emery (4.54) and simply looked better during the exhibition season. But that's assuming the backup goalie competition was truly wide open.
It probably wasn't. And that's OK.
[+] Enlarge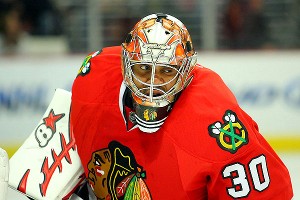 Dennis Wierzbicki/US PresswireRay Emery didn't have the best preseason numbers, but he'll start the season as the Blackhawks' backup goaltender.
The Hawks will talk publicly about their decision over the next couple days but it's obvious this was Emery's job to lose and actual preseason results meant little. If he had been god-awful, that's a different story. He wouldn't be here. If he couldn't handle it physically, he wouldn't be here. But more than likely, Emery proved what they wanted him to prove. He can move and stop some pucks and, for now, stay healthy.
One thing is for sure, no one should be completely judged on a couple of preseason games with different players coming in and out of the lineup. And a weird goal, like the one Emery gave up when he came way out of his net Friday night against Pittsburgh, shouldn't matter either. If
everything
was equal -- as in both players were of the same age, same experience, same contract status, same everything -- then maybe it does come down to a few games in the preseason.
But the fact of the matter is, as easily as you can make a case against Emery, you could make a case for him. None better is that this way the Hawks keep both Emery and Salak in the organization.
If they had chosen Salak as the backup, Emery would be looking for work elsewhere. Maybe he would have come back with his tail between his legs, looking for a two-way contract starting in the minors. But there was no guarantee of that.
This way Salak gets some playing time and the Hawks get a veteran goalie who, theoretically, can handle not playing weeks at a time. And if things go south for Emery then Salak should be ready. Despite being in different leagues, the two are still competing. Nothing brings out the best in players more than that.
As Hawks' nation has seen over the last two years, goalie decisions are a fluid situation. But that's only OK if there is some cushion in the standings. Maybe if the Hawks had gone to
Corey Crawford
as the starter earlier last season they wouldn't have had to battle to the final day of the season to get into the playoffs. The point is, the back-up goalie position doesn't sound like an important one, but when you consider he'll likely play in at least 20 games, that's 40 points at stake. Sounds more important now, doesn't it?
You have to wonder if Blackhawks owner Rocky Wirtz has thought for a moment about the checks he'll sign every two weeks to four different goaltenders -- no matter where they play. Crawford, Salak,
Cristobal Huet
and now Emery will make good money, but only two can play for the Hawks. All have one-way deals, meaning they will get paid the same NHL salary whether they play for the Hawks, in the minors, on injured reserve, in Europe or anywhere else.
Think about that, four goalies employed by the Hawks all making at least $600,000. If you care about these matters the question should be: Why did the Hawks give Salak a one-way deal? Did they have to entice him to leave Europe with a one-way deal? Did he really want to stay there rather than play and get paid in the best league in the world? Well, eventually play in the best league -- for now he's in Rockford. Anyway, the answer to those questions should only be the owner's concern.
The rest of the masses just want to know if Emery can stop the puck enough to win some games. And if he doesn't, when will a switch be made? The good news is we'll find out soon enough.
September, 25, 2011
9/25/11
8:51
PM CT
DETROIT -- For the second straight game, a Brandon stole the show.
Brandon Pirri
, a 2009 draft pick, lit it up on Sunday, scoring twice in regulation and once more in the shootout in the
Chicago Blackhawks
' 4-3 shootout loss to the
Detroit Red Wings
. On Friday, hot-shot prospect
Brandon Saad
scored the game-winner against the
Washington Capitals
.
[+] Enlarge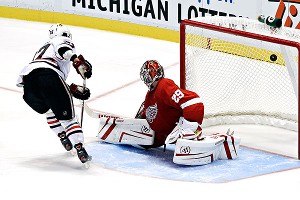 AP Photo/Paul SancyaThe Blackhawks' Brandon Pirri scores on Red Wings goalie Ty Conklin in a shootout on Sunday.
"Heck of a game," coach Joel Quenneville said. "I thought [Pirri] was effective all night long. He made a nice play on his goals and the shootout as well."
Quenneville indicated the 20-year-old Pirri isn't necessarily on the cusp of playing in the NHL, but he's one of those guys the Hawks might have to count on at the center position if there are injuries. He was recalled from Rockford for one game last season.
"You're showing the coaches how you can play," Pirri said. "Every game you can't score a goal, but when you do, you want to make an impact on the general manager and the coach's minds."
Goalie battle:
Alexander Salak
said he enjoyed getting to play a full game, and though he was burned in the shootout and suffered the loss, he played admirably. It might have been his last chance to impress Hawks' brass.
"I'm happy," Salak said after the game. "I gave my best every time. That's all I can do. I'm happy about my performance."
Quenneville praised Salak and indicated
Ray Emery
would get a full game on Friday when the Hawks host the
Pittsburgh Penguins
. The Hawks coach didn't indicate when a backup would be chosen.
Corey Crawford
will start in net Wednesday against the Red Wings.
Kruger's spot:
Marcus Kruger
is fighting for a roster spot and has had a quiet camp. Quenneville wasn't critical, but didn't exactly give a ringing endorsement either.
"[He] played better as the game went along," Quenneville said. "[He's] played OK this camp. Strength and quickness [he has] to improve on."
September, 25, 2011
9/25/11
7:02
PM CT
DETROIT -- A quick look at the
Chicago Blackhawks
' 4-3 preseason shootout loss against the
Detroit Red Wings
on Sunday at Joe Louis Arena.


How it happened:
The Blackhawks battled to get to a shootout, but only
Brandon Pirri
could score in it. Detroit's
Todd Bertuzzi
and
Henrik Zetterberg
scored to win it for the Red Wings. The Hawks trailed 2-0 and 3-1 but forced overtime thanks to two goals by center prospect Pirri. He scored one shorthanded and then tied the game midway through the third period. Two power-play goals by the Red Wings, both off faceoff wins, helped Detroit maintain the lead through most of the contest.
Jimmy Hayes
scored his first goal of the preseason for the Hawks.
Nicklas Lidstrom
produced his first points with a goal and assist on the Wings' two power-play scores while Zetterberg also tallied for Detroit.
What it means:
Alexander Salak
was tested in a shootout for the first time and both Bertuzzi and Zetterbeg made beautiful moves on him to score. The Hawks fell to 1-3 in the preseason, but that means little. In all three of those losses, including Sunday, the Hawks played very few regulars, let alone their stars. However, a disturbing special teams trend is emerging. The Hawks haven't scored a power-play goal in the preseason and gave up two more on Sunday. The Hawks were also abused in the faceoff circle at key moments and need to sharpen those aspects of their game before the regular season opener on Oct. 7. They should be able to do that in the final three preseason games when most of their regulars should play. The backup goalie battle is still undecided. Salak played admirably despite giving up three goals in regulation and the shootout tallies. He played the entire game. Expect
Ray Emery
to get some minutes this week in his final tryout before a decision is made on who plays behind
Corey Crawford
to begin the season.
What's next:
The Hawks get back to training camp on Monday before taking on the Red Wings at the United Center on Wednesday. Coach Joel Quenneville has intimated
Patrick Kane
and
Marian Hossa
could make their preseason debuts in the game.
September, 22, 2011
9/22/11
9:16
PM CT
The Chicago Blackhawks' 4-1 loss to the Pittsburgh Penguins Thursday night looked ugly -- and it was. But it should be of little concern the Hawks are 0-2 in the preseason so far.
Ray Emery's numbers will also look ugly compared to Alexander Salak's. He gave up all four goals, facing 19 of the Pens' 27 shots. It left Salak with just eight to stop in the same amount of playing time. The Hawks' defense got steadily worse with Sami Lepisto, John Scott, Brian Connelly and Shawn Lalonde among those that had issues.
"We had two empty side goals that defensively we say those are cardinal sins that we dont give up those tap ins on the open side," Joel Quenneville told reporters after the game. "That has to be the defense or forward in that area. That has to be cleared…I wasn't blaming the goalie."
Even so, Salak comes out the winner in Round 2 of their battle for the backup goalie job. Tuesday night's Round 1 against Edmonton was a split decision, so Salak might have a slight lead. Having said that, Salak has barely broken a sweat in two games, though the team has clearly played better in front of him. It remains to be seen if that's a coincidence or not.
The prospect lineup the Hawks sent to Pennsylvania wasn't even as good as the one they sent to Saskatoon two nights earlier. Other than draft pick Brandon Saad and Michael Frolik -- who scored the Hawks lone goal on a beauty move to the middle of the ice in the second period -- there was little in the way of forward chemistry or skill on display. Hence a 16 shot total on the night. For whatever it's worth, Brett McLean and Bryan Bickell were both minus-3 on the evening. Bickell had a couple shots on net but as was said about him often last year, he needs to be more noticeable as a big body.
Of course, the Penguins weren't exactly throwing Evgeni Malkin and Sidney Crosby out there but Jordan Staal was enough as he scored twice. Other than the goalie results the main question to take from this game, as well as the one against Edmonton on Tuesday, is do the Hawks have enough talent at the back end of their blue line? Nick Leddy was better Thursday but Scott, Lepisto, et. al are players to keep an eye on as camp moves into week 2.
Expect a much better showing on Friday against the Washington Capitals because there will be a much better lineup on the ice. Plenty of regulars including Brent Seabrook, Duncan Keith, Dave Bolland and Corey Crawford are scheduled to make their exhibition debuts. Then we can start to evaluate the 2011-2012 Blackhawks. For now, it's all about the back-up goalie. Not exactly the most exciting aspect to watch but important nonetheless.
September, 21, 2011
9/21/11
12:28
AM CT
Saskatoon, Saskatchewan -- By most accounts there was no winner in Round 1 of the goaltender battle between
Chicago Blackhawks
netminders
Ray Emery
and
Alexander Salak
.
Each played half the game in the exhibition opener. Emery gave up two goals while Salak just one. But Emery faced the stiffer challenge with plenty of pressure late in the first period and early in the second.
"I felt a little off today," Emery said after the 4-2 loss to Edmonton. "I would have liked to do be better, but you have to start somewhere. You take the positives you can and move forward and take the mistakes and correct them in the next few weeks."
Emery says he should have "closed up" on Ryan Smyth's tap in goal to open the scoring but it was Salak who suffered the loss, giving up the winning goal to
Jordan Eberle
late in the third period.
"We played really well in the third period," he said. "Unfortunately they had one rush and scored. It was a great shot. I tried to stop it."
Joel Quenneville couldn't declare a winner on the night either.
"Both our goalies were fine in net," he said. "Emery was sharp in the first period. I thought he made some key saves."
So the back-up battle moves on to the next assignment for both goalies, most likely this weekend.
McNeill impresses:
Quenneville isn't one to offer high praise often but he made a point of singling out 2011 first-round pick
Mark McNeill
.
"I thought he had his best game on the ice, whether it be prospects camp, rookie camp, or big camp," Quenneville said. "I thought he had good game. Had pace to his game and had the puck more."
McNeill had a beauty assist digging for the puck behind the Oilers net and then kicking the puck to his stick before finding
Jamal Mayers
streaking toward the slot. Mayers finished and McNeill earned his first point as a pro.
No one knows if he has a real chance to stick with the Hawks -- more than likely he doesn't -- but for one game he was much more noticeable around the puck then another highly touted prospect,
Marcus Kruger
. McNeill is definitely one to keep an eye on.
Domination:
The trio of
Jonathan Toews
,
Viktor Stalberg
and
Rostislav Olesz
was dominant but managed a fluke goal by Olesz after a turnover by the Oilers.
"Our line played really well throughout the game," Stalberg said. "I probably had five or 10 shots myself. I should bury one or two of those chances. My game was a little rusty."
At one point the three had Edmonton pinned in their own zone for several minutes with two Oilers players without sticks. But they managed little in way of shots. Olesz has gotten better each day in camp and is starting to show why he was a first round pick.
"It was great," he said. "We had so many scoring chances."
He left a good impression on the coaches as well.
Slappers:
Jonathan and David Toews played the opening shift together marking the first time since they were little kids they were on the ice in a competitive situation on the same team and line.
Hawks forwards played better than the defense. They were caught scrambling several times, particularly when the pairing of Nick Leddy and John Scott were on the ice. "We had some shifts that were tougher than others," Quenneville said. "We still haven't practiced d-zone coverage yet. What we have to do without the puck."


Quenneville says he's in training camp mode as well. "I probably won't have my voice tomorrow. That's probably the rust."
September, 18, 2011
9/18/11
3:20
PM CT
Patrick Kane
's appearance in a scrimmage was the Day 2 highlight of
Chicago Blackhawks
training camp. Kane looked like a man among boys, skating as well, if not better, than anyone on the ice.
And as usual, he knew where to put the puck: right below the crossbar.
"Both my goals were pretty much under the bar," Kane said. "That's how you have to score in this league. It's tough to beat a goalie along the ice or middle of the net because they are so big and so wide. You really have to pick your corners."
[+] Enlarge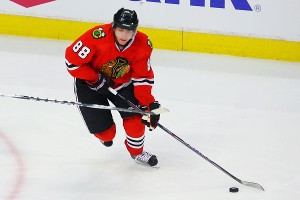 Dennis Wierzbicki/US PpresswirePatrick Kane, who hurt his wrist in the playoffs last season, didn't seem bothered by the injury at camp on Saturday.
Count
Alexander Salak
among Kane's admirers. He gave up both of Kane's scores.
"It was pretty fast," Salak said with a smile. "I couldn't even react. He scored on me twice today. He's a really good player. There are amazing guys on this team."
If Kane wants to get near or over 100 points he'll probably have to score more on the power play, where he notched just five goals last season. Finding the corners will help do the trick. In any case, any thoughts of a slow start due to his wrist injury alleviated with one scrimmage. He looked dominant.
Slappers
Salak says he won't be "heartbroken" if he doesn't win the backup goalie job.

"It's just two days," he said. "I'll give my best but won't be heartbroken."


The first training camp fight occurred Sunday between Dan Carcillo and Andrew Shaw. Carcillo was coming to the defense of Viktor Stalberg after Shaw hit Stalberg.

"He made a big hit," Carcillo said. "[I] slashed him, he slashed me back and that was that."
Carcillo said he was a little rusty and was frustrated with his game. He also called Shaw "a feisty young kid" who reminds him of a younger Carcillo.

"It's a man's game," Carcillo said. "It's a hockey fight, it happens in hockey."

Shaw, meanwhile, likes to mix it up. He was the 139th pick in the NHL draft this past summer and was pleased to get a chance to fight a veteran.

"We both play with an edge," Shaw said. "I was glad he said yes. We had some fun with it. I've always enjoyed playing that role."

Carcillo won the fight in a close decision.


Duncan Keith has been asked more than a few times about the rest he enjoyed during the long summer. Brent Seabrook needed it just as much.

"It was good to rest some nagging things that occur over the years," Seabrook said. "It was good to rest the head and give yourself a mental break."

Seabrook has endured two vicious head shots over the least two seasons, including Raffi Torres' blow in last year's playoffs. He says he's ready for a big year.

"We're prepared for a 10-month season," Seabrook said.


Every year at this time there is chatter about former first-round pick Kyle Beach. He didn't get a call up last year, even when the Hawks brought up some players from Rockford to experience the playoff atmosphere. This year, he knows the numbers game.

"You look on the [Hawks] website, there are 14 forwards on there," Beach said Sunday. "That being said, everyone is here for a reason and trying to win a job. If there are 14 guys on that website and you're not on there, you have to come in here and take someone's job. It gives you motivation to work for."

By most accounts, Beach still isn't mature enough to handle an NHL job. He says he's working on it.

"It's pretty straightforward what they expect from me," he said. "The most you can do is make it difficult for the coaches. That's what I'm trying to do. Hopefully I get a couple of exhibition games and show them why I should be here."

He was told he needs to improve his defensive play and he thinks he has, but only an upset of major proportions would see him in Chicago come October.


Coach Joel Quenneville said Marian Hossa will probably arrive in Chicago on Tuesday and be on the ice for the first time Wednesday. He's been excused from camp while he mourns the loss of his close friend Pavol Demitra, who died, along with the rest of his Russian hockey team, in a plane crash on Sept. 7.
May, 20, 2011
5/20/11
2:31
PM CT
The Chicago Blackhawks have signed goalie prospect Alexander Salak to a two-year deal worth about $600,000 per year, according to a source familiar with the situation.
Read the entire story.