Chicago Blackhawks:

All-Star Game
February, 17, 2012
2/17/12
3:36
PM CT
CHICAGO -- Chicago is on the "radar" for the NHL All-Star game, though no year has been selected, according to league commissioner Gary Bettman.
"(The Blackhawks) expressed interest in another All-Star game, and the draft too, but more the All-Star game," Bettman said on Thursday.
Read the entire story.
January, 22, 2012
1/22/12
5:11
PM CT
A Sunday away from the rink gives the
Chicago Blackhawks
a chance to catch their breath and fully examine
Jonathan Toews
, who left Saturday's 5-2 loss against the
Nashville Predators
in the second period.
Best estimation is the injury isn't serious since Toews didn't leave after a big hit or collision. But then again, neither did
Patrick Sharp
when he went down with his hand injury, which is what Toews appears to have.
The Hawks will give an official update after practice on Monday, but even if it's a small ding, after Tuesday's rematch with the Predators they have six days for Toews to recover as the All-Star break begins.
If there is any chance at further injury, Toews should not compete in any All-Star activities. He's too valuable to the Hawks, no matter how valuable he is to the league.
January, 29, 2011
1/29/11
10:42
PM CT
RALEIGH, N.C. – It might be a testament to the lack of drama in the SuperSkills competition on All-Star Saturday when the most talked about moment was a "do-over" Jonathan Toews was given against his Chicago Blackhawks teammate Patrick Sharp, in the shooting accuracy contest.
Toews said he didn't hear the whistle to begin, and was still warming up, while Sharp started firing pucks. After the easy win by the Hawks leading scorer, Toews put up his hands like he had just been kicked out of a faceoff. Then he was given a second chance -- and won easily.
[+] Enlarge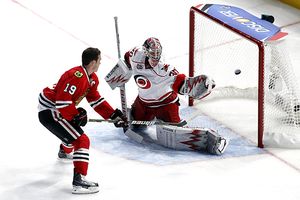 James Guillory/US PresswireJonathan Toews made the most of his second chance at the All-Star SuperSkills competition.
"It sucks for him and for me," Toews joked afterwards. "I don't feel great about it. Everyone is calling me a cry baby now because they gave me a rematch."
Unfortunately -- save a couple other moments -- it may have been the most excitement of the night. Equipment delays and confusion on the ice was more the norm than the exception at the competition, though the players had a good time with each other. Patrick Kane even had a personal camera to record some memories.
"You want to soak them all in and enjoy everything," he said. "I was right there with [Zdeno] Chara when he hit 105.9, that was pretty sweet. And then [Alexander] Ovechkin, after he missed one of the shots, he came up to the camera and said, 'I'm terrible,' so I got some pretty good things in there."
Chara broke his own record by shooting a puck 105.9 miles per hour, which brought the crowd to its feet. They also got wild whenever a Carolina Hurricane competed, including an accuracy "heat" featuring Eric Staal and Kane. Kane heard the chants.
"Let's go Canes, and my last name is Kane, so I kind of gave them a salute and thanked them for cheering me on against their home town boy," he joked.
Kane and Toews were the only players from "Team Lidstrom" to win in the accuracy shooting event. Only Daniel Sedin knocked down his four targets quicker than the two Hawks.
"It goes to show you how much skill is out there," Toews said. "I'm really happy I didn't have to do the [trick shot] breakaways because I have no idea how to compete with those guys."
Kane also opted out of the breakaways, saying maybe next year he'll work on some shots and be ready.
In the end Team Staal beat Team Lidstrom but the players didn't seem to care. For them, it's a break from the seriousness of the regular season. And no one needs a break from serious more than the Hawks captain.
"It's different because you're not always answering the same questions about a win or a loss," Toews said. "Here it's just a lot of guys mixing it up and having funs with the media and fans."
January, 28, 2011
1/28/11
10:27
PM CT
RALEIGH, N.C. – Patrick Sharp must feel awfully lonely.
Sharp will face current and former teammates in the 2011 All-Star Game, on Sunday, after being drafted by Team Staal on Friday night.
Team Lidstrom will consist of Jonathan Toews, Duncan Keith, former Hawks Dustin Byfuglien, and Marty Havlat, along with assistant captain Patrick Kane.
[+] Enlarge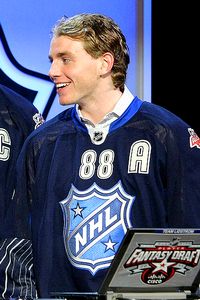 Dave Sandford/NHLI/Getty ImagesPatrick Kane did his part to make sure that several current and former Blackhawks ended up on Team Lidstrom.
"Kane had a chance to grab me and he didn't," Sharp joked afterwards. "I'll make him pay on Sunday."
It's hard to know if the NHL's new fantasy format will have lasting power but for a first time it proved to be an entertaining twist to an All-Star game, which, like most, had grown stale.
"It was fun," Byfuglien said. "I thought I would get picked higher but it's better than the ninth round of the NHL draft."
Byfuglien has 16 goals and 25 assists for the Atlanta Thrashers, one year after helping the Hawks win the Stanley Cup. He played mostly forward then but moved back to defense and became an All-Star.
"It doesn't surprise me one bit," Keith said of Byfuglien's year. "I've known him since he was 17. I remember games he played unbelievable on defense. He scored a hat trick in one period against Phoenix so obviously there was some potential there."
Byfuglien wouldn't mind reuniting with Kane and Toews at forward. The trio was a dominant line last postseason.
"Hopefully I can sneak up there," Byfuglien said.
Kane, who had an eventful day of travel after missing his first flight to Raleigh then getting delayed several hours on his second flight, helped pick the team. Although there was a running joke between he and Toews about the draft process, in the end, Kane picked his buddy and current linemate.
"I didn't want to take one before the other, Sharp or Toews," Kane explained. "I figured once one of them got drafted I would take the other one right away. It looked like he [Toews] sweating from my point of view. I kind of felt bad for him."
For captain and Detroit Red Wing Nicklas Lidstrom, playing with so many current and former Hawks will be a different experience.
"I'm ok with it. I'm ok with it," Lidstrom laughed. "We'll see how it plays out back home. It's a fun weekend. I finally get a chance to play with them instead of facing them all the time."
And then there is Marty Havlat who starred for the Hawks for three seasons, but left town the year they won the Stanley Cup.
"I played with those guys for three years and have some great memories with them," Havlat said. "It's going to be nice to be on the same side again."
As for facing Joel Quenneville on the other side of the benches, Byfuglien summed up the feelings of his new team.
"You know he's going to be serious and wanting to win but we can't let him win again," he said. "We won't."