Chicago Blackhawks:

Antii Niemi
January, 21, 2010
1/21/10
8:55
PM CT
[+] Enlarge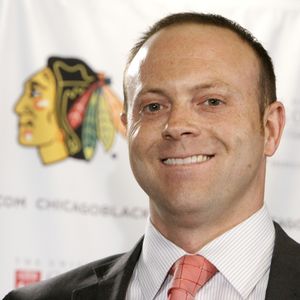 AP Photo/Charles Rex ArbogastStan Bowman says he's not worried about the Blackhawks' goaltending situation.
CALGARY, Alberta --
Chicago Blackhawks
general manager Stan Bowman is happy with his goaltending, but isn't ruling anything in or out as the March 3 trade deadline approaches.
"We're going to meet over the next couple weeks and get ready before the roster freeze," Bowman said before the Hawks hit the ice against the
Calgary Flames
on Thursday. "I'm sure we'll meet over the Olympic break as well and see where we're at then."
Bowman is aware of the amount of time people spend talking about the Hawks' goalie situation, but he views it as a strength of the team.
"I'm not worried about our goaltending," Bowman said. "It's been our strength all year ... I know we play a good team defense but without solid goaltending we wouldn't be where we're at."
When asked point-blank if he thinks the Hawks have the goaltending to win the Stanley Cup, Bowman said, "Yeah, absolutely."
As for
Antti Niemi
replacing
Cristobal Huet
as the No. 1 goaltender in the playoffs, that talk is premature as well.
"From my perspective, I don't worry about that now," Bowman said. "We're sitting here in January. There is a lot that's going to happen between now and April. They've both played well."
Bowman reiterated previous statements that salary cap considerations would not dictate moves the Hawks make now, though admitted cap relief
and
getting a good player in a trade would be a perfect situation.
He also made it clear that chemistry is important but doesn't override what happens on the ice.
"[Chemistry is] something you have to think about, but at the same time you have to look at what the trade off would be ... Those things all factor into the decisions you make but what the most important thing is what happens on the ice. Chemistry does play into that so you can't overlook it."
As for what type of player the Hawks might trade for if they trade, Bowman simply doesn't know or isn't stating what the Hawks' needs will be. He wouldn't address
Ilya Kovalchuk
specifically, only in terms of what kind of a player he is.
"We're going to meet and figure out where it makes sense to add; whether it be that type [Kovalchuk] of player or a different style or a different position. And then at that point we will see what the price is to get that guy if we think its going to make our team better. I'm not going to rule anything in or anything out because we haven't gotten down the pat that far."
Bowman acknowledged possibly wanting depth on defense, but he quickly reminded everyone that any team in the hunt probably would like the same. He doesn't believe the Olympics will wear down
Brent Seabrook
or
Duncan Keith
and acknowledged it's really only "a few extra games."
Bowman ended the media session saying doing nothing at the deadline is an option as well. Basically all options are on the table, but soon, decisions will have to be made. The time is getting close.
January, 17, 2010
1/17/10
10:28
AM CT
[+] Enlarge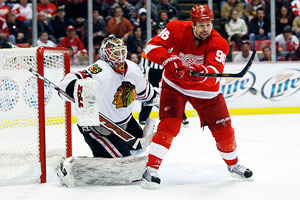 Leon Halip/US PresswireBlackhawks' goalie Antii Niemi posted a 3-0 shutout the last time the Hawks met the Red Wings.
DETROIT, Mich. -- Less than 24 hours after taking the ice in Columbus, the
Chicago Blackhawks
will do it again in Detroit. The good news: The
Detroit Red Wings
have to do the same. It can be tough enough to adjust to a day game, but two in a row with travel and an earlier start time could make for some interesting hockey.
The Wings also gave up a two-goal lead in their game Saturday in Dallas, but unlike the Hawks they weren't able to pull it out and lost 3-2 in a shootout.
The Hawks are 2-1 against Detroit this year, shutting them out in consecutive games just before Christmas. In fact, the Hawks have a shutout streak that's lasted 142:11 against the Wings going back to the second period of their Oct. 8 game.
However, it's been well documented that the Red Wings were missing a host of players for those December games. Those players scheduled to play Sunday that were absent last month include: Dan Cleary,
Henrik Zetterberg
,
Valtteri Filppula
, and
Jonathan Ericsson
. Of course, this season wouldn't be the same for the Wings if they hadn't lost someone to injury since those games. Great slot man
Tomas Holmstrom
is out for several more weeks with a foot injury.
Antti Niemi
will start for the Hawks, having posted a 3-0 shutout last time (Dec. 23) Chicago was in Detroit.
Notes:
After Saturday's win in Columbus, the Hawks have now posted a road win against each Central division foe as well as shutting them out at least once this season. They have won eight consecutive games against all four of their division rivals and are 11-3 against the Central overall.
The Hawks will play the back end of their 12th set of back-to-back games this season. They are 8-1-2 so far in the second game.
Kris Versteeg's career-high nine-game point streak came to an end in Columbus.
After Patrick Kane's three-assist afternoon, he now ranks fifth in the league in both assists and points (55). He leads all American-born players in both categories. The last Blackhawks player with at least 55 points through 48 games was Jeremy Roenick in 1992-93. Roenick had 58 points in 48 games. Kane has registered a point in 36 of the Hawks 48 games this season. Only Joe Thorton and Henrik Sedin have recorded at least a point in more games.
Roenick will work Sunday's game for NBC.
December, 24, 2009
12/24/09
2:44
PM CT
DETROIT -- Not many lumps of coal to pass around the Hawks organization these days. Not when you're 24-9-3 at the Christmas break and have shut out your long time nemesis twice in four days—with two different goaltenders no less:
-- Detroit coach Mike Babcock didn't mince words regarding the Hawks and Wings right now.
"Guys tried and I think at this time, right now, the Blackhawks are better than us," he told the Detroit Free Press.
That might be true, but he knows what everyone knows about the Wings, including
Patrick Sharp
.
"Everyone in the league is talking about the Wings situation," Sharp said after the win on Wednesday. "We can't believe what's happened to them with injuries. They can still be dangerous when they all return."
-- The Hawks are the new Oilers. OK, maybe I can't go that far but at least one aspect of their play is reminiscent of those Edmonton teams of the 1980s. The Hawks have scored eight goals during four-on-four play while only giving up one. Getting a player off the ice from both sides has worked in the Hawks' favor.
Dustin Byfuglien
got into it with
Kirk Maltby
on Wednesday and both went off for roughing. Soon after,
Duncan Keith
and
Marian Hossa
ran a nice give and go and Sharp cleaned up for the goal.
"Active defensemen make the difference in situations like that," Sharp said after the game.
You might see more and more coincidental roughing calls from here on out, but there may be very little coincidence about them.
-- On the way to the game I was listening to the Red Wings flagship station and Ken Kal, one of their longtime announcers, brought up a good point. If the Wings have to "sneak" into the playoffs but are at full health -- or close to it -- who would want to play them? Being the underdog might serve them well for a change. If anyone in that conference knows about winning in May, it's Detroit.
-- This from reading the Detroit Free Press on the way home to Chicago from the game: The Wings have been called for six "too many men on the ice" penalties this season and the opposition has scored on four of them. That stings. The Hawks took advantage of one Wednesday night as
Patrick Kane
tallied to open up the second period after the Wings were called for TMM late in the first. There can't be a more frustrating and useless penalty for a coach then that one.
-- In a season like this, I loathe all the talk about what the Hawks need to do this offseason to clear cap space, etc… You're supposed to enjoy the journey, right? Having said that, Antti Niemi's year is becoming real interesting, to say the least. It bears mentioning again how hard it is to come "off the bench" and perform the way he has. And think about where he's done it: Vancouver, Pittsburgh, Detroit. Heck,
I
almost wet my pants walking into Joe Louis knowing what they've done to the Hawks over the years. Not Niemi. He just doesn't get rattled too often, and he is much more fundamentally sound than I ever knew. His situation at the end of the year will be one to watch. He's a restricted free-agent. Wouldn't you think if he keeps up anywhere near this pace that someone is going to make him an offer to be a No. 1 goaltender? Even if you give a lot of credit to the skaters in front of him (which I do) four shutouts in nine starts says it all. Would/Could the Hawks trade
Cristobal Huet
, save cap space, and sign Niemi to a deal? He wouldn't cost you anywhere near the 5.6 million that Huet is making, but would still get a big raise. Or, the Hawks may have to let him go and get the huge compensation package in return. Some may doubt he'd get a good offer, but it's not like good goaltenders grow on trees. I say someone will do it and then the Hawks will have to make some tough decisions. Or maybe those decisions will be made for them if Huet can't be moved. Anyway, this is all premature but (Christmas) food for thought.
--
John Madden
is a former teammate of
Martin Brodeur
, so he knows a little something about good goaltending.
"He was on his game again tonight. He got that fourth [shutout] tonight and it could have been five if Madden would have won a faceoff in Pittsburgh. But lets not talk about him right now," Madden joked.
He's right though. Niemi was a few seconds away from shutting out the Penguins a few weeks ago when Madden lost a faceoff and the "extra" attacker was able to score. The Hawks did win in overtime.
-- The Hawks continue to break TV ratings records, seemingly on an every night basis. Wednesday was no different. Comcast SportsNet delivered its highest Blackhawks regular season rating with a 3.27. That number translates to about 114,500 viewers for the game. The Hawks will air the first edition of "Blackhawks TV" on Friday night at 7 and 10:30 pm on Comcast. It's an all-access look inside the Hawks.