Chicago Blackhawks:

Barry Trotz
April, 26, 2010
4/26/10
3:20
PM CT

By Jesse Rogers
ESPNChicago.com
Archive
[+] Enlarge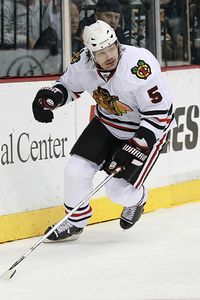 AP Photo/Mark HumphreyBrent Sopel has impressed Predators coach Barry Trotz with his play on the penalty kill.
NASHVILLE, Tenn. -- Do the
Chicago Blackhawks
have the mental edge going into their first elimination game of the 2010 playoffs?
Common sense would say yes, but there's nothing common about the
Nashville Predators
. A statistically average team, the Predators amassed 100 points this season and were 14 seconds away from a 3-2 series lead of their own. Now, they have to build their confidence back up after a devastating loss in Game 5.
"Think about the lowest place you can think of, we were there," coach Barry Trotz said after Monday morning's practice. "This team is going to get up off the floor. We were at ground zero. That one is a stinger but at the same time there are two things [options]. You can just lie there and feel sorry or you can get up, get off the floor and be [ticked] off. And be determined."
Trotz believes his team will do the latter which means the Hawks need to be ready.
"Nothing changes, really, for both teams in an elimination game,"
Patrick Sharp
said after the Hawks' morning skate. "They're going to come out with a great effort as they have all series long. Really no surprises for both sides."
Last postseason the Hawks were able to close out the
Calgary Flames
and
Vancouver Canucks
in Game 6. One was on the road and one at home. So can they draw on those experiences?
"Yes and no," Sharp said. "You can take satisfaction that we won two series in Game 6, but that means nothing going into [Monday night's] game. Nashville plays well in this building. It's very tough to play in here, so we definitely have to have our best game if we want to close this series out."
Trotz is hoping for a power-play goal. It has been well documented the Predators are 0-21 in the series and Hawks penalty killers have stolen the spotlight from the offensive stars on the team. Trotz wouldn't mind seeing
Brent Sopel
somewhere other than the ice during a Predators' power play.
"If I could pluck one guy off, I'd pluck him off," Trotz. "He's done an excellent job."
Trotz talked extensively about making changes with the man advantage.
"We have a plan of doing a couple things different," he said. "Not going to go into it now, but ... we've gotten stubborn … We're trying to force things that aren't there."
Having had his own power-play troubles throughout the season, Blackhawks coach Joel Quenneville knows changes are coming for Nashville.
"You're always looking between games or in games for that matter that they may have a different look," Quenneville said. "It's all part of it. Adjusting to what's coming."
Quenneville wants the Hawks to have the mindset that they are the team down a game and facing elimination.
"We want to look at it as a must win for us, and play accordingly," Quenneville said. "We want to make sure the momentum we exited Game 5 with, we put to good use here early in the game."
NOTES
Jonathan Toews and Sopel did not participate in the Hawks' morning skate. It's not unusual for Sopel to sit out considering all the punishment he takes blocking shots. Toews usually practices, but may have taken the morning off after taking a major hit in Game 5. Toews didn't miss a shift but was clearly shaken up on the ice. Quenneville said both players will play in Game 6.
April, 20, 2010
4/20/10
4:35
PM CT

By Jesse Rogers
ESPNChicago.com
Archive
[+] Enlarge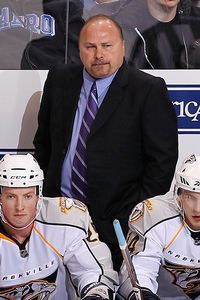 Christian Petersen/Getty ImagesPredators coach Barry Trotz says the Hawks "have some people that rub us wrong, and I know we have some people that rub them wrong."
NASHVILLE, Tenn. --
The more you play people, day in and day out, the more you learn to hate them. -- Barry Trotz, 11:12 a.m., Tuesday
Everyone knows a regular season series of six games can bring out the nastiness between players with each passing contest. Add a playoff series that pits those players against each other every other night for up to 14 days, and nastiness just begins to describe what can happen.
The
Chicago Blackhawks
and
Nashville Predators
play Game 3 of their best-of-seven series Tuesday night and the rough stuff will only increase.
"It's like going to work every day," Trotz said after Predators practice Tuesday morning. "You don't always like the guy you're working with every day. They'll have some people that rub us wrong, and I know we have some people that rub them wrong."
Dustin Byfuglien
agreed with that sentiment continuing with the work analogy.
"I'm sure you don't like your boss the more and more you see him," Bufuglien said after the Hawks skate. "It's the same thing. You got guys that may have whacked you before, so you whack them back. It's the fun thing about the game. I believe it's going to get a lot more physical these next couple games."
The Hawks' fourth line has chipped in some goals as of late, but they know their main purpose on the ice is to provide energy and that usually means doing so by taking the body.
"Physical play in the playoffs is huge,"
Colin Fraser
said. "Huge part of momentum. Big hit, big play. It's definitely a war the more times you see a team. That's how rivalries are built. It's playoff hockey."
Joel Quenneville believes it's a strategic thing as well, and he wants his team to push back even harder.
"We want to have emotion in our game," Quenneville said. "We want to be hard to play against and be physical. We feel like Nashville has had the puck a lot in the first couple of games, but I thought there was an escalation [in Game 2] in how we played with more emotion and the physicality was more noticeable. We had more hits on the stat sheet."
The Hawks had only two more hits in Game 2 than in Game 1, but the penalties increased as did the after the whistle stuff.
Adding more to the physical play can be important on the road. Other than a goal, getting physical can be a good way to take the crowd of it, at least for a while. It's especially important in Nashville where the Hawks believe the home team gets a boost similar to the one the Hawks get at the United Center.
"It's really loud,"
Patrick Sharp
said. "I can only imagine what it will be like in the playoffs. I remember watching the Predators and Red Wings series a couple years ago and the crowd was going nuts. It's going to be a crazy atmosphere, but I think that makes both teams better."
"Everytime we play in this building, in the regular season, it's been tough. Ever since I came to the Hawks five years ago."
Sharp was asked if one benefit of playing on the road in the playoffs is a little less "in-your-face" pressure than at home.
"It's tough to say," Sharp said. "I think we feed off the atmosphere at home. Sure, I guess you can say there's some extra pressure, but there's pressure in [Tuesday night's] game as well."
If the word patient has been said once about this series, it's been said a 1,000 times. Trotz doesn't call playing the Predators style "dumbing" it down. He calls it playing smart. Quenneville agrees, stressing where the game is being played.
"I don't think you want to be overly creative, especially on the road," Quenneville said. "I think that's kind of the recipe when we're playing them on the road. That has to be the mindset [Tuesday night]."
It has to be the mindset, no matter what. Otherwise a repeat of Game 1 is more likely than Game 2.