Chicago Blackhawks:

Blackhawks
November, 26, 2014
11/26/14
10:45
PM CT
By Brent W. New
Special to ESPNChicago.com
Archive
DENVER -- Here's a quick look at how the
Chicago Blackhawks
finally broke through and beat the
Colorado Avalanche
3-2 at the Pepsi Center.

How it happened:
It looked like the Mile High City would again prove to be the place the Blackhawks offense went to die. The Hawks had more shots and better chances but couldn't get past 22-year-old Avalanche goalie
Calvin Pickard
for the better part of two periods, much like the way they couldn't figure out Avs starting goalie
Semyon Varlamov
in three losses last season at the Pepsi Center. But two power-play goals and a game winner from
Bryan Bickell
breathed new life in the thin Denver air.
Patrick Kane
juked around an Avs defender and fed it to Bickell, who scored his second goal of the season with 5:17 remaining.
Earlier in the second period,
Jonathan Toews
slipped behind Pickard on the crease and scored on Chicago's 25th shot of the game. His ninth goal of the season came after
Brent Seabrook
rifled a shot that popped out of the back of Pickard's leg pads and trickled slowly toward the left post. Less than three minutes later, Kane pushed a pass to
Andrew Shaw
, who beat Pickard with 5:39 remaining. Colorado's
Ryan O'Reilly
finished off a scrum in front of the net early in the third period to tie the game 2-2. The Hawks then killed a 6-on-5 in the final two minutes of the game.
What it means:
The Blackhawks are 3-1-0 on their six-game road trip and 13-8-1 on the season. Chicago coach Joel Quenneville said his team is starting to play better despite the 4-1 loss to the
Vancouver Canucks
on Sunday, and his players backed it up with 45 shots in the win.
Player of the game:
Corey Crawford
made his 12th consecutive start in net and didn't look affected by it whatsoever. He made stop after stop to keep an energetic Colorado team from blowing things open early on and then kept them from tying it late. He totaled 27 saves on the night. Kane was the star on the other end, as he totaled three assists.
Stat of the game:
Already leading the NHL in killing power plays, the Blackhawks and Crawford -- a lot of Crawford -- shut down the Avs on both their tries on Wednesday. Meanwhile, they scored on two power plays of their own. Crawford and the Avs' Pickard were both special on this night.
What's next:
On the last stint of this lengthy road trip, the Blackhawks face the Pacific-leading
Anaheim Ducks
on Friday before facing the defending champion
Los Angeles Kings
on Saturday.
September, 19, 2011
9/19/11
5:09
PM CT
The
Chicago Blackhawks
made their first round of cuts Monday by sending five players back to their junior clubs.
Forwards Mirko Hoefflin and
Ludvig Rensfeldt
and goaltenders Macmillan Carruth,
Johan Mattsson
and
Kent Simpson
were trimmed from the roster.
The Hawks' training camp roster now stands at 54 active players, which includes 34 forwards, 16 defensemen and four goaltenders.
July, 26, 2011
7/26/11
5:25
PM CT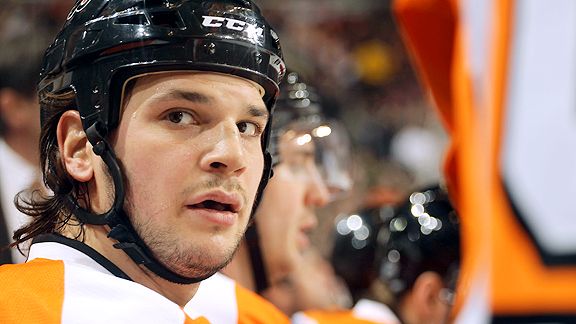 Len Redkoles/NHLI/Getty ImagesDan Carcillo may make the Hawks tougher, but he'll need to stay out of the penalty box.
On the Waddle & Silvy show today (Monday) Jeremy Roenick said how much he loves Chicago and that he's moving back here in October. Have you heard anything about him rejoining the Blackhawks as either an ambassador or in the TV booth (with Edzo moving to Versus with Emrick)?
Keith (Naperville)
Keith,
The booth is not happening. Pat and Eddie just signed extensions recently and they aren't putting three in a hockey booth. I have not heard any ambassador talk about Roenick and it doesn't sound like something they would do now. He's still in hockey with broadcasting and it wouldn't make sense to be drawing a paycheck from a team he covers. Plus I think they are set for now with ambassadors.
The Blackhawks lacked character and grit last year. We can all agree on that. But with them overcompensating this offseason to get those two qualities, what are the Blackhawks going to lack this year?
Curt (Chicago)
Curt,
You forgot to add, "in my opinion," because I don't think the Hawks would agree they overcompensated, but I actually lean your way more than theirs, at least at this moment. They gave up speed. Simple as that. They talked about replacing guys like
Adam Burish
and
Ben Eager
and maybe they did in terms of toughness, but those guys could skate. These additions are challenged in that department. Subtract
Brian Campbell
and
Chris Campoli
and add
Sean O'Donnell
, its not much better on the back end though
Sami Lepisto
can move some. It will be interesting to see it play out.
How does the acquisition of new, big, "bad" guys help the team? I'm more concerned about increased penalty minutes for the Hawks. I understand the young speedsters need protectors, but what's your take on over-aggressiveness that can lead to added trips to the penalty box?
Bob Costino (Valparaiso, Ind.)
Bob,
It's a very good question. I argue this point with people in hockey like
Troy Murray
all the time. A big, clean hit doesn't always require retaliation and subsequently a penalty. If someone takes a cheap shot, that's a different story. But the first time
Jamal Mayers
or Dan Carcillo jumps an opponent after a clean hit on
Patrick Kane
the smiles and cheers at the United Center will turn to frowns when the Hawks give up a winning goal on the ensuing power play. I hope
Jonathan Toews
and Joel Quenneville stress that kind of "goonery" doesn't play in Chicago, or you are right it's going to be a parade to the penalty box. Games which call for that are fine, but not every hit requires an immediate response.
Hi Jesse, What's the word on Steve Montador? I can't say I had even heard of him before we signed him, and I'm just wondering what we're getting from him and who do you think he'll pair up with?
Dom (Milwaukee)
Dom,
The Hawks really believe in this guy. And it looks like they believe in him more than most considering the way they've talked about him, the money they've thrown at him and his former team's disinterest in him. And right now he is a No. 5 defenseman, so he's not necessarily one of the main guys but he will definitely help the penalty killing. That should be his No. 1 job. He isn't the fleetest of foot and the Hawks think his offensive upside is better than he's shown. He's a nice, little addition but the Hawks have built him up as more so we'll see. If the blue line is as important as we think than he better be as good as advertised.
You mentioned in a tweet last week you'd address this but I thought I'd ask anyway. Doesn't it seem like a waste to let Campoli go the way they did when the arbitrator's award was a manageable $2.5mil x 1 year? I sensed after Stan's announcement that some bruised egos got in the way. If that's the case then I think this was a poor move. (Unless of course Lepisto is a capable replacement with a similar or better skill set.)
Keith Schulz (Waupaca, WI)
Keith,
I'm sure there is more to the story that we just don't know yet. Maybe when Campoli signs we'll find out. I get the feeling the Montador signing had a lot to do with Campoli. If Montador is a No. 5 defenseman making $2.75 million, then Campoli -- as a No.4 with the Hawks -- wanted at least that much, and from what I hear, a little more. I'm not sure he deserved it but I don't think Montador did either. Different situations of course. Montador was an unrestricted free agent while Campoli was restricted but there was more upside with Campoli. He's five years younger for one. And can skate. That's been the Hawks identity for the last several years but its taken a hit over last two offseasons. I know its easy to say here but I would have paid Montador a little less and
Michael Frolik
a little less and used that savings on Campoli.
I love Duncan Keith, but believe the Hawks coaching staff burned him out last season from overuse. Do you agree, or am I wrong?
Vinnie Ryan (Robinson,Il.)
Vinnie,
If I had to choose between agreeing or disagreeing with you I would agree, but of course it's a little more nuanced than that. Keith admitted he had a lack of preparation going into the season so that's on him, but once the Hawks saw he wasn't handling the minutes they should have backed off. Quenneville might say what choice did he have but there is always a choice and burning a guy out in October seems like a mistake, no matter the circumstances. Plus, they were burning him and not even winning so it really hurt.
[+] Enlarge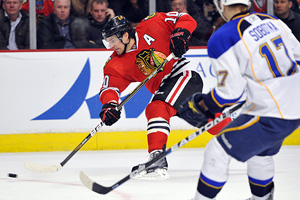 Rob Grabowski/US PresswireThe Hawks like Patrick Sharp's versatility, but he's a sniper who belongs on a wing.
Will Nick Leddy still be considered a rookie next year since he wasn't on the team the whole time last season?
Alex (Houston)
Alex,
He is no longer considered a rookie. The limit is 25 games and he played in 46 so this coming year will be his sophomore season.
Hey Jesse, enjoying the beautiful weather here in the Windy City? With all of the Hawks recent free-agent signings, who do you see having the biggest impact in terms of scoring? I know the organization is big on Andrew Brunette, and with good reason. Do you see Brunette being among the Hawks top 5 in points next season?
Cam (Chicago)
Cam,
I think he'll be right there mostly because he's going to get a ton of power play time in front of the net which leads to easy points and assists. Well, maybe not easy but easy opportunities. Obviously, Toews, Kane,
Patrick Sharp
and
Marian Hossa
would have to rank ahead of him so he might not end up in the top 5 but pretty close.
Hey Jesse, since the NBA will most likely not be in the cards for next year, any chance the NHL will find more air time on TV?
John Santucci (Barrington, IL)
John,
I would highly doubt it would affect the amount of national games on television since different networks broadcast the two sports, however, NBC could add a game here or there where normally there might be a marquee NBA game on ABC so its possible. I definitely think the highlight shows like SportsCenter will add more to their NHL coverage so it'll be out there more for sure. It will be interesting if some NBA fans come over, especially after the NFL is over.
Hey Jesse, thanks for all the work! Two questions: Where do you think Sharp is best suited for the team to succeed (top line wing or 2nd line center) and how big of a Central threat are the new Blue Jackets?
John (Chicago)
John,
I think few would disagree Sharp is suited for wing. As I've written and said many times he's a sniper. Snipers come from the wing and don't have to worry themselves with going down low to play defense, etc. He can do it but he and team will be much better when he's next to Kane and Toews on the top line. That trio was dynamic for a stretch last season. The team can say all they want about him in the middle but come opening night I'll be shocked if he's not at wing. That doesn't mean he won't go to center later in the season if they need him but not until they know they do.
I'm confused over all the talk of our defense getting old and slow without enough puck movers. It seems like Leddy isn't being included in the conversation. What exactly is wrong with Dunc/Sebs Leddy/Nik? Sure he's only a second year guy but Leddy certainly showed more ability then Campoli last year.
Mark (Chicago)
Mark,
I agree with you on the top 4 assuming Leddy takes a big step. He's still only 20. Leddy was good but remember he made some glaring errors late in the year. This will be his first full year in the league. There is a lot of pressure on him to help move that puck so don't believe its a done deal he'll handle it with no issues. In fact, bet that he won't. The problem is the rest of the defense save maybe Lepisto. The depth is slower than ever and that could be a problem.
November, 10, 2010
11/10/10
10:41
AM CT
As the Blackhawks prepare to face the Coyotes on Wednesday night, Jesse Rogers enters the chat room to talk Hawks.
Click
here
to submit questions now and come back later to follow the chat.
March, 14, 2010
3/14/10
6:27
PM CT
There were no goals given up in the second period all weekend for the
Chicago Blackhawks
. Mission accomplished, right? Think again. When you give up six combined goals in two third periods that lead to losses, it doesn't matter what happened in the 40 previous minutes.
[+] Enlarge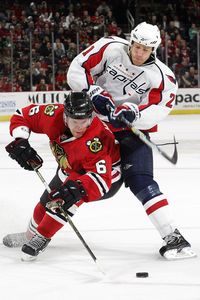 Bill Smith/NHLI/Getty ImagesThe Capitals outplayed the Blackhawks in the third period -- something that's become a recurring theme for the Hawks.
"It's a game we shouldn't be happy about, more so the whole weekend," Hawks coach Joel Quenenville said after his team's 4-3 overtime loss to the
Washington Capitals
on Sunday. "We know we can score. It's about playing defense."
The Hawks didn't do much of that in the third period, and even after the game was tied by the Capitals, they didn't manage much offense, either. A season-low one shot on net in the period summed up the attack in the final 20 minutes. And even that shot came at the 19:58 mark. Still, the problems came in giving up a 3-0 bulge even with the leading scorer in the league, Caps star
Alex Ovechkin
, kicked out of the game.
"I think its just playing with the lead," Hawks captain Johnathan Toews said. "It doesn't matter what period it is. They're all the same to me. I don't know if we get a little comfortable, but its just not a few guys -- it's the entire team."
The numbers back up Toews' words. The Hawks' winning percentage, when leading after the first period, is .735. That's just 17th in the league.
"We have the most skill in the league," Toews went on. "There's no reason being up 3-0 we can't finish that game off. It was a frustrating weekend, considering we got one point instead of four … We only have ourselves to blame."
The end results might sting less if the way the games were lost wasn't so frustrating. Barring a major meltdown, the Hawks will earn themselves the No. 1 or 2 seed in the conference, but the way they're giving games away isn't how anyone wants to head into the postseason.
"If we play like this in the playoffs, we'll probably be out after a couple of games,"
Niklas Hjalmarsson
said.
Hjalmarsson didn't mean to say it like that, considering the playoffs are best-of-seven series, but his words ring true. It'll be a quick exit if the defense doesn't figure it out, and soon.
February, 13, 2010
2/13/10
3:02
PM CT

By JESSE ROGERS
ESPNChicago.com
Archive
[+] Enlarge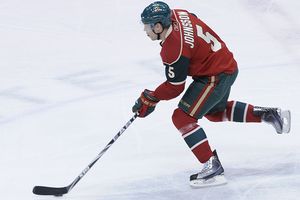 AP Photo/Jim MoneNew Hawks defenseman Kim Johnsson was surprised when he found out he had been traded, but says he expects to fit in easily with his new teammates.
The move came as a surprise to
Kim Johnsson
. Just 15 minutes before the NHL trade freeze came on Friday, Johnsson (pronounced Yan-sin) got the call that he had been traded to the
Chicago Blackhawks
.
He arrived Friday night, took to the ice with his new teammates Saturday morning, and will play against the
Atlanta Thrashers
Saturday evening. After getting over the initial shock, Johnsson says he's ready to go.
"It's a big transition, but I'm pretty excited about the team," Johnsson said from his new home dressing room Saturday morning. "It's a great young team. I'm looking forward to this."
It sounds like Hawks coach Joel Quenenville is, too. There isn't much the he doesn't like about his new blue liner, who comes to town a plus 20 for his career.
"You appreciate his dependability, consistency and predictability," Quenneville said. "I think those are traits you always look for in a defenseman. He moves the puck well and plays well in his own end. He's very useful in all aspects of this game. We like the options that he presents."
And that starts with penalty killing.
Cam Barker
was not used in that department, but Johnsson will be immediately. Quenneville didn't rule him out for the power play eventually, as well. It also changes the dynamic on defense. Previously, Quenneville was more reliant on his top four of
Brent Seabrook
,
Duncan Keith
,
Brian Campbell
, and Niklas Hjarmalsson. With addition of the veteran Johnsson, the rotation will look different at times.
"We can go deeper into rotating three pairs or even a five-man rotation," Quenneville said.
In other words, when called for, you might see Johnsson out there with one of those top four guys instead of his usual partner. On Saturday he'll be paired with
Jordan Hendry
as
Brent Sopel
will sit the weekend out with a foot injury.
It also gives Quenneville the option of resting Keith and Seabrook more down the stretch. They rank second and twenty fourth in the league in ice time per game. And those minutes won't include the pressure-filled time they get playing over the next two weeks at the Olympics. Johnsson was right behind Seabrook, ranked twenty fifth in ice time, so he can handle any workload.
"We'll get a better handle coming out of the Olympic break and see how they're doing with fatigue and rest," Quenneville said of Keith and Seabrook. "And we know [Johnsson] can spell them and play against the other team's best lines and top guys."
Taking nothing away from Barker, it's not something the Hawks were comfortable doing with the former number three pick in the draft. Johnsson is simply a brand new kind of option for Quenneville.
For further praise of the new Hawk, you don't need to go any further than his former teammate,
Patrick Sharp
. Johnsson and Sharp played together in Philadelphia in 2003-04 and 2005-06 before Sharp was traded to the Hawks.
"I thought he was our best defenseman for years in Philadelphia and that's saying a lot with guys like
Eric Desjardins
around," Sharp said. "He kind of came into his own there in Philadelphia and he's been a great defenseman since."
"I just remember he was one of the good guys on the team," Sharp continued. "As far as [me] being a rookie and coming into the league it can be tough with a veteran lineup. He was always one of those guys that went out of his way to make sure I was comfortable and I'll always remember that."
Hearing that makes you believe the transition to a new dressing room with new teammates and personalities wont be a big deal for the 10-year veteran.
"Hockey teams are all the same, all over," Johnsson said. "It's a great bunch of guys and you fit in pretty easily. The mentality is pretty much the same. You have to play the best you can and fit in."
As for on the ice, Johnsson feels his game fits the Hawks like a glove.
"Skating game, puck moving game," Johnsson said. "That's probably my biggest strength and hopefully that's what I'll bring to this team."
In Minnesota under former coach Jacque Lemaire's trapping style, Johnsson's offensive game wasn't on display like it had been in Philadelphia. He believes it will return with the speedy and skilled Hawks.
"You can join the rush more but you can't be stupid about it," Johnsson said.
NOTES:
The Hawks have recalled Bryan Bickell from Rockford. With John Madden and Ben Eager missing the weekend games with ailments, Bickell will skate on the fourth line.
Kim Johnsson more than remembers being on the winning end of the Hawks biggest third period collapse in team history when the Wild overcame a 5-1 deficit to win 6-5 back on January 9. "That was a fun game coming back like that, but it's not something I'm thinking about right now," Johnsson said.