Chicago Blackhawks:

Bobby Hull
February, 2, 2013
Feb 2
4:18
PM CT
Former
Chicago Blackhawks
great Bobby Hull said he believes the Blackhawks have what it takes to compete for another Stanley Cup this season.
"I think from what they've shown in the beginning they have as good a team as any in the NHL," Hull said in a phone interview on Friday night. "They're playing a lot like they did in the 09-10 season [when they won the Stanley Cup.]"
The Blackhawks began the season on a franchise-best six-game winning streak and have lost only twice this season, both in shootouts. They're currently second in the Western Conference with 14 points in eight games.
Hull thought goaltender
Corey Crawford
's play was the key to how far the Blackhawks go this season. Crawford is 5-0-2 with a 1.66 goals-against average and a .934 save percentage.
"As long as he keeps playing like he has, the Blackhawks have a chance to win the Stanley Cup," said Hull, who works for the team as an ambassador.
Crawford isn't Hull's favorite player to watch, though. That honors goes to Blackhawks captain
Jonathan Toews
.
"There is one player who I enjoy watching who goes by the name Toews," Hull said. "I love watching Jonathan. When him,
Patrick Kane
,
Patrick Sharp
and
Marian Hossa
are bringing it, they're tough to stop."
Hull is happy about the Blackhawks' start, but he's also pleased their fans have returned in force to watch them, which he expected.
"I'm not surprised," Hull said. "I know a lot of people said they were going to boycott this and boycott that during the lockout. But I knew, they knew, everyone knew they'd come rushing back to the sport they love. Hockey fans are great sports fans."
January, 27, 2013
Jan 27
1:52
PM CT
Heading into Sunday night's matchup with the
Detroit Red Wings
, here are five things to watch with the
Chicago Blackhawks
:
1. Kane at his best:
Blackhawks forward
Patrick Kane
is off to the best start of his career. He has nine points, including two goals and seven assists, through five games. He's notched at least one point in all five games. His previous best was seven points through the first five games of the 2009-10 season.
Kane didn't record nine points over any five-game stretch last season. The Blackhawks are hopeful Kane's blazing start means he's back to his 2009-10 form where he had four different points streaks which lasted seven games or more. That season Kane had one seven-game streak in which he had 10 points, a nine-game one with 13 points, another nine-game one with 13 points and a 11-game one with 18 points.
March, 6, 2012
3/06/12
11:26
AM CT
The
Chicago Blackhawks
, in conjunction with Navy Pier, will screen "Bobby Hull and Stan Mikita: Monuments to Excellence," at the IMAX Navy Pier Theatre on Wednesday.
Produced by Blackhawks TV, the film details the lives and careers of the Blackhawks Ambassadors and Hockey Hall of Famers. Though Wednesday's screening is an invite-only event there will be other showings throughout March. They are free of charge and can be found at chicagoblackhawks.com.
Mikita is Chicago's all-time leader in assists, points and games played and helped the team capture the Stanley Cup in 1961. He earned four Art Ross Trophies and two Hart and Lady Byng Trophies and had his jersey No. 21 retired on Oct. 21, 1980, the first in franchise history.
Hull spent 15 years in a Blackhawks uniform and ranks first in franchise history in goals and second in games played and points. He helped Chicago win the 1961 Stanley Cup and also collected two Hart Trophies and one Lady Byng Trophy.
Hull and Mikita were named Blackhawks Ambassadors together at a pregame ceremony at the United Center on March 7, 2008, and had bronze life-sized statues unveiled on the northeast plaza of the United Center on Oct. 22, 2011.
October, 22, 2011
10/22/11
9:07
PM CT
CHICAGO -- In an emotional and, according to
Chicago Blackhawks
President and CEO John McDonough, long overdue moment, statues of Hawks Hall of Famers Bobby Hull and Stan Mikita were unveiled in a ceremony outside the United Center on Saturday night.
Read the entire story.
October, 22, 2011
10/22/11
2:04
PM CT
CHICAGO -- The Chicago Blackhawks and Colorado Avalanche will complete their home-and-home set of games at the United Center Saturday night.
Both teams practiced Saturday morning. Joel Quenneville has elected to go with the same lineup that beat the Avalanche 3-1 on Thursday.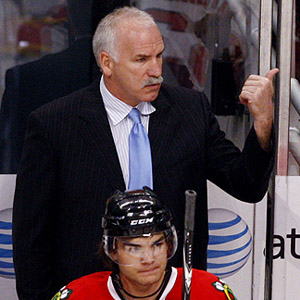 Jerry Lai/US PresswireJoel Quenneville's team has, for the most part, played penalty-free hockey this season.
A key to that win, as well as their 4-1-1 start, has been the Hawks' ability to minimize damage via the opponent's power play. The Hawks have gone four consecutive games without giving up a power-play goal. But as good as the PK has been, staying out of the penalty box has been just as instrumental. The Hawks have taken just 10 minor penalties over those four games.
"If you stay out of the box I think your penalty killing gets better," Joel Quenneville explained Saturday after practice. "If you kill one or two a game it keeps it in good order. If you start taking silly penalties..those are the ones you have a hard time killing."
The Hawks rank third in total times shorthanded (17) this season and third in penalty killing percentage (94.1 percent). They've scored more (2) shorthanded goals than goals (1) given up on the power play.
"Somebody asked Pete Rose, 'you need 70 hits to get to 3000, how many at-bats will it take?'" Hawks defenseman Steve Montador said. "He said 70. That's the attitude you have to take, you're going to kill it every time."
Corey Crawford and Semyon Varlamov are expected in goal for the rematch.
Statue unveiling
The Hawks will unveil statutes outside the United Center of Hawks' greats Bobby Hull and Stan Mikita in a ceremony before the game.
"It's a great honor," Joel Quenneville said. "Those guys should be very proud being out there every time somebody comes into the building they get a chance to visit with Stan and Bobby and visit their memories of what they meant at whatever stage they [the fans] were in their life to come see the Blackhawks play. They are great ambassadors for our team and now they go down in history here at the building."
Patrick Kane was asked several times on Saturday morning if he could envision statues of himself and his buddy, Jonathan Toews, someday.
"I'm just looking to get back on the score sheet after two games," Kane joked. "I'm not really worried about a statues right now. … [Hull and Mikita are] awesome. They're two people you can call your friends now."
Slappers
• Marian Hossa practiced Saturday morning after taking Friday off. He is scheduled to play Saturday night. He missed a game recently with an upper-body injury.
• Kane, Hossa, and Dan Carcillo have been giving each nicknames for their line. Carcillo has been calling Kane, 'Biebs' for teen idol singer Justin Bieber.
"That's fine," Kane said. "I like it actually. A lot of girls like him [Bieber]."
October, 8, 2011
10/08/11
8:40
PM CT
January, 9, 2011
1/09/11
9:41
PM CT
May, 27, 2010
5/27/10
12:08
AM CT
The
official, John McDonough-approved marketing theme for the Chicago Blackhawks is "One Goal", an unambiguous declaration that there was only one objective to strive for, one acceptable way to end the season.
But perhaps a more appropriate slogan for this precocious team, with apologies to Anthony Bourdain, is "No Reservations". Because the precocious Blackhawks, led by a 22-year-old captain and a 21-year-old scoring whiz, don't wait for anyone.
Read the full story.